The Best Rek'Sai Skins in League of Legends (All Ranked)
This post may contain affiliate links. If you buy something we may get a small commission at no extra cost to you. (Learn more).
I think that Rek'Sai is one of the coolest and most intimidating champions in the entire game.
She also teaches us not to judge a book by its cover!
However, we're completely going to ignore that lesson today and take a look at all of Rek'Sai's cosmetics. Based on price point, overall appeal, and my general opinion, here's my ranking of all the Rek'Sai skins that Riot has blessed us with so far.
4.

Eternum Rek'Sai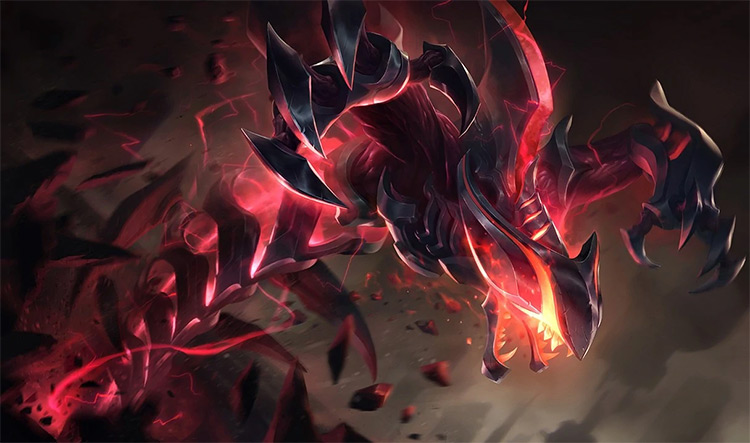 Released: December 11th, 2014
Price: 1350 RP
Although I'm placing this skin in last place – it's far from bad.
In fact, it's absolutely amazing in certain aspects.
For one, the character model is just brilliant. The cybernetic aesthetic works extremely well on Rek'Sai and all of the new particles fit in together nicely.
The Q and E feel very powerful and having your burrows be actual portals was a brilliant move. And let's not forget that you also get a voice filter – to really hammer in that cosmic horror vibe.
However, this skin gets held back by a few key features. For one, the new backing animation is disappointing beyond belief – you kind of just throw a tantrum.
Secondly, the burrowed music is somewhat disappointing (at least compared to the other skins).
Lastly, this is the only Rek'Sai skin that doesn't come with any chromas. Again, this isn't necessarily bad, but it definitely makes the other skins seem more enticing.
3.

Pool Party Rek'Sai
Released: June 25th, 2015
Price: 1350 RP
Pool Party Rek'Sai is one of those skins where you either love it or hate it. This is because this is the only skin Rek'Sai currently has that actually goes in the goofy direction.
With your burrows being kitty pools and your character model sporting a life jacket, snorkel, and goggles – it's easy to see why this skin isn't perceived as extremely serious.
However, there's still a bit of terror to be found. After all, you're not a bloodthirsty shark. Your backing animation could easily pass as a Jaws audition. And there's something both calming and terrifying about the music that plays while you're burrowed.
The skin also feels rather nice to use. The splash effect for both your Qs feels distinct and crisp. The same goes for your E and even your ult.
The skin also comes with six pretty interesting chromas – where you can pick Emerald in order to be an alien or Rose Quartz to showcase your inner beauty.
Overall, the skin is pretty fun. However, I heavily prefer to feel badass while playing Rek'Sai. So this comfortably falls under the "will throw on occasionally" category.
2.

Blackfrost Rek'Sai
Released: March 5th, 2020
Price: 1350 RP
Thematically, this skin is so good that it could've easily just served as the base skin. Just look at that character model!
You look like an ancient stone that just came to life. No, not like Malphite or Galio – way cooler than that! And that splash art honestly gives me the shivers.
And the sound effects just really steal the show. Basically, every ability has a subtle frost sound effect at the end and it's just extremely satisfying.
The same goes for the music that plays while you're burrowed – as it really feels like you're breaking through stone with each step.
Your burrows just look like they lead to hell (which is probably accurate) and both your Q and E feel rather powerful.
The new backing animation is a bit confusing – as you become an alchemist and summon a random rock. But I'm not going to hold it against the skin as everything else is so badass.
And it even has chromas! What more could a person really ask for?
1.

Elderwood Rek'Sai
Released: January 6th, 2022
Price: 1350 RP
I usually avoid being predictable and just saying "the newest skin is the best one", but I also don't like lying.
And man, you can really tell that Elderwood Rek'Sai is a new skin.
The number of particles on this thing is insane – basically, every ability spawns thirty different little alien mushrooms or flowers around the target.
And the character model probably has more polygons than all of Malphite's skins put together. The flower petals coming from your elbows, back, and even tail – just make you look so mystical.
The backing animation has you birth a weird flower (because why the hell not) and your burrows are alien flowers that you just pop into at your convenience.
Most of what I've said so far really shouldn't work for Rek'Sai (as it just sounds like I'm describing a druid of some kind) but it does. Everything about the Void is already mysterious – this reimagining simply strayed away from the bland, edgy depiction of it all.
Instead, you're a truly mystical being that's one with nature but also on the prowl. I don't know how else to explain it – it just works.
Note: this content was created under Riot Games' "Legal Jibber Jabber" policy using assets owned by Riot Games. Riot Games does not endorse or sponsor this project.
Browse:
League of Legends
Lists
Video Games