The Most Popular Movie Franchises From Each Country
This post may contain affiliate links. If you buy something we may get a small commission at no extra cost to you. (Learn more).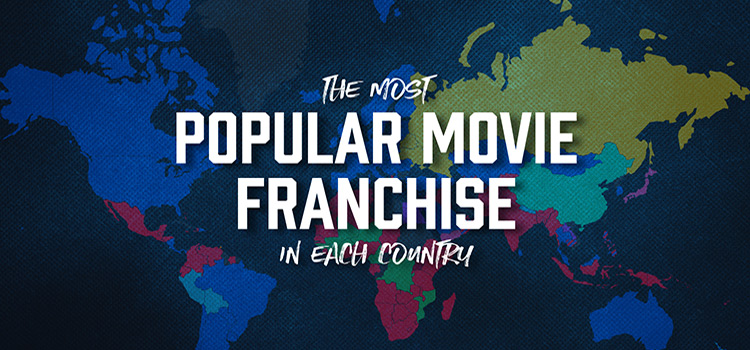 Since the original Godzilla was released in 1954, and throughout the following eight decades, movie franchises have grown in popularity so much they're now among the most profitable forms of entertainment in the world, with 9 of the top 10 grossing films of all time being part of a franchise.
Since the invention of the internet, fans of particular franchises have argued about which is the world's most popular, without any data to back up their claims.
However – thanks to our research, those fans now have some solid data that reveals the movie franchises that are not only the most popular worldwide, but which are the most popular in each country based on the number of Google searches.
Click image for fullsize:
Leading the way as the most popular movie franchise in the world is Harry Potter, which came top in 75 countries including the USA, Brazil, Spain, and the UK. In close second is Spider-Man, which is the most popular franchise in 68 countries including India, Mexico, and Colombia.
Third in the list is Rambo, the most popular in 12 countries, followed by Pokémon (6) and Lego (4),
Some surprising franchises to make the list include The Conjuring, the most popular franchise in Yemen, and Fifty Shades of Grey, a fan favorite in Egypt and Laos.
Shockingly, franchises you might expect to see make an appearance such as Star Wars, Batman, or Lord of the Rings were found not to be the favorite franchise in any country worldwide.
So, while the MCU and Star Wars may dominate the box office, these franchises are not what the fans are searching for the most, so the boy wizard and the boy bitten by a spider lead the way as the world's most sought after franchises.
You can see the complete data we've collected here.
Methodology
FandomSpot analyzed monthly online searches for the top 100 highest-grossing movie franchises worldwide to identify the most popular movie franchises across the globe. Countries with limited data are marked in grey. Data collected in June 2021.
Browse:
FandomSpot Originals
Pop Culture
TV & Movies