Top 10 Rhythm & Music-themed Games on PSP
This post may contain affiliate links. If you buy something we may get a small commission at no extra cost to you. (Learn more).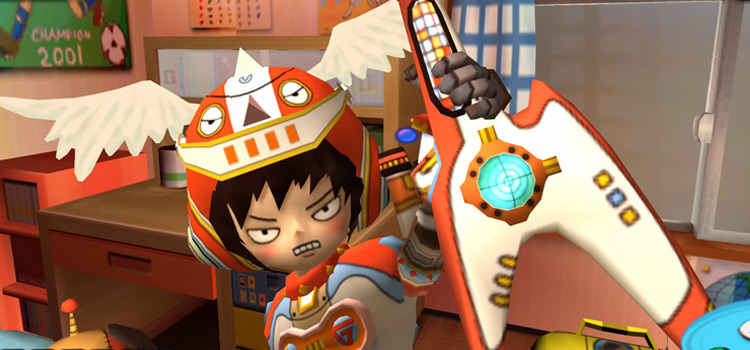 The PlayStation Portable was a revolutionary handheld that brought home console-quality gaming to the palm of your hand – and rhythm games were well represented in its roster.
Thanks to the console's ability to reproduce high-quality audio and video, it was easier for developers to bring their music and rhythm game ideas to fruition on the PSP.
While there weren't that many rhythm games in the PSP's international roster, the list of Japanese and Korean rhythm games is extensive. There are even some homebrew titles worth checking out!
If you're unsure where to start your musical journey, check out this comprehensive ranking of the absolute best PSP rhythm games to play.
10.

PaRappa the Rapper (2007)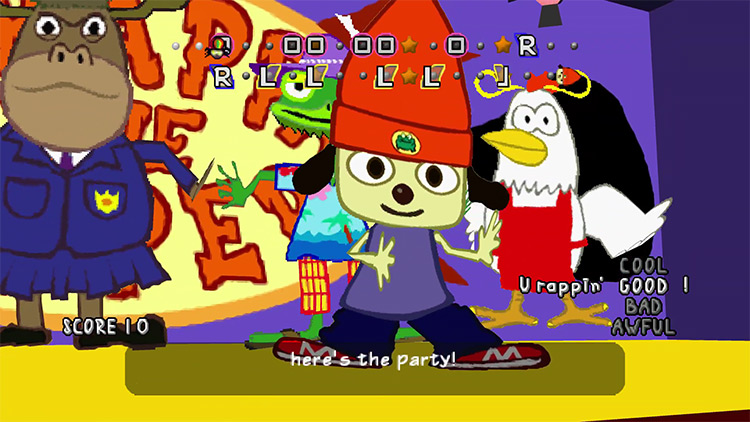 Originally released in 1997, Parappa the Rapper follows a paper-thin rapper dog as he spits rhymes in all sorts of situations – from learning karate with an onion-headed master to opening his chakras with a hippie chameleon.
Along with the wholesome, kid-friendly lyrics and top-notch humor, the game shines for its simple, enjoyable gameplay that became the blueprint for many games after it.
You should also check out Um Jammer Lammy, the underrated sequel following a rocker lamb.
9.

Rock Band Unplugged (2009)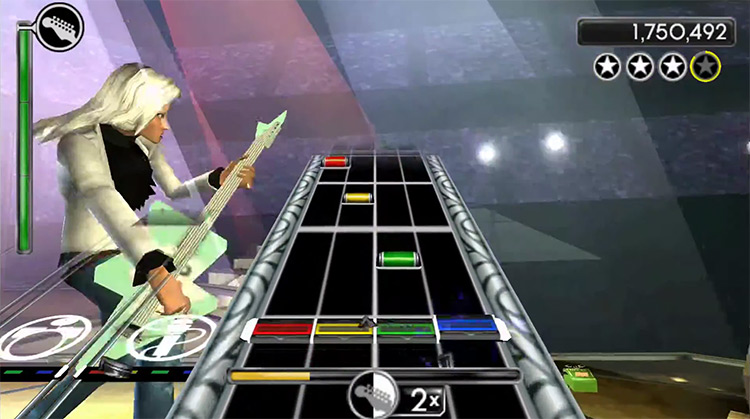 Next to Guitar Hero, the Rock Band series dominated the rhythm game landscape during the late 2000s and early 2010s.
This portable version is a fantastic alternative to play on the go.
Unlike the console version, in which the player must choose one instrument and stick with it, Unplugged makes you the entire band. Whenever you play a phrase perfectly, that instrument goes into "auto-pilot" so you can switch to another and do the same.
It includes 41 base songs and around 50 extra tracks from DLC, featuring bands like Queens of the Stone Age, System of a Down, Bon Jovi, and the Killers, among many others.
8.

Lumines II (2006)
Lumines II can be described as "stylish, musical Tetris."
It isn't a rhythm game, but music plays a vital role in creating its groovy gaming experience. You might think moving, rotating, and dropping blocks to match them is boring or slow-paced, but Lumines II feels like playing Tetris at a rave.
The sequel is much better than the original Lumines in the music and visual department, though the gameplay remains mostly the same.
On top of Challenge, Time Attack, Puzzle, and Duel Mode, the game features the Sequencer and Skin Edit mode, which let you to compose your own background music and customize your HUD.
7.

DJ MAX Fever (2009)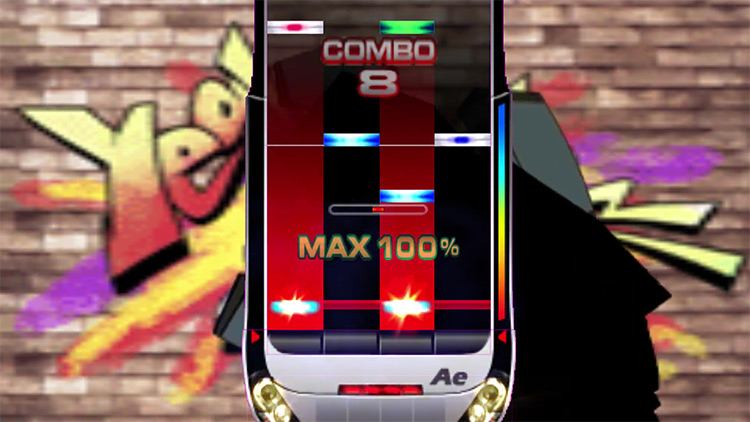 The Korean DJMAX series is the go-to PSP rhythm game for the truly masochistic gamers that can't rest until they've achieved 100% completion on tracks the average human would consider impossible.
Eight DJMAX games were released for the PSP, but only a couple ever got localized for Western audiences.
DJ Max Fever was one of them – a good choice, considering it's also among the easiest. This entry-level release will familiarize you with the gameplay and top-notch soundtrack.
If you like it, you can move on to Clazziquai Edition to steadily increase the difficulty or go straight to Black Square, so you understand what the series is really about (spoiler: it's suffering).
6.

PSP Revolution (2006)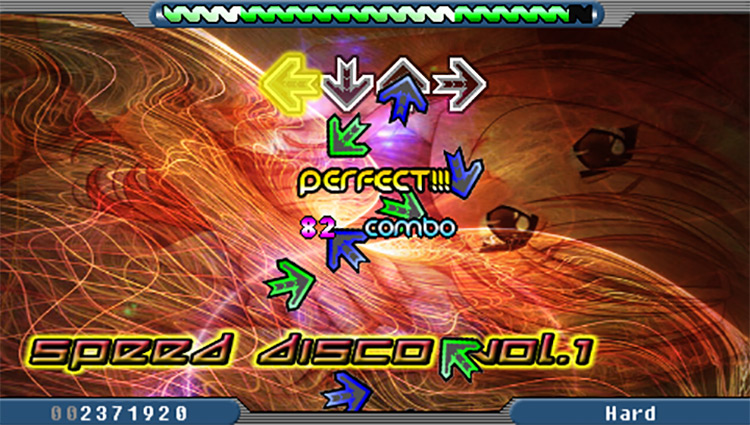 If you're tech-savvy, you've probably already gone through the process needed to run homebrew apps on your PSP.
Those of you running a custom firmware have access to PSP Revolution, a fan-made Stepmania clone able to play the same files as this classic open-source rhythm game.
It supports many customization options but – most importantly – lets you pick and choose exactly what songs you want to tackle rather than depending on the developer's whims.
You can download the homebrew game here and check out Stepmania tracks here.
5.

Taiko no Tatsujin Portable DX (JP) (2011)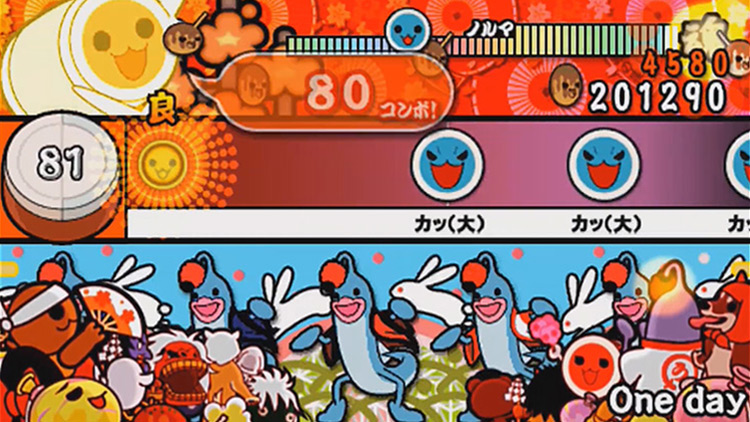 Taiko no Tatsujin is one of the most famous Japanese rhythm game franchises.
Its arcade machines are a common sight all around Japan, and you can also find them in many international arcades.
Those who are unfamiliar can compare it to Donkey Konga (2003), which plays identically to Taiko no Tatsujin but with bongoes instead of Japanese taiko drums.
Three Taiko no Tatsujin Portable games were released, but DX is the best by far. It features a full Story Mode, character customization, and over 70 excellent tracks.
Along with Japanese hits and some classical tunes like Beethoven's Ninth Symphony, the game offers a wealth of video game and anime-themed tracks from franchises like Monster Hunter, Hatsune Miku, Naruto, and One Piece.
4.

Hatsune Miku Project DIVA Extend (JP) (2011)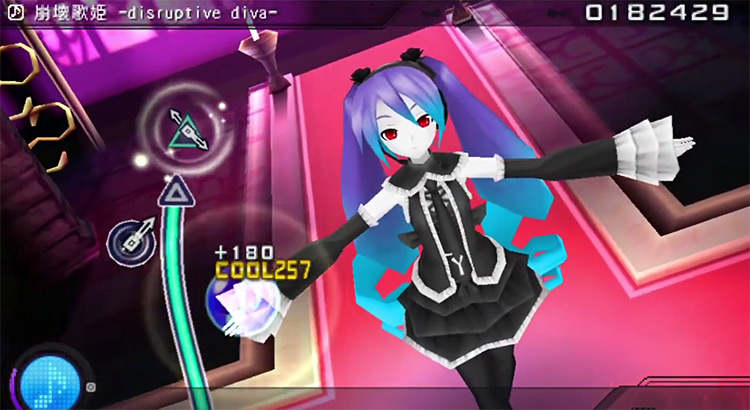 Another incredible series from Japan you can't overlook is Hatsune Miku Project DIVA.
You might know the series from the more recent Project Diva Future Tone on the PS4 and Project Diva Mega Mix on the Nintendo Switch and PC, but the franchise was already on Japanese PSPs over ten years ago.
The gameplay is simple but tricky.
You're tasked with hitting the button prompts on-screen, but these are dynamic and appear all around the screen in a choreography matching the music.
The fantastic music videos playing in the background are part of the game's difficulty. It's hard not to pay attention to the adorable Miku singing and dancing.
Its extensive song catalog includes hits like Ievan Polka, Puzzle, and Two-Faced Lovers.
3.

K-On! Houkago Live (JP) (2010)
K-On! is an adorable anime series by Kyoto Animation following a group of five girls who form the Light Music club of their school and start a band known as Houkago Tea Time.
The game allows you to play any song in HTT's roster as any of the five members, with different note tracks for Lead Guitar (Yui), Rhythm Guitar (Azusa), Bass (Mio), Keyboard (Mugi), and Drums (Ritsuko).
You'll unlock many outfits and accessories for the girls as you play. There are also decorations for the Light Music club room and protagonist Yui's bedroom.
It's easy to jump into but hard to master.
Regrettably, the game only features 19 songs, so it can get repetitive if you're not a big fan of the series.
2.

Gitaroo Man Lives! (2006)
Gitaroo Man Lives! is a fantastic port of a previous PlayStation 2 rhythm game.
This unique title follows protagonist U1 after he gains music-based superpowers he must use to battle monsters, aliens, demons, and robots and save the world from destruction.
Gameplay swings between "offense" and "defense" phases. During offense, you must follow a trace line with the analog stick while hitting the action button on-screen. For defense, you must hit specific buttons as the prompts approach the center of the screen.
The PSP port shines for the addition of duet songs. They're designed for multiplayer, but you can also play them by yourself.
1.

Patapon 2 (2009)
Pon Pon Pata Pon!
We've covered some fantastic titles until now. But if you want a truly unique experience you can only get on the PSP, the Patapon series is the way to go.
This game puts you in command of a tribe of Patapon warriors controlled by specific rhythm commands. For example, Pon Pon Pata Pon means to attack, and Chaka Chaka Pata Pon tells them to take defensive positions.
As the game progresses, you'll develop new abilities and commands and unlock new types of Patapon warriors through an evolution tree system.
Three Patapon games were released, and they're all top-notch titles.
I've chosen to feature the second one because it has the widest variety of unique Patapon warriors and a ton of content to chew on.
Browse:
Lists
PlayStation
Video Games