Best Cyberpunk 2077 Car & Vehicle Mods (All Free)
This post may contain affiliate links. If you buy something we may get a small commission at no extra cost to you. (Learn more).
There was a lot of controversy surrounding the release of CD Projekt Red's super-hyped Cyberpunk 2077.
Now that the dust has settled and CD Projekt Red has pumped the game full of patches and fixes to make it playable, we're left with a fantastic playground to live out our cyberpunk fantasies.
Since day one, modders have been hard at work fixing what CD Projekt Red couldn't and improving the game in many creative ways.
This includes beefing up the vehicle variety and overhauling the driving experience.
Suppose you love Cyberpunk 2077 but expected more out of the driving experience.
In that case, this collection of new cars and alternative vehicle handling settings will take your gaming to the next level.
15.

Star Wars Speeder Bike
Speeder bikes are some of the most popular vehicles in the far, far away galaxy where Star Wars take place. Only someone with skills and high reflexes can drive one without incurring disaster.
Luckily, V is one such person.
This mod by AnyGoodName brings the Aratech 74-Z speeder bike straight from the Galactic Empire into Cyberpunk 2077.
It looks a bit like a relic among Night City's stylish vehicles, but it's just as powerful as the Brennan Apollo bike it replaces.
14.

Better Acceleration for Keyboards
Driving a car with a keyboard is never the best experience in video games – mainly because keyboards are missing pedals or triggers to control your acceleration.
This mod by Mettaray aims to give keyboard + mouse players a better driving experience by separating the buttons that move the car forward and accelerate.
Now your car will drive at a stable speed, unless you also hit Shift to raise your speed.
This is remarkably useful when you don't want to drive around like a maniac, and it's also more comfortable overall.
13.

Sell Stolen Cars
Something that surprised me a lot when I first started playing Cyberpunk 2077 was the inability to sell off cars like you can in most GTA titles.
It probably makes sense from a "balance" perspective, but if I can't live off of my incredible car-stealing skills, I don't want them.
Modder ThalonMook took the time to rectify this with their Sell Stolen Cars mod, which lets you pawn off your ill-gotten wheels at garages in Watson Northside and the Badlands.
12.

Porsche 911 Turbo Custom Paint Jobs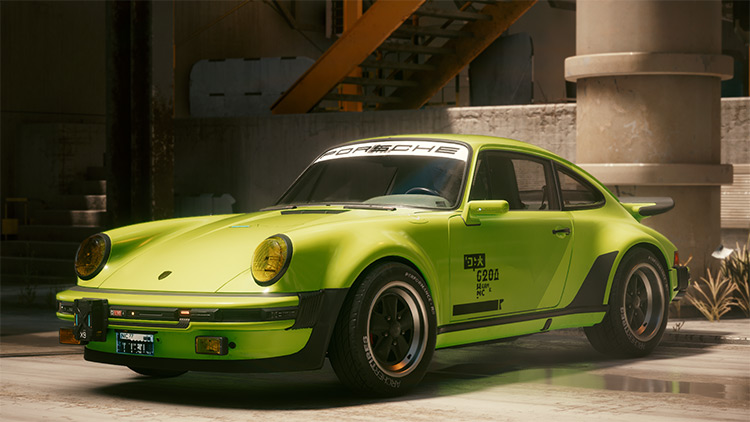 I've been a big fan of the Porsche 911 since my dad got me a scale model as a child.
Its classic shape has become the identity of the Porsche brand, and I try to get one in any game that will allow it.
The Porsche 911 Turbo in Cyberpunk 2077 is a work of art.
It's vintage but sleek, powerful, and bold – making it ideal for those in love with the gaudy Kitsch aesthetic.
If you want to make it even more flashy, these Custom Paint Jobs by creator BlackHoot come in handy.
They offer several bright, bold colors like red, green, and blue, along with differently decorated interiors and several decal options.
11.

Vehicle Spawner
If you're going to get showy new vehicles for your Cyberpunk 2077 garage, you'll need a way to access them quickly – and nothing is more practical than a vehicle spawner.
This won't precisely protect your immersion or the game's challenge, but sometimes, you just want to cruise by on some sleek wheels without worrying about the world around you.
Other times, you really, really need that unmanned Basilisk hovertank.
With this nifty tool you'll gain instant access to over 600 cars ranging from super-luxurious limos to parade floats, including all of the supercars you'll see in the wealthier districts of Night City.
10.

Carbine Tank 1000
With angles so sharp they count as a traffic hazard comes the Carbine Tank 1000, created by CarbineHeroes as an offshoot from a previous Batmobile they worked on.
This car would totally look like a Batmobile in black, but in red, it's more like a Knuckles The Echidna-themed parade car.
It's a bit ridiculous, but there's something about its bright red color and spiky top that really puts the "punk" in Cyberpunk 2077.
The Carbine Tank 1000 replaces the showbiz favorite Herrera Outlaw, and it remains mostly the same in terms of performance.
9.

The Sunshine Pack
Even in the moody neon-lit streets of Night City, people love taking the edge off and heading into the Badlands for some off-road action in the summer.
This custom car pack by DoctorPortal will give you a glimpse of Night City's festive summer look by replacing the Chevillion Emperor, Herrera Outlaw, Quadra Type-66, and Rayfield Caliburn with their summer-modded counterparts.
This mod pack will bring in everything from luxurious convertible limos to modified roadsters that'll make Night City look like Dubai.
8.

Carbine Rocket 3000
I've always loved "futuristic" designs that just take old technologies to their maximum expression.
The Carbine Rocket 3000 is basically a jet engine-powered bike with a single (tiny) wheel and a floating front.
It has a unique Star Wars-like body design, and its bright red paint is visible from miles away.
Whether creators CarbineHeroes meant for this to look cool or funny is beyond me.
But they managed to create a memorable replacement for the Apollo Brennan sportbike.
7.

Yaiba Kusanagi CT-3X Custom Paint Job Pack
The Yaiba Kusanagi is the crème de la crème when it comes to motorcycles in the year 2077.
Creator Fuxsart offers us a whole catalog of appealing color palettes for the Japanese super-bike for further customization.
If you put the time into creating the perfect character, they should have the ideal bike.
I've always been a fan of sleek motorcycles with solid color schemes that make them recognizable from a mile away.
This is especially useful in open-world games where running to your vehicle amid a storm of bullets is common.
6.

Yaiba Kusanagi Neon Rims
If you're still not satisfied with your custom Yaiba Kusanagi, I'd suggest taking it to the next level with creator Halvkyrie's Neon Rims mod.
As you've undoubtedly worked out, this mod lets you add potent neon lighting to your wheels.
Ironically, this helps the Kusanagi blend in better with the bright lights adorning everything in Night City.
It features seven color options ranging from dystopian red to saintly white. With this and the previous mod, you'll never run out of options for your neo-military motorcycle.
5.

Realistic Driving Experience
One of the most critical aspects of Cyberpunk 2077's gameplay is driving futuristic supercars with insane modifications through the streets of a neon-lit dystopian metropolis.
Regrettably, the controls leave a lot to be desired.
Even if you get the Better Acceleration for Keyboards mod, you're likely to find issues with the handling, turning, and more.
This Realistic Driving Experience by creator Hunter04119 aims to improve the game's car driving and make it as close to Forza as possible. Hello drifting!
4.

CYBERDRIVE (Truly Realistic Driving Experience)
If you're not obsessed with Forza and think there are better ways to handle cars, I recommend Cyberdrive.
Creator RoyalPredator must have tried out every single driving mod before making his own because it brings together the best aspects of each one.
Which handling mod you go for will depend on your personal preferences – but if you want Cyberpunk 2077 to feel like GTA V, this is the mod you need.
3.

The Sports Legends Series
Prolific creator DoctorPortal brings us this fantastic set of counter neo-Kitsch vehicles with revitalized, fresh designs ready to shake things up in Night City's car scene.
This pack includes five unique sports cars with bold designs embodying the counter neo-Kitsch movement.
I'm especially drawn toward the Quadra Type-66 Mk. II "Vindicator," which looks like something a Guardian from Destiny would feel comfortable driving.
You can read a ton of fan-made lore about each of the cars on the mod's description page, which can add a lot to the experience if you value immersion.
2.

Quadra Turbo-R "Arcadia" MK.II
The Quadra Turbo-R V-Tech is one of the best vehicles ever made in the Cyberpunk 2077 universe – a cult muscle car beloved by anyone who knows what driving is all about.
But there's always room for improvement.
Creator DoctorPortal hammered out the Arcadia MK.II by taking apart a Mizutani Shion "Coyote" and rebuilding a Quadra Turbo-R V-Tech around its internal components.
The result is a powerful and unique vehicle that'll be the center of attention even when you're not driving like a madman.
It features several lore-friendly paint schemes that'll make any nomad's mouth water at the sight of your ride.
1.

Lamborghini Terzo Millennio
Lamborghini first unveiled their Terzo Millennio electric supercar back in 2017.
In 2077, the 60-years-old car could be considered "vintage," but the Italian manufacturer's futuristic style keeps it surprisingly fashionable.
This jaw-dropping vehicle was envisioned to drive around the cities of the future.
Though chief designer Mitja Borkert surely wasn't thinking of dystopian cyberpunk megalopolises, it's ideal for Night City's neon-lit streets.
The classic Lambo body is iconic, it has beautiful glowing accents, and the center seat driving is perfect for a mercenary like V.
Browse:
Cyberpunk 2077
Lists
Video Games