100+ Nickname Ideas For Gyarados (Including Shiny Names)
This post may contain affiliate links. If you buy something we may get a small commission at no extra cost to you. (Learn more).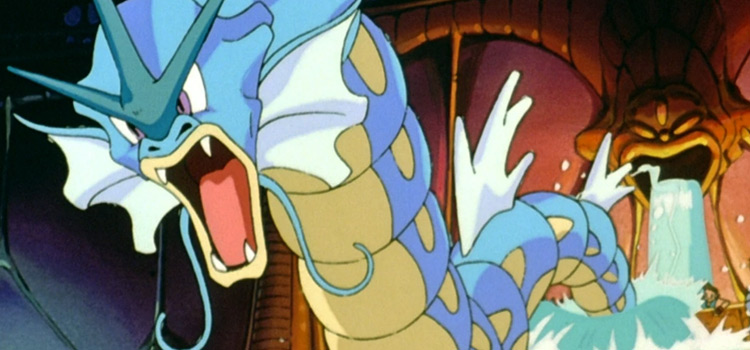 This might be the only Pokémon where players would recognize the shiny faster than the original.
Gyarados is just a beast. And he makes it worthwhile to put up with Magikarp's BS for all those levels.
If you're finally evolving one and need a sweet nickname to go with him(or her) then take a gander at our ideas below.
This list does focus mostly on "typical" Gyarados that you might raise yourself, but there's also a section towards the end dedicated to shiny names for our red scaly friend too.
Longboi
Poseidon
Vitamin G
Boros
Corsair
Dethbringer
Carpe Diem
Leviathan
Lucro
Snek
Serpent
Gyara
Enron
Temper
Carter
Cappie
Whiplash
Guardian
Elliot
Typhoon
Shipwreck
Flappy
Crackerjack
Gyaraldehyde
OG
Farley
Ponyboy
Splasher
Cleetus
Bubbles
Seychelles
Jeronimo
Stevia
Beetlejuice
Gary Dose
Smiles
Loading…
Arrr
FlyingDutchman
Serpitude
Brute
Gya
Mushu
HiTide
TopLoader
Tether
Draco
Magnum
Bahamut
Tigi
Bowler
Python
Nagendra
Nackle
Bubbie
Guyvern
Prose
Scratcher
Blaster
Algonquia
Skullkrak
Orochi
DangerFish
Gyarakarp
Brutasea
Nagini
Cadmus
Inkman
Massacre
Maximillian
Litigator
Kaa'a
Jailbird
Bobber
Breather
Plessie
Waterloo
Anaconda
Serpente
Obstruction
Challenger
Zmeya
Gulag
Danish
Strokkur
Pressure
Shooter
Panzer
Calamity
Pacifica
Doodad
Fang
Shiny Gyarados Nickname Ideas
Crimson
Reddy
Satan
Kratos
Firescale
Flash
Fireforged
Redkraken
Strawberry
Nicholas Rage
Browse:
Lists
Pokémon
Video Games