The Best Cosmic Skins in League of Legends (All Ranked)
This post may contain affiliate links. If you buy something we may get a small commission at no extra cost to you. (Learn more).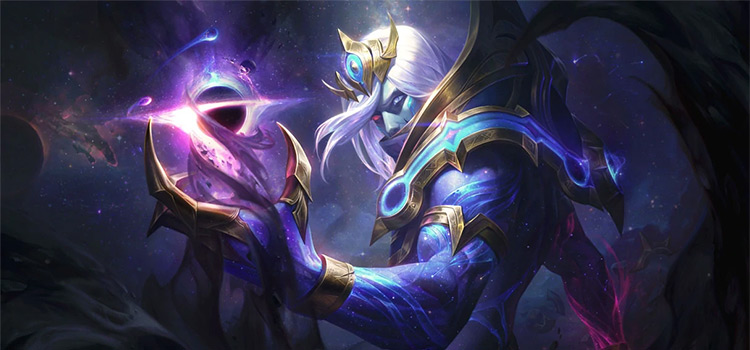 The Cosmic skin line transforms champions into space born entities.
So as you can probably imagine, each skin is bursting with ethereal qualities, starry animations, and otherworldly sound effects.
Some Cosmic skins even give champions godly powers, with constellations, planets, and entire galaxies under their control.
Whether you simply love the spacey aesthetic, or want to experience "ruler of the universe" kind of power, there's sure to be a skin below that leaves you feeling starry-eyed.
We've ranked them from worst to best, based on splash art, animations, character model, overall feel, and sound effects.
16.

Cosmic Blade Master Yi
Released: April 26th, 2017
Price: 1350 RP
I know this is the go-to skin for many Master Yi mains out there, but I'm honestly not won over by it.
The character model looks clunky and one-dimensional, most of the animations are just recolors of the base ones, and the space thematic is a bit too subtle for my liking.
Even the recall feels underwhelming.
With that said, the weapon design is pretty badass.
I also love how the splash art is basically Yi just zooming through hyperdrive. It's a mood.
15.

Cosmic Dusk Xayah
Released: April 18th, 2017
Price: 1350 RP
Unfortunately, Cosmic Dusk Xayah is pretty mediocre.
The character model is simplistic, lacks depth, and doesn't have much of an intergalactic vibe.
It kind of feels like the design team just stuck a starry filter on her feathers and called it a day.
Now, the animations are clean and bright, but again, the space theme is a bit too subtle.
Plus the ult is seriously underwhelming.
So yeah, I personally wouldn't fork out on this skin unless you're after the joint recall with Rakan.
14.

Cosmic Enchantress Lulu
Released: August 21st, 2018
Price: 1350 RP
I'm pretty torn over this skin.
On the one hand, the spacey, interdimensional sorceress look really suits Lulu.
The skin also unveils her more "menacing" side, which is pretty neat considering most of Lulu's skins are ultimately designed to be goofy.
Plus, turning Pix into a mini version of Aurelion Sol? Pure genius.
On the other hand, I just find the whole skin a bit underwhelming.
I'm not a fan of the mask design, the color palette is lackluster, and most of the animations don't wow me either.
With that said, the W does change your enemies into weird, alien squids, which is sure to tilt them.
13.

Cosmic Queen Ashe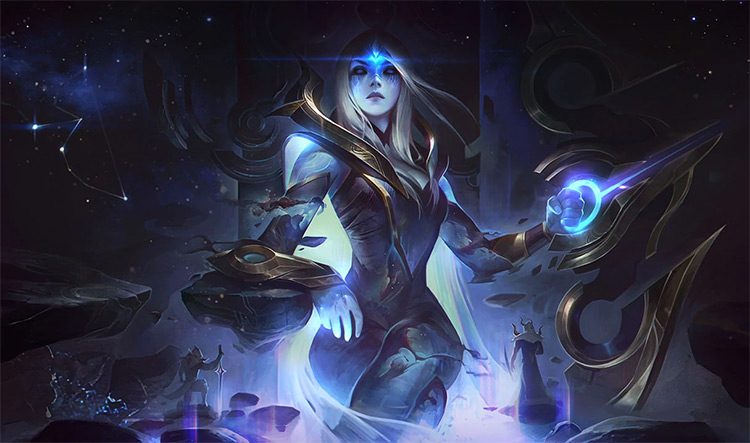 Released: August 21st, 2018
Price: 1350 RP
Cosmic Queen Ashe's splash art is absolutely brilliant.
It transforms Ashe into this ominous, space deity who towers over the universe (and all those within it).
But when you load into a game with this skin?
It all goes downhill.
Instead of feeling like an unbeatable god, the actual character model makes you feel insignificant and powerless.
The outfit is mediocre, the colors are garish, and the whole look is oversaturated.
The only thing that I actually like about the character model is the cape design. But yeah, that alone isn't exactly worth the premium price tag.
If you can look past the gaudy character model though?
The sound effects are top notch and the particle effects, while subtle, look polished and clean.
Plus the recall does give you an "Eternity" vibe.
12.

Cosmic Sting Skarner
Released: November 24th, 2020
Price: 1350 RP
This skin gives Skarner a literal glow up.
And by that, I mean the skin is flashy to the max; the character model is bright, swanky, and packed with frills, while the particle effects are bursting with light and stars.
Sadly, despite its undeniable flashiness, I'm not a fan of this skin.
The sound effects are a bit too loud and grating, and the character model, while badass, strays too far from Skarner's actual champion design.
It doesn't really look like Skarner anymore, with the only identifiable feature being the stinger.
Nevertheless, it's still a great skin if you can't tolerate the seriously dull base model animations.
11.

Cosmic Hunter Varus
Released: November 24th, 2020
Price: 1350 RP
Right. Cosmic Hunter Varus' bow is one of the BEST weapon designs in the whole entire game.
The bow honestly looks like it could pierce through stars, planets, galaxies, and even universes.
The constellations, the spacey aura, the way it powers up and triples in size — it's jawdropping.
But beyond the weapon design?
This skin doesn't have much else going for it.
The character model and particle effects are okay, but they're nothing special.
The splash art is also a bit of a let down; Varus blends in with the background and his pose doesn't exactly scream "power."
10.

Cosmic Defender Xin Zhao
Released: August 21st, 2018
Price: 1350 RP
Cosmic Defender Xin Zhao is a bit of a mixed bag.
So let's focus on the positives first.
For starters, the character model is flashy and genuinely makes you feel like an ethereal space knight.
Combine that with the awe-worthy starry particle effects? And it's a killer combo.
Now for the negatives:
It doesn't really look like Xin Zhao, the color choices are questionable, and the in-game character model is completely different from the splash art model.
Do these gripes put me off buying the skin? Personally, yes.
But I doubt they'll put off a true Xin Zhao main.
9.

Cosmic Reaver Kassadin
Released: October 14th, 2015
Price: 1350 RP
First of all, I've got to show some love for the character model.
There's just something so powerful yet mysterious about it, and it makes it easy to imagine Kassadin as this otherworldly entity traversing through space, time, and the void.
The animations, while not exactly flashy, are also impressive considering the skin's age.
They have plenty of spacey effects and nothing feels jarring or clunky.
With that said, I would have liked a little more oomph in the recall — it's pretty underwhelming in comparison to the rest of the skin.
8.

Cosmic Flight Anivia
Released: November 24th, 2020
Price: 1350 RP
While some players may find Cosmic Flight Anivia a little lackluster, I personally love it; it's simple but elegant.
The colors are gorgeous, constellations span across Anivia's wings, and the armor adds a touch of mysticism.
The animations and sound effects are satisfying as well.
My only real complaint about this skin?
Anivia's W animation doesn't quite work with the theme. It feels out of place with the ethereal, spacey vibe the rest of the skin has.
Nevertheless, Cosmic Flight Anivia is still an eggcellent all-round skin, and there's also plenty of killer chromas available.
7.

Cosmic Dawn Rakan
Released: April 18th, 2017
Price: 1350 RP
This skin gives Rakan an ethereal, starry makeover, and the result is absolutely gorgeous.
His feathers are aglow with constellations and galaxies, his hair is imbued with the sun's power, and his outfit now has a captivating, mystical flair.
This skin isn't all visuals and no substance though.
In fact, it's sure to help you rack up that sweet LP; the animations boast great visual clarity, with your W being particularly easy to land.
Plus the sound effects are clean and distinct.
With all that said, I do have a minor gripe with this skin.
The character model's face looks pretty darn and lacks the charm of Rakan's OG face.
Sure, it's not saying you'll notice in the heat of the battle, but I still can't overlook it. Hence, why this skin is at the #7 spot.
6.

Cosmic Invoker Illaoi
Released: November 24th, 2020
Price: 1350 RP
Cosmic Invoker Illaoi looks like a warrior princess from an alternate dimension.
The armor is badass, her character model has a gorgeous spacey glow, and her weapon blends together both ancient and futuristic qualities, providing an ethereal look.
The tentacles are also beautifully designed.
Where this skin really shines though is in the animation department.
The Q lets you open a rift in space, the W has tons of extra oomph, and the ultimate is a total, intergalactic showstopper.
5.

Cosmic Destiny Nami
Released: November 24th, 2020
Price: 1350 RP
This skin transforms Nami into a space mermaid.
And yes, it does look as gorgeous as it sounds.
Everything about the character model is awe-worthy, from the flowing tail made from stars to her gold, mystical armor.
Plus it makes Nami feel much more powerful — instead of controlling the tide, she now controls the whole universe.
The recall, attack animations, and particle effects are also all absolutely mesmerizing; it's pretty much stars and constellations galore.
Oh, and your ult even summons up a giant space whale. Yeah. It's awesome.
4.

Cosmic Huntress Nidalee
Released: November 24th, 2020
Price: 1350 RP
Cosmic Huntress Nidalee makes you feel like a deity straight out of a fantasy, sci-fi anime.
So yeah. I'm absolutely in love.
The human character model has the perfect blend of intergalactic godliness, badassery, and fanservice, and the cougar form is basically a mythical space lion.
In both recalls you also get to control the stars, upping your "space deity" game by tenfold.
Plus each ability feels impactful, with your spear being bold, flashy, and downright menacing.
All in all, Cosmic Huntress Nidalee is a skin that's truly out of this world.
The splash art is total eyecandy too.
3.

Cosmic Charger Hecarim
Released: November 24th, 2020
Price: 1350 RP
A horse in space doesn't exactly sound like a concept that would work, but boy did Riot prove me wrong.
Cosmic Charger Hecarim is an absolute masterpiece.
The skin maintains Heca's champion identity while overloading you with badass spacey particle effects, starry design choices, and intricate, sci-fi armor.
Plus, his weapon is basically an improved version of Thor's stormbreaker, which is something I think we can all get behind.
To top it all off?
The recall is seriously creative, turning Hecarim into an actual constellation.
2.

Cosmic Devourer Vladimir
Released: November 24th, 2020
Price: 1350 RP
Why stick to devouring blood when you can devour planets for breakfast?
Yep. This skin turns Vladimir into a tyrannical space lord with a thirst for the universe itself.
The character model has total villain vibes, the voice filter makes Vlad sound insanely menacing, and the animations are smooth and feel ultra powerful (your pool is even a literal black hole!)
Oh, and your recall transforms you into a nightmare-inducing space entity.
Just look at those blood red eyes. Yeesh.
For 1350 RP?
This skin is honestly a bargain.
1.

Cosmic Lux
Released: March 26th, 2020
Price: 1820 RP
This skin makes Lux look like an omnipotent being born from the stars — aka bright, mystical, and fiery — so yeah, it's obviously a total showstopper.
The character model is a work of art, the animations allow you to control planets and constellations, and the sound effects are easy to hear in the heat of battle.
Plus the recall shows off Lux's inner battle between good vs evil, adding depth to her character.
But the main reason why Cosmic Lux has secured the top spot, despite its premium price tag?
The fact that the emotes are just so hilarious and fun to watch.
You get to "vacuum up" corruption with your staff, play golf with stars, and groove out to an intergalactic version of Beat Saber.
Note: this content was created under Riot Games' "Legal Jibber Jabber" policy using assets owned by Riot Games. Riot Games does not endorse or sponsor this project.
Browse:
League of Legends
Lists
Video Games