Best Victorious Skins in League of Legends (All Ranked)
This post may contain affiliate links. If you buy something we may get a small commission at no extra cost to you. (Learn more).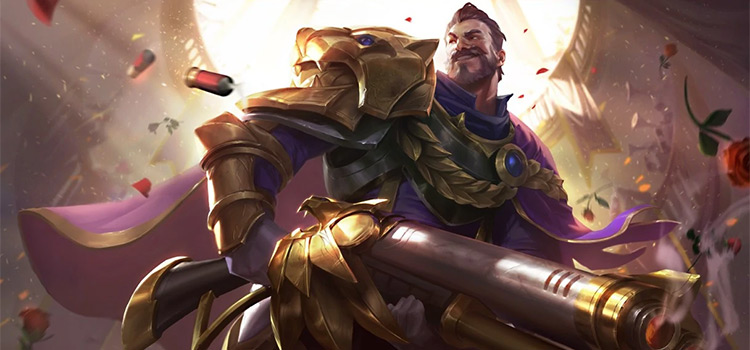 Victorious skins are a ranked reward given to players that reach Gold or higher by the end of the season.
They're packed with winning features (pun intended), give you bragging rights, and make the grueling climb feel like it's been worth something.
But which victorious skin is the overall "victor?"
Let's find out!
Below we've ranked all the skins based on their character models, animations, sound effects, and splash arts.
11.

Victorious Jarvan IV
Released: September 14th, 2011
Price: Ranked Reward
As the first ever Victorious skin, owning it gives you immediate VIP status.
After all, you get to show off the fact that you're an OG player who has experienced every facet of League's history.
Yep. You experienced a 95% ban rate Kassadin, you were around before the InSec kick was even created, and you played on the Rift before it got its gamechanging glow up.
But, aside from allowing you to show the world that you're a hardcore fan of LoL, the skin doesn't really provide anything else.
It looks god awful.
The colors clash horribly and the character model is dull and mediocre.
Clearly, no thought went into the design, which is a shame considering it's the first ever Victorious skin.
10.

Victorious Janna
Released: November 6th, 2012
Price: Ranked Reward
Victorious Janna, the second Victorious skin ever made, is definitely heaps better than Jarvan's skin.
The weapon has a sweet, mythical feel, and the splash art makes Janna look insanely powerful.
Plus, you get a cute bird sidekick to aid you in battle.
However, it still lacks "wow factor;" the animations are nothing to write home about and the character model could do with a bit more flashiness.
9.

Victorious Aatrox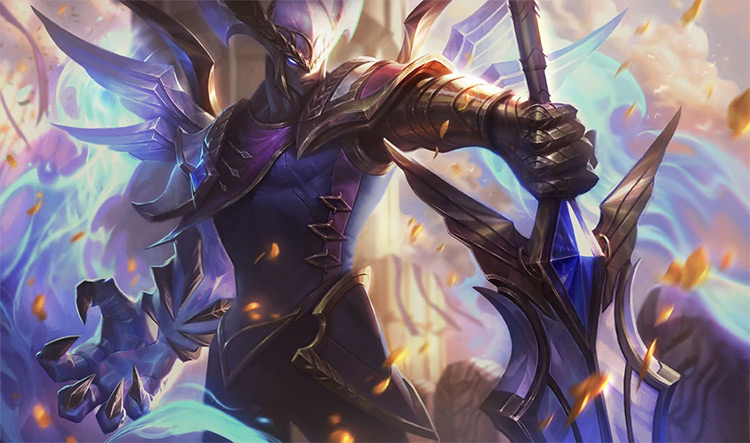 Released: November 21st, 2019
Price: Ranked Reward
I have mixed feelings about Victorious Aatrox.
All the elements are there – it's flashy, has a modern, swanky feel, and is packed with unique features – but the overall look is all over the place.
Truth be told, it makes Aatrox look like he's cosplaying Galio.
So hey, a huge plus for all the Galio mains out there, but for everyone else?
A disappointment.
But I can't put the skin dead last.
Where the skin does work is in the animation department; your W is total eyecandy, and your ultimate makes you feel like a battle-hardened angel sent to dish out justice.
8.

Victorious Sivir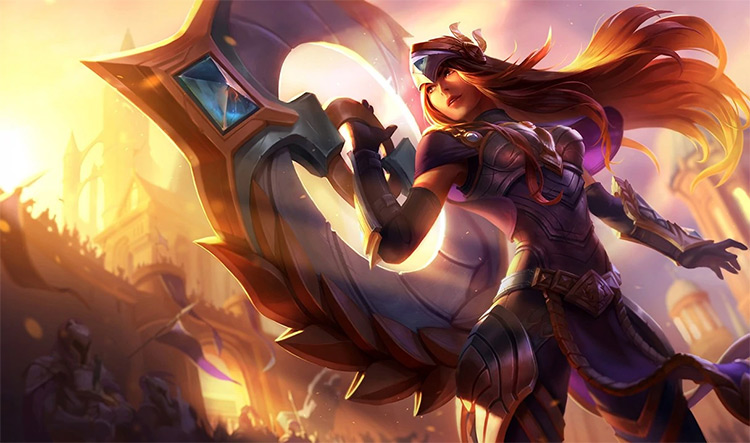 Released: November 12th, 2015
Price: Ranked Reward
I absolutely love this skin's weapon design.
The serrated edges look absolutely deadly, but the subtle gold accents and gems provide a majestic feel as well.
So, it basically represents who Sivir is: elegant but deadly.
Aside from the weapon though, I'm not really won over by anything else in the character model.
The animations are slick and subtle – so they won't distract you from securing that gamechanging kill – but they're a bit too toned down for my liking.
I do like the backing animation though. While it's simple, it's surprisingly captivating.
7.

Victorious Elise
Released: December 20th, 2013
Price: Ranked Reward
This skin transforms Elise into a spider queen, with a majestic but powerful character model.
She rocks vibrant gold armor, a jeweled crown, and a badass cape.
Her spider form is equally stunning, and the colors complement each other perfectly.
Sadly, while the character model does look nice, the particle effects lack the "oomph" you'd expect to see in a Victorious skin.
They're essentially just blue-hued versions of her original particle effects.
The baking animation is also pretty disappointing – Elise just poses like a scarecrow.
6.

Victorious Orianna
Released: November 21st, 2018
Price: Ranked Reward
Victorious Orianna isn't exactly beauty competition material.
The character model is clunky, way too shiny, and the color choices are questionable.
But everything else about this skin is gorgeous. The animations feel impactful and smooth, and the recall is honestly legendary quality.
So, put simply:
This skin is "all substance" and no looks.
It's perfect if you're solely after something that feels great.
5.

Victorious Blitzcrank
Released: November 16th, 2021
Price: Ranked Reward
Victorious Blitzcrank is definitely the most unique skin in the line.
It essentially transforms him into the "Iron Giant," only, ya know, a little less giant.
The character model has an awesome steampunk vibe, and it manages to make Blitzcrank feel more refined and polished.
The animations are also drop dead gorgeous, with the hook powered by some flashy electric bolts.
Overall though, this skin doesn't really deserve a higher ranking than this.
The reason?
It's a complete departure from the Victorious thematic.
4.

Victorious Maokai
Released: November 8th, 2016
Price: Ranked Reward
Maokai has a range of derpy skins – Goalkeeper, Meowkai, and Astronaut, to name a few – so it's nice to see a more serious look for a change.
Victorious Maokai is absolutely extravagant (well, as much as a tree can look extravagant), with a royal blue robe, golden gauntlets, and flashy headdress.
The animations are clean and slick, and the saplings have also been given a snazzy transformation.
While the ultimate is a bit lackluster, the recall makes up for this more than enough.
It's pure comedy, with a lil sapling "fanning you" and fulfilling your every wish.
3.

Victorious Graves
Released: November 8th, 2017
Price: Ranked Reward
Victorious Graves is a satisfying skin to look at and use.
Every element feels polished and complements Graves as a character, and the color choices are snazzy and bold without being obtrusive.
The weapon is a showstopper in itself, and gunning down your enemies with it feels great.
Plus that cape is a total fashion statement.
As I mentioned above, the skin is equally satisfying to use; animations feel powerful and everything is clear and distinct.
The only thing missing?
His cigar.
2.

Victorious Morgana
Released: November 11th, 2014
Price: Ranked Reward
Despite being over 7 years old, Victorious Morgana has stood the test of time.
It's still one of the best skins in the line. The outfit is utterly gorgeous, and the colors just work together beautifully.
The design is also jam-packed with neat details, all of which add a royal, "victorious" look.
Where the skin really shines above others though is its animations.
They're slick, sparkly, and feel ultra powerful.
The ultimate even transforms Morgana into a godly being (cya, fallen angel days).
Now, I would put Victorious Morgana at the no.1 spot, but it's sadly let down by the backing animation.
It's not bad, but it doesn't wow me either.
Oh, and also because I'm bitter – I started playing League the season after this skin came out, so I'll never get a chance to experience its beauty.
1.

Victorious Lucian
Released: November 11th, 2020
Price: Ranked Reward
Victorious Lucian is what every Victorious skin should strive to be: it's epic, creative, and makes you feel like a challenger at heart.
It's got the perfect amount of badassery, and the futuristic warrior vibe looks fantastic on Lucian.
Every animation is clean, smooth, and feels just right.
You even get some badass wings whenever you dash, and the ultimate is flashier than Lux's ult.
To top it all off?
The sound effects are super crisp.
Victorious Lucian is the only skin in the line that, in my opinion, truly motivates you to climb the ranked ladder. And so it naturally deserves the top spot.
Note: this content was created under Riot Games' "Legal Jibber Jabber" policy using assets owned by Riot Games. Riot Games does not endorse or sponsor this project.
Browse:
League of Legends
Lists
Video Games