15 Best Mods & Skins For Mario Kart 8
This post may contain affiliate links. If you buy something we may get a small commission at no extra cost to you. (Learn more).
It's always a great idea to throw on some Mario Kart for fun with friends.
While sports fan might prefer games like NBA 2K or Madden, there's just something about Mario Kart that makes it accessible to everyone. Young to old, ladies to gentleman, Mario Kart is a blast.
And thanks to modding, there's always new content to dig into.
We can add pretty much any character we want, along with other cool features like new race tracks and sound mods as well.
For this post I'll specifically be covering add-ons for Mario Kart 8 for the Wii U.
Just as a heads up, this process is tricky so if you've never done it before look into some guides first. This one is good but there's plenty online to check out!
15.

Diddy Kong Official
Donkey Kong's nephew Diddy has only made two official appearances in Mario Kart games – the first being in Mario Kart: Double Dash!! and more recently in Mario Kart Wii.
But he wasn't included in Mario Kart 8, leaving fans feeling like something had been taken away.
Well thanks to modder Don Jon, Diddy Kong makes a comeback in Mario Kart 8 as a completely playable character.
As an added easter egg of sorts, Diddy drives a plane kart as he did in his stand-alone racing title Diddy Kong Racing for the Nintendo 64.
14.

Sonic The Hedgehog
Of course, our favorite cartoon racer wouldn't be complete without our favorite cartoon speedster.
Who else would we be talking about other than Sonic The Hedgehog?
Modder CorBond actually ported Sonic to be compatible with Mario Kart 8, just note that he'll have to replace Metal Mario to work.
The mod comes with a completely playable Sonic skin, along with an updated voice pack, custom emblem, custom vehicle colors, and even UI icons.
This one's pretty sleek!
13.

Sonic's Speed Star Car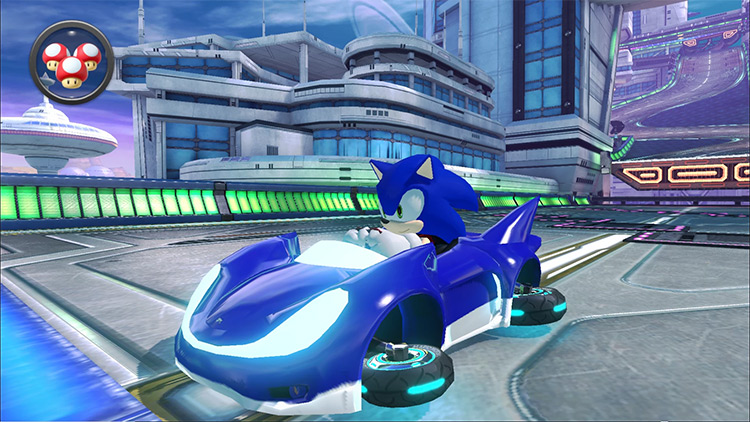 What better way to race with Sonic than in the famous Speed Star?
For those who aren't familiar, the Speed Star is actually a blue convertible which is Sonic's personal sports car for the exact purpose of racing competitions.
The skin here looks just like as it appears in the original Sonic & Sega All-Stars Racing.
There is a tradeoff here, though. As the Speed Star will have to replace the P-Wing kart from the base game. Up to you whether it's worth the trade-off or not.
12.

Doctor Eggman
Now that you have Sonic in Mario Kart 8, why not complete the roster with his arch nemesis Doctor Eggman?
Doctor Eggman is not a completely playable racer in MK8, and has custom colors for each of the vehicles as well.
Other than the character himself, the mod even comes with two options for custom vehicles.
You'll be able to choose between the Egg mobile as seen in Sonic Colors, or the All-Stars Racing versions.
The Egg mobile skin replaces the Landship from the base game, so you'll only be able to use one of the two.
11.

Dr. Eggman Voice Mod
Your Doctor Eggman skin isn't complete just yet, as you're going to want to pair it with this custom voice mod by JoshdaBoss.
The mod doesn't really add any new content, as the original Eggman mod already comes with custom voice clips.
Yet JoshdaBoss did notice that the volume of the voice clips was a bit too low, so he made them a bit more audible. A very nice gesture!
Still, you're going to want to get this one to go along with the skin just so everything works well with the rest of the game.
10.

Peachette from Mario Kart Tour
Another nod to an older Mario Kart game, modder MagnaDR brings back Peachette from Mario Kart Tour.
This one's a bit more special as that was the only one appearance Peachette ever made in a Mario Kart game.
The mod replaces Peach with a Peachette skin, either in a bike suit or the standard Peachette mushroom dress.
9.

Luma Bike Texture
While Rosalina is a playable character in Mario Kart 8, we only get a much younger baby version.
Well most fans thought that the original older Rosalina was much cooler, with her ability to get help from Lumas.
Modder Swiftie_Luma felt the same way.
And as a result, they bring us the Luma Bike Texture for MK8.
With this mod you'll be able to replace the Sports Bike texture with a Luma powered bike.
You'll still only have Baby Rosalina to race it with. But the bike comes complete in blue with a Galaxy Air stamp, which is still pretty cool.
8.

Cappy (over Boomerang)
Boomerangs have always been a part of Mario Kart games.
There's nothing like taking the top spot after hitting a perfectly aimed boomerang at the dweeb taking 1st place.
Well with the incredible Super Mario Odyssey's design, we're introduced to a new Mario friend in the form of Cappy.
Cappy is Mario's trusted top hat that helps him overcome pretty much any obstacle. And he's adorable.
This mod brings Cappy to Mario Kart 8, making him useable instead of boomerangs.
Install this and you'll get it complete with FX particle models, red wind effects, and new UI icons.
7.

Bowsette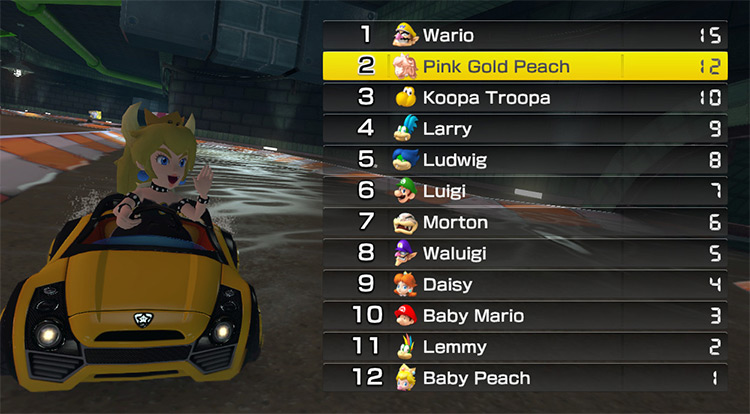 Another easter egg character skin for Mario Kart 8 – modder DarkyBenji brings us Bowsette.
Now you might be wondering who Bowsette is.
Well Bowsette is actually a fan-made Mario character that reimagines Bowser in female form. Bowser transforms himself with a power-up to resemble Princess Peach, at least that's how the story goes.
In any case, Bowsette isn't really an official Nintendo character. But can be added to Mario Kart 8 as a playable racer thanks to this mod.
6.

BLgotswag's Skybox and Lighting Pack
Before we get into more added content for Mario Kart 8, I wanted to throw in this little graphical upgrade. Definitely worth a mention.
There aren't many mods out there that improve on visuals for MK8.
But BLgotswag's Skybox and Lighting Pack is definitely worth checking out.
This adds a ton of custom skyboxes and lighting effects to the game, including a giant Majora's Moon from the Zelda games.
You may think this won't do much. But the added atmosphere just makes the race tracks come alive, and the change of scenery is also refreshing to see.
5.

Nightshade Mansion
Another great way to make your MK8 experience all the more exciting is by playing some of the community's custom maps.
There are loads to choose from, with some being completely original, while others being sort of throwback maps that bring tracks from older games to MK8.
Nightshade Mansion is a customized version of the Twisted Mansion track that's part of the base game.
The map is recolored along with all the items found on it, as modder Ravage656 wanted to give it a scarier look overall.
4.

Waluigi Pinball CT
Waluigi Pinball is one of those throwback maps that's just too good to pass up on.
Making its first appearance in Mario Kart DS, and again being featured in Mario Kart 8, MK fans just can't get enough of this track.
Modder Divengerss brings the same track to MK8, with this ported version from the revised Mario Kart Tour map.
Textures are now at much higher resolutions as well, so this map shouldn't have any problems fitting in with the rest of the game.
Give it a try, I think you'll love it.
3.

Luigi Circuit from Double Dash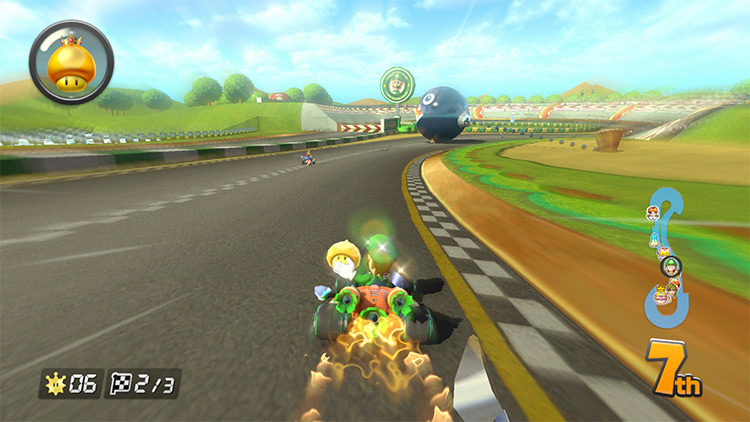 Modder MagnaDR doesn't just make skin mods for MK8, as proven here where he brings us another favorite map from Mario Kart: Double Dash!!
That's right, this is a completely playable remake of Luigi Circuit from the older MK titles.
Many Mario Kart fans will probably recognize this one instantly, as it most resembles a real world race track, with the signature bright Mario colors.
The track comes complete with upgraded HD textures and even the original Luigi Circuit soundtrack.
This track will replace GBA Cheese Land, so you won't be able to have both in the game at once.
2.

GCN Peach Beach
Yet another throwback race track, this time of the popular Peach Beach map.
The course only ever appeared in Double Dash and Mario Kart Wii. But thanks to popdoo3234, we can now race the track in Mario Kart 8!
As it's Princess Peach's personal race track, the map features signature Peach pastel colorways. Naturally.
The mod is a direct port of the older map and is still pretty new, but the modder does promise to make frequent updates to improve it – so it might be worth watching out for those updates.
1.

Luigi's Mansion CT BETA v3
With the recent Luigi's Mansion release on Switch, you're probably itching to race Luigi's Mansion on Mario Kart 8 as well.
Thanks to modder victormr21, we can do exactly that with this Luigi's Mansion custom race track.
The track has already made appearances in both Mario Kart DS and Mario Kart 7, but this mod lets us race the same map in MK8.
It's not just a direct port either, as it already features improved HD textures, custom icons, as well as coins and item boxes.
This one's sure to add tons of fun racing hours to your Mario Kart 8 sessions.
Browse:
Lists
Super Mario
Video Games