Top 20 Best Resident Evil 2 Remake Mods (All Free)
This post may contain affiliate links. If you buy something we may get a small commission at no extra cost to you. (Learn more).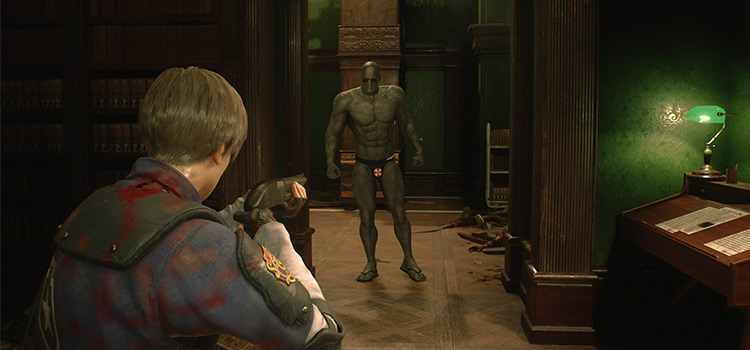 After the massive success of Resident Evil 7: Biohazard, expectations were high for the new-and-improved Resident Evil 2 Remake – and it delivered.
RE2R is a return to form for the series, with traditional survival horror elements from the original RE2 blending nicely with more modern additions to the Resident Evil formula, such as the over-the-shoulder camera and the focus on intense action.
It succeeds in capturing the tense feeling from the original thanks to scarce resources, formidable enemies, and a constant sense of looming danger.
Leon & Claire's classic adventure has never looked – or played – this good. But that doesn't mean it can't be improved.
If you've already gone through the main campaign once or twice and need a change of pace, mods are the best way to go – and I've put together the best ones to help you dive right back into the gameplay.
20.

Fluffy Manager 5000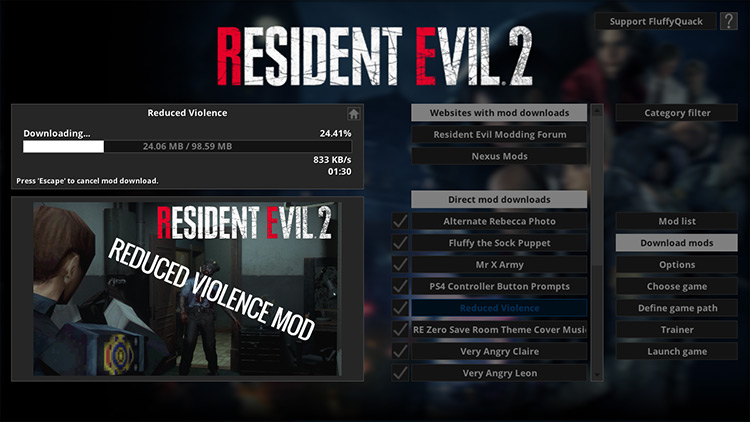 Let's get the technicalities out of the way first.
Installing mods for the Resident Evil 2 Remake isn't as simple as dropping some files in the game's root folder.
You'll need something that can tweak the game's PAK files, and the Fluffy Manager 5000 is just the thing.
With this, it's as simple as dragging and dropping RAR format mod files into the program, and it'll take care of the rest. The entire modding community supports it, so it's unlikely you'll run into any problem or incompatible files.
It's also the leading mod manager for Devil May Cry 5 too!
19.

RE2 HUD Tool
Some people want to have all the information.
Maybe they've played League of Legends for too long, or just certain JRPGs, but they're hungry for data – and I found the thing for them.
The RE2 HUD Tool adds a DirectX11 overlay onto your game, providing data on enemies like their remaining HP and how much damage each one of your shots is dealing.
It even supports hitmarkers, and it's a great tool if you want to understand where weak points begin and end with more exactitude.
18.

PlayStation Button Layout
Lots of us enjoy using our PS4 (or even PS3) DualShock controllers for our PC games, despite the general lack of support across the board.
While Steam allows you to use a DS4 to play Resident Evil 2 Remake, it doesn't change the on-screen button prompts to fit Sony's gamepad.
It'll continue to show the Xbox ones – unless you install this mod.
Some people may not find it especially troublesome, but for us Sony fanboys, this kind of Quality-of-Life improvements are a godsend.
17.

Dio & Jotaro from Jojo's Bizarre Adventure
If you're a fan of the memetastic anime Jojo's Bizarre Adventure – especially its third season – you'll love our next entry.
This hilarious mod replaces Leon S. Kennedy with Jotaro Kujo, and the menacing Mr. X with none other than DIO from the Stardust Crusaders saga.
Both of them may look a little out of place in the game's photo-realistic environments. But every time they interact, it just feels right.
Sure, they won't have their Stands. And you won't hear any "ora ora ora" from Jotaro.
But these models from Jump Force look great, and it's a fated match you can't miss.
16.

Beachboy X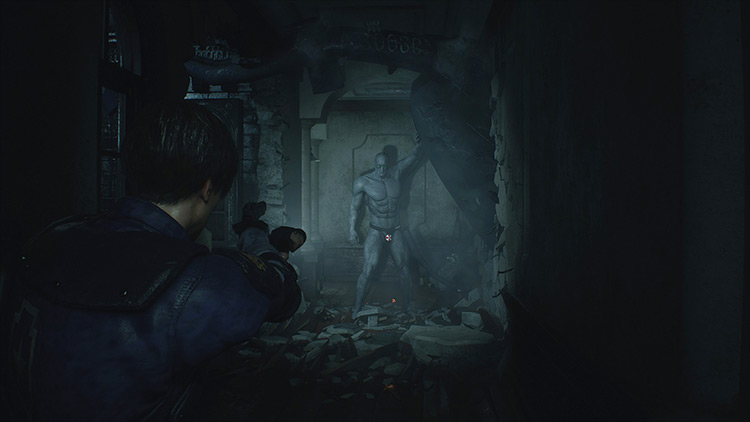 If you couldn't care less about DIO but find modifying Mr. X's model intriguing, I've got a particularly disturbing mod for you.
Beachboy X gives the predator trailing your steps a sexy set of tight Umbrella-issued swimming trunks that show off his toned abs and strong quadriceps.
The casual swimwear set is completed by comfortable flip-flops and sunglasses that you can shoot off his face.
Funny, right? Sure.
It's all fun and games until you see this 2m-tall Speedo-clad titan approaching down a dark corridor.
15.

X-Treme Nightmare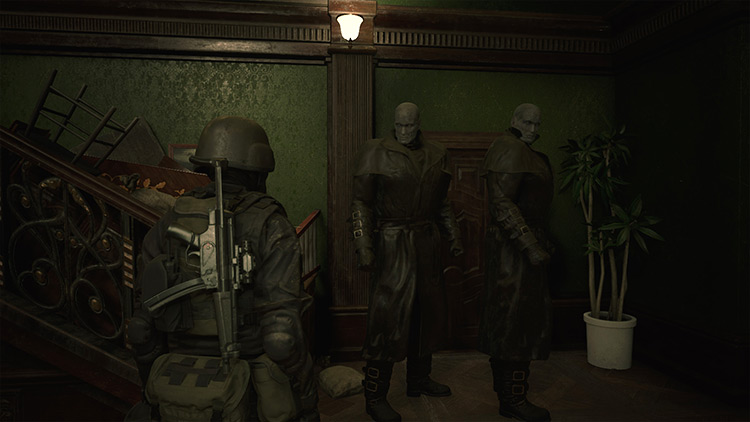 If you ever felt like RE2R wasn't challenging your mad gaming skills, the X-Treme Nightmare mod may be what you need.
This insane add-on will replace a series of enemy types with – you guessed it – Mr. X.
It's classic modding craziness of the best kind.
You're free to choose which enemies to replace, including dogs, ivys, and G-adults. If you're up for making the game impossible to clear, you can even replace all the zombies with this towering hunk of a B.O.W.
Combine with the previous mod at your own risk.
14.

X No More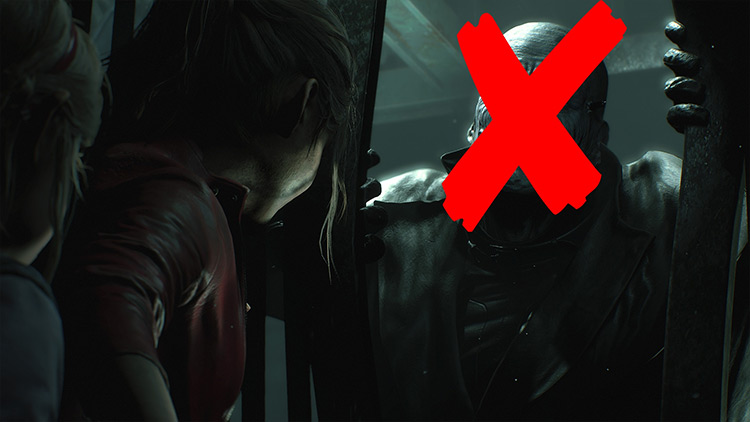 While some people will jump at the chance of filling up their game with Mr. X clones, most people would rather not have to deal with the guy at all.
I mean, can you blame them?
Mr. X is terrifying. And it can be tough to keep on moving on if you're an anxious gamer.
The X No More mod can ease the situation by completely removing him from the game. He's not just invisible – he isn't there, and he can't hurt you anymore.
Now, you can go back to exploring Raccoon City and enjoying the atmosphere at your leisure.
13.

Claire – RPD Military Outfit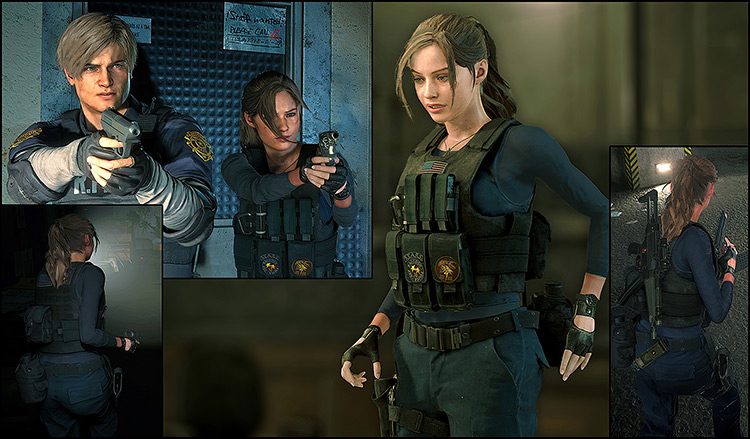 Among the most common and popular mods for RE2R, new outfits, accessories, and even hairstyles for both Leon and Claire are a dime a dozen.
We'll cover some of the best!
This RPD Military Outfit is a re-skin of Claire's vanilla military-themed outfit meant to make her look like a member of the Raccoon City Police Department – just like Leon.
It includes several colors for the top, a couple of different pants, and a sleeveless version that makes Claire look like a total bad-ass. Plus, it removes the questionable bandanna.
12.

Claire – Darkside Chronicles
Another fantastic visual overhaul for Claire is her Darkside Chronicles look, which not only introduces her DSC outfits but changes her face to be more similar to how she looked in the rail-shooter.
You can keep the base game face if you prefer.
But I'd recommend going all-in with this mod.
She looks fantastic in the black turtleneck top, and the whole thing gives her more of a bad-ass aura than her vanilla look.
11.

Claire – Liz Katz Look
Here's one for the freaks out there.
This mod is a complete overhaul of Claire's in-game model, changing it to resemble risqué cosplay model Liz Katz – complete with her iconic and very inappropriate arm tattoo.
Her outfit is also fittingly revealing, though you can tone it down a bit by choosing the version with a skirt… rather than the more, um… lightweight one.
Honestly, this is no way to be dressed during a zombie apocalypse.
But hey! You could've been caught in the middle of a stream or a sexy photoshoot, and that doesn't make you any less capable of surviving – as Claire is ready to prove.
10.

FOOX Claire Customization Pack
For something a bit more decent and varied, consider the FOOX Claire Customization Pack.
This pack gives us a wider selection of options to personalize Claire to our liking, including a beautiful leather jacket that makes her look a bit more protected against the elements than her default gear.
It supports dirt build-up, so you don't have to worry about it looking out of place after a particularly rough section of the game.
The mod also adds freckles to her face and chest, which is a nice and appealing detail.
It also makes her hair reddish and turning her eyes green – because why wouldn't you?
9.

FOOX Leon Customization Pack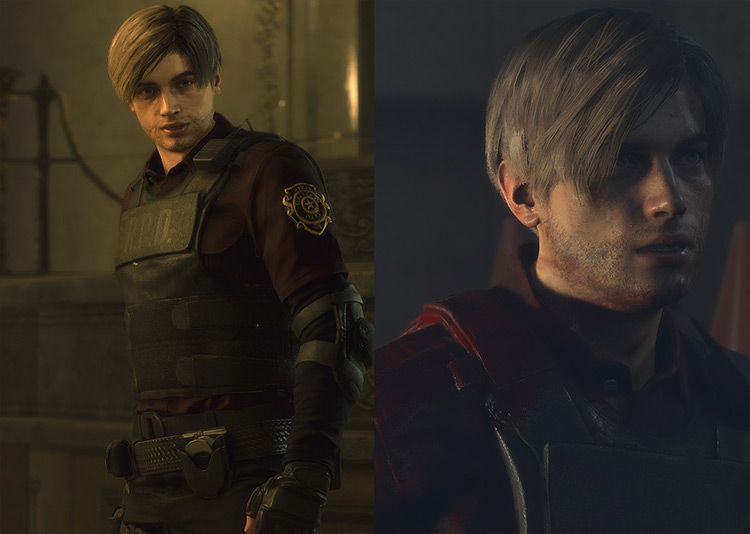 If you liked our previous entry, you'll love its twin – the FOOX Leon Customization Pack.
There aren't quite as many new outfits and visual tweaks for Leon as there are for Claire. But this gem of a mod makes up for it with its variety.
It includes a more rough beard with proper depth and dirt build-up, a new casual outfit with several variations, and even a new RPD uniform.
All of these look fantastic when coupled with Claire's new look, especially the casual outfit.
The beard is easily the mod's best feature – and there three variations to choose from.
8.

First-Person Camera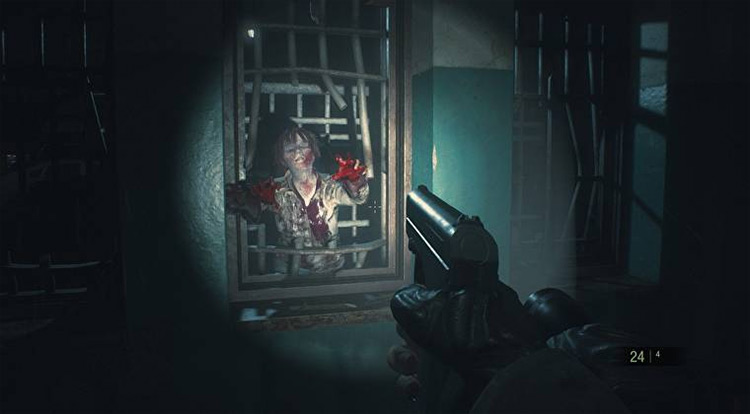 As the previous entry in the Resident Evil franchise, Resident Evil 7: Biohazard changed the game by introducing an immersive first-person camera perspective that's much more terrifying (especially in VR).
If you liked that change, you should try out the First-Person Camera mod for RE2R.
Given the game is not made to be played in the first person, it's not quite as memorable as its predecessor. And some scenes are a little bit awkward.
But it really switches things up, and I'd say it does make the game a bit scarier.
It may take some effort to get it working, but it's worth it.
7.

Headshot-only & Reduced Items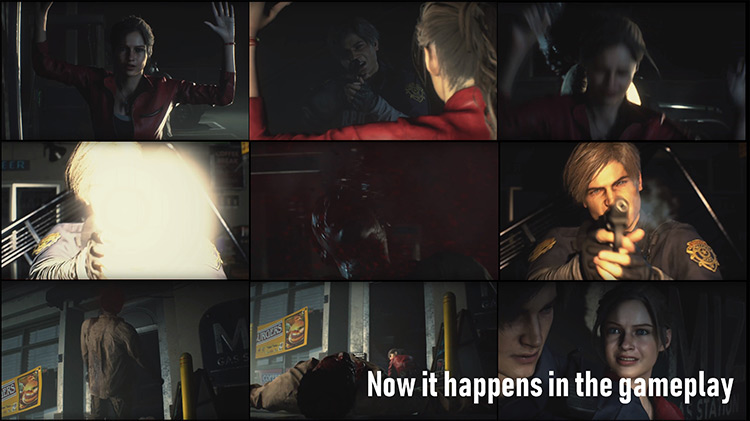 One of my biggest pet peeves with the Resident Evil franchise has always been how zombies can take several shots of most weapons when you're playing, but die of a single headshot in every cutscene.
Well, the Headshot-only & Reduced Items mod offers players a different experience where zombie skulls are just as fragile in-game as they are in cutscenes.
It also removes most healing items and limits the number of bullets you'll find lying around to balance things out.
Of course, it affects not only zombies, but the rest of the game's enemies. Making their weak spots even weaker.
You'll have to be very precise, but you'll feel like a total bad-ass.
6.

HDR ReShade
This HDR ReShade mod was one of the very first tweaks released for Resident Evil 2 Remake, and it remains one of the best ones to this day.
This visual enhancement removes the gray/green grainy filter present in vanilla and intensifies the colors on-screen, letting the beautiful disaster that is Raccoon City shine through.
Dark shadows are also much more black rather than gray. And everything looks a bit sharper in general.
I get what Capcom was trying to achieve with the slightly washed-out look, but I prefer this.
5.

Classic Inventory & Health Bar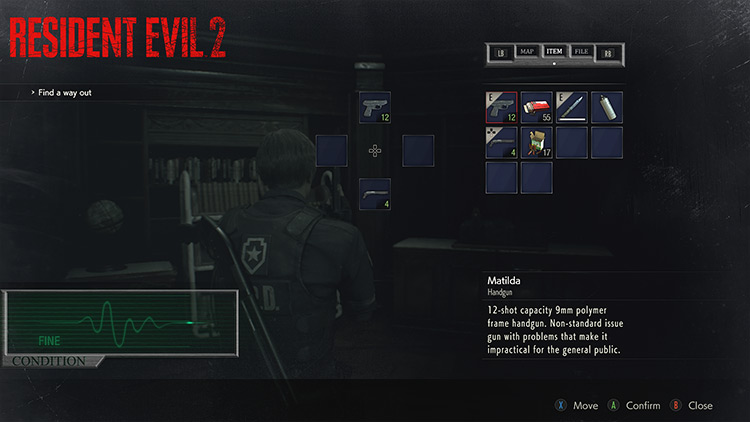 Many RE2R users are returning veterans that love the original 1998 Resident Evil 2 to bits.
And some modders have made it their lives' work to bring some of the old-timey charm into the remake.
The Classic Inventory & Health Bar mod does what the title suggests, and does it well.
It replaces the game's base inventory screen with a tweaked one reminiscent of what was seen in 1998. This includes changing the health bar, which may be my favorite feature.
It also replaces the game's logo on the Start Screen with the original 1998 one. Oddly enough, it all fits together quite nicely in the remake.
4.

1998 Weapon Sound Effects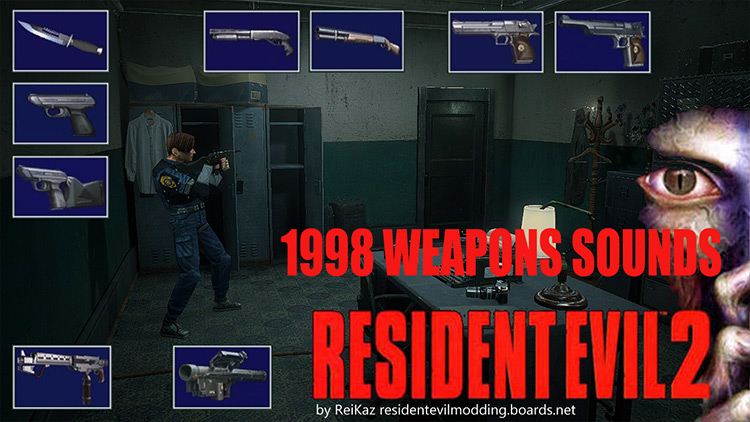 If you liked our previous mod and want to go a little bit deeper, these 1998 Weapon Sound Effects are ready to rewind time by a couple of decades in Raccoon City.
This replaces most weapon sound effects for their 1998 counterparts ripped straight from the game's files. The self-destruct sequence audio has also been replaced by the classic 1998 one, making it a real blast from the past.
This mod makes a great combo with the fantastic 1998 Zombie Sounds.
Bring all of them together and you'll have a time-traveling experience that could very well have been an unlockable in the base game.
3.

Claire-ish Claire Face Model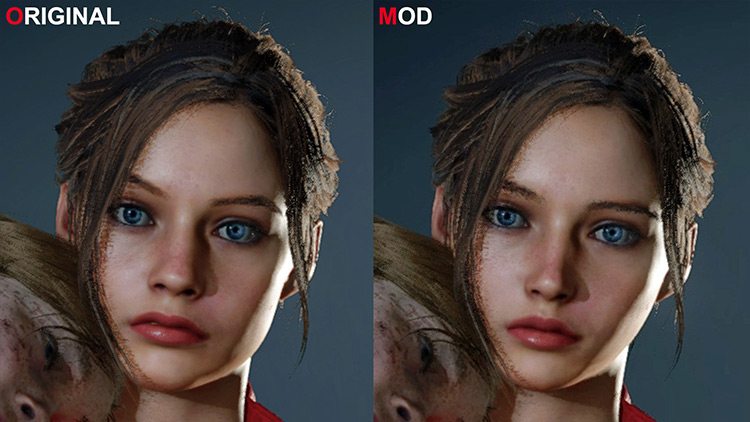 I think Claire's new face model for RE2R is lovely.
But it's quite different from what we're used to seeing in her classic incarnations.
The Caire-ish Face Model aims to fix that with some tweaks that make her face a tad more feminine. It gives her slightly more delicate features more reminiscent of the baby-faced zombie killer we've grown used to seeing in the past.
2.

Claire – Beautiful Reality Face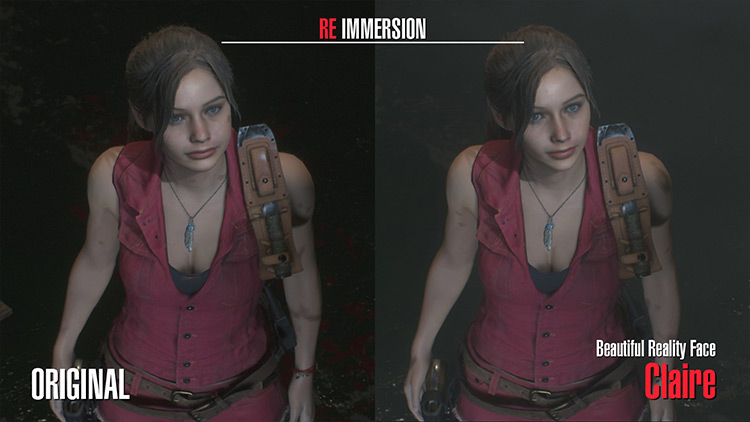 Another exciting option to make Claire's visage more appealing is the Beautiful Reality Face, which applies plastic surgery on her face model to make her closer to Jordan McEwen – the actress who does her voice and motion capture.
It looks pretty natural, and it doesn't stop looking like Claire.
Rather than 100% McEwen, it seems like a middle ground between the classic character and the talented actress behind the "mask".
1.

RE Immersion ReShade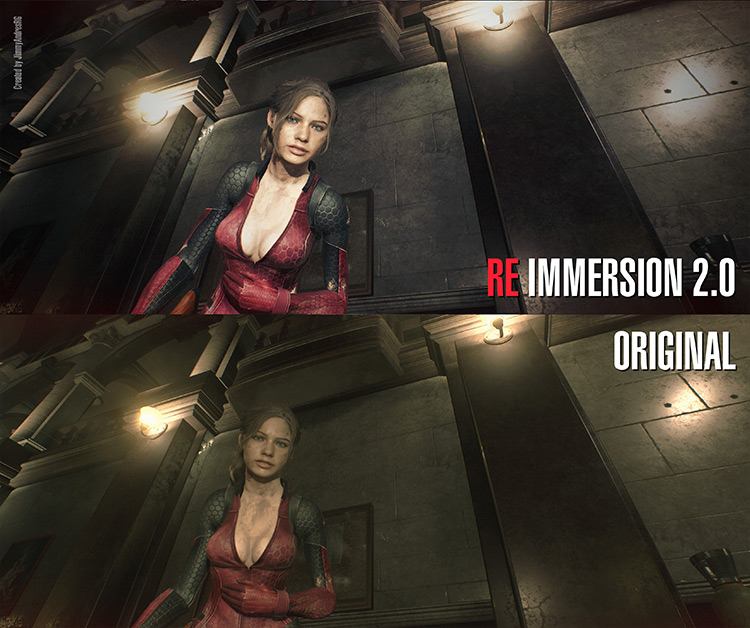 Out of all the fantastic mods we've covered so far, I think the one that provides the most objectively awesome enhancement to the base game is RE Immersion ReShade.
Like the HDR ReShade I mentioned earlier, this mod removes the gray/green filter and grainy look so you can better appreciate the game's beautiful locales.
It also dials it up a notch by adding more volumetric fog, dynamic Depth of Field, and more sharpness in the foreground.
This truly makes the game much more appealing and immersive, which is critical in an atmospheric game like Resident Evil 2.
Browse:
Lists
Resident Evil
Video Games