Best Sims 4 Mini Skirts CC: Listing Our Favorites
This post may contain affiliate links. If you buy something we may get a small commission at no extra cost to you. (Learn more).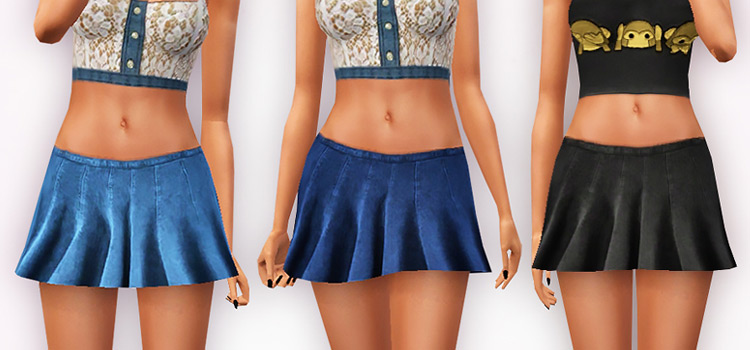 No matter the occasion, no matter the season, a mini skirt can be just what you need to tie together the outfit idea you have in mind for your Sim.
If you're in need of some cute mini skirt ideas, well look no further! We love The Sims and these mini-skirts are oh-so lovely.
We'll be taking a look at some of the best mini-skirt custom content out there. Focused just on Sims 4 here, but there's a ton of CC out there.
All you have to do is browse around and download your favorites. Then get ready to have fun creating some fantastic outfits!
High Rise Denim Skirts
Here we have a classic and cute denim skirt.
These kinds of skirts are so versatile, paired with a sweater and you have an instant fall fashion look.
Or maybe with a spaghetti strap tank top for a fun throwback look.
Whatever you choose to match here, this denim skirt will be your next go-to staple in your gorgeous Sim's rotation.
Alecia Skirt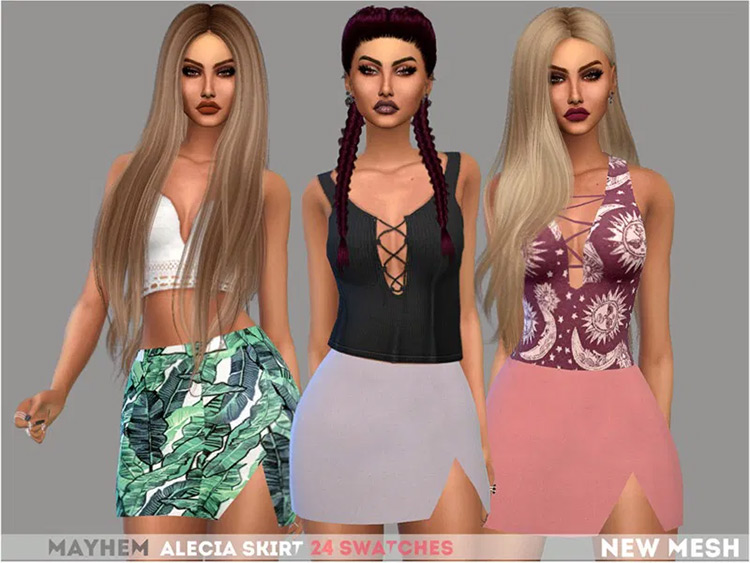 Picture this:
Your Sim just got home from work.
They're cooking some mac and cheese(and you're praying they don't burn the house down…again) when all of a sudden, their phone rings.
It's that guy from the seasons festival asking if you want to meet up at the bar for a party ASAP.
What's your girl gonna be wearing? Why not this skirt?
The Alecia skirt offers simplicity for just about any occasion, whether going to the bar, on their way to spend a night out for dinner with friends, or even going to that weird underground dance club.
All while offering 20 different swatches and a slit down the side. It tells other Sims that she's here for a good time.
LMCS Petite Skirt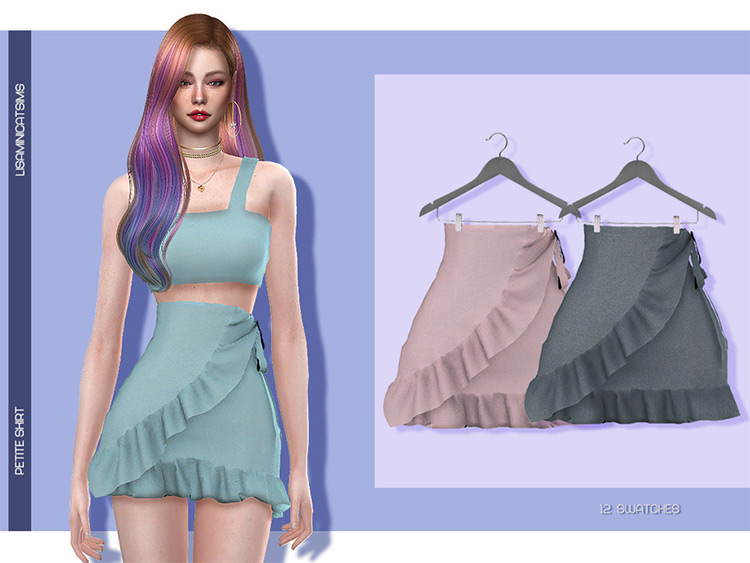 This skirt CC is the perfect mini skirt for any kind of summer outfit.
I personally was reminded of the beach when I saw this, so if you're planning on spending some time with the mermaids down by the water, this might be the look for you!
Some of the key features that really make this skirt stick out are the ruffled textures used to line the ends of the skirt, along with soft colors used in the swatches available.
Need I say more?
LMCS Rough Skirt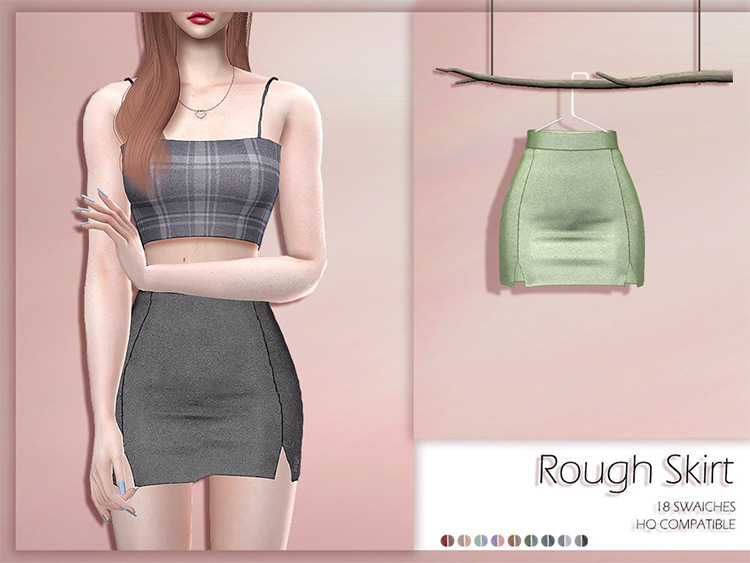 From the same creator that brought us the skirt above, we have our next choice in mini skirts – the rough skirt!
This is the age old classic pencil skirt. Well, if the classic pencil skirt got a complete makeover.
Still hugs the curves, still offers the same sleek shape, now in 18 beautiful metallic-like colors with two small slits at the thighs to offer more delicious good-times, and less 9-5 vibes.
Rose Embroidered Mini Skirt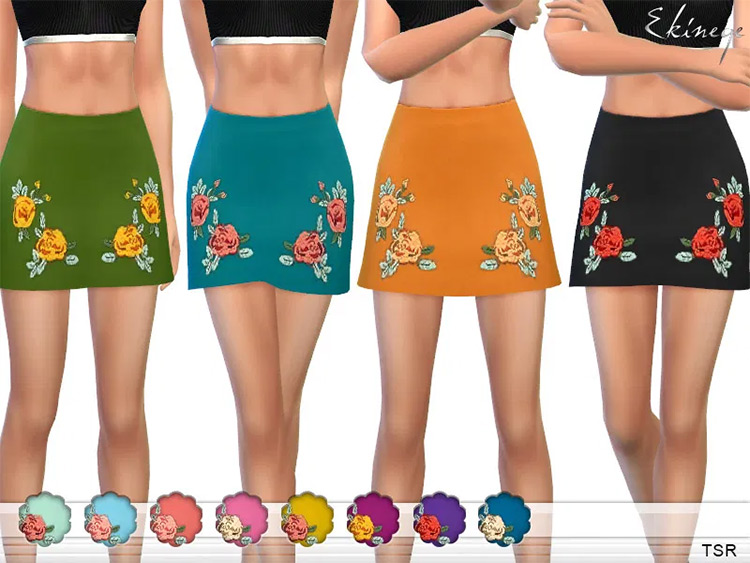 Just look at this baby, it's hitting all the selling points for me.
First, the floral print.
I've always loved a good floral print, and with this one being more of a concentrated print instead of an all-over print, it has more of an organized feeling. Especially against the chaos of an all-over print.
Second, I love how each color swatch gives off a different mood.
The black color swatch? Perfect for a more edgy Sim.
The orange skirt? Paired with a light colored top, this would be perfect for any hippy-hearted Sim who just moved off grid.
With seemingly something for every personality, this skirt definitely deserves its place here on the list.
Dominate Skirt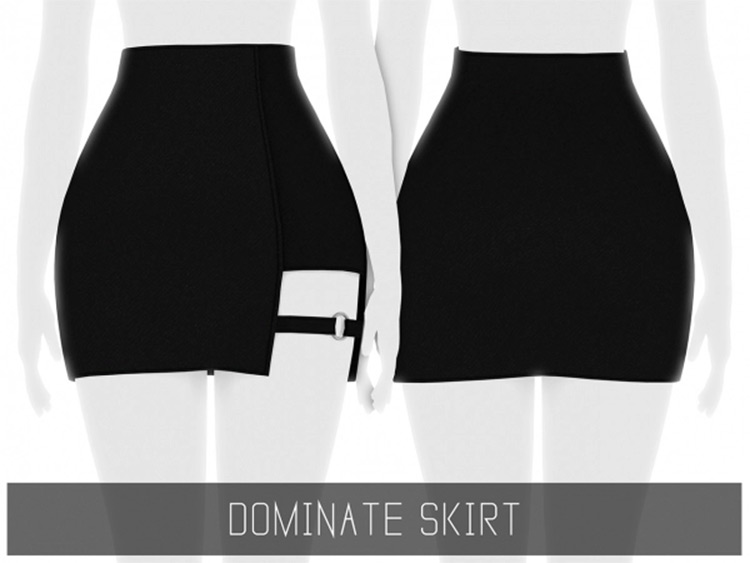 This edgy skirt changes the little black dress to the little black skirt.
And we're ok with that.
The belt buckle on the thigh is a detail that can't, and won't, go missed. A perfect choice for a Sim that would probably be caught in their bedroom at 3 AM still awake, listening to their favorite emo throwback playlist.
Did I just call myself out a little bit?
Maybe, but that's not what we're here for! Back to the custom content.
Flare Skirt
Switching up the tone a bit, this Flare Skirt offers a softer, more cutesy tone for any of the girly Sims out there.
Perfect for a simple walk in the park, or even just to show off how cute they are from head to toe, with an endless amount of colors to choose from.
Here's a mini skirt that can be kept in your custom content rotation without feeling like you're always using the same old.
Not to mention the white lacey option shown in the thumbnail is so cute, it's to die for!
Front Tie Top Skirt Outfit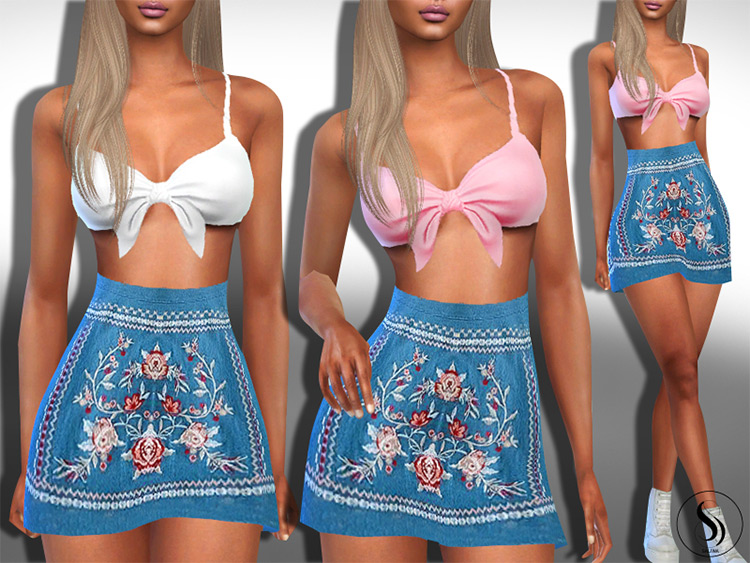 Another embroidered skirt that has a little more personality to it, making its way high up on my ranking.
Not only does this skirt have a fun and refreshing folk style embroidery pattern on the front, but it also comes with a very cute matching top. This makes picking out what your Sim's going to wear 10x easier.
No more spending endless hours on the CAS. You got this!
Shichigatsu Skirt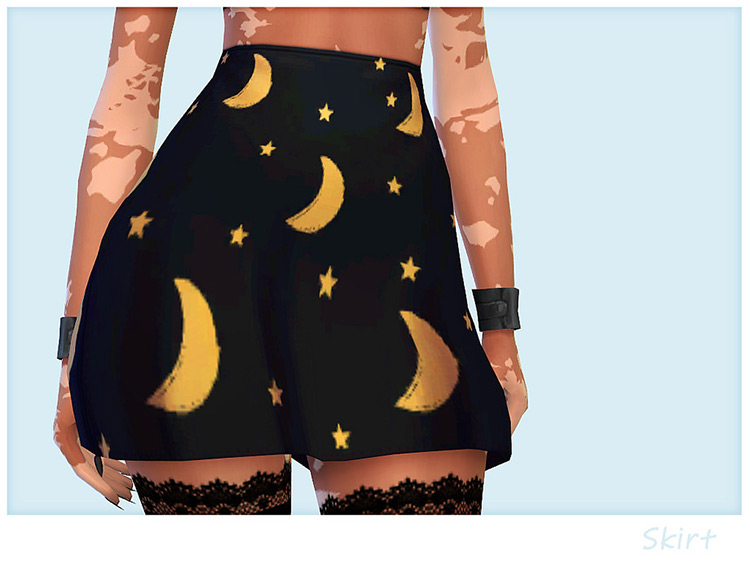 With Fall seemingly always around the corner, it's hard not to think about those outfits.
That's why this starry skirt is perfect for this list of mini skirts!
The moon and star print makes me think of a fun night before Halloween, but not wanting to feel too festive. Paired with a long-sleeved black top and a pair of boots, this skirt would help to create one of the most "October" outfits you've ever seen.
Not feeling witchy today? No problem!
It also comes in a variety of colors to change up the mood, and it makes this skirt a must-have for every season.
Fallon Sweater And Skirt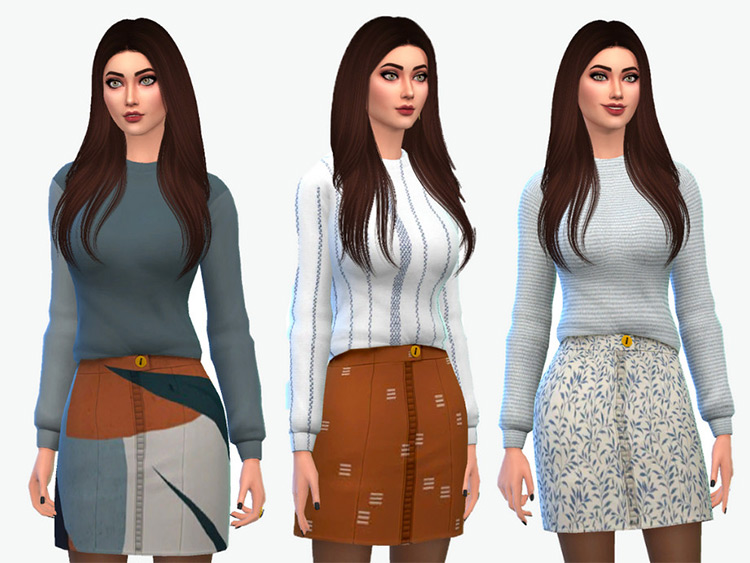 All the way at number one we have the Fallon Sweater and Skirt!
What really makes this CC set stand out is how unique the patterns of the skirts are.
From abstract shapes to a clean, satisfying palette of neutral colors, there's no way this outfit wouldn't catch anyone's eye.
What's also great about this skirt is the fact that it's a set with a sweater. Perfect for a cozy autumn outfit, if that's your Sim's desire!
Browse:
Lists
The Sims 4
Video Games