Stardew Valley Harvest Moon Mods For A Fun Crossover
This post may contain affiliate links. If you buy something we may get a small commission at no extra cost to you. (Learn more).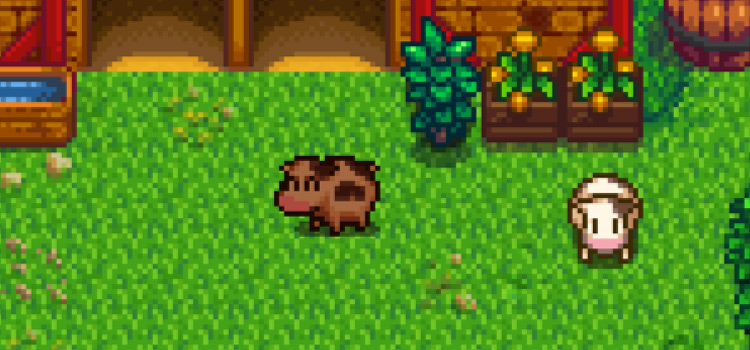 Stardew Valley and Harvest Moon have a lot in common (of course).
And there's a lot of common fans between them, especially fans of the classic Harvest Moon games.
And think about it: with both games offering loveable characters and a farming sim experience, what's not to enjoy?
So if you want a sort of crossover between the games, here's a bunch of HM-themed mods to check out.
8.

Dong's Harvest Moon Inspired Character Portraits
First up on our list: character portraits!
This mod turns the pixely art from the vanilla Stardew art style into a more Harvest Moon-esque experience.
Each of the characters are adorably drawn out in the Harvest Moon style, while still retaining their important characteristics.
Who's your favorite? I'm definitely stanning Elliot's new look.
7.

Harvest Moon Witch Princess Mod
If Rasmodius isn't your speed, you can do away with him completely by switching him out with the Witch Princess from Harvest Moon (this sprite seems to match the HM DS game).
And this isn't just a character switch, oh no.
Because this mod makes her marriageable, with plenty of new dialogue, and a custom room in your place for when she moves into the farmhouse.
Her sprite is really cute, too!
6.

Harvest Moon Crops
This is a pretty simple but clever mod, switching the Stardew crops graphics with some new ones that more closely resemble Harvest Moon. Graphics.
There's actually a mix of graphics in here, with many from the GBC games, and some from the GBA title Friends of Mineral Town.
And this mod also adds some new crops too, like the Japanese Pumpkin and Turnips, complete with descriptions and everything.
It's definitely a must-have for any Harvest Moon fans!
5.

Harvest Moon Tools
Here's another one similar the last entry, and again it's a must-have.
This mod switches the regular vanilla Stardew tool graphics with ones that look like they're right from Harvest Moon.
They're still pretty pixel-y follow the same art style to match with Stardew, so it's a pretty clever yet subtle swap that blends in really well.
And this mod even keeps the upgrades in mind.
So a gold axe is still going to look like a gold axe.
4.

Harvest Moon Cows
I love the animals in Stardew Valley.
I get a ridiculous amount of serotonin naming them silly things, like Hatsune Mike, or Cluck Norris, or Goatye… in fact, I usually take the Rancher profession and create a dairy empire.
So I have to come up with a lot of names.
This mod switches the Stardew cows with new graphics from the Harvest Moon cows. They're way chubbier, and super adorable.
Chubby cows are the best.
And while this mod only updates the basic white & black spotted cows, there's another mod to change the brown cows too.
3.

Harvest Moon Watering Can
This mod is helpful even if you aren't into Harvest Moon – it adjusts the reach of the tiered watering can and hoe, giving it more reach similar to the Harvest Moon games.
So rather than going longways, pressing and holding the action button will have your grid go sideways for area selection.
It's all a matter of preference – if this would be easier for you then I say go for it.
2.

Mopsy's Harvest Moon Animals
Here's a very detailed mod that replaces the graphics for cows, but it also replaces all the other animals, including the dog, to look like the ones from Harvest Moon.
We've already discussed how good and valid the chubby cows are, but hear me out:
Chubby chickens.
They're so frigging cute.
It makes me glad that you can only get milk and eggs from cows and chickens in this game, because they're way too cute to be used for meat.
Was Concerned Ape a vegetarian? I wouldn't be surprised.
1.

Harvest Moon Clothes
If you're really getting into the roleplay aspect of a crossover between Harvest Moon and Stardew, might I suggest these clothes retextures?
It changes one of the default shirts for both sexes of farmers to the clothes from HM.
There's also an iconic bonus ponytail hairstyle!
Plus I have to say that the iconic bandana and overalls combo really look natural in Pelican Town. Even if you aren't into Harvest Moon, this one's worth a download.
Browse:
Harvest Moon
Lists
Stardew Valley
Video Games