20 Kitchen Design Ideas For Animal Crossing: New Horizons
This post may contain affiliate links. If you buy something we may get a small commission at no extra cost to you. (Learn more).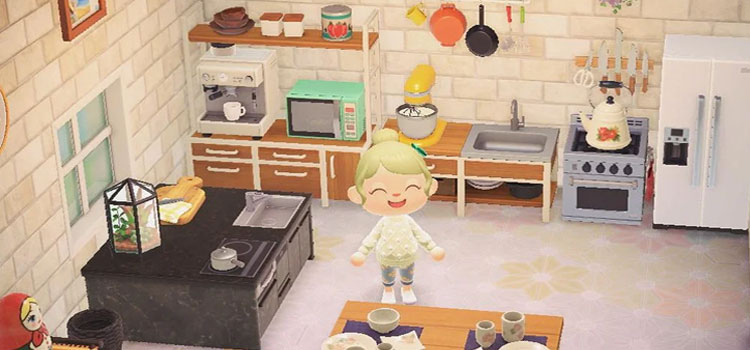 There are hundreds of items in New Horizons that can help players decorate their islands and homes.
However, when it comes to decorating your kitchen it can prove to be a bit of a challenge.
With kitchen items in short supply and some rare DIY items to be found, it takes some work to build a masterpiece.
So I've put together this handy guide with some of my favorite kitchen ideas. Hopefully these can help you get started on creating the AC home of your dreams.
20.

Antiques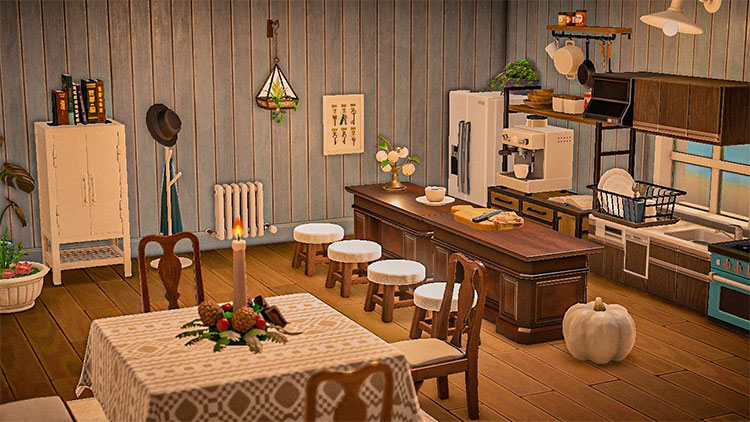 Got an eye for antique design?
Then you can't go wrong with this kitchen style.
To create this look, all you need to do is choose your favorite wooden wallpaper and flooring. Throw 'em up.
You can use some fireplaces too, if you them spin around they make the perfect kitchen counter tops.
Make sure you've got all neutral-colored appliances to tie in with the colour scheme.
And don't forget to add a little pumpkin in there too, you can customize the color to make sure it ties in with your theme.
19.

Modern Kitchen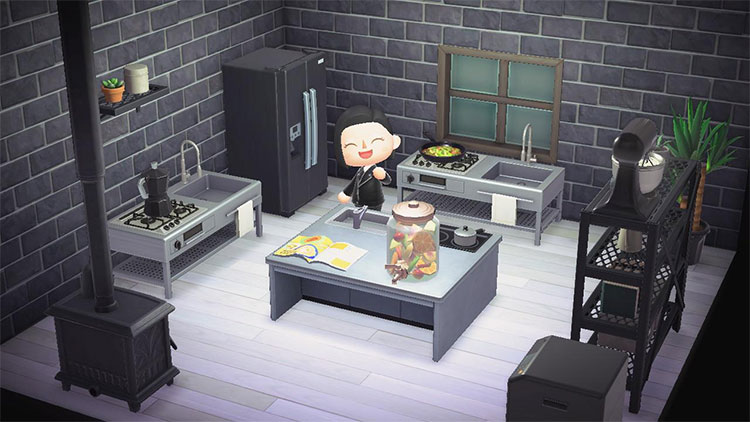 Want to bring a more modern edge to your home?
Try this super sleek modern kitchen design.
All you need to get started is some black tile wallpaper and lightwood flooring.
Make sure all of your appliances are black and metal to give your kitchen that contemporary feel.
Maybe add some plants in there too for a subtle pop of color.
And there you have it, a very stylish modern kitchen! Almost feels like a fancy restaurant, right?
18.

Bright & White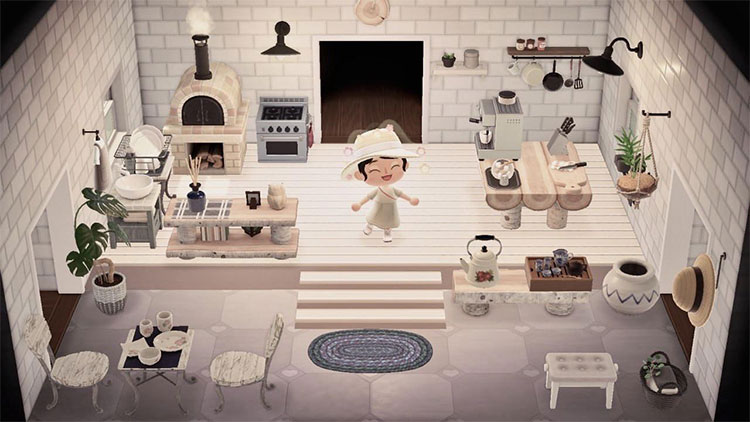 Keep your kitchen breeze with this super cute design idea.
In this design they've used the main room of their home as the kitchen to give them lots of extra space.
To re-create this amazing split level design, start by finding a custom design for the raised flooring.
Simply place your design over the flooring design you already have (but only on those spots on the ground). Presto! You get this cool effect.
Be sure to add a host of white furniture such as the pale-colored log seats and tables.
You can also add white tables, benches, and a clay oven to complete the look.
17.

Sunny Yellow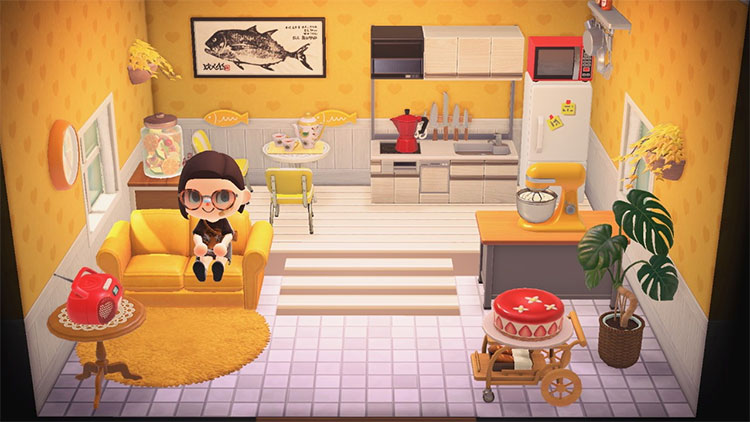 Inject some color into your home with a bright sunny kitchen!
Bring the room to life with some bright yellow wallpaper and choose whatever white contrasting flooring you like.
For this idea you'll need a custom design slot for the raised area, and you can pop the design down right on top of your original flooring to create that multi-level effect.
Add some yellow furniture such as a sofa, some rugs, and a mixer.
You can also throw some red accents in there, like a microwave, radio, or a freshly-baked cake.
16.

Skyrim-Style Rustic Kitchen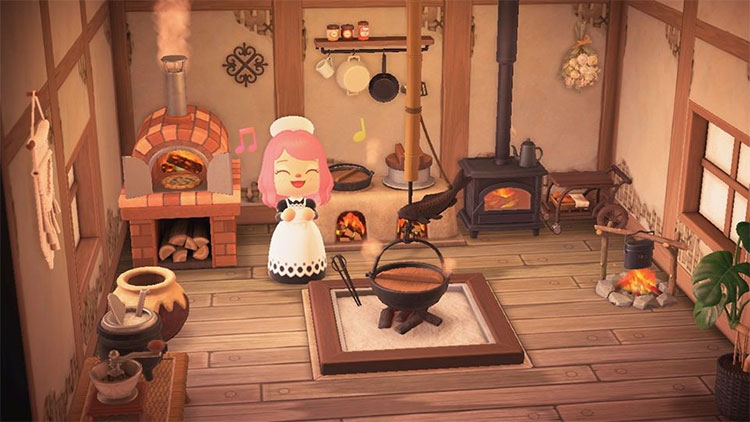 Try this cozy kitchen design with its wooden flooring and rustic wallpaper. Love it!
Start by leaving space for a cooking area in the middle of the room.
Add some cute details to the walls such as pots, pans, and even a macrame wall hanging if you like.
Just make sure to add your brick oven in the corner of your kitchen (you like brick-oven pizzas, right?)
And maybe throw in a clay oven too.
You can also add some clay pots and some kitchen appliances to really amplify the rustic vibe.
15.

Neon Kitchen
Try this neon look to really inject some life into your cooking space!
If you're wanting to try something like this and turn heads with your home interior, well buckle up, cause this one's definitely weird.
You can do this by customizing some frozen pillars in different colors. Those can be thrown into the background near the corners.
And of course, this room couldn't exist without the Aurora wallpaper and some space-themed flooring.
Complete the look by adding nova lights to illuminate up the room, and of course you can't forget some crescent moons.
14.

Contemporary Kitchen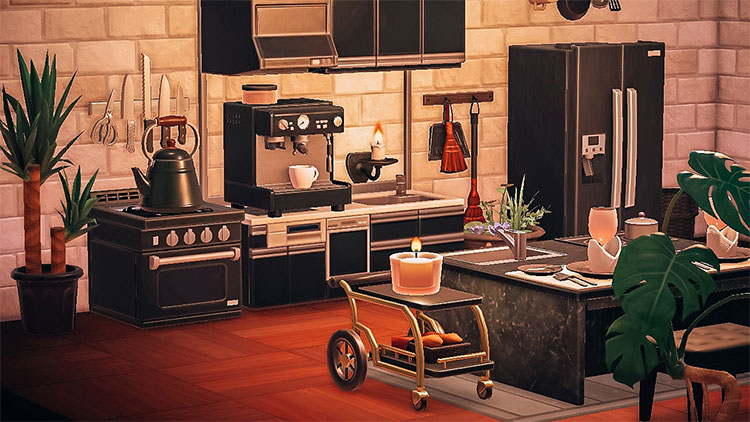 Make your abode hip and trendy with this contemporary kitchen layout.
For this look use all black kitchen units and appliances, from the fridge to the countertops. Sticking with the all black theme will help you achieve this sleek look.
You can also add a lot of plants around the room to really set the scene. The more the better.
Cover the floors in your favorite wooden flooring, then add a white tile to the walls to tie the whole look together.
And don't forget to add some glasses, and also some candles to your work surfaces too.
13.

Floral Kitchen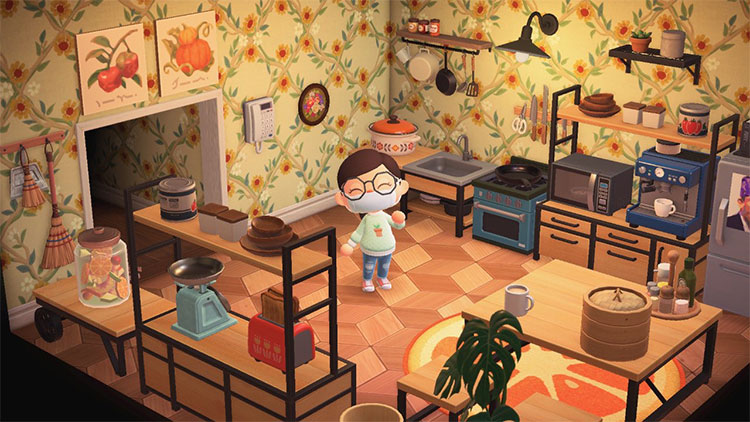 What's more cheerful that this floral kitchen design?
To get this kitchen styled up, first choose your favorite floral wallpaper to pop onto your walls. Compliment it by adding some wooden flooring with a sharp pattern.
Make sure all of your kitchen units are wooden to really tie in with the look.
You can design some artwork for your walls too, and why not add some fruit or floral designs? Whatever you want to add, just make sure it's bright.
You can also add some plants to go hand in hand with the theme.
12.

At-Home Bakery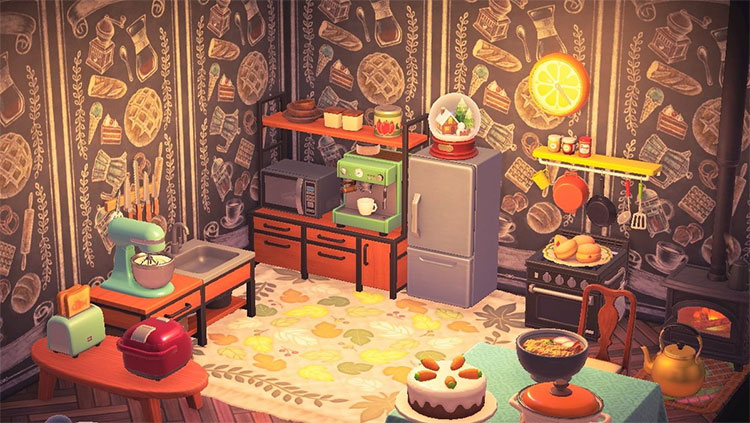 Who doesn't love the smell of fresh pastries in the morning?
Turn your kitchen into your own little bakery with this amazing kitchen design.
Add some cake themed wallpaper, and some wooden units all around.
And don't forget to add a bunch of colorful appliances such as a coffee machine, mixer, and toaster.
You'll also need to add a teapot somewhere in there. Plus definitely add a ton of cakes and pastries.
Clean it all up, throw it in the oven at 350, and watch your vision come to life before your very eyes.
11.

Vibrant Blues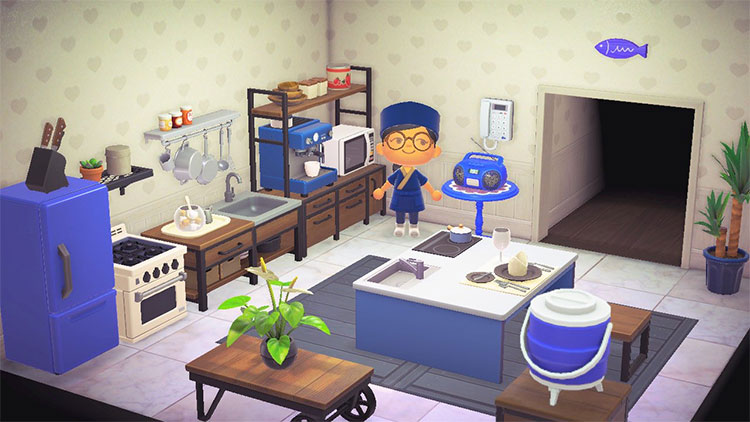 Try this quirky kitchen with its vibrant blue tones – I guarantee your guests will have something to say.
To re-create this, add some white heart wallpaper and a marble tile floor as the base for this design.
You can then drop in some jazzy items by adding blue décor to give it that colorful pop, such as the fridge, coffee machine, water cooler, and kitchen island.
Note: you can use any color you like here, it doesn't have to blue!
Tie the whole look together with some wooden units, such as the ironwood kitchenette and some tables.
10.

Cozy Theme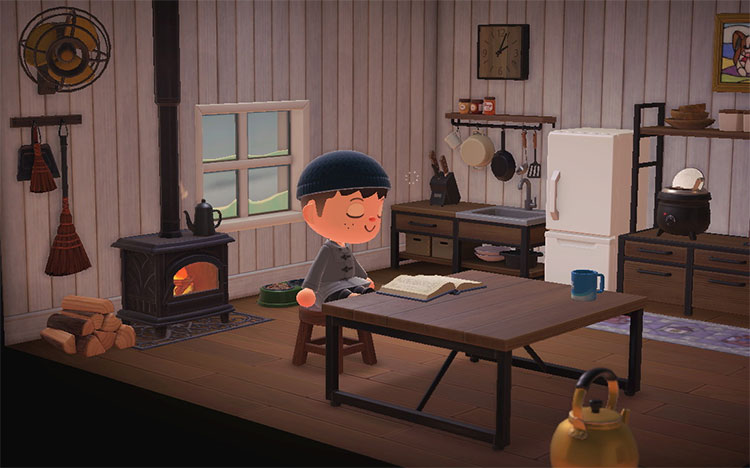 Everyone loves a cozy kitchen, right?
Create this rustic farm-like kitchen by choosing a neutral colour palette first, then add some light-colored walls and your favorite wooden flooring.
You can also add some wooden kitchen units and a table. This is the perfect place to kick back and read a book on a rainy night.
Don't forget to add a fireplace too. Let's make sure it's nice and toasty, so you'll need a bunch of firewood lying around as well.
You can also add some brooms on the wall and a fan to complete the rustic olden-times vibe.
9.

Compact Kitchen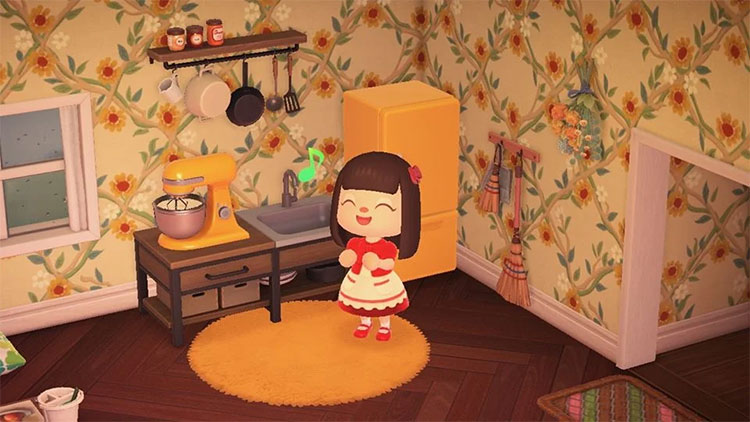 Running short on floor space? This kitchen idea is perfect for those who just want to create something simple.
And it's super easy to do: start by adding some basic flooring, any should suffice.
Add just the required stuff, fridge, stove, you know the basics. Or you can also add extras like an ironwood kitchenette and a golden screen to add some character to your space.
Then let's make it pop by adding some yellow accents. I'm really digging that mixer.
And just like that we've got ourselves a cute kitchen in a little corner of our home!
8.

Blush Room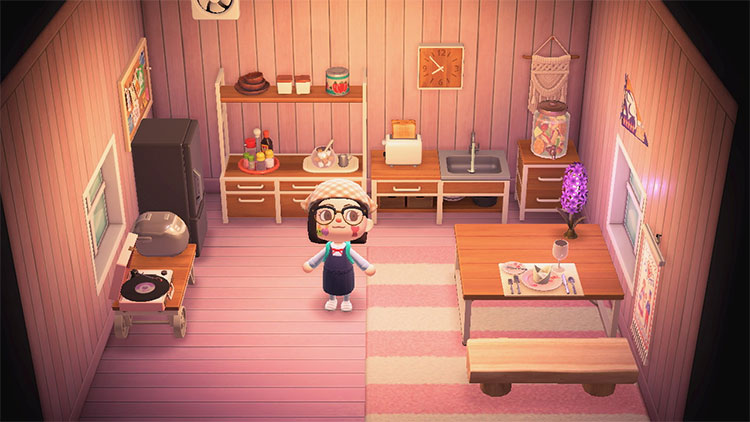 This adorable kitchen is the perfect addition to your AC home, with its subtle pink hues and cute quirky rugs.
To start, add some cute pink wooden wall cladding and some pink wooden flooring.
You can add a pink fluffy rug and a hyacinth lamp to make it extra cute!
Then add some wooden tables, chairs, and some kitchen units too. There's a lot of variety so try whatever furniture set you like best that's semi-neutral.
Lastly, add some cute décor such as a matching clock and macrame wall hanging.
7.

Stylish Kitchen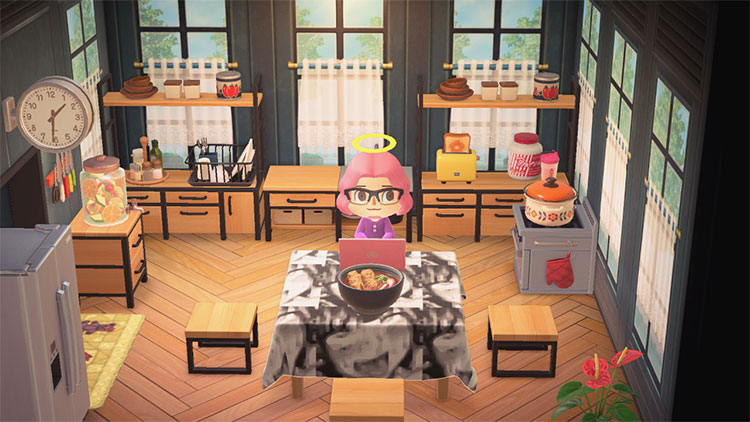 Keep on trend with this stylish kitchen design.
There's a ton of room for creativity here, but you can also follow the example above pretty closely.
All you need is a bunch of kitchen units lined up against the wall.
Pop your favorite wallpaper with windows up on the walls to create than "grandma's house" feeling.
You can add your favorite wooden flooring in there too, whatever you like.
Don't forget to add matching kitchen appliances, and just like that you've got yourself the trendiest home on the island.
6.

Chic Kitchen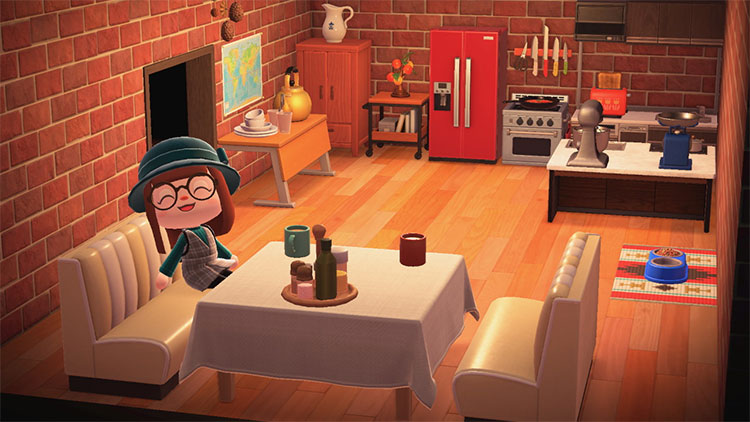 I love this kitchen design. It gives the perfect amount of space to add a dining area and still feel cozy.
To re-create this, start by adding a brick wallpaper to keep it feeling a bit "underground". You can also add some wooden flooring too, or linoleum if you like that better.
Then add a couple of lightly colored diner sofas along with a table to create your perfect dining area.
Don't forget to add a few snacks and drinks to the table too! This is perfect for when friends come over to visit.
You can even add a little food bowl for your pooch or pet kitty.
Then drop in some kitchen appliances to to tie the whole look together.
5.

Nautical Kitchen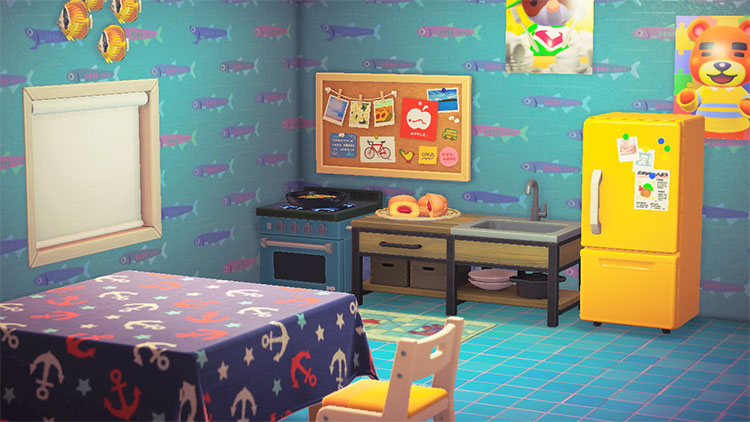 If you're a keen fisherman, or just simply love fish, this is the vibe for you.
Try this adorable nautical themed kitchen with just a few design slots.
Start by popping down a blue tile floor and then add a blue fishy wallpaper to keep with the color scheme.
Try out some bright accents with a yellow fridge and a bulletin board, but anything yellow/orange could work here.
There's also some décor you can add to the walls too, such as some yellow fish décor, or even some posters to keep in with the theme.
4.

Witchy Kitchen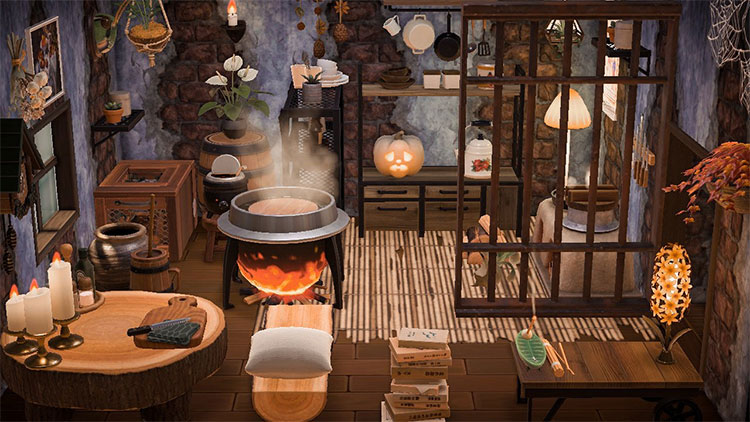 Channel those Halloween vibes all year round with this witch-themed kitchen.
Mix up a host of spells and spook-tacular fun any time you want!
To create this, just use any brick wallpaper & add some wooden flooring to achieve the look. Maybe pop a bamboo mat down there too.
Try out a few different types of candles and pumpkin lanterns, as this is where your Halloween items really come in handy!
And make sure add a hyacinth lamp to give your kitchen that eery glow.
You can also place some jail bars in there. Just adding a little to that spooky aesthetic.
And don't forget to add the iron wood kitchenette, although you'll need the cutting board DIY to craft this.
3.

Sushi Bar & Kitchen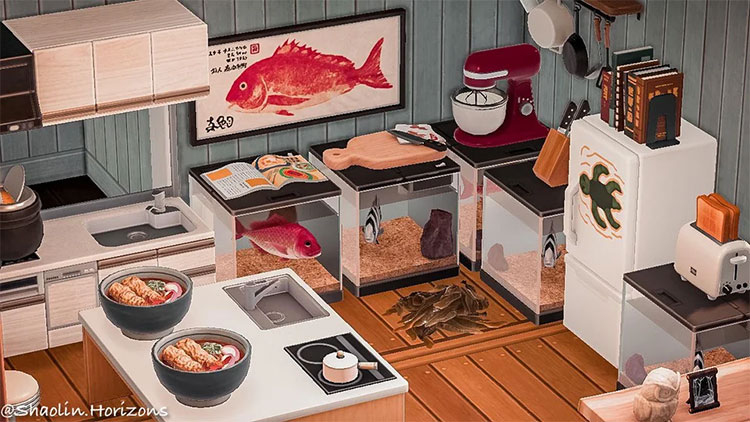 Did someone say sushi? Yes please!
This amazing sushi-themed kitchen should be everyone's dream space. Well, unless you hate seafood.
To create this masterpiece, start by adding a basic wooden flooring and keep it with a pale color scheme.
Add some white units in here, like a fridge and a toaster too.
Make sure you throw on some sushi bowls onto your countertops, that's a big one!
And if you're out fishing a lot then be sure to throw in some of your daily catches. The fish in tanks really add to the room. All you need to do is tap on some fish in your pockets and select "place" and it'll automatically drop them in a tank for you.
2.

Maroon Kitchen
Dark, deep red with hearts and a carpeted flooring. Who knew a kitchen could be so comfy?
To make this yourself, start by throwing up red heart wallpaper and a darker-colored carpet. Almost anything like this can do, but the checkerboard pattern is really nice.
Now don't forget to add red countertops and a matching red mixer to keep in-line with your color scheme.
You can also add some décor to the walls, and don't forget to display your knives up there too!
Finish by adding a plant, and of course a few snacks.
1.

Diner Kitchen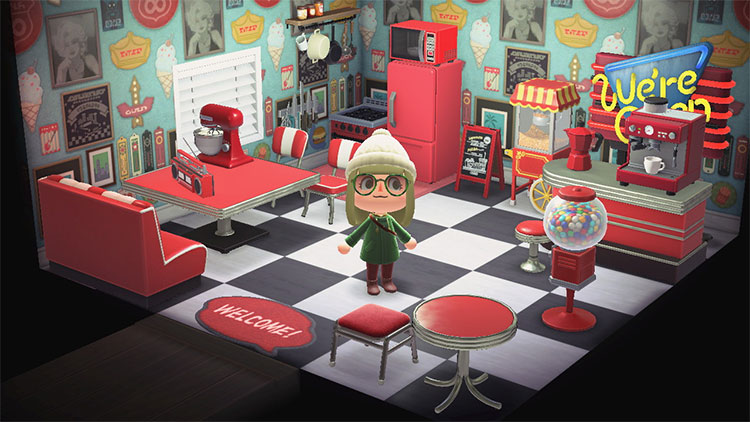 Who doesn't want a full-blown diner in their kitchen? This 50's aesthetic is too good to pass up.
It may take a bit of work to recreate this whole look, but to get you started just look for any diner wallpaper to add onto the walls.
And add some diner seats and tables, all keeping with the brilliant red, black & white color scheme.
Of course, we also need the matching counters and coffee machine.
And let's not forget about the kitchen appliances such as your fridge and microwave. You'll want those to really nail this design.
And finish by adding a small "welcome" mat, and a gumball machine for that true diner vibe.
Browse:
Animal Crossing
Lists
Video Games