15 Lighthouse Design Ideas For Animal Crossing: New Horizons
This post may contain affiliate links. If you buy something we may get a small commission at no extra cost to you. (Learn more).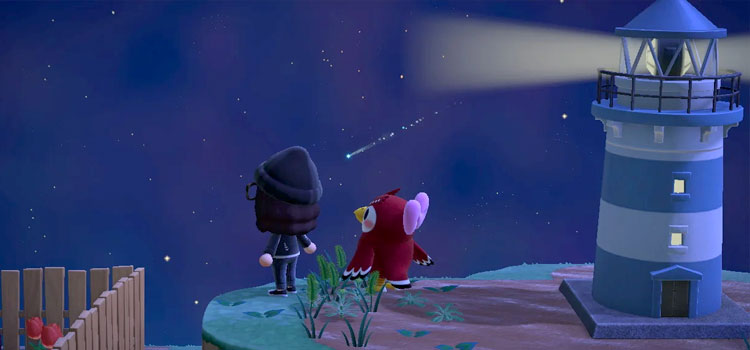 So you've seen all these islands with amazing lighthouse designs, and now you want to get in on the action.
Well you're able to get your hands on the lighthouse through your Nook Stop Terminal, and will set you back around 5,000 miles.
But with a host of different lighthouse colors, there's no end to the designs you can create. Although the color you purchase will be the only color available to you, this is only temporary.
You can collect the other colors by trading with other ACNH players.
But let's say you've got your hands on a lighthouse and now you're not quite sure what to do next. Well don't go anywhere!
I've compiled a list of some really cool lighthouse designs that will transform your island into a beauty!
15.

By The Ocean
Try this gorgeous lighthouse idea and you'll be hanging by the sea all day.
Here's all you need to get this setup.
First, start by choosing your favorite area of your island located by the ocean. You can then build a cliff on the edge.
If you want this same effect, then try adding a waterfall running through your cliff edges too. A tiny one.
Then just pop your lighthouse on the edge of your cliff and presto! Complete the look by adding flowers and shrubs as you like.
14.

Mini Island
No island is complete without their own mini-island!
If you live in New England then this might be relatable.
Start by digging out a huge lake on your island, but be sure to leave an island in the middle of the lake with a path leading to it.
You can add a custom wooden plank design to the path, as this will create the illusion of a wooden bridge.
Be sure to add some rope fencing to your bridge too.
You can also build a cliff on your island and pop your lighthouse in the middle. The cliff will elevate it up and look much nicer.
13.

Downtown Forest
Bring a more rural and natural look to your island with this fantastic lighthouse idea, tucked all the way in the back of some trees.
To bring this forest setting to life, start by adding a mix of cedar and hardwood trees to the shores of your island. Any small shore area will do.
Make sure to add your lighthouse at the very end, super close to the ocean.
You can also add some custom flooring designs such as bricks. This gives it a dated look, much like you might find in older cities around the world.
Then finish the design by adding some brick walls and lampposts. Very 1700s!
12.

Clifftop in Winter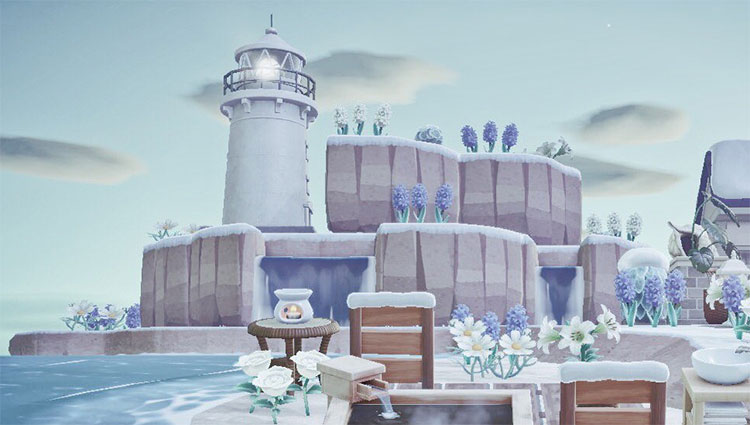 This elegant clifftop design looks great in winter, but it can work any time of year!
If you want to give this a try on your island, just try this below:
Start by building a large cliff area that's fairly wide. Then add a smaller cliff on top, and you can then place your lighthouse on either elevation. The idea above uses the lower elevation (you can use the higher space as a lookout!)
Then make sure to add some waterfalls running through your cliffs. Even in winter these will look great.
To add to the theme you can even set up a little diner at the bottom.
11.

Town Vibes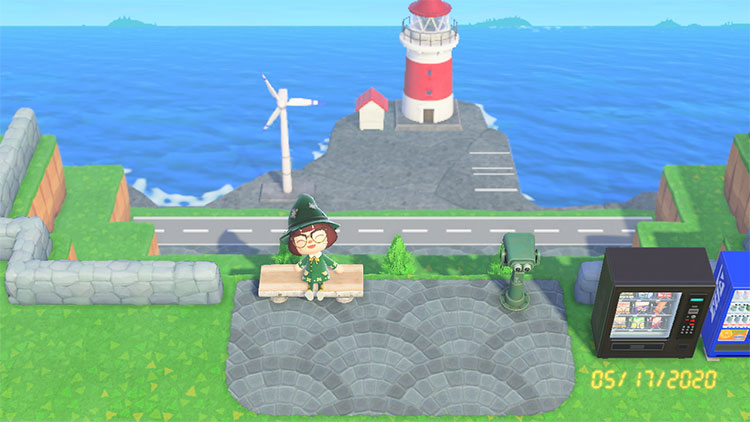 Get some serious sea town vibes with this lighthouse idea. Super cute, right?
First lay down some stone flooring on your island, and be sure to add some stone fencing around the area too. We want this to look modern, but still themed more suburban/countryside.
You can add your lighthouse on the very edge of your island, and you can also add a wind turbine like you see above. Drop some custom patterns in that area too.
Then add in a driving road and you've got the look!
Head back to the hilltop and include a seating area with some binoculars, and maybe some vending machines too.
10.

Natural Lighthouse
This rustic look is perfect for those natural island lovers.
To get this look on your own island, you'll first need to build a couple of small cliffs near the ocean. Be sure to place your lighthouse up on one of your cliff edges, as close to the water as possible.
Then you can then decorate your cliffs with a bunch of flowers and trees. Whatever style you like (cottagecore might fit nicely here!)
Then add some custom stone designs to the paths to fit in with your theme.
And complete the look with a log seat and some shrubs nearby.
9.

On The Rocks
Not everyone knows you can place items straight onto the rocks around your island. And I'm here to tell you that you can!
This is such a simple design, but it looks amazing. Especially because this also feels very true-to-life and realistic.
Super easy to make too: just pop your lighthouse right on the edge of your rocks around your beach for that ultimate seashore vibe.
You can also add any decoration you like to the area, or just keep it simple.
8.

Train Tracks
Is your island even complete if you don't have an old part of town?
Well maybe try adding this industrial area to your island.
To create this old-school abandoned train station design, you'll first need a few custom designs.
You will need one for the metal flooring and another for your train tracks. Easy to find online in Google, but also try this (and browse that site for more!)
You can even make your own custom danger sign with your own design!
And don't forget to add your lighthouse to finish the look. Make sure it's styled to match this old-school aesthetic.
7.

Pier Lighthouse
This pier is a must have on your island. I mean, it's a tropical paradise right? We need a pier!
To make this, simply out a huge lake on your island. But be sure to leave a path through the middle, that way you can lay down a custom wooden plank pattern. This creates your pier across the lake.
Be sure to add a rope fence along the edge of the pier, along with some logs too.
Add your lighthouse on land at the start of the pier to complete the look.
And to polish it up even more, you can move all of your villager houses into this area. Just to give it those small village vibes.
6.

Tropical Lighthouse
Transform your island into a tropical paradise with this lighthouse design.
Well, at least your beachy area!
Start by laying down some custom wooden flooring patterns to mimic a boardwalk. Here's a cool one to try!
You can then add your lighthouse along with lots of wooden stakes to match.
Be sure to add a comfortable seating area, since it's the perfect place to kick back and relax on a warm day.
Then finish by adding lots of coconut trees and flowers, and make sure to stick with that beach-y theme.
5.

By The Beach
Now this lighthouse design will look amazing next to your beach as well. It even features the same lighthouse color scheme!
It's super simple to create too.
First you'll need to build a small cliff area, and don't forget to add an incline so you can easily get up.
You can then add your lighthouse on top of the cliff, and decorate with some flowers too.
Then to make this space feel cozy you can drop in a picnic blanket. Just use a custom design to do this, and you can also add a pillow and whatever objects you'd like to fit the scene.
4.

On The Bridge
Take your island to the next level with this forest lighthouse design.
Just start by creating a series of cliffs in any space with running water. But be sure to leave a path of land leading across to act as a bridge.
You can then lay down your favorite wooden custom design and you'll instantly get those classic bridge aesthetics.
Then be sure to add your lighthouse on your cliff edges. You can also add a bunch of waterfalls in there for some soothing background noise.
Finish by adding a mix of shrubs, cedar, and hardwood trees.
3.

Rural Lighthouse
This is the perfect design for rural ACNH lovers.
To get this look, all you need to do is create two large cliffs on your island with room for running water. Ideally near the ocean is even better.
Make sure that your bottom cliff is slightly larger than the top cliff, since you can add a waterfall running through them.
You can also dig out a lake at the bottom of the cliffs for your waterfall to run into. Or just send it right into the ocean.
Add your lighthouse to the very top, then decorate the area with lots of flowers and trees. Nature at its finest!
2.

Blue & White Beach
This design can easily fill up those empty spaces on your island by the sea.
If you're not quite sure how to decorate those areas, well then this design is easy and perfect for every style.
Start by adding a blue and white striped lighthouse as close to the water as possible. You can also add a blue and white kid's tent too, since it fits with the color scheme.
Also add some hedges and flowers, and don't forget to add a picnic set so your villagers have a place to enjoy the summer sun.
1.

Painter's Place
Let's say you love the beach and love art.
Why not create your very own painting station?
Seriously, what an incredible spot for budding artists in Animal Crossing. You could even swap in some musical instruments, or maybe a stage to put on some performances.
To create this super cute design, start by building a two-level cliff way further beyond your beach. Drop your lighthouse on top. Maybe add an incline around back so you can get up to it as well.
You can then run back along the back and find one of the rocky areas. Just turn that into your own outdoor art studio with a few easy items.
For bonus points, be sure to display some lighthouse art up on the easel.
Browse:
Animal Crossing
Lists
Video Games