What To Do With Extra Solamber (Alchemy Stars)
This post may contain affiliate links. If you buy something we may get a small commission at no extra cost to you. (Learn more).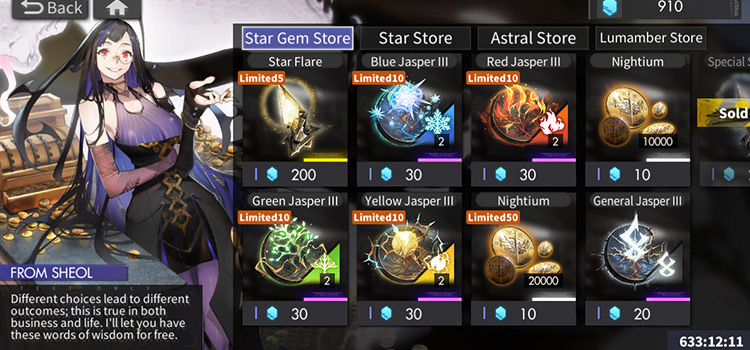 You'll end up with a lot of extra Solamber in Alchemy Stars. They can be dismantled in the workshop of the Colossus, then exchanged for a variety of items, including Star Flares.
Some things to note:
You can't dismantle Solamber until an Aurorian has reached their Max Breakthrough (MBT), so don't worry about messing up.
There's nothing else to do with extra Solamber, so just dismantle them.
After buying all available Star Flares and Special Star Flares, it's recommended to save your Star Gems.
The Star Gem store refreshes every month.
What's a Solamber?
When you summon an Aurorian, if you already have them, you'll receive a Solamber instead. In my case, I've summoned another copy of Sylva, a 4* Forest Aurorian.
Solamber is used to raise the Breakthough level of that Aurorian. But I already have Sylva at MBT, so I can't do that anymore.
This means you'll have Solamber left over.
So what do you do with it?
Simple: you dismantle it.
Dismantling Extra Solamber
If you have extra Solamber (and you will eventually, trust me), go to your Colossus.
Next, go to the Workshop.
Once you're in the workshop, there will be a tab on the bottom that says "Aurorian Solamber Dismantle." Open it.
Once it's open, there will be a list of your extra Solamber.
In my case, I have one extra for Sylva, Tessa, and Louise.
Normally you can select all of it at once, but for now I'm only going to select Sylva's Solamber. Once you've selected extra Solamber, you can dismantle it in exchange for Star Gems or Stellar Gems.
Solamber for 4* Aurorians will give 25 Stellar Gems each when dismantled.
If you have extra Solamber for 5* Aurorians, you'll get Stellar Gems instead. In my case, I have an extra Solamber for Louise.
As you can probably guess, Stellar Gems are much rarer than Star Gems.
After dismantling any extra Solamber, go to the store. Go to the tab labeled "redeem."
You'll see two more tabs at the top, labeled "Star Gem Store" and "Star Store."
You can trade in Star gems at the Star Gem store for a variety of items.
My personal recommendation is to buy the Star Flares and Special Star Flares (which I've already done), and then save the rest of your Star Gems.
Jasper and Nightium are both infinitely farmable, but Star Flares (used for pulls) are not. The shop resets every month, so you might miss out on a few pulls the following month if you spend everything.
Just like Star Gems, you can trade Stellar Gems at the Star Store for a variety of items.
NEVER buy gifts from the store with Stellar Gems. We're given a ton of gifts as rewards during every event.
You can buy Star Flares, 2 5* Aurorians, and their corresponding Solambers. You can buy 5 Special Star Flares and 5 Star Flares for 10 Stellar Gems each. After that, they cost 15 Stellar Gems each.
Unless you really want a new unit, it's best to save your Stellar Gems.
The 5* Aurorians (and their corresponding Solamber) change every month. And there might be someone you really want in the shop at some point!
Browse:
Alchemy Stars
Gacha Games
Video Games