15 Best Mods & Custom Stories For Amnesia: The Dark Descent
This post may contain affiliate links. If you buy something we may get a small commission at no extra cost to you. (Learn more).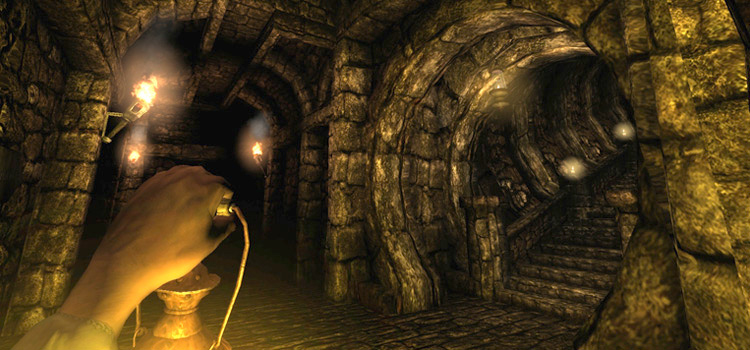 Frictional Games' Amnesia: The Dark Descent was a surprising hit that took the world by storm, thanks to millions of people tuning in to watch YouTubers like PewDiePie lose their marbles at the game's horror.
Amnesia was simply perfect for the medium.
And the game's support of custom stories played a big role in keeping it relevant for so long.
These fan-made expansions are a sea of possibilities, and they make revisiting Amnesia a fresh experience many years later.
So if you're picking up the game again, consider these amazing mods that'll bring your love for The Dark Descent back from its slumber.
15.

Controller Prompts and Small Improvements
Not every PC gamer uses the same gamepad.
And those of us who choose to re-purpose our PS4 or Nintendo Switch controllers deserve accurate recognition.
This nifty mod by RavenFeather will help your immersion by displaying the correct button prompts when you're using a DualShock 4 or Nintendo Switch Pro Controller to play Amnesia.
It also includes other minor improvements you might want, even if you don't have an issue with your gamepad's buttons.
These include better fonts and several new crosshair options.
14.

La Caza
Created by Team Ninja-Samurai, La Caza is a fun and engaging mod that won Frictional Games' Best Custom Story competition.
I wouldn't necessarily say it's deserving of such a title. But this CS was one of the first genuinely entertaining ones around.
The custom music is excellent, and the developers knew how to use Amnesia's vanilla assets to craft an entirely new experience.
Despite having trivially simple puzzles, La Caza excels at visual storytelling and intriguing exploration.
It might even scare you a little bit if you're not careful.
13.

White Night
Inspired by the eerie atmosphere found in games like Silent Hill, White Night explores the dark shadows of the human mind and the mysteries of the subconscious.
After making this mod, creator Tansel Altinel wrote the story in a novel format, and published it in his home country of Turkey.
This is a testament to White Night's fantastic story, which will provide a whole new psychological horror feeling.
Regrettably, the voice acting in this one is a bit of a letdown, which does take away from what could have been a top-tier custom story.
Still a great mod and absolutely worth a try, though.
12.

The Things in the Night
You wake up to a bang on the door on a dark thundering night.
Outside, you find only a note – it's from your brother.
It appears your dad has gone off the deep end, and only you can save your family from his dark arts.
Doom 2299's "The Things in the Night" is one of those fantastic mods that covers all bases.
The visuals are incredible, the environments are profoundly creepy, and, though the narrative is no Shakespearean tragedy, it's exciting and easy to follow.
11.

Followed by Death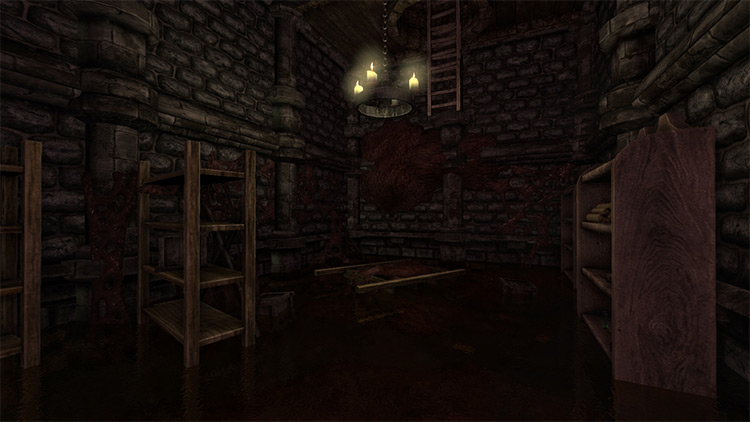 Creator JMFStorm turns Amnesia into an action game with Followed By Death – featuring simple puzzles, fast action, and lots of monsters to run from.
After becoming trapped in the Old Harman's Castle, you'll have to find Francis Harman (lord of the castle) and figure out how to escape the dungeon alive.
While the story isn't anything special, the game's level design is stellar.
Every item and note is right where it needs to be. And they do a good job of guiding the player through the scenario.
It's short and sweet, and the voice acting is pretty solid, so there's no reason to skip this one.
10.

The Four Horsemen
If you like story-heavy custom adventures, Titan Core's The Four Horsemen is a no-brainer.
You'll play as Alastair, a researcher during the 1800s who becomes obsessed with the Four Horsemen of the Apocalypse.
When reports of their arrival heralding the end of times reach Alastair, he decides to take matters into his own hands – and find a way to stop them.
This story is very creative. And it features fantastic level design that shows attention to detail (and especially patience) on the part of the development team.
The puzzles are challenging but accessible, and the visuals are up there with the best of them.
9.

Amnesia: Through the Portal
One of the most unique narrative ideas I've come across while trying out Amnesia custom stories is DamnNoHtml's Through the Portal, which explores what may have happened right after the game's Portal Ending.
It starts right after you pass through the portal into an alien world where you'll find out the secrets of the Orb, the Guardian, and Alexander.
The environments are a far-cry from Amnesia's dark corridors.
Instead, it looks like you'd expect The Doctor's home planet of Gallifrey to look like in Dr. Who.
It's hardly a scary custom story. But the visuals are fantastic, and the notes tell an entertaining story.
8.

Penumbra: Necrologue
The development team at CounterCurrent Games all love Frictional Games' Penumbra – so much so that they decided to make an unofficial continuation as a custom story on Amnesia's engine.
Necrologue begins right where Penumbra: Requiem left off, and will pit you against several classic enemies from the original series.
It has clever puzzle design, though finding the right way to progress might feel like the hardest puzzle due to the scarce hints.
Still, it's a must-play if you liked the original Penumbra.
7.

Penumbra: Twilight of the Archaic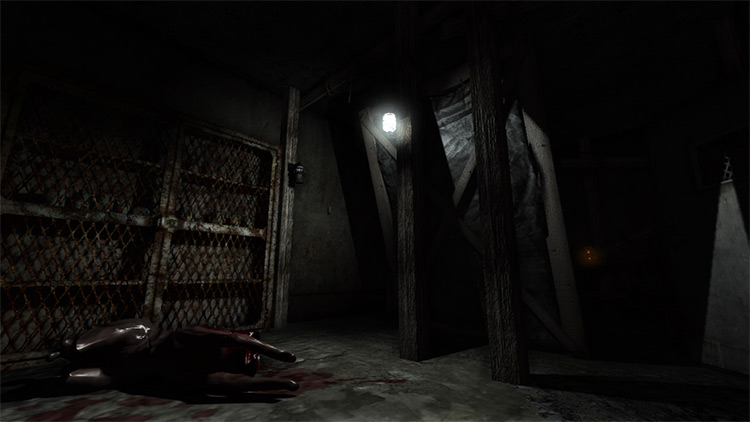 Now if you like Necrologue, you've gotta follow up with Penumbra: Twilight of the Archaic, the final chapter in the continuation created by CounterCurrent Games.
It works as an add-on to Necrologue, so you'll have to install that first.
And this story picks up right where it left off. Plus, the voice acting is even better this time.
While it's shorter than the first chapter, it's also more focused and better overall.
This mod feels much more like actual Penumbra than Necrologue. The environments are atmospheric, and it shows the developer's progress between the two games.
6.

Destiny Rebellion
Creator Umbakarna brings us the first chapter in the Destiny duology – Rebellion.
This famous Amnesia CS achieves the perfect middle ground between horror and entertainment.
You'll be entranced for most of the four-hour-long campaign, full of custom monsters, new items, and creative new maps to explore.
The final boss encounter is a highlight, too.
You'll also play as the monsters for a couple of scenes during the campaign – a nice, memorable touch.
5.

Destiny Revenant
Released two years after the original, Destiny Revenant brings more of the same creative level design and high production values.
It's one of the longest custom stories around, with over 48 maps to explore, and about seven hours of content spread across nine chapters.
There are also a remarkable amount of side-quests that showcase creator Umbakarna's creativity.
The graphics are also sensational here, which makes immersion easier, and adds a lot to the horror quality of these dark and forsaken environments.
4.

Key to Freedom
One of the most well-rounded custom stories I've come across is Key to Freedom, which nails the eerie atmosphere and detailed level design needed for a genuinely great Amnesia-like experience.
The story is absorbing, and the ancient building is the perfect setting for a suspenseful and emotional horror tale.
There are even some jumpscares here and there – but none of the cheap Five Nights at Freddy's stuff.
Key to Freedom benefits a lot from developer MXDash's creativity, seen in the different gimmicks and mechanics that you'll run into as you make your way through this adventure.
The ghostly statue that follows the protagonist is a haunting touch straight out of It Follows (2014).
3.

Amadeus
Amadeus tells the story of Cornelius Campbell, a has-been stage magician who delves into the occult in his quest to create an act that'll bring the crowds back.
It's creepy, immersive, and features some of the best voice acting I've heard in an Amnesia CS.
The developer put a lot of detail into each of the notes providing the backstory for Cornelius's predicament.
The puzzles are also challenging and unique, so if you're into puzzle solving, you'll enjoy this.
2.

Amnesia: The Dark Descent Remastered
When a developer acknowledges the importance of a fan-made add-on, you know there's something special in it.
Amnesia: The Dark Descent Remastered is an extensive visual upgrade for this classic horror game.
It replaces the game's base textures with high-definition alternatives, improves particle effects, and substantially improves fog.
There are also reflective floors now, which is a nice bit of eye candy.
Cockroaches are no longer radioactive, and glass windows are, you know, actually see-through.
We take a lot for granted these days.
1.

The Great Work
There has seldom been a mod that's so well-described by its title as "The Great Work".
This excellent custom story by Damascus7 casts you as Charles Longden, an archaeologist studying an abandoned castle town in Germany.
When your partner Jane disappears after a series of tremors emanating from the castle, you decide to delve into the beast's maw.
The Great Work uses atmosphere and suspense exquisitely to make you into a terrified mess.
It features well-written notes that flesh out the plot, and the voice acting adds a lot to the experience.
With four endings and over seven hours of gameplay, this CS feels more like an official expansion than a mod.
Browse:
Lists
Steam
Video Games