Animal Crossing: 20 Best Cat Villagers From All Games
This post may contain affiliate links. If you buy something we may get a small commission at no extra cost to you. (Learn more).
Cats are downright adorable. And that's why we love 'em – not just in real life, but in pop culture too!
So it's no surprise that they're one of the most attractive villager types in Animal Crossing.
If you're an avid cat-lover and wondering which cat villager to pursue as a resident on your island… then rejoice! We've assembled a list of the absolute best-of-the-best cat villagers from the Animal Crossing series.
With a dash of personal favorites mixed in too, of course.
20.

Tom
Likely appeared to resemble Tom from Tom and Jerry, this cranky villager's goal is to become a guitarist.
Although friendly and easy to talk to, Tom won't be too impressed by peppy villagers.
He's a bit of a technophobe too, because of his personality type, and will find all the reasons in the world to talk to you about the golden good ol' days of his youth.
That isn't his only favorite pastime, though. He'll also gossip and spread rumors about other villagers.
Not a peeping Tom, but a yapping Tom!
19.

Purrl
Your typical popular girl, Purrl will first come off as rude but will soon warm up and confide about her own feelings.
This snooty cat villager isn't going to appreciate an easy-going sense of fashion, either. Because she loves makeup, and loves commenting on other villagers' fashion sense just as much!
This girl doesn't back away from telling it like it is. And that's why she might come off as rude at first.
But hey, she's just being honest!
That's also why she gets along very well with cranky villagers, and often normal villagers too. Gotta dress to impress with Purrl!
18.

Moe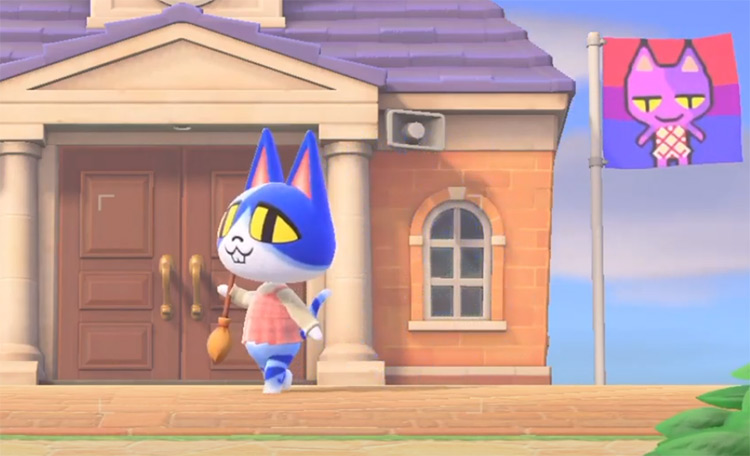 Cute and laid back with droopy puppy dog eyes, Moe is a lazy villager whose hobby is simply to play.
And really, who doesn't love some fun time?
He loves all things food, superheroes, or comics. And would love to talk about them.
But that might make jock and snooty villagers veer away, cause that sorta lifestyle is a big no-no for them.
But Moe likes fun, and that comes off in his home decor as well.
If you take a look inside his house you'll see it's full of childlike items, bright colors, and he even has a car bed.
Cute fun fact: his name possibly comes from the Chinese sound that a cat makes!
17.

Stinky
This absolutely wired cat villager might have gotten his name because of the upside-down undies that he wears over his head.
He wears them as a wrestling mask… So yeah, super obsessed with wrestling, this jock will compete with villagers at catching bugs and fish.
If Stinky's sense of style didn't show the fact that he's an absolute wrestling maniac, his home decor will leave no doubts.
Walls donned with animated wallpaper of audiences at a wrestling match, his house is complete with a boxing ring, boxing mats, and a bell.
And if you ring that adorable bell you'll get a cheer from the simulated audience!
I'd recommend avoiding challenging Stinky to an arm wrestling match.
16.

Felicity
As happy as her name suggests, Felicity is a peppy villager who's friendly, adorable, and quickly warms up to other villagers.
And that makes her an all-around cutie!
Her home decor shows off her love for nature, as she often decorates with items meant for outside, but pairs them with sky painted wallpaper or even grass carpet.
Her design sense might come off a little basic. But that's okay, her cuteness and peppy attitude make up for it.
15.

Rudy
Sharing the all-too-famous bright red nose the his similarly named character Rudolph the Reindeer, Rudy is a mix of flippant playfulness and passion for fitness.
This jock personality loves to play and talk about exercise with the other villagers.
What's interesting is that even though from every angle Rudy might seem like your stereotypical cheerful buddy, his favorite song is K.K Blues!
But his home decor is not blue in any way. It's decked out with toys, bright colors and a lively attitude.
14.

KidCat
No injustice ever befalls Animal Crossing, for its team of mighty superheroes will save the day!
Of the five superhero themed villagers, KidCat is one of the best. The others are Filly, Big Top, Rocket, and Agent S.
With their hero garb on, these villagers also wear a number that shows they're a part of the superhero team.
KidCat is #1!
Now it should come as no surprise that this cat villager is a jock type. His house is decorated as a locker room in the Wild World, City Folk, and New Leaf.
But in New Horizons he's added a basketball hoop. Oh my!
13.

Katt
The sister-type villager Kat is a rockstar who loves to play maid.
As crazy interesting as she sounds, Kat is a super helpful villager who will come to your aid if you're stung by a bee. And will even give you tips on how to compete with other villagers.
Such a sweet sister!
She's a nightowl for sure. She loves to stay up late so if you want to take her picture, snag her once the sun goes down.
12.

Mitzi
With her name likely inspired by her mitten-like paws, Mitzi is a normal type villager who has the adorable catchphrase "mew".
She has appeared in every Animal Crossing game to date.
Because of her personality type, she's very easy to befriend. And wouldn't you want to have a villager in your town who regularly hula-hoops?
11.

Kabuki
The adorable little grump Kabuki is even more sneering than a snooty villager type.
Although he's cranky, it can often feel endearing because it's not common for villagers to act rudely towards you.
His face markings are inspired by the kabuki make-up, and the Japanese influence is pretty major in his home decor as well. Kabuki even has a mochi pestle lying around.
10.

Kiki
The name might make you think of Drake, but this normal type villager's name is taken from the Studio Ghibli's famous movie called Kiki's Delivery Service where the lead character, Kiki, had an all-black cat.
Just like this Kiki!
She definitely keeps up the overall morale of the island by being lovable.
And she quickly warms up to the other villagers, so you don't always have to ask "Kiki, do you love me?"
9.

Merry
As merry as her name, this peppy villager is cheerful, easily excited, and has a permanent smile etched onto her face.
Because of her personality type, Merry is always in a good mood and will often over-react to the smallest things while talking.
Even though she can get easily upset, it's all good, because she has such a short attention span anyway.
This jovial little kitty is always up for a fun time, and dreams of being famous one day.
To Animal Crossing fans I'd say she already is.
8.

Rosie
A real potential BFF, Rosie is a peppy cat villager who has appeared in all Animal Crossing titles, and even the covers too.
She wants to be a movie star and enjoys showing off her karaoke skills.
Like her personality, her home isn't based on a single theme. It has a lot of random furniture like a gas pump and a punching bag.
Just goes to show her upbeat and eccentric personality.
7.

Punchy
Although the word lazy sounds negative, Punchy gives it a new meaning by living a carefree and laid back lifestyle where he doesn't let anything bring him down.
His name sounds as if he's prone to getting punched in the face. But it just comes from his Japanese name, "Binta".
Gotta say, his eyes do look like he's been handed a few across the face!
He is very charming, as well as a great conversationalist.
No matter what anyone says, Punchy is adorable. And we can definitely take a leaf out of his book.
6.

Tangy
Another peppy type cat villager? Yes, please!
We can't get enough of these bouncy personality types. But what makes Tangy unique is her love for citrus.
With a tangerine for her head, and her bangs styled as a green leaf, this fashion queen brings the Vitamin C and flavor to your island.
But she's not just obsessed with oranges. Her home is decked out with other fruit décor, too.
With a pineapple bed, a lime and an orange chair, watermelon table, apple clock, pear wardrobe and dresser… Tangy will never let you forget about your five a day!
5.

Olivia
Elegant and snooty Olivia is another fashion queen on this list who loves to give fashion advice to female villagers.
She'll seem a little too self-obsessed at first. I mean let's face it, she appear on the cover of K. K. Bazaar.
But she eventually opens up while staying subtly rude.
Her appearance also reflects on her home decor which has many pieces from the Regal Series, plus a Bass and an Ivory piano.
4.

Ankha
Resembling Cleopatra(or might we say Cat-eopetra) with her eye-liner, Ankha is another snooty villager who enjoys living a lavish lifestyle.
Pretty up the lane for a cat villager who's inspired by the Egyptian history.
Her color scheme and snake ornament are all said to be based on the mask of the Egyptian God, Tutankhamun.
Also true to her personality, Ankha always seems to be frowning. And there's no difference between her smile and her frown.
In the first Animal Crossing, Ankha only had a master sword in her house.
But in future titles, her house got different items added. Until New Horizons where she got a pyramid, a gold toilet, and a Libra scale. Plus many other items inspired by her Egyptian heritage.
3.

Lolly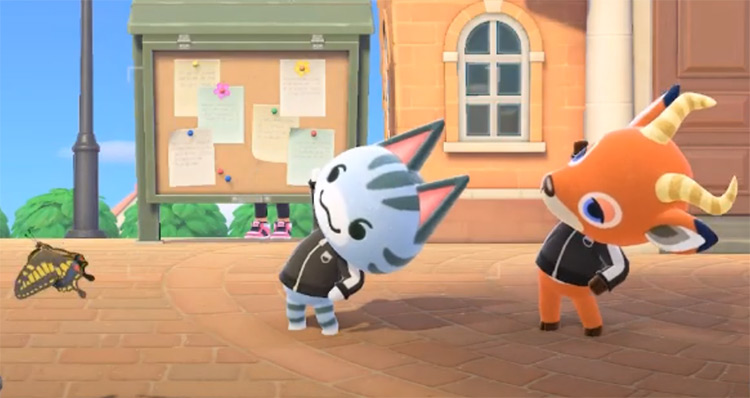 This grey tabby cat with a normal personality doesn't only have an adorable little house, but her upside down comma eyes make her look adorable too.
Or creepy, depends how you see it.
Not only is her name inspired from candy, but her initial phrase ''bonbon'' is a French word for candy too!
She's friendly from the start, which adds to her cuteness, and that cuteness can ramp up tenfold when she dresses up in some of her numerous other outfits.
She also appears on the album covers of Lucy K. K.
2.

Bob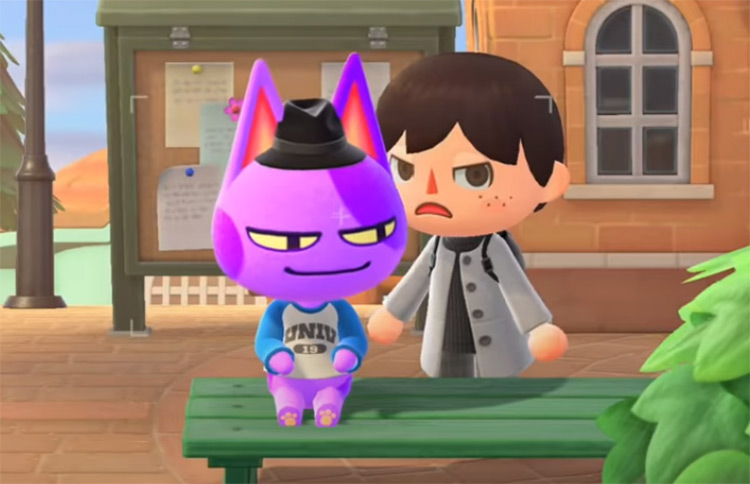 Coming in near the top of the list is fan favorite Bob, a lazy villager who says that chillin' is literally in his blood.
Now if that doesn't show how dedicated he is to the easy-going lifestyle, then I don't know what does.
His initial phrase is as adorable as his all-purple look.
And it might be the reference to the sound a cat makes while hacking up a hairball. Major lols.
Because of his abrasive interior design sense, he's often quoted as the Pee-Wee Herman of the franchise. In the nicest way possible, of course.
1.

Raymond
Ask any Animal Crossing fan about their favorite cat villager (or even overall fave).
Raymond is probably in their top list!
Ever since his introduction in New Horizons, this smug cat villager topped the Internet polls and the Twitter feeds of many fans.
Adding to his popularity are his dressy outfits, his differently-colored eyes, and his interest in anime.
He will even wear a maid outfit if he's gifted one.
Now that's entertainment.
Raymond is very particular in his tastes, and it goes to show in his very business-like and super clean house interior.
No wonder he's won the hearts of so many players!
Browse:
Animal Crossing
Lists
Video Games