Best Anime About College Life: The Ultimate Collection
This post may contain affiliate links. If you buy something we may get a small commission at no extra cost to you. (Learn more).
Have you ever wondered why anime set in school usually focus on high school students?
One can argue that it's because teenagers are a core demographic of anime. They're Internet-savvy and can catapult a show into mainstream status, generating huge fandoms eager to acquire all the merch.
Even adults can find something to enjoy in anime about high school.
After all, it's that period of significant growth that everyone can relate to.
But I'd argue that college life can be just as, if not more, eventful. And certainly worth revisiting through animated fiction. So here are some of our picks for the best anime shows with a focus on college.
15.

HenSemi
Yes, this is an ecchi comedy series that truly lives up to its ecchi tag. But this is also appropriately set in college.
I can't fully explain why, but the offbeat adult humor and characters remind me of real people I've come to know in university.
Simply put, HenSemi is about a normal person who unluckily (or luckily) gets involved with a bunch of weird people.
You can argue that everyone is weird in their own way. But I can assure you that the folks in this anime are extra weird, as if they're the personification of a college student's id (in terms of Freud's psychoanalytic theory).
HenSemi is unabashedly all about exploring deeper romantic interests, like how college students become more comfortable talking about intimate and sensitive topics with others. It's also very funny, but its style of seinen comedy may not work for everyone.
14.

Ah! My Goddess
This is a series that's actually older than me.
Now, be careful with your viewing order here: Rather than start with the 1993 OVA, you should first watch the 24-episode TV series from 2005 for a proper introduction to the series.
Ah My Goddess is one of the most beloved fantasy romance comedies out there.
It follows Keiichi Morisato, an engineering student at the Nekomi Institute of Technology. When so many male MCs are annoying or immature, it's nice to see someone like him who's always willing to help others and is a truly good guy.
Sadly, his kindness is sometimes exploited by those around him.
In college, you join organizations and clubs. In the case of Keiichi, he's part of the NIT Motor Club where two other students, namely Hikozaemon Otaki and Toraichi Tamiya, take advantage of his kind nature.
It sucks, but that's not his loss.
Of course, the anime features the iconic character design of Belldandy, the divine woman Keiichi fell in love with.
So if you're looking for a sweet magic-infused romance between a supposedly average (and arguably short) engineering dude and an angelic beauty, check this out.
13.

Itazura na Kiss
Otherwise known as ItaKiss, the series actually starts in high school, but it eventually reaches the college phase of its main couple.
The romance and hilarity begin when Kotoko Aihara loses her home (that had just been constructed) to an earthquake and has to live with Naoki Irie since her father is good friends with his father. This sounds awkward, but Kotoko can take advantage of the situation, since she's always been in love with Naoki.
And this is a lovely story of helping one another reach their goals together.
Naoki never had a long-term career goal in the first place, because he was too intelligent and too good at everything.
Thanks to Kotoko, however, he finds a clear path in life that benefits countless other people.
The series is from 2008, but it's hard to find an anime where you see a couple go from high school to college (and to adult life).
12.

Ai Yori Aoshi
Here's another older series, this time from 2002.
Ai Yori Aoshi has a lot going on with elements of not only harem and slice of life, but also drama and comedy. And the overall package is a good insight into college and family life.
More importantly, this feels more serious than your regular harem anime.
Kaoru Hanabishi studies at Meiritsu University where he's part of the photography club.
But he wasn't originally living in Tokyo — he actually left for the city because of the unfair and horrible treatment he and his mother got from their clan.
Now, Aoi Sakuraba appears.
He doesn't know who she is at first, then slowly but surely realizes that she's his fiancée.
I know many people who have problems with their own family, and their acceptance to a university away from home gave them the time and space to grow as a person.
11.

Listen to Me, Girls. I Am Your Father!
Like Ai Yori Aoshi, this show explores a more complex and deeply emotional side of college life.
After all, just because you're in that stage of life where the possibilities are seemingly endless, doesn't mean that life won't catch up to you with unexpected responsibilities.
The 18-year-old Yuuta Segawa is excited about university life.
He's going to study at the School of Literature at Tama University. And he's a member of the Street Observation Research Society — it's like bird watching but for… well, watching people in public.
His sister Yuri asks him to take care of her kids while she and her husband travel overseas. Then disaster strikes.
The plane they were on goes missing. Yuuta's sister and her husband are presumed dead.
What about the three daughters? Where will they live now?
Yuuta's sister took care of him when their parents died.
Now, he has a chance to give back and ensure that Yuri's kids will get the love and care they deserve. It's going to be extremely tough to balance being a college freshman and a father figure, but Yuuta won't back down.
10.

Golden Time
Golden Time was one of the most popular anime of 2014 — and not just because of the meme that is Banri's spirit.
Banri Tada lost a good chunk of his memories when he had an accident after his high school graduation.
But that's okay.
He's going to have a new start in life as he enters a private law school. In fact, things are off to a great start as he finds a new friend at college, Mitsuo Yanagisawa.
Suddenly, a beautiful woman hits Banri's friend with a bouquet.
As it turns out, Mitsuo and the woman made a promise when they were kids that they'd marry each other. Mitsuo's escape plan was to go to a private law school, but Kouko Kaga has followed her in the same school.
But does Banri's spirit have to do with all this? That's up to you to find out.
9.

Night is Short, Walk on Girl
This is a 93-minute movie with an unusual visual and storytelling identity, primarily because the director is none other than the visionary Masaaki Yuasa.
If you've seen The Tatami Galaxy, then you'll find Yoru wa Mijikashi Arukeyo Otome to be a familiar sight:
Both take place in Kyoto University and even share a few characters, as the source material was written by the same author. They also have this frenetic romance and comedy that you don't get anywhere else.
Yes, this is a film. So it doesn't have the benefit of having at least 12 episodes to explore each and every facet of college life.
But what it achieves within its runtime is remarkable.
Night is Short, Walk on Girl is about, well, events taking place in a single night.
Yet it encapsulates what many college students go through beyond the four corners of the classroom, especially love and drinks.
High school is about many firsts — but the same is true for college.
The two unnamed MCs experience the unpredictable nature of university nights.
The kohai meets all sorts of people. Just like in real life, there are jerks.
But there are also good people. Ones you'll quickly form a bond with and love having around for games and drinks.
Then there's the senpai, who's in love with the kohai. He's adamant in finally confessing his feelings for her, but the night has other plans in store for the two young individuals.
Night is Short, Walk on Girl is a surrealist ride that successfully captures the thrills and troubles of being on the cusp of adulthood and in love. Through tons of schoolwork, alcohol, parties, and new friends and love interests, you realize how simultaneously big and small the world is — and it's a wonderful feeling.
8.

Nodame Cantabile
This is one of the best anime about music ever made.
But it's also an excellent look into the lives of individuals trying their best to know and develop themselves better.
Instead of featuring MCs in their freshman year or starting with senior high school, Nodame Cantabile has MCs in their sophomore and junior years in university, respectively.
The 21-year-old Shinichi Chiaki studying at the Momogaoka Music Academy has what it takes to compete at an international level, but he's scared of travelling by air or even by sea.
Then there's Megumi Noda, a 23-year-old student who is excellent at piano but prefers to play by ear rather than a more traditional or professional approach.
Nodame Cantabile has three seasons, and its themes on ambition, passion, change, and love make it one of the all-time greats.
7.

Moyashimon
Being different shouldn't deter you from having a happy life. Especially at school.
Sadly, bullying happens because some people don't like others being different.
In Moyashimon, Tadayasu Sawaki was born with the gift of being able to see microorganisms without any need for a microscope.
Thus, what he sees every day and everywhere is significantly different compared to others. He treats microorganisms as his chibi friends, rather than just tiny entities meant to advance scientific knowledge on life.
Thankfully, the agricultural university he goes to has many teachers and students alike who don't think of him as weird in a bad way.
Rather, they make him feel ordinary, while appreciating his special skill, letting him know how he can be of value to the scientific community.
Truly, Moyashimon is a one-of-a-kind anime about college that everyone will enjoy.
6.

Grand Blue
Grand Blue feels like a miracle.
Who knew that a slice-of-life seinen featuring scuba diving and lots of drinking would work so well?
Somehow it's such an accurate portrait of the shenanigans you find in college.
You see, I have friends who are in diving and hiking organizations.
I know how these activities can nourish friendships, especially with the help of alcohol.
And Grand Blue is simply just a fun ride. It's a refreshing take on college life, away from the urban hustle of Tokyo-based universities.
This is filled with the kind of comedy you'd expect from adults and college students.
But it also has serious and heartwarming moments. The ones you expect when you're just hanging out with one good friend or you're on your last bottle of beer at 4 AM.
5.

Genshiken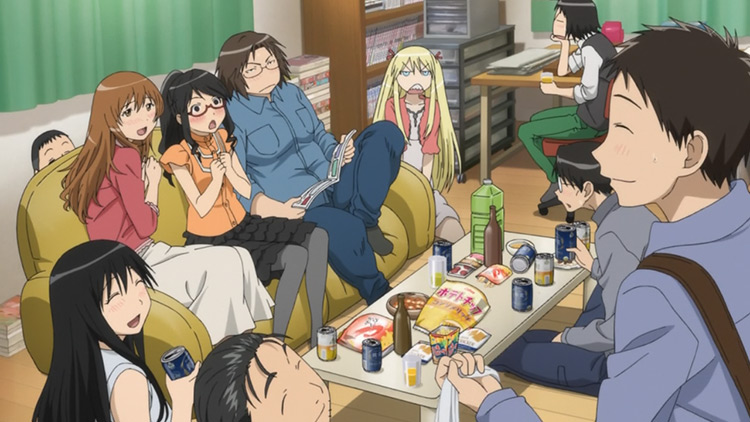 Both Genshiken and Nodame Cantabile share the same privilege of having three seasons to flesh out its characters and social dynamics.
However, this isn't about music — it's about the otaku culture.
The MC Kanji Sasahara is an introvert who doesn't realize he's an otaku, until the club called "The Society for the Study of Modern Visual Culture" reveals how much he's one of them.
This series is filled with interesting characters.
There are those who love erotic games while others are into yaoi.
The humor here won't land for everyone. But Genshiken was right up my alley since anime kept me going in college.
And I like that the series portrays the uncertainty of the future of clubs and organizations.
When you've had a great year as a club, it feels sad when the seniors graduate and the pressure to attract members and build the group falls on the hands of the younger ones.
4.

Run with the Wind
One of the more recent shows on my list is Kaze ga Tsuyoku Fuiteiru, an excellent animated sports series from Production IG.
If you need motivation, try this anime.
The MC is Kakeru Kurahara, a freshman at Kansei University taking up sociology. He was the No. 1 runner in his high school and initially cold to the rest of the track club, but no one can deny that he's passionate about running.
However, my favorite character here is Haiji Kiyose.
Do you know that weird, sentimental feeling when you're just a year or semester away from graduating?
It all felt like a long journey, but then it's almost over. Haiji is in that phase.
He's already in his fourth year, but he doesn't want to give up on his dream of participating in the Hakone Ekiden marathon relay race.
I love the entire team and how they overcome differences.
Yet it's Haiji's character that truly resonates with me. I wish everyone had seniors like him to guide them in college and life in general.
3.

The Tatami Galaxy
That's right.
Yuasa has two entries here, and The Tatami Galaxy is the better anime in terms of capturing college life.
It's only 11 episodes long and you can say that the same thing happens for nearly all episodes — but that's part of what makes this one of the masterpieces of the early 2010s.
If you've read Sylvia Plath's The Bell Jar or felt like your life is going nowhere, especially in college where everyone else seems to know what they're doing and where they're headed, then you'll love this anime.
This is a surrealist trip brimming with fast conversations and fluid animation.
It shows how useless it is to overthink about wasting your life by not making the best decision, because surprise, there'll always be a 'better' option.
The MC of The Tatami Galaxy feels bad because he feels like he's not living the rose-colored college life he's always envisioned.
But the point is to not be paralyzed by your thoughts and decisions.
It's about knowing that it's up to you to make the best of whatever club you're joining in college, that you'll still meet amazing people even if you first end up with horrible ones.
College life (and life itself) isn't perfect. But no one is perfect — and your life is yours and only yours.
2.

Maison Ikkoku
This is the oldest entry on my list, but it's a classic whether you're looking for a romance or college-based anime.
With 96 episodes and one movie, Maison Ikkoku had time to let its characters grow and find their place in the world.
The MC Yusaku Godai starts as a 19-year-old guy preparing for the college entrance exams.
He's a tenant at the boarding house called Maison Ikkoku where other people frequently ruin his moments of solitude with their drinking and food-stealing antics.
Yusaku was intent on leaving, but he fell in love with Kyoko Otanashi, the new boarding house manager.
However, Kyoko is actually a widow who's still in emotional pain at the loss of her husband. Can Yusaku and Kyoko overcome their individual troubles to prosper together in love?
I really love this series.
You can't help but wish for even more episodes. It's rare for an anime to be this good when it moves from their characters from their early 20s to actual adulthood.
It's funny, endearing, and genuinely human.
1.

Honey and Clover
There's nothing that can top Honey and Clover when it comes to college life.
This isn't only a classic josei and slice-of-life series, but also one of the shows I'll wholeheartedly recommend if you want a rewarding story of people at the crossroads of life.
For one, there's the college sophomore Yuuta Takemoto.
He took up architecture in art college because he liked building things when he was young. However, he doesn't know what career he wants to have after graduation.
Likewise, he has problems confessing his love to Hagumi.
His demeanor is partially shaped by his family history, given how he lost his dad at a young age. And while he's not on great terms with his stepfather, he knows that he's a reliable husband and father.
And it's not only him who has a compelling characterization.
Takumi Mayama is a good senpai to Yuuta, and his relationship with Rika is complex.
Then you have Shinobu Morita.
He seems to be a terrible student for failing to attend classes and being years behind from graduation, but his secretive work (and life) is honestly one of the most memorable things about Honey and Clover.
This is a series that excels in character writing and storytelling.
There are no supernatural or magical elements.
It's just about people living their lives, facing their fears and romantic feelings, and hoping to make the best of their young adulthood.
Browse:
Japanese Culture
Lists
Anime