Best JoJo's Bizarre Adventure Endings (Ranked)
This post may contain affiliate links. If you buy something we may get a small commission at no extra cost to you. (Learn more).
JoJo's Bizarre Adventure is known for its appreciation for music. Stands are often named after bands, artists, albums, and songs – Golden Experience, Metallica, Marilyn Manson, Cream…
And characters in the universe often make references to their favorite musicians.
It's really no surprise that Hirohiko Araki and David Productions took extra care ensuring the music for their adaptation of JoJo's was up to speed. And boy, did they deliver!
7.

Part 3: Ending 3/4: Oingo Boingo & Oingo Hol Horse
Firstly, let's get this one out of the gate.
These two special endings are used exclusively for the two Oingo Boingo arcs. The artwork mirrors Oingo's Stand ability perfectly, capturing the experience seen in the manga with ease.
And the Japanese voice actors for Oingo, Boingo, and Hol Horse respectively reprise their roles to sing.
The performance is… certainly something.
While nothing I'd go back and listen to, it was certainly a welcome surprise to be presented with these two alternate endings and only further demonstrates David Productions' love and care for the product.
6.

Part 4: Ending 1: Freek'n You – Jodeci
So, this is a thing. The song, by Jodeci, is great – used by Araki because he wants more of his fans to listen to Hip Hop, and he happens to love this song.
But it's also incorporated perfectly to wrap up a few episodes with comedy.
Never have I been hyped, energetic, excited for more, only for the words, "every time I close my eyes, I wake up feeling so horny," to interrupt my enthusiasm.
I wouldn't have it any other way, honestly.
5.

Part 3: Ending 1: Walk Like an Egyptian – The Bangles
Could they have picked a better licensed ending for Stardust Crusaders?
It's wacky, adventurous, and thematically resonant.
It gets you hyped for the next episode and is the perfect blend of cool and wacky to end any episode.
And while The Bangles sing in the background, we're shown a colorful collage of our characters with some truly stunning iconography and palette choice.
4.

Part 3: Ending 2: Last Train Home – The Pat Methany Group
This is probably the most distinct of all the endings, lacking any vocals at all and leaning more towards the somber and melancholic side.
We're shown beautiful drawings of our Stardust Crusaders, those now gone, and those still with us, all hanging out, thinking, relaxing.
Meanwhile, a soft instrumental piece plays in the background. It's sad, emotionally riveting, and serious. Yet never once feels out of place.
Wonderful.
3.

Part 5: Ending 2: Modern Crusaders – Engima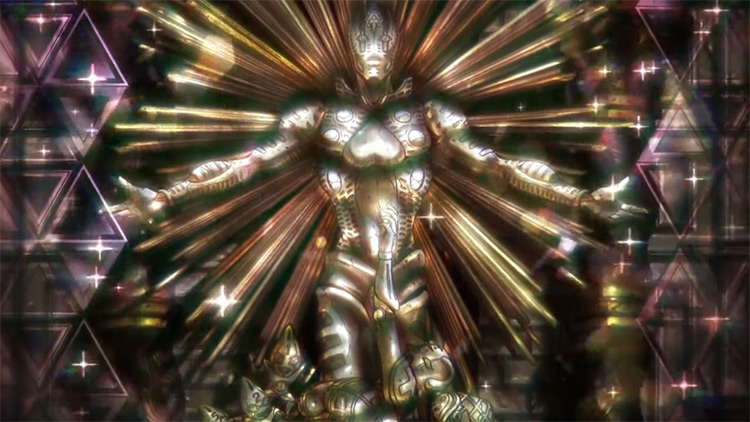 This ending is epic.
It takes the Roman aesthetic and the Michelangelo statue approach seen throughout all of Golden Wind, and runs with it.
The ending uses a truly legendary anthem courtesy of Enigma, a remix taking the gladiatorial atmosphere of a coliseum, blending it with Carl Orff's 'O Fortuna' and Johann Sebastian Bach's 'Toccata and Fugue in D minor' to build unwavering anticipation.
Meanwhile, visually we're shown every character in the arc as though they were statues or ruined pillars of the Parthenon.
It suits Golden Wind perfectly. And I honestly can't wait for Stone Ocean to come out and show us what David Productions have been working on.
2.

Part 4: Ending 1: I Want You – Savage Garden
We're taken first-person through Morioh, past the vibrant personalities we meet throughout Diamond is Unbreakable, and through the streets of a technicolor wonderland, a disco chique throwback of the 80's with references to cherry cola and vest tops blasting out in the background.
It's unmistakably disco, invigorating pop, and flamboyant dance.
Probably the most stylistically resonant ending for all of JoJo's Bizarre Adventure.
Nowhere else are we given such a hands-on tour through Araki's brain, and it's a creative tour de force of palette and design.
1.

Part 1 & 2: Ending 1: Roundabout – Yes
This is without a doubt the most iconic theme song of the JoJo's Bizarre Adventure series, exploding both the song, the anime, and the meme into popularity upon release.
We follow a trail of blood leaking through an esoterically-designed tapestry while Yes's 'Roundabout' plays over the top.
It's a progressive rock masterpiece. An iconic piece of music that revolutionized many aspects of the genre, and is still as engaging today as it was at first release.
It's used twice: at the end of Phantom Blood, and at the end of Battle Tendency.
And we're shown a slideshow of our characters atop Egyptian imagery in both.
This one is legendary, a classic anime ending song that will go down in history.
Browse:
JoJo's Bizarre Adventure
Lists
Anime