Top 35 Best Anime Ending Theme Songs Of All Time (Ranked)
This post may contain affiliate links. If you buy something we may get a small commission at no extra cost to you. (Learn more).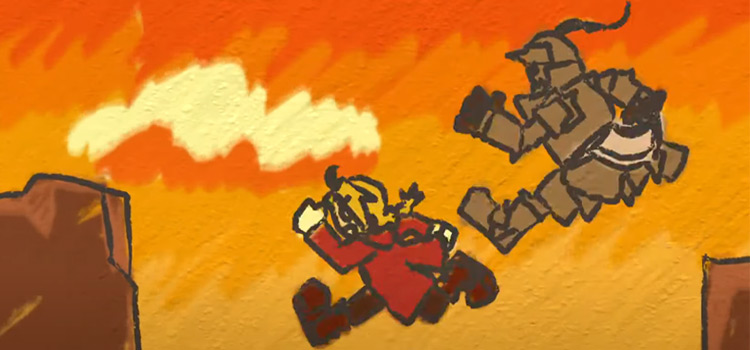 We always remember our favorite ending themes in anime.
Sometimes more than the opening in some cases!
Sure, the opening has the difficult task of hyping us up for the next twenty minutes – but the ending's job is far harder. It follows up cliffhangers, emotional climaxes, and may even be the last thing you see before the experience is over.
There have been thousands of anime ending AMVs that could have made it onto this list, but I couldn't rank them all, my friends.
I am but one man. Yet through years of devout research(read: watching anime), I've put together a huge list of the best ending AMVs & themes in all of.
It wasn't easy – I had to fight buffering, broken earphones, and a lot of crying – but I think I've done it.
35.

Blue Flow
Anime: Haibane Renmei
Our main character rotates naked in the fetal position, suspended seemingly underwater.
As she elegantly twirls, a soft and haunting ballad sings, wings flap in the background, and the color temperature gradually changes – until she vanishes in a flurry of feathers.
It doesn't overstay its welcome nor interrupt the somber, delicate tone of the anime it's ending.
34.

Mikazuki
Anime: Ranpo Kitan
Sayuri's gorgeous voice sings over the artistically silhouette of a girl running though abstract imagery.
The instrumentals crash over you suddenly, exploding in an enthusiastic barrage of guitars and drums and hectic singing, before ending the piece on a quiet & contemplative note.
It's a shame Ranpo Kitan ended up such a disappointment, but luckily this isn't the last we'll see of Sayuri.
33.

Yume no Ashioto ga Kikoeru
Anime: Ga Rei: Zero
You can feel the gravitas of the sister's situation through guitars playing when the ending starts, cinematic and melancholic.
We're presented with a completely white screen, our MC walking slowly but persistently in the forefront.
Eventually we reach the chorus where the morbid grip is dropped in favor of something more heartfelt and optimistic, until ending with the sisters finally meeting.
32.

Danzai no Hana
Anime: Claymore
Intertwining Celtic instrumentals and J-Metal together works way better than anybody expected.
The catchy chorus and heavy guitar work to amplify the violent, depressing story of Claymore.
Completely unique, unabashedly 2000s anime metal that still sounds incredible all these years later.
31.

Minna no Piisu
Anime: Gurren Lagann
Gorgeous monochromatic vignettes cascade past our protagonist Simon, as a rough rock anthem blare out behind him.
Constant drums, energetic chords, upbeat vocals, and a wholesome finale – this ending perfectly fits the anime.
This kind of early 2000s-sounding rock aims to excite, energize, and put a smile on your face.
And it's what TTGL deserves.
30.

Gomen ne, Iiko ja Irarenai
Anime: Kill la Kill
We are taken through the streets, following Ryuuko in her day to day life in a Trigger-styled urban environment.
The punky electric guitar riff atop Miku Sawai's vocals provides a catchy way to wrap up an episode of one of the most outrageous anime of all time.
29.

Hello, Shooting Star
Anime: Assassination Classroom
The visuals are like a storybook in this AMV.
A storybook with crude childish drawings of our characters, and an expressively whimsical atmosphere.
This works hand in hand with the sweet vocals.
Unbearably cute, incredibly catching, and befitting the wholesome anime's central motif of friendship and love (though the title might make you think otherwise).
28.

Last Theatre
Anime: Death Parade
While the opening of Death Parade is lighthearted, perhaps to freshen you up before the tear-jerking events of each episode… the ending drags on that emotion.
Sad, sorrowful singing – "I'm not gonna make it, is it almost over now?" – above morose guitar-heavy instrumentals, amplify the despair that makes up each episode.
27.

Monster Without a Name
Anime: Psycho-Pass
Starting with softly sung vocals atop a frantic but quiet beat, the song eventually opens into an upbeat cybernetic collection of eclectic guitars and swooping strings.
Then it evolves again, into something resembling an electronic dance song that I cannot help but tap my foot to.
Furious and frantic, this AMV ending theme carries the cyberpunk aesthetic on its shoulders proudly.
26.

Filament
Anime: Future Diary
Bleak, crushing strings, drums and guitars accompany a grim image of Yuno travelling a baren dessert, sleeping alone in the wild.
As we go along the song lightens up into something more emotional and passionate, with yearning lyrics sang with hope.
But this theme still distorts into itself once more, returning to that hellish operatic nightmare that we've come to love.
This ending is a great window into Yuno Gasai's mind, and begins just as things start getting increasingly bizarre.
25.

Zetsubousei Hero Chiryoyaku
Anime: Danganronpa
There were a lot of things missing in the anime adaptation of the beloved visual novel, Danganronpa.
But one thing it certainly had was a killer score.
This ending starts in chiptune, with the characters all shown in an 8bit format, blending the video game source material with the animation.
Then it bursts into a series of energetic vocals and quirky riffs, still retaining that chiptune aesthetic.
Along the way the animation changes depending on who's died – meaning that as you go further along, more and more characters are features. Yay!?
24.

aLIEz
Anime: Aldnoah.Zero
Bitpunk electronica, an eager drumbeat, and a killer subdued vocal performance introduces this ending – one of Hiroyuki Sawano's best – before the digital ambient atmosphere drops in favor of smashing guitars and haunting singing.
In Japanese, German, and English, she paints a vivid picture of emotional detachment, frustration, and anger all with her voice.
This is one hell of an ending theme.
23.

Utsukushiki Zankoku na Sekai
Anime: Attack on Titan
As a child, Mikasa wanders through a monochromatic world.
Memories flashing before her eyes as a soft piano and gentle female vocals play in the background.
All at once, she's a woman dressed in her military outfit, and the song blows up in a collage of electric guitars and screaming.
This AMV ending has a particular artistic elegance to it, almost telling a story all by itself.
22.

ScaPEGoat
Anime: Seraph of the End
This is my favourite Hiroyuki Sawano vocal performance.
Switching from Japanese to English from verse to verse, he screams lines like "are you still my family?" and "it won't be long, we're gonna see the end of night" with such earnest compassion, that you'd believe he was a character in the show.
This theme reflects the estranged nature of the two main characters, adopted brothers now working for opposing sides.
The verses are soft-spoken, frightened, before the instrumentals drop into an eclectic chorus rife with emotion.
Absolutely gorgeous.
21.

Alumina
Anime: Death Note
Nightmare's soft introduction acoustics is a front for the energetic rock anthem that is Alumina.
Reflective, considerate, and sorrowful feelings are rapidly replaced with a victorious gothic chorus, complete with cascading piano keys and gorgeous harmonious notes.
Somehow it feels like a window into Light Yagami's mind.
All the while stylized and grandiose images of Kira are shown on screen, eyes lit red and menacing.
20.

You Won't See Me Coming
Anime: Gankutsuou: The Count of Monte Cristo
Starting off slow and morose, You Won't See Me Coming quickly escalates into crunching electric guitars, a raspy gold-soaked voice, keyboards and synths, booming with class and coolness.
Jean-Jacques Burnel's composition perfectly matches the bombastic, aristocratic & regal tale of revenge that is The Count of Monte Cristo.
19.

Sore wa Shiisana Hikari no Youna
Anime: Erased
Told you we would see Sayuri again!
Her high pitched, sing-song voice works in harmony with the minimalistic imagery on screen with this AMV.
We're shown different distorted images while the instrumentals gradually build, until the song and animation explodes one more in a collection of sliding guitars, shifting strings, and an emotional vocal performance that goes down as one of her best.
18.

Magia
Anime: Madoka Magica
The crashing distorted guitar, chaotic church bells, and sacred harmonious singers create an apocalyptic atmosphere.
Something that instantly grabs your attention.
Meanwhile our protagonists flicker in and out on screen, walking through a dark and ominous abyss towards an ever-moving light in the distance.
Then, we're running.
Getting ever closer as the light fades from the world.
With no light left to guide us, we drift into darkness. Magia is one of Kalafina's greatest songs; dark, edgy, energetic.
17.

Nana Hitsuji
Anime: The Perfect Insider
Man, this ending is incredible.
The funky visuals (reminiscent of vaporwave) show a collage of Windows screens, ASCII text images, and other technological elements, while a complex math-rock song plays in the background.
The intricate guitar work, and the way both female and male vocals act in emotional harmony, is simply wonderful.
This is an audiovisual treat, to put it lightly.
16.

Miraiseiki Mauhi Club
Anime: Boogiepop Phantom
The disorientating claustrophobia of Boogiepop's narrative eases up for the ending.
This is where a funky rock song, complete with trumpets and sang with aching vocals takes over.
It's undoubtedly 90s, with a camp upbeat vibe punctuating the brass sections giving the impression that you've just watched an old VHS horror flick.
I think it's the perfect closer for such a distressing and distorted anime. And I just plain love the song, to be honest.
15.

Dare ka, Umi wo
Anime: Terror in Resonance
The haunting and romantic vocals, singing out across a downtempo piano, gradually collapse into the instrumentals following the chorus.
And what a chorus it is.
An orchestric collection of dissonant beats and riffs, all out of sync with one another, yet kept in time.
Dark, somber, reflective, and perfectly befitting the anime.
14.

Kamisama no Iu Toori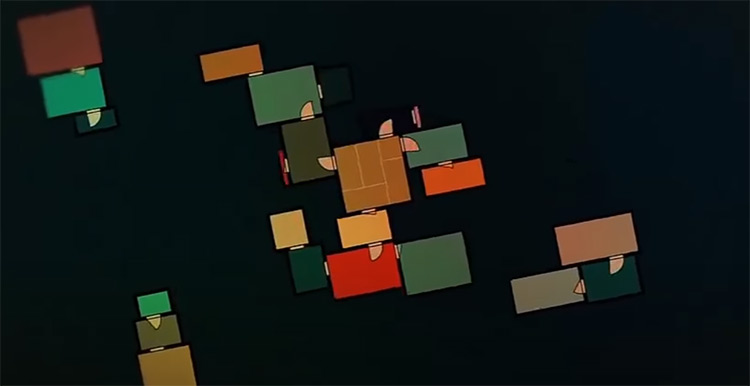 Anime: The Tatami Galaxy
The aesthetically satisfying sliding and merging of different multicolored tatami mats, in time with a bizarre electronic song, is the perfect way to end Masaki Yuasa's coming-of-age masterpiece.
The whispering vocals add an alien energy to the upbeat background electronica, accentuating the time-bending antics of the narrative brilliantly.
13.

Reason
Anime: Hunter x Hunter
The ending to the Greed Island arc is certainly my favorite HxH ending, due to its emotional harmonious singers.
With more significance placed on Gon and Killua's relationship in this arc, it's only reasonable a song reflecting that be included.
The ambient electronic-acoustic instrumentals and lovely duet vocals perfectly convey their relationship; happy, poppy, energetic, and filled with love.
12.

Uso
Anime: Fullmetal Alchemist: Brotherhood
Charming illustrations of Ed and Alphonse accompany a sorrowful, earnest performance by Sid.
This is the ending most people remember from Fullmetal Alchemist: Brotherhood, due to its intrinsic emotional synergy with the quest of our main characters.
And once you get into the series, this is an ending you'll never forget.
11.

Drown
Anime: Vinland Saga
Millet sings atop a brutally animated scene of bloody warfare, a song about drowning, about being submerged in the feelings of our main character Thorfinn.
With Adele-esque pipes and heavy Western-indie influence, this song is an emotional bridge between episodes that encapsulates the main character's mindset.
Simply stunning.
10.

Mozaiku Kakera
Anime: Code Geass
Depicted over illustrations and painting of our characters, Mozaiku Kakera is a heartfelt pop song that embodies Code Geass in its tone and sound.
Both sad and longing, yet upbeat and excitable, it's able to hype you for the next episode, but doesn't detract from emotional climaxes beginning.
9.

Shiki no Uta
Anime: Samurai Champloo
Samurai Champloo is many things – romance, action, drama, and much more – but its main motif is the blending of samurai and hip-hop.
To this end, the outro perfectly fits.
With cool lo-fi beats and a smooth guitar in the background, Shika no Uta calmly de-escalates the events of the episode with a soothing alternative piece.
Infectiously catchy, driven by the strong female vocals, this song wraps up the journey of our characters powerfully.
8.

I Want You
Anime: JoJo's Bizarre Adventure
I'll be honest – this ranking choice was near impossible.
With so many incredible endings (from Roundabout to Walk Like an Egyptian), slimming it down to one was difficult.
But here you are: Part 4, Diamond if Unbreakable, probably has the best ending.
Dripping in 80s charm and donning the newer Araki aesthetic of shifting colors and flamboyant poses, the twisting AMV in this ending is simply awe-inspiring.
On top of that is the song, perfectly suited to the atmosphere of the part, singing about cherry Cola and magenta feelings with all the bombast and catchiness expected of JoJo's.
7.

Toki Tsukasadoru Juuni no Meiyaku
Anime: Steins;Gate
In the background are some rattling of chains, the slipping gears of some mechanism, and then a technologically infused guitar riff.
Motifs of butterflies, hourglasses, and lost time are sung and shown.
The impact of each episode is kept suspended by the intense and fearful voice begging for some other outcome.
It's a masterfully classy song for wrapping up a shocking moment.
Not robbing of suspense, but instead elevating the drama to greater importance.
6.

Wareta Ringo
Anime: From the New World
Featuring stellar fingerstyle guitar work, complete with bends and slides that sound simply wonderful, Wareta Ringo is a melancholic yet hopeful pop rock song that rounds of each episode perfectly.
Taneda Risa's smooth vocals seem almost ethereal when paired with such instrumentals.
Unique – much like From the New World itself – this song perfectly grasps the core atmosphere of the show in a catchy, rhythmically strong earworm of a song.
5.

Fly Me to The Moon
Anime: Neon Genesis Evangelion
Every episode of Neon Genesis Evangelion features an alternate version of Frank Sinatra's wonderful classic, with different instrumentals and vocals depending on the events of that episode.
Each rendition is different, so judging the performance in one listicle entry would be impossible!
But the simple inclusion of the song in the anime is fantastic; a wistful ballad dreaming of somewhere else, namely the moon. And considering the moon is so significant to the plot of NGE, there is even more relevance in there.
An innovative, fantastic way to gauge our characters' emotions.
Sadly this is not available on Netflix so if you want some classic Sinatra-style Evangelion, pick up the DVDs or check around for other streaming options.
4.

The Real Folk Blues
Anime: Cowboy Bebop
When an anime focuses on music as much as Cowboy Bebop does, you better believe it goes above and beyond with its ending themes.
The Real Folk Blues is a cool downtempo track dripping in the noir aesthetic that Bebop relishes in.
This is one of those songs that gets better the older you get, much like the anime.
It really hits home, ya know?
You really are going to have to carry that weight. See you later, Space Cowboy.
3.

Dango Daikazoku
Anime: Clannad
To those who haven't watched Clannad, the ending may seem infantile – even silly – but for those who have, it's a tear-jerking anthem rife with nostalgia.
It's full of fears of being alone, and thoughts on community.
It's such a gorgeously simple song. It somehow encapsulates everything that makes Clannad so sweet, with a thematic resonance to one of the characters.
One of the sweetest ending themes in all of anime, still able to lift my heart with one listen.
2.

Paranoid Android
Anime: Ergo Proxy
What better way to close off an anime about artificial sentience then with the song on technological advancement?
Radiohead's masterpiece is a British progressive rock song depicting human fears of technology becoming sentient, of us giving it the ability to rule our lives, and of the cognitive split to occur… were we thrust into a world like Ergo Proxy's.
While the visuals aren't much to look at – merely credits displayed in an aesthetically pleasing way – the song adds depth to the story.
And I think it cultivates an atmosphere that really prepares you for the next episode.
1.

A Last Flower
Anime: The Flowers of Evil
Distorting, distressing. Bordering the line of music with an experimental, eerie, and impossibly catchy tune.
The vocalists sing without rhythm, in dissonance to one another, while uncomfortably simplistic instrumentals try their hardest to drag it down.
Everything in this song – in this ending – is at odds with itself.
As if unsure of what direction they want to take.
Without notice, the BPM will increase, the vocals will collapse. You cannot expect any part of it.
It closes out an anime focusing on cognitive dissonance, feelings of shame, confusion, and depravity with an equally frightened song.
This is kinda like listening to corruption itself. Or having the devil in your ear – and throughout the length of the piece, the voice gradually conquers.
This is an acquired taste for sure, but to me, this is art.
Browse:
Japanese Culture
Lists
Anime
TV & Movies