11 Best Fallout 4 Tattoo Mods For Some Cool Aesthetics (All Free)
This post may contain affiliate links. If you buy something we may get a small commission at no extra cost to you. (Learn more).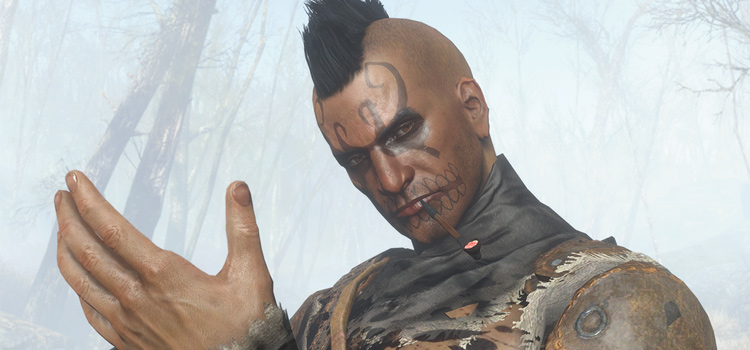 Character creation is a vital part of any immersive RPG experience. And as creation engines become more sophisticated, so do the public's expectations.
Among the options we've come to love the most is adding tattoos.
Just as we do with our own skin, we want to express ourselves by inking our in-game avatars, an extension of ourselves.
While Fallout 4 has the grace to offer some period-accurate tattoo options from the in-game Taboo Tattoo magazines and the like, the system is quite basic and our options limited.
Is it even character creation if I can't turn the Sole Survivor into a clone of Zombie Boy?
To scratch that specific itch, modders have been hard at work since 2015 bringing more ink into the game.
If you're in the market for some skin-based artistic expression, join me as we take a look at the best tattoo mods you can add into Fallout 4.
11.

Better Tattoos
This mod by NexusMods user FalloutLeech promises to replace the original, somewhat cartoonish Taboo Tattoo designs for a more monochrome, simple style.
It was one of the first tattoo mods for Fallout 4.
And while the changes are relatively small, this is exactly what you need if you're role-playing an ex-convict or something of the sort.
All those mass-murdering skills must have come from somewhere, right?
10.

Vintage Ink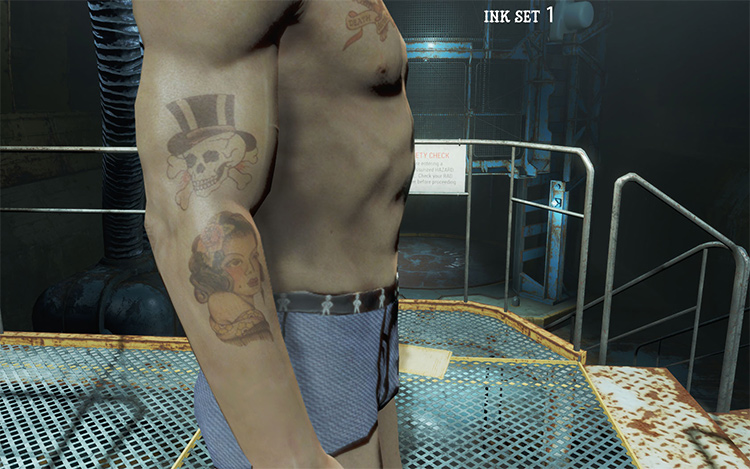 If you like a little more color on your ink but still want to look like you've served time in Alcatraz, I'd suggest you give Jase180's Vintage Ink a look.
This mod adds four new tattoos in the "American Traditional" style that became popular shortly after WW2 was over. They're colorful, but the pigments look faded after so much time, giving it a more natural look.
Designs include daggers, pin-up girls and eagles to show your patriotism for a nation long-gone!
As an added bonus, the author has replaced the ugly white vanilla underwear for something more modern.
9.

Kind of Cool Face Tattoos
One of the funniest options for anyone looking to spruce-up their face is Kind of Cool Face Tattoos by modder MonetStargazer.
It's not that they're funny tattoos per-se, but that the author describes them as only "kinda cool" and even goes as far as to say they're "inferior" to the vanilla ones.. when in fact, it couldn't be further from the truth.
I personally don't like the vanilla tattoos.
And these post-modern looking ones seem much better to me. They look like something somebody might actually get without going to prison or having a mental breakdown.
And that's what I call immersive.
8.

Taboo Tattoo Cut Content Restored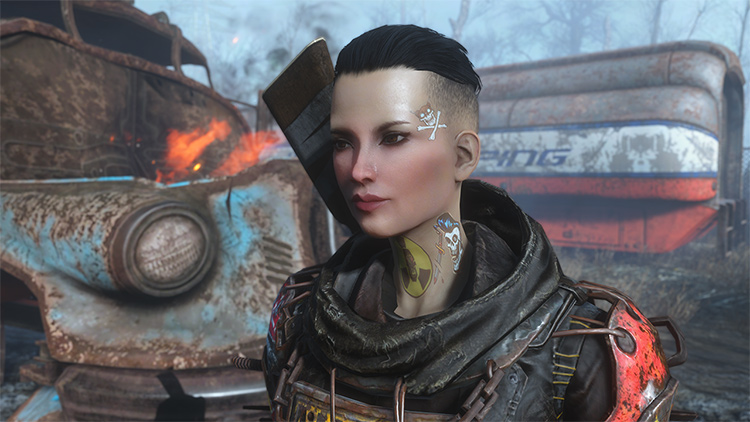 If unlike me you're actually in love with the default designs from the Taboo Tattoo magazines, then I've got something interesting for your inking needs.
NexusMods user RoboAsimov has taken it upon themselves to restore six issues of Taboo Tattoo that were cut from the final game, digging up unused files from the game's data and re-creating others from The Art of Fallout 4 to give you a wide array of lore-friendly possibilities.
This mod also modifies some existing tattoos.
My favorite change was moving the Radioactive skull from the forehead to the Survivor's neck, making it a viable tattoo without becoming post-apocalyptic Takeshi 69.
7.

The Down-Trodden Saint Tattoo Mashup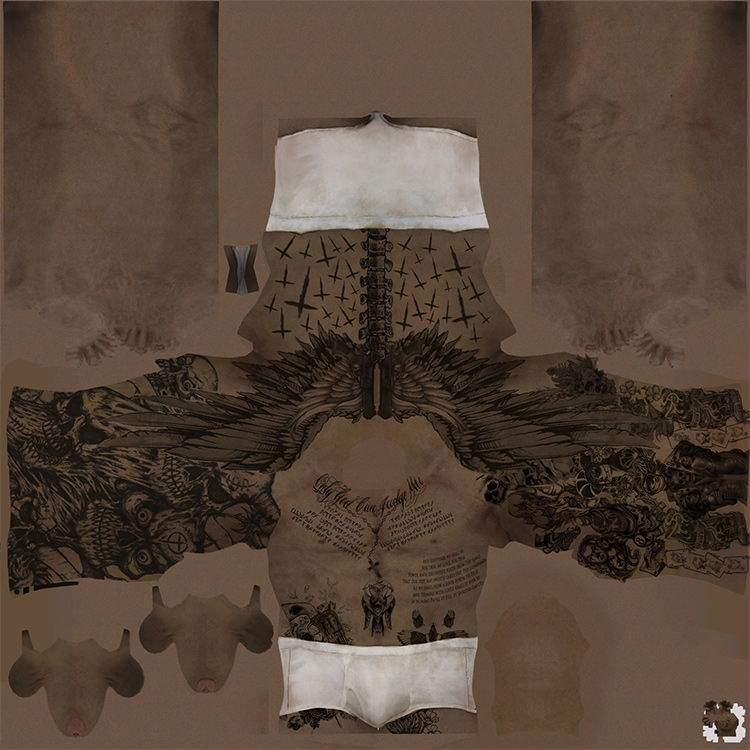 If rather than having more options for customization you'd rather just become a canvas for artists to express themselves, then try this mashup by digital tattoo enthusiast Reezyman.
It's ideal for a character with a complex relationship with religion, as it has crosses, angel wings, and verses from the bible in a very rough style
6.

Become a Soundcloud Rapper
Have you ever looked at Lil' Pump or Post Malone and thought, "Damn, those are some fly face tattoos"?
Well, me neither.
But that doesn't stop me from wanting to put them on my Fallout 4 character through which I live my most degenerate fantasies of murdering thousands and wearing a modded-in onesie while I do it.
And I assure you, modder ProdCiri has made sure these look much better on you than they ever did on Lil' Peep or XXXTentacion.
5.

Fallout 4 Lore-friendly Tattoos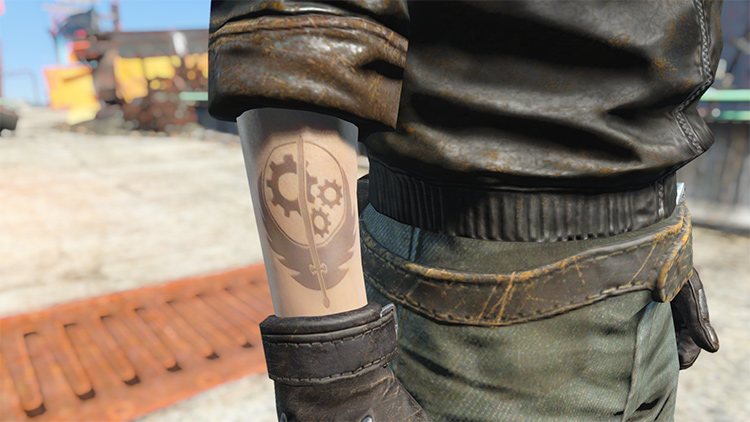 For some of us, it's all about immersion rather than looking hip and cool like today's celebrities.
Modder ForgottenRomeo is one such person, and they've put a lot of effort into bringing the Sole Survivor some lore-friendly tattoo options.
This mod adds several designs directly linked to Fallout 4 and its story, including an old-timey heart tattoo with the names of Nora and Shawn, and many logos from most in-game factions.
4.

Polynesian Tattoo
I've always been a big fan of Dwayne Johnson. And this led me to learn a lot about his Samoan heritage, represented on his skin by an intricate tattoo inspired by traditional Polynesian markings that have been a part of their culture for a long time.
Thanks to modder Moteronvinus you can now have the same kind of tattoo on your male Survivor, turning him into someone akin to The Rock.
Or Maui from Moana, who happens to be voiced by Dwayne.
3.

Alysraza Tattoos
I follow plenty of tattoo accounts on Instagram and I love how clean and detailed designs have become year after year. In contrast, Fallout 4's default options seem… basic, at best.
Well, not anymore!
Thanks to user AlysrazaFO4, you can now ink your Survivor with modern designs including mythological creatures, animals, Art-Deco women, and even the kind of female sternum tattoos featuring mandalas that have become so popular in the last couple of years.
The author doesn't go into much detail about their inspirations. But this sure inspired me to create some very interesting characters.
2.

RoboAsimov's Lore-Friendly Tattoo-A-Palooza
Still, it's not really necessary to inject 21st-century designs into Fallout 4 to get some cool-looking tattoos.
One of the most expansive tattoo mods available is Lore-Friendly Tattoo-A-Palooza by RoboAsimov, which adds a whopping 140 new, absolutely immersive new tattoo designs into the game.
Motifs are taken from all over the Fallout universe, including previous games, official artbooks, and promotional materials of all kinds.
1.

Stewed, Screwed and Tattooed – SSNT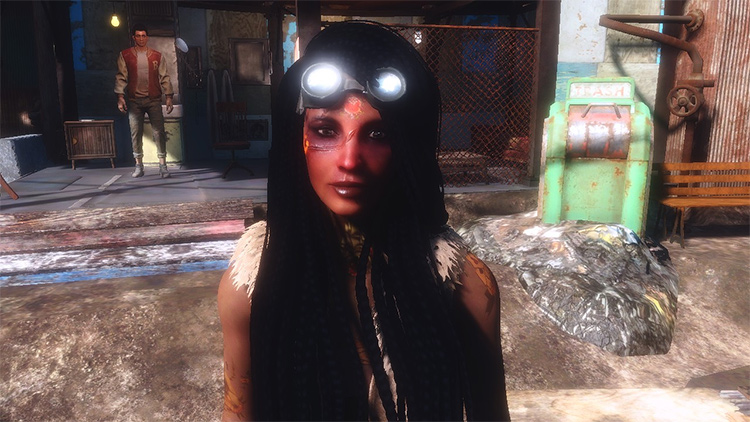 Tattoos don't necessarily need to be directly connected to Fallout lore for them to feel immersive. And this is proven by the completely stunning designs included in SSNT by user Robberfox.
This mod adds over 30 new face tattoos and offers some sets of body tattoos taken straight from old-school Sailor Jerry designs.
This American artist from the post-war era became famous for his colorful tattoos, made with pigments he developed himself.
As such, it's only normal an inkhead in the '60s would have some of his work on their skin.
Browse:
Fallout
Fallout 4
Lists
Video Games