15 Best Side Quests in Final Fantasy XIV (Ranked)
This post may contain affiliate links. If you buy something we may get a small commission at no extra cost to you. (Learn more).
The storyline for Final Fantasy XIV has been played and discussed hundreds of times, but have you ever given a thought to the side quests?
With nearly 1500 side quests to date (according to the Eorzean database) there's most certainly something for everyone.
Which ones tell the best stories?
Where should one start for a bit of side action greatness?
Whether you're a new or a hardcore player, here are some of the best side quests that you cannot miss.
15.

Hair Club for Hyur
This offers a serious life or death mission, or so Helmhart would have you believe.
Reading the conversation is everything with this quick side quest.
Go into the Thanalan wilderness to gather the tools you need to save this poor man's life… and his hair.
This is a low-level quest with low-level rewards, but the experience is one to be remembered.
Quest Level: 24
Quest Giver: Helmhart
Quest Location: Eastern Thanalan. X 20.2 Y 21.4
14.

Toll Booty
Who doesn't love kids?
This side quest makes you fall in love with the quirky personalities of four young heroes. Help them on their first adventure as members of their own newly formed Doman Adventurers guild.
Things in this tale take a turn for the worst when they're accused of stealing a rather precious Grimoire.
You'll have to solve the clues with the kids and bring the real culprit down.
Doing this quest makes the main story much more meaningful as you continue your journey.
Quest Level: 54
Quest Giver: Rheesh Polaali
Quest Location: Mor Dhona. X 23 Y 7.1
13.

Merchant for a Day
This quest caught a lot of Final Fantasy players by surprise.
This guy wants you to tend to his stall.
And that is exactly what you do.
Uniquely, you get to stand by a stall, listen to what each person is trying to buy, and direct them to a product that would serve their needs.
You need to use your brain, not your brawn, to get this one right.
Quest Level: 65
Quest Giver: Baidur
Quest Location: The Azim Steppe. X 32.4 Y 28.6
12.

Greatest Story Never Told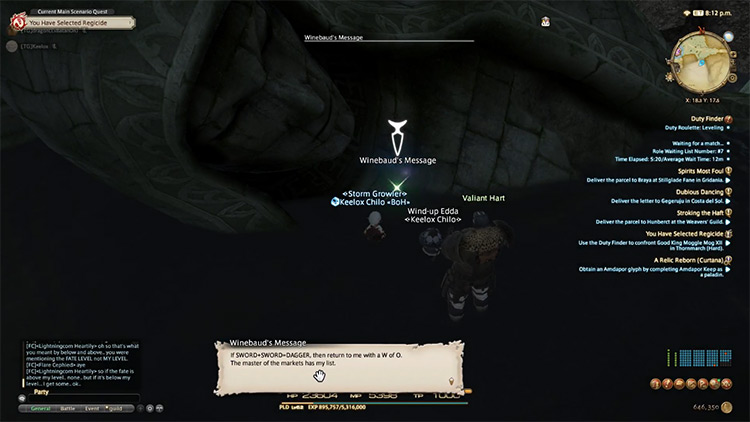 Probably the most infamous side quest in FFXIV for all the right reasons.
You must solve riddles, find NPCs around the Realm Reborn world, unscramble the letters, and all without quest markers.
This side quest needs pen, paper, a great memory, and hours of your time.
Not only is this a nice break from what can be a pretty intense game, but it also makes you see the world in a whole new light.
You realize how big the place is, how many NPC's it has, and just how much you haven't been paying attention to their names.
Quest Level: 1
Quest Giver: Valiant Heart
Quest Location: Western Thanalan, The Footfalls. X 18.3 Y 17.4
11.

The Secret to Success
You've probably heard of using a smaller fish to catch a bigger fish.
But have you tried using a smaller dragon to catch a bigger dragon?
Dominiac has a problem: he needs a reputation as a dragon slayer to show he can help Ser Aymeric.
His plan?
Take out a small dragon.
Use it as bait to trap a bigger dragon.
Use that as bait to trap an even bigger plan…
But, he doesn't really know what he's doing, and needs your help.
Quest Level: 51
Quest Giver: Dominiac
Quest Location: Coerthas Western Highlands. X 16.7 Y 22.7
10.

Mauci of the Seven Worries
The people who live on the Azim Steppe have a lot of history:
Each people hold their own beliefs here. Getting involved in this one means you'll take a good look at the warrior's prospect of reincarnation.
One warrior doesn't think he's the reincarnation of the sword wielder that his people think he is.
You'll help him find out who he really is, and, if he really does prove to be the reincarnation of a sword wielder, why can't he wield a sword?
Note: To complete the final quest in this story you need to have also completed the side quest story Forty Years and Counting, also on the Azim Steppe. X 23.1 Y 23.4
Quest Level: 66
Quest Giver: Mauci
Quest Location: The Azim Steppe. X 12.8 Y 34.5
9.

Courage the Cowardly Lupin
This quest is both infuriating and amazing.
What starts out as a lost cause winds up as a feel-good quest.
By helping Lupin find his place in the village, you help him find his courage. He may be hopeless in carrying that bag of rice, but wait till you see him negotiate for weapons.
You'll feel so proud of your Lupin.
Quest Level: 64
Quest Giver: Fukudo
Quest Location: Yanxia. X 30.9 Y 17.8
8.

A Disagreeable Dwarf
If you're hunting down all the aether currents, you may have already come across this one.
But for this, just don't judge a dwarf by his beard, or his behavior.
This little guy is only moody because he doesn't know how to La'li Ho!
Help out a dwarf by teaching him the La'li Ho emote. And learn it yourself while you're at it.
Then you can greet everyone with La'li Ho and drive the other players mad. Just don't try it in real life, or you'll end up in an asylum.
People are not used to being greeted so heartily.
Quest Level: 70
Quest Giver: Beott
Quest Location: Kholusia. X 12.5 Y 9.3
7.

Errant Epistles
Most commonly known as the Moogle Delivery Questline.
Here's the gist: some Moogle keeps delivering packages to the wrong place! So you need to redistribute the packages to the right people.
25 little missions give you an insight into the lives of 25 NPCs.
This one is especially fun if you started in Limsa Lominsa, as you may already have attachments to many of the NPCs you're going to learn about.
Quest Level: 50
Quest Giver: Klynthota
Quest Location: Mor Dhona. X 30.3 Y 13.7
6.

Sara Roggo's Common Life
Sara Roggo's common life is easily missed if you don't do it when you first see it.
This is because he's in an area that doesn't have a direct Aetheryte Teleport.
And this mission does not have quest markers. That's what makes it so much fun.
You'll have to solve Sara Roggo's riddles using nothing but your eyes and your brain, as the answers are all somewhere in the Dravanian hinterlands.
Try this out for a refreshing break from normal gameplay.
Quest Level: 59
Quest Giver: Sara Roggo
Quest Location: Dravanian Hinterlands. Inside Matoya's cave.
Note: The quickest way to the Dravanian Hinterlands is to teleport to Idyllshire, leave by the Cenotaph (the gate nearest the Aetheryte) and turn right.
5.

The Great Deceiver
SCREE! Tremble, child of man, for a creature of purest divinity wigglith before thee.
This quest is almost as good as the Hilderbrand questline, as this one does not take itself too seriously.
You follow the story of this dynamic duo as they work to find the Great Worm (SCREE) and learn from his teachings.
And you never know, that cute little creature may even save all of the Rak'tika Greatwood.
Then again, he may just be a worm.
Either way, this quest will give you the Great Worm minion and a host of laughable memories.
Quest Level: 70
Quest Giver: Valan
Quest Location: The Rak'tika Greatwood. X 19.8 Y 27.6
4.

Keeping the Ledger
Most players know this one as the Scholasticate Quests.
This one specifically is a long, but worthwhile, side quest.
The Scholastic students are having trouble with a group of ruffians, and it seems to be your fault. Of course, you have to help.
With that decided, you're now drawn into the problems within the school, and an investigation that needs to be solved.
Tensions rise when a student disappears along with a precious volume.
Solve the case and bring peace back to the school to earn glamour and a unique emote.
Quest Level: 56
Quest Giver: Mathye
Quest Location: The Pillars. X 8.2 Y 9.4
3.

The House That Death Built
This one is also known more fondly, and sadly, as Edda's Saga.
The story of Edda begins before you take this quest. You happen to see her as you complete your main missions.
And her story is one to get you in the feels… but her story leads to this side story, and the unlocking of a quest you can do repeatedly: The Palace of the Dead (PotD/PoD)
Not only is this a great place for leveling and gaining cool trinkets, fireworks, glamour and other great rewards, but it is also home to a story of love and loss that'll have you intrigued and determined to reach the end.
Quest Level: 17
Quest Giver: Noijiro Marujiro
Quest Location: New Gridania. X 12.6 Y 13.1
2.

The Paths We Walk
At the end of the Heavensward story, you'll find this side quest.
This beauty will take you down memory lane, help you to see what happened to all the friends you made, re-live good times, cry about sad times, and appreciate the story that was Heavensward all the more.
Bittersweet and beautiful, this is not a side quest to be missed.
Quest Level: 60
Quest Giver: House Fortemps Manservant
Quest Location: The Pillars, Fortemps Manor. X 6 Y 6
1.

The Rise and Fall of Gentlemen
Some people know this one as the Hildibrand quests. Others call them the Facepalm quests.
But either way, this side quest is the start of something you'll love, even if you hate it.
It is ridiculous.
It is hilarious.
It is wildly acknowledged as the best side quest in FFXIV.
Every expansion includes more side quests for the Hildibrand tale.
And in this one, you can join him in his investigative duties as he completes his work in an effectively comic way.
Truly an epic journey from the very first moment.
Quest Level: 50
Quest Giver: Wymund
Quest Location: Uldah, Steps of Nald. X 9.8 Y 8.7
Browse:
FFXIV
Final Fantasy
Lists
Video Games