GTA 5 Ramps and Race Tracks: Maps, Mods, & Add-ons
This post may contain affiliate links. If you buy something we may get a small commission at no extra cost to you. (Learn more).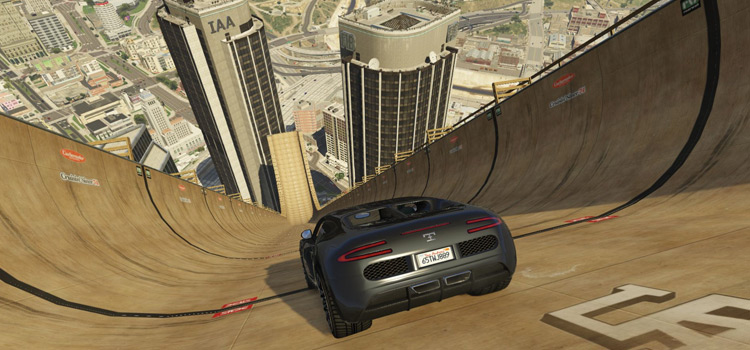 Grand Theft Auto 5 has plenty of fast cars and cool places to drive them – but mods take it to the next level.
Just as you can download a Lamborghini Huracan or a Ferrari 812, you can find fantastic asphalt circuits, off-road courses, and insane ramps that'll let you jump to your death with style.
This list will look at all kinds of race tracks and ramps. Some are real-life locations adapted into GTA 5, while others are absurd constructions only possible in video games.
Get those engines running, and let's speed off into the ranking!
1.

Mt. Chiliad Stunt Jump
Mount Chiliad is an 800m tall monster dominating the landscape of Blaine County and looming large over the city of Los Santos.
Its immense height makes it a magnet for daredevil players looking to get as much air time as possible before crashing brutally.
The Mt. Chiliad Stunt Jump mod adds a series of ramps going over the mountain to help you pull off the most epic stunt the city has ever seen.
The first is a massive cylinder with speed boosters headed up and over the mountain that'll propel you high over the mountain's peak.
That leads to a landing pad on the other side of the mountain, followed by another ramp for even more air time.
2.

Ebisu Minami Drift Track
It was a sad day for drift enthusiasts worldwide when the legendary Ebisu Minami drift track – one of the foundational circuits for drifting in Japan – lost its asphalt in favor of gravel.
This iconic track was heavily damaged during the 2021 Fukushima Earthquake, which may have forced the move on the part of the administration. A gravel road is easier and cheaper to maintain.
But you know what's even cheaper to maintain?
A digital road.
You can still visit the track that gave us the Minami Drift Jump, thanks to this GTA 5 mod.
Everything, from the incline to the angle of each curve, is precisely the same – so waste no time and become Los Santos's Drift King.
3.

Happogahara
Mountain passes like Happogahara Touge in Japan provide the perfect environment for street drifting to flourish.
They're tight, winding roads hugging the mountains and providing the amount of privacy you need to set up a dangerous drifting street race without the cops showing up.
This kind of driving is well-represented in popular culture. Some prime examples include the Initial D anime (1998) and the canyon races in Need for Speed: Carbon (2006).
Now, you can visit Happogahara in Grand Theft Auto 5 and put your life on the line to improve your drifting skills. You either dominate those tight bends or roll down the mountain in humiliation.
You'll find similar high-quality drift and race tracks on creator AnLan's upload page.
4.

Harugahara [Drift]
Another incredible mountain pass-styled race track worth checking out is Harugahara.
This circuit faces you with more than 20 tight bends that will test your drift skills. It starts out mild, but a zig-zagging section near the mid-point had me pulling my hair out.
Still, once I got used to the flow of the track, it became one of the most enjoyable and beautiful roads I'd ever explored in GTA 5.
5.

The 4 Maze Bank Ramps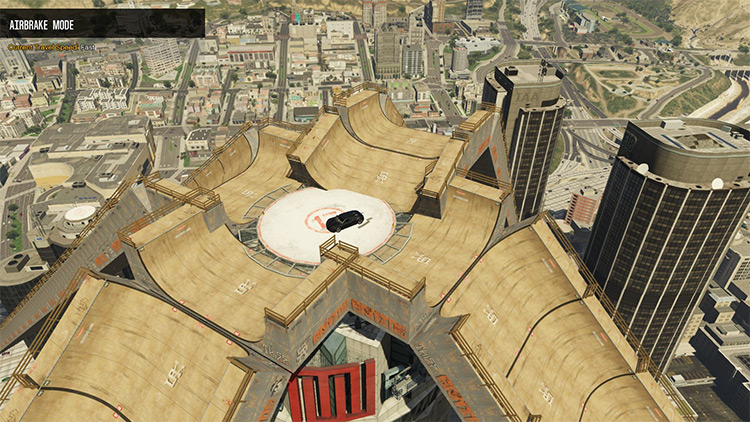 The point of placing ramps on your GTA 5 world is getting as much air-time as possible.
Driving off a ramp at full speed is an exhilarating experience, and every second you spend spinning around in the air is bliss.
Still, once you've driven off the same ramp a couple of times, it starts losing its charm rather quickly.
The 4 Maze Bank Ramps offer a solution to this problem by having you jump in four directions.
One will have you flying toward the horizon, while another propels you past skyscrapers and office buildings.
It's varied, and the ramps don't look half bad hanging over Maze Bank Tower.
6.

Circuit Ocean Formula
Fans of Formula 1 will love the Circuit Ocean Formula.
This closed circuit is designed to pack as many race track features as possible into a compact area. The result is an exciting configuration with tight bends, some zig-zagging, and long straight sections to feel the speed.
From an aesthetic perspective, the track is perfect. There are pit stops and grandstands packed with spectators, and the shiny asphalt looks gorgeous under the Los Santos sun.
The Pirelli, ROLEX, and Emirates publicity all over the track is also a nice touch of realism.
7.

Rally de Paleto
Asphalt is cool and all, but it can't compete with the adrenaline and excitement of a good rally course.
Driving your fine-tuned lightweight rally vehicle on dangerous dirt roads is what life is all about, and the Rally de Paleto course running through Paleto Forest is the best spot in town.
This gorgeous course takes the natural beauty of Paleto Forest and uses it to craft an unforgettable rustic racing experience.
The challenge of this rally course is double: first, mastering its treacherous twists and turns, and second, keeping your eyes on the road with so much beauty around.
8.

Mario Kart Wii – Luigi Circuit
Mario Kart is the most fun racing franchise ever created.
That's largely due to their gorgeous and well-designed racing tracks, which provide the perfect backdrop for the game's family-friendly death races.
The only way I can think of to make Mario Kart tracks any wackier is to throw in some real-world cars – and I don't mean the weird Mercedes-Benz DLC for Mario Kart 8.
The Luigi Circuit from Mario Kart Wii is the perfect addition to Grand Theft Auto 5. Despite its whimsical decoration, it's still a typical go-kart track.
Tip: For something much more experimental and aesthetically dissonant, check out the Royal Raceway from Mario Kart 64 which fits perfectly into GTA5.
9.

San Andreas Endurance Track
Races are not always about reaching the highest max speed.
Sometimes, it's about maintaining it.
The San Andreas Endurance Track is a massive circuit taking racers around the San Andreas state.
You'll drift through the streets of Los Santos, tackle challenging off-road sections, and set Blaine County's motorways on fire with your favorite vehicle.
This map is the perfect excuse to race laps around the entire map while taking in the sights.
10.

Le Mans Circuit
Another long race track worth checking is the Le Mans Circuit by author Halfdead.
Inspired by the legendary 24h of Le Mans, this endurance circuit has long straight roads to push your car's engine to the limit and tight corners to show off your drifting skills.
The author paid a lot of attention to both aesthetic and functional details. The entire road is appropriately lit for nighttime racing, and there are even slow-down props near tight bends.
It's the perfect race track to enjoy any high-performance grand tourers and supercars in your garage.
Browse:
Grand Theft Auto 5
Lists
Video Games