20 Best Mods For Just Cause 4: The Ultimate List
This post may contain affiliate links. If you buy something we may get a small commission at no extra cost to you. (Learn more).
If Just Cause is known for any one thing – it would be chaos.
It's over the top, it's funny when it needs to be, and it makes for loads of fun having Rico take on armies of bad guys.
What makes this all possible is the crazy physics and insane arsenal of gadgets at your disposal, making it possible to basically fly around and destroy anything in sight.
While it's easy to think that Just Cause 4 is grandiose enough, modding pushes things even further, opening a whole new set of doors in your quest to take down the baddies (and everything else you wanna do, for that matter).
To get you on the right track, have a look at our top picks for some of the coolest must-try mod out there. All 100% free, of course.
20.

Ultra Realistic Lighting Graphics Mod
Just Cause 4 isn't the worst-looking game at all.
Yet visual improvements are always welcome, especially as time passes.
With that in mind, this simple reshade mod might not seem like a lot. But it makes everything look just a bit better.
With added realistic lighting effects, it makes everything a bit richer and more vibrant – which may in fact make destroying everything that much more appealing.
19.

Just Cause 4 Graphics Mod
If you're looking for a more in-depth visual upgrade for the game, you're going to want Levitonhd's graphics mod.
Unfortunately though, this one is only available for Nvidia users – but if you're on team green then you're in luck!
The mod covers everything: texture sharpening, better anti-aliasing, more vibrant colors, realistic water, and even lighting effects like global illumination and god rays.
For the Nvidia users out there, this is without a doubt the best way to get your game looking its best.
18.

Paintjobs Plus V2
While there's lots of fun to be had creating chaos in Just Cause 4, let's start off with some of the less talked about features of the game.
Open world adventure games almost always allow you to upgrade and customize your cars – much like the Los Santos Customs garages in GTAV.
Paintjobs Plus V2 expands vehicle customization options in Just Cause 4 – adding in custom paintjobs for the Priza Azor, Verdeleon eco, Skycastle cargoplane, and even the EM-909 private jet.
If you enjoy pimpin' that ride, definitely check this out.
17.

Vehicle Edits
Now we can't only have cosmetic upgrades when it comes to Just Cause 4 vehicles, so what else could we try?
Protato's Vehicle Edits mod beefs them up in terms of performance as well.
The mod gives virtually all vehicles nitrous and turbo jump abilities, so you'll be able to achieve those over the top action maneuvers no matter what vehicle you're in.
But there are a few exceptions– as construction vehicles and muscle cars from the Daredevils of Destruction aren't covered due to modding limitations.
That's not all though, as the mod gives all weaponized vehicles unlimited ammo as well.
16.

Hoverboard Edits
Cars and planes aren't the only ways to get around Solis. And sometimes it's even more fun to fly around with your wingsuit and grapple hook, just for maximum action hero effect.
Just Cause 4 made some changes to the way the grapple hook works, and it does take a bit more skill to master in the latest game – which might be too much work for some of you.
If that's the case, the hoverboard is your best friend – as it basically lets you float over any surface on the map, taking you wherever you need to be hassle free.
The Hoverboard Edits mod further improves your hoverboard, giving you additional options for controlling how fast you can go.
It's so OP, you'll be travelling faster than planes – which isn't really all that out of place in a Just Cause game.
15.

Better Supply Drops
If you're not sold on the whole hoverboard idea, you're going to want to check the Better Supply Drops mod.
There's not much to it – the mod basically unlocks all supply drops, so you'll have instant access to pretty much anything you need any time you need it.
Simple but valuable.
This includes all DLCs as well – so whether you feel like driving a plane or a motorcycle, all you'll have to do is call it in and it'll be dropped right in front of you.
14.

Infinite Ammo – No Intro – Extended Grapple Distance
In case you still prefer flying around in your wingsuit, we're going to have to get some upgrades as well.
This mod increases grappling hook distance to 1000m and increases reel in time as well – so you won't have to worry about not being able to hook onto anything from a distance.
The Skystriker wingsuit has been improved too, as you'll now have 16 missile barrage points instead of the default 4.
Hold on, we're not done just yet.
Handheld weapons are getting upgrades as well, as you'll have unlimited ammo for all weapons in your inventory.
As if all that wasn't enough for a single mod, it also skips intro videos as an added bonus – so you can get right into the action every time.
13.

Much Stronger Wind Gun
One of the more unique weapons in Just Cause 4 is the wind gun.
This isn't the first time a weapon like this has appeared in the Just Cause series, and its recurrence has made it one of the more popular guns for fans.
But for those who aren't familiar, the gun basically shoots out a powerful gust of wind that sends anything it hits flying through the sky.
As if the gun needed to be more powerful than it already is, Eckbert's mod does exactly that. Give it a try and you'll never go back.
12.

Portable Cannons
If beefed up default weapons still doesn't get you excited, then why not create your own custom weapons?
The more the merrier, as they say, except this time we're talking about ways to destroy things.
Portable Cannons gives you access to two new weapons – which are actually mounted weapons that have been converted to handheld versions.
The first is the Illapa Defense cannon, an automated gun turret which you'll now be able to wield like any other gun in the game.
The second is the train cannon which is based off the AT3-X, which you'll be able to maximize for its high fire rates.
11.

Boulder Bazooka
If you ever feel like taking a more primitive approach to destruction, why not destroy things with boulders?
Okay fine, this one might not be as primitive as I suggested.
It's a bazooka that fires boulders. A boulder launcher. The Boulder Bazooka.
Just download it, you won't regret it.
10.

Tendril Weapons
If you think a boulder launcher is crazy, just wait until you see what the tendril weapons can do.
Instead of just shooting things to destroy them, the tendril weapons actually allow you to shoot to create something… which you can either destroy yourself, or use them to destroy other things.
Okay, let me try to explain that a little better.
Shooting a tendrilizer will spawn something – and what it spawns will depend on what version you have.
If you're using the base game version, shooting the tendril weapon will spawn in either an enemy or a bomb car.
If you're using the Daredevils of Destruction version, you'll be able to spawn in cars with your weapon.
Finally, the Demons variant gives you an upgraded version of the alien weapon, allowing you to shoot more tendrils than the default version.
9.

Weaponized Cow Gun
While it's great to be able to spawn in enemies with your gun, the Tendril Weapons mod actually replaces the cow gun to work.
Some might argue that removing the cow gun from Just Cause simple wouldn't work because well… we want to turn people into cows.
So why not weaponize the cow gun instead, so it can be just as destructive as everything else in the game?
This Weaponized Cow Gun mod by spiderboy_ROBLOX lets you do just that, making the cow gun fire fatal bullets similar to an SMG, while still retaining its normal function of turning enemies into cows.
8.

Lightning Gun++
And finally, here we are at the lightning gun.
To continue on with the theme of making already overpowered weapons even more powerful, Lightning Gun++ makes our favorite gun even stronger. And way more entertaining.
With this mod installed, the lightning gun will have unlimited ammo, no reloads, a higher impulse for vehicles and objects, and will instakill any human you shoot with it.
7.

Epic Weapon Modpack
In case you're looking for cool new weapons to mess around with in Solis, but don't really feel like downloading and installing a ton of different mods to do so, Kaiyerecampbell's Epic Weapon Modpack is exactly what you need.
In a small little package you'll get access to all nine weapon mods created by Kaiyerecampbell, so you'll have plenty to keep you busy.
The mod includes the Hypermine Launcher v2, Super ATX-3 RPG, Supernova Grenade Launcher, Warpspeed SMG, Impossible Grenade Launcher v2, Overkill Shotgun v3, Ultra Railgun & Ultra Lightning Gun, and Ultra Rapid RPG mods.
6.

Loaded Rebels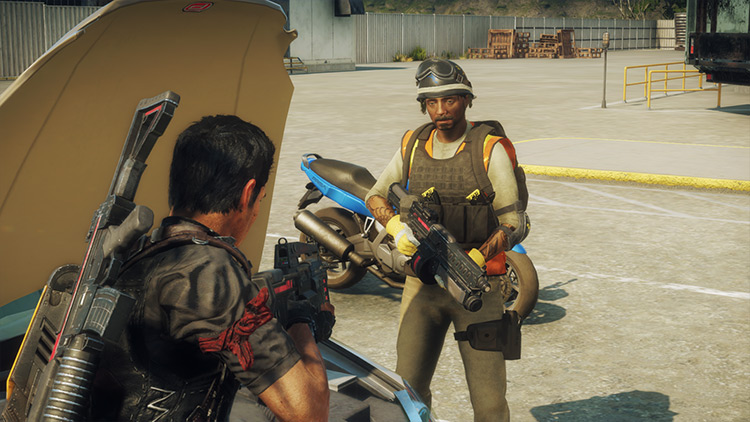 Rico can't be the only one enjoying weapon upgrades, so let's show the rebels some love as well.
Loaded Rebels gives the rebels some improved firepower – replacing their assault rifles with the same ones used by the Black Hand, their shotguns with fully automatic versions, and the machine guns with the shielded versions.
An added challenge that should keep you playing for hours.
5.

Adidas Rico
Now that you've got all the vehicles, weapons, and ammo you could possibly need to destroy pretty much the entirety of Solis, you're probably going to want to do that in style.
And what better way than by jazzing up Rico's wardrobe with some modded skins.
Like a true action star, Rico has just been made a proud endorser of Adidas.
This mod changes his entire outfit to an Adidas sponsored tracksuit in white, red, and blue, allowing you to swap out his generic clothes for some branded threads.
4.

Terminator Rico
Now in the case you're looking for something that's a bit more "out there," why not take from one of the biggest action stars in film history?
Arnold Schwarzenegger's Terminator is iconic in the action movie space, as those cyborgs were some of the most badass robots we've ever seen on film.
Modders Jart and Luke JC team up to bring the Terminator universe to Just Cause 4 with this cyborg skin for Rico.
3.

JC4 Entity Spawner
While spawning things with the Tendril Weapons mod is fun, it only really lets you spawn certain objects into the world.
It does overwrite certain functionalities of some of the weapons too, which is another downside.
If you enjoy creating chaos-filled custom scenarios, you might want to give the JC4 Entity Spawner a try instead.
Not only does it let you spawn pretty much any object you want, but it gives you the ability to trigger game events as well. Neat!
2.

No Heat
Let's not forget that while you're out creating a mess of the town, it's not difficult to catch the attention of the authorities.
Similar to GTA5, Just Cause's heat system tells you how hard law enforcement is working to catch you – and breaking stuff doesn't make things any better.
The easiest way to go about your day with no interruptions is to install the No Heat mod, which essentially keeps the cops out of your hair no matter what you do.
1.

More Chaos
And finally, what else would you want in a Just Cause game other than More Chaos?
In case you haven't found a way to make things as messy as you want, David's More Chaos is sure to get you there.
The mod comes in 5 different versions where Black Hand soldiers will become hostile towards police and civilians, or soldiers will become hostile towards each other, or rebels become hostile towards civilians.
More Chaos even includes the ultimate mode of chaos called "Utter Chaos" where basically everyone are enemies of each other.
You said you wanted messy, right?
Browse:
Just Cause
Lists
Video Games