All Rift Quest Skins in League of Legends, Ranked
This post may contain affiliate links. If you buy something we may get a small commission at no extra cost to you. (Learn more).
RPGs are one of the most popular game genres out there, and for good reason.
They're often set in fantastical, mythical worlds, where you can immerse yourself in all sorts of unique experiences, like gliding through elven forests or battling it out against dragons.
You also get to control your character's destiny, follow heart wrenching stories, and meet likeminded friends.
The Rift Quest skins essentially bring the fantasy, dreamy aesthetic of RPG games to League.
They let you play as elves, orcs, paladins, and even wizards, and are jam packed with iconic RPG references.
So if you're feeling adventurous, why not pick up a Rift Quest skin?
18.

Karthus Lightsbane
Released: November 17th, 2016
Price: 975 RP
Right. I absolutely hate it when Riot gives monster champions human forms.
And I especially hate it when they turn Karthus, the harbinger of oblivion, into a Legolas lookalike.
But putting that personal gripe to one side, this skin is pretty good value.
For 975 RP, you get new animations, a unique recall, and even an ominous death scene.
Sadly, even if you're fine with human Karthus, the skin still has another huge problem: the particle effects – which turn all your skillshots bright pink – are far from ideal.
Your enemies can easily see your every move, meaning your dodging simulator game is taken down a notch.
So yep, this is a legitimate pay2lose skin, hence why I'm ranking it last.
17.

Barbarian Sion
Released: September 26th, 2010
Price: 750 RP
This skin is… a total disappointment.
It basically makes Sion look like an NPC from a starting area.
You know, weak, forgettable, bland.
Okay. I am being a bit harsh. The skin does have some nice features.
The weapon looks pretty badass, the beard is snazzy, and the viking helmet makes Sion look like he came straight out of Skyrim.
Overall though? I'm not feeling this skin.
I personally wouldn't spend any RP on it, even if it is insanely cheap.
16.

Ryze Whitebeard
Released: December 7th, 2015
Price: 750 RP
I honestly can't tell whether I absolutely love or hate this skin.
On the one hand, you get to parade around the map dressed up as a half gnome half wizard creature.
But on the other hand, it looks absolutely nothing like Ryze.
The character model also feels kind of clunky.
So yeah, it's definitely a skin you'd equip for a laugh, but not a skin to take into your ranked games.
15.

Rugged Garen
Released: August 15th, 2011
Price: 750 RP
Rugged Garen brags the most badass-looking splash art out there.
It genuinely makes you feel like a knight sent on a lone mission to save the kingdom.
But aside from the splash art, the skin doesn't have much going for it.
The character model is dull and uninspiring, and while it does have some nifty details, they're hard to see when zoomed out.
With that said, I do absolutely love the rugged hairstyle – it's an iconic RPG character look.
14.

Gragas Caskbreaker
Released: December 7th, 2015
Price: 750 RP
This is another skin with a LOTR feel; it turns Gragas into a drunken hobbit (or "dwarf" for the RPG'ers out there).
While the concept is unique, I'm not a huge fan of this skin.
The character model doesn't really suit Gragas, and actually makes him look pretty derpy.
Plus, the splash art is bordering on nightmare-inducing.
There are some nice touches that all RPG fans will appreciate though, like the health potion strapped to his waist.
13.

Sejuani Dawnchaser
Released: November 17th, 2017
Price: 750 RP
Sejuani Dawnchaser is a criminally underrated skin.
Aside from the fact that you get to ride a badass lion, the elven character model itself looks pretty stylish.
Plus, you do get some subtle particle effect changes – the passive gives the lion's mane a blue glow up – which is nice considering the 750 RP price tag.
My only complaint?
I feel like the attack animations should be a green hue to better suit the elven aesthetic.
12.

Nottingham Ezreal
Released: October 13th, 2010
Price: 520 RP
Considering its age, Nottingham Ezreal has held up well.
It basically transforms Ezreal into Link, with a green tunic, gold-plated gauntlets, and knee-high brown boots.
While the skin isn't exactly eyecatching or flashy, the colors are all inspired by nature and complement each other.
You even get a nifty pair of elf ears to top off your fantasy look.
The animations also work really well with the character model, and nothing feels out of place or clunky.
11.

Braum Lionheart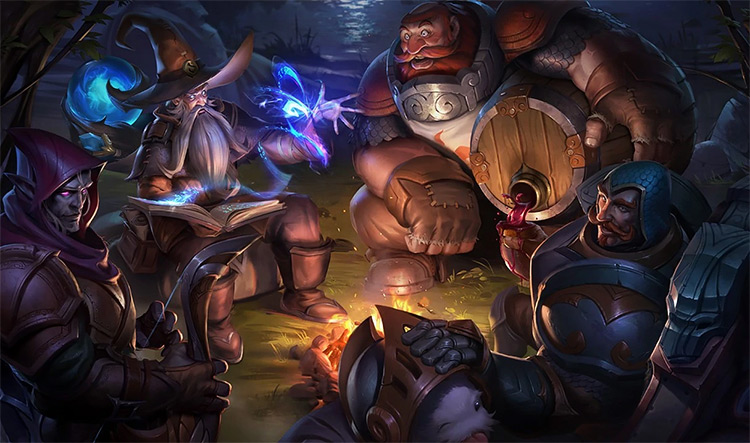 Released: December 7th, 2015
Price: 750 RP
Braum Lionheart honestly surpassed my expectations.
The character model is unique, creative, and really immerses you in the RPG theme, with knightly armor and a lion-engraved shield.
Plus the mustache is a marvel in itself (move over, Graves).
You don't get any new particle effects or animations, but that's understandable, since the skin is insanely cheap.
10.

Jayce Brighthammer
Released: November 17th, 2016
Price: 750 RP
This skin won't suit everyone's taste, but I'm personally in love with it.
It's bold, flashy, and the hammer design is absolutely divine.
The armor makes Jayce look like a paladin, and you even get a neat glowing back piece.
The only reason why I haven't put this skin higher up on the list?
The character model doesn't live up to the splash art, which is bursting with heaps more detail and even gives Jayce these badass glowing eyes.
9.

Rageborn Mundo
Released: July 27th, 2012
Price: 975 RP
This skin suits Mundo's personality and playstyle perfectly.
It transforms him into a raging orc that's hellbent on one thing: destruction.
He rocks iconic orc features, like tattoos, tusks, and a serrated ax, and his skin is literally red from rage, which is the most befitting thing ever for Mundo.
Animations are also badass; they're fiery and give off a berserk vibe, and your recall lets you battle it out with a demon from the depths of hell.
You even whack your enemies over the head with a RPG-style satchel bag.
8.

Lord Mordekaiser
Released: May 10th, 2011
Price: 975 RP
Lord Mordekaiser's splash art is probably the most misleading thing in existence.
From a glance, it looks like you're going to get a bland, excessively green skin that lacks originality.
But in game?
Your eyes are blessed with a whole other sight.
The character model is unique and absolutely breathtaking, with badass armor, a majestic cape, and a mace that looks like it came from the depths of hell.
Plus, there's not an ounce of green in sight – every color is bold and suits Morde perfectly.
Truth be told, it genuinely makes Morde look like Ainz Ooal Gown from Overlord.
So yep, never judge a book by its cover.
7.

Demolisher Nunu & Willump
Released: August 24th, 2011
Price: 975 RP
This skin quite literally demolished my heart.
It's absolutely terrifying, and I mean, terrifying.
Even Fiddlesticks would be left with nightmares at the sight of this skin.
Willump has essentially been transformed into an armored, grotesque beast with razor sharp teeth.
Your chomp feels x10 more menacing, the snowball now looks like a medieval torture device, and the light color palette has been swapped out for dark, eerie hues.
While the skin's theme is unique and, well, impressively horrifying, it does have one major flaw: the happy-go-lucky voice lines make the whole experience jarring.
If Riot re-released this skin with some equally fear-inducing voice lines?
Demolisher Nunu & Willump would be one of the best Halloween skins out there.
6.

Taric Luminshield
Released: March 19th, 2020
Price: 1350 RP
Taric Luminshield puts Lux's light to shame; the skin is seriously flashy and bright, with every animation shooting out sparkles and iridescent hues.
The ultimate even gives you and your allies a Super Saiyan glow up.
The character model also looks dazzling, and the gems have gone from diamonds in the rough to literal diamonds.
What really makes this skin worthy of the 6th spot though?
It's the hair.
Those luscious locks look like they came straight out of a L'Oréal commercial.
5.

Varus Swiftbolt
Released: December 7th, 2015
Price: 750 RP
Varus Swiftbolt is probably the most basic skin in this line, but its simplicity is its charm.
There's just something satisfying about battling it out as an elven archer.
The colors are aesthetically pleasing, the bow looks and feels ultra-powerful, and the base particle effects complement the skin beautifully.
Visual clarity is also superb, so you'll easily be able to locate yourself in hectic teamfights.
Overall, this skin is definitely worth its 750 RP price tag, especially if you're after something that'll truly transport you to the RPG realm.
4.

Veigar Greybeard
Released: September 8th, 2010
Price: 750 RP
Veigar has been many things in his lifetime: an evil dictator, a leprechaun, an astronaut, and even a mushroom king.
But out of all the strange career choices, Greybeard is by far the wackiest (and most hilarious).
The skin turns him into none other than Gandalf.
So yep, you can now scream "you shall not pass" whenever you throw out your stun cage, or whack your enemies with your godly staff.
Jokes aside, the character model looks superb and suits Veigar insanely well.
Plus, as the skin's name suggests, you get a dapper-looking beard.
3.

Talon Blackwood
Released: March 19th, 2020
Price: 1350 RP
Talon Blackwood turns Talon into an elven bad boy, and I'm here for it.
The character model looks badass, the color palette is brimming with edgy purple hues, and his blades look like they could effortlessly slice through orcs.
The splash art is also hilarious and helps get you in the mood for the long quest ahead – aka, Summoner's Rift – and the animations feel slick and smooth.
The sound effects are equally satisfying.
And to top it all off?
Your recall even lets you open up a good ol' treasure chest of gold, which, ya know, is probably a bigger bounty than you'll ever get in your ranked games.
2.

Bard Bard
Released: November 17th, 2016
Price: 750 RP
Okay, this skin probably doesn't deserve the no.2 spot, but the concept is just so darn funny I can't help but rank it highly.
As you'd expect, it pretty much turns Bard into a, well, bard.
But not just any bard. You're transformed into the most pompous-looking bard out there.
We're talking a flamboyant suit, an OTT feathered hat, and a giant gold trumpet.
Even your meeps have been given a hilarious makeover.
It looks ridiculous, feels ridiculous, and I can't get enough of it.
Aside from the goofiness, there's also plenty of cute touches, like how your charms are now gold musical notes.
Obviously, this skin is distracting and definitely not ideal for ranked games.
But if you're after something that'll brighten up your normal games (or tilt your enemies)?
Toss a coin to Bard Bard.
1.

Twitch Shadowfoot
Released: March 19th, 2020
Price: 1350 RP
If you're looking for the ultimate RPG skin, Twitch Shadowfoot delivers on all fronts.
Everything about the skin is just reminiscent of RPG games.
Take a quick look at it, and you'll instantly be thrown back to memories of questing with your friends, grinding it out in raids, and battling OP battle bosses.
Even your ability animations look like they came straight out of a RPG game.
Plus your recall is downright hilarious – cheese is truly the most valuable loot of all!
What really sets this skin apart from others though is the fact that Twitch's voice has been updated.
He now brags the most cliché RPG voice ever; we're talking optimism, bubbliness, and a whole lot of excitement for the adventurous days ahead.
Note: this content was created under Riot Games' "Legal Jibber Jabber" policy using assets owned by Riot Games. Riot Games does not endorse or sponsor this project.
Browse:
League of Legends
Lists
Video Games