10 Best Free Quest Mods For Minecraft
This post may contain affiliate links. If you buy something we may get a small commission at no extra cost to you. (Learn more).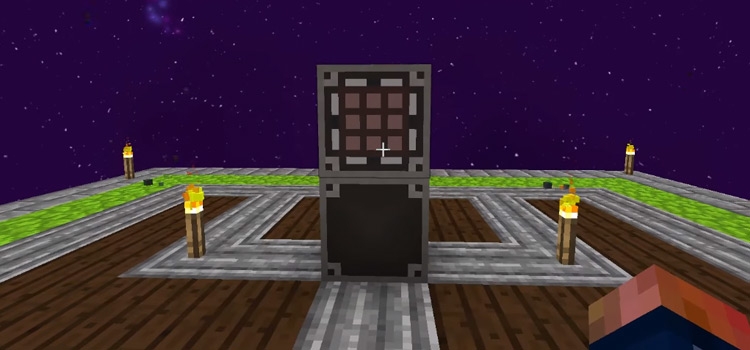 Part of the magic of Minecraft is that you have the choice to create whichever adventure you want.
If your main goal is to be a dungeon explorer or a cave dweller, then you can grab a pickaxe and do it.
If you want to explore the depths of the ocean, well go dive into the sea and uncover new mysteries.
However some people prefer to have pre-defined goals. Classic RPG style.
That's why modders have created quest mods to give a unique twist to Minecraft. These can help you live new adventures that, even though they can feel linear, are still able to adapt to everyone's playstyle.
So for this post I've organized a bunch of the best quest mods that I've come across. But I've also included some mods that change the core essence of Minecraft to give your adventures a different twist!
10.

Life in the Woods
Life in the Woods is my favorite mod on this list.
But I'm not putting it in a better spot because it hasn't been updated in a long time(sadly).
Life in the Woods is not really a quest mod per se, but it changes the entire game to help you be more in touch with nature.
LitW is actually a compilation of various mods that turn Minecraft into a more "natural" version of itself.
New forest biomes, more fishes, and plenty more options for you to embark on a quest to live a life in the woods, free of any technology if that's what you wish.
A truly fascinating mod that is very, very fun to play with.
9.

StoneBlock
Have you ever played SkyBlock before?
Do you think it could be more challenging? If so, give this mod a go.
It's like SkyBlock but on steroids, as everything is made of stone and the difficulty level is much higher.
Challenge yourself with StoneBlock and experience unique quest-ridden gameplay.
8.

Life in the Village
Life in the Village is a lovely mod that allows you to create and maintain a custom village.
Command your citizens to do what you will and have them evolve differently depending on their cultural traits.
Life in the Village turns Minecraft into a sort of strategy colony creator.
And trust me: it's as fun to play as it sounds.
There are many things to do and enjoy with your colony, and the replay value is unmatched.
7.

Project Ozone 3
Unsure of how you want your adventures to look like, but eager to experience hundreds of new quests?
Then I fully recommend you check out Project Ozone.
This incredible mod includes over 1,000 quests that take you through the realms of magic to the marvels of technology.
And did I mention it's super easy to install, and totally free? Just like everything on this list!
6.

Dungeons, Dragons, and Space Shuttles
This mod might not take Minecraft as far as other overhauls such as Thaumcraft.
But it does enhance your experience and lets you enjoy a whole new plethora of features that haven't been seen before in the game.
Genetic manipulation of creatures, magical agriculture, an entire new map generator for you to discover and explore new areas, and much more.
This add-on includes hundreds of new and powerful opponents that should tremble when they see you(or not, whatever).
As far as complete overhauls go, this is a fantastic mod to try if you're looking for new adventures.
5.

Engineer's Life
The Engineer's Life mod takes you on a complete quest that will let your technical skills evolve as you progress. Sounds cool right?
You start in the Stone Age when nothing other than the basics were achievable by mankind.
As you progress through the game you will find new technologies and get new recipes that help you live a much more comfortable life.
Complete the entire quest and get access to better agricultural system, better ovens, and much stronger technologies.
Storage will also improve as you advance, so get ready to gain access to an entirely refurbed technological system to boot.
Anyone in the search for the marvels of technology in Minecraft have found their match.
4.

SevTech Ages
This mod is actually very similar to Engineer's Life, but it's far more focused on providing you with an experience that is meant to last for a long time.
Progressing is much more difficult than in the last mod I talked about, but it's also much more rewarding.
Get access to better items and technologies as the ways of the world change and you do too.
Still not sure of which of these two mods you want to download?
This one works in multiplayer, so that might be enough to convince you!
3.

MC Eternal
This challenging experience will take you on a quest to overcome some of the most difficult foes ever encountered in Minecraft.
It mixes some features from Skyblock and others from Stoneblock.
But it also manages to create a completely unique experience that, as the creator of the mod suggests, is better played in multiplayer.
Challenging foes and difficult quests await in a world that is set to be taken by evil – unless you're able to stop it.
2.

RogueLike Adventures and Dungeons
This amazing addition to Minecraft brings hundreds of new adventures and quests to be undertaken in completely new regions.
Explore some of the Minecraft world's most dangerous new areas and gain access to some breathtaking new worlds. All while you fight new mobs and maybe even become a powerful wizard along the way.
It's a real extravaganza of block-y fun.
1.

SkyFactory 4
SkyFactory is one for those mods made for anyone looking for a new technological experience in Minecraft.
It replaces the vanilla quest book with what the creators call an "advancement system", which will guide you through the intricate steps needed if you want to fully complete this EXTREMELY LARGE modpack.
And when I say large, this could keep you entertained for weeks.
But with this bad boy I think seeing is believing.
Experience something that has never been tried before and check out the magic of SkyFactory 4.
Browse:
Lists
Minecraft
Video Games