Family Guy Minecraft Skins: The Ultimate List
This post may contain affiliate links. If you buy something we may get a small commission at no extra cost to you. (Learn more).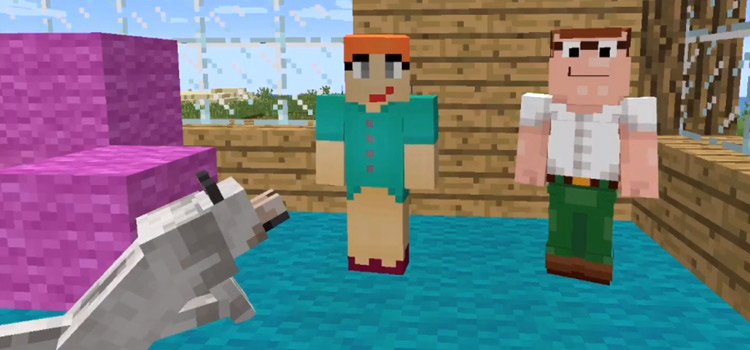 Many people like to think that Family Guy is just a rip-off of The Simpsons.
Maybe in the beginning it was, but with 20 seasons and counting, it's clear that it has completely outgrown the shadow of that family from Springfield.
Its edgy and boundary-pushing comedy shocked parents around the world, making them realize that there was a far bigger threat to their children's innocence than Bart Simpson's open invitation to eat his shorts.
Apparently, those years of crude and irreverent television made an impact, because we've scoured the Internet and found quite a few Family Guy-themed skins worth playing with.
1.

Peter Griffin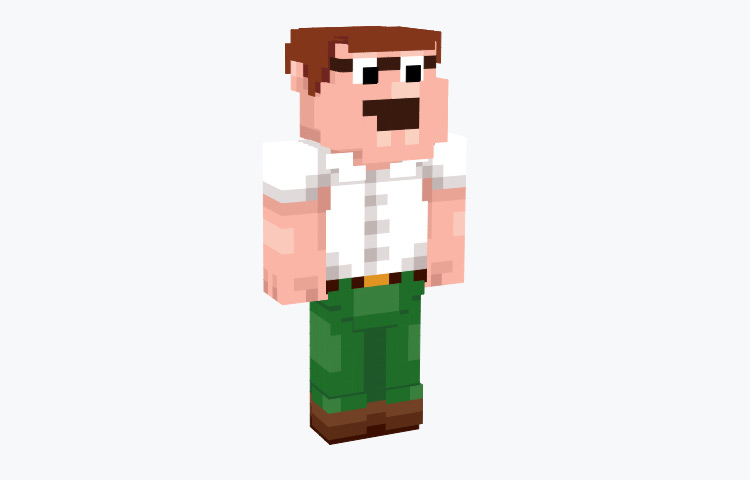 Starting off this list is the family guy himself, Peter Griffin.
Despite the many accusations of him being a Homer clone, I've always liked Peter more simply because he's way funnier and more unhinged.
Blackbox17 did a great job recreating America's most dysfunctional cartoon dad with this skin. He even got that iconic cleft chin!
2.

Chris Griffin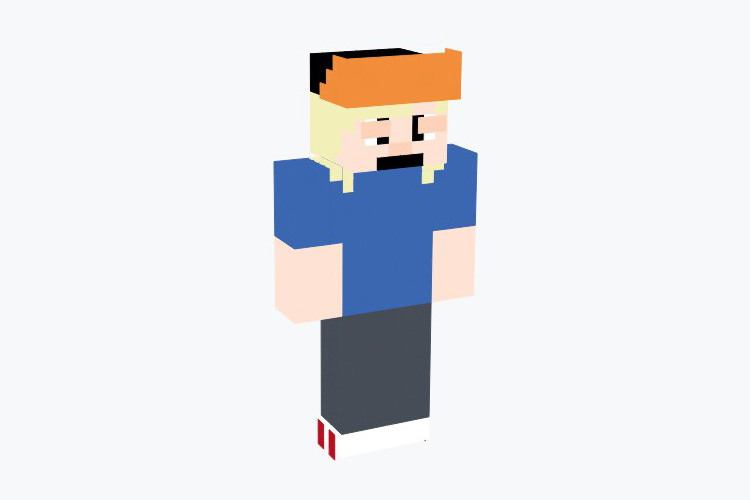 I don't think it would be too mean to say that Chris is just as dumb as – or if not dumber than – his dad.
The apple certainly didn't fall far from the tree.
He may have an artistic and sometimes sociopathic rebel in him, but at the end of the day, he's just a dim-witted teenager.
It's actually a bit of a shame that he hardly develops throughout the series. To be honest, this skin by GC555 does more justice to his character than Seth McFarlane ever will.
3.

Stewie Griffin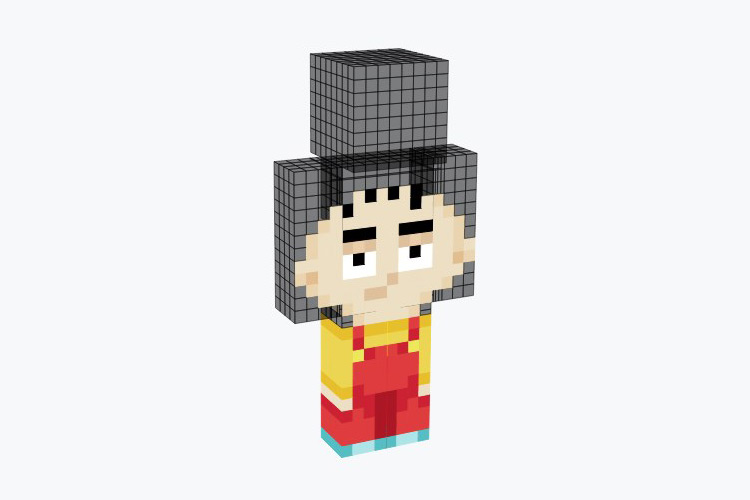 If you ever want to convince someone to use birth control pills, just show them any Family Guy scene involving Stewie.
No PSA can compete with his evil genius antics and matricidal urges.
Then again, his British accent (where the hell did that come from?) and seemingly fluid sexuality make him a lovable brat.
If you still don't know if you want a baby after seeing what Stewie is capable of, just go the safe route and download this skin instead.
4.

Brian Griffin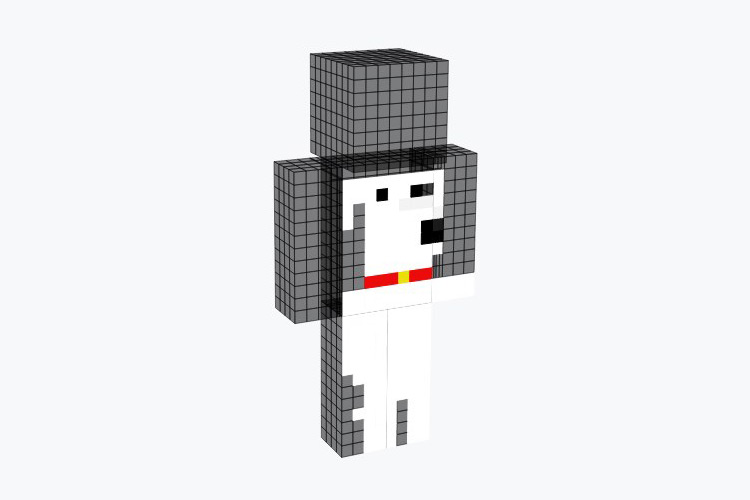 As a hopeless romantic and frustrated writer, I was always drawn to Brian Griffin from the start.
His sharp sarcasm, failed writing career, and unrequited love for Lois always made me feel seen as a teenager.
I know, I know. My deep empathy for a fictional talking labrador is a discussion that belongs within the confines of my therapist's office.
5.

Meg Griffin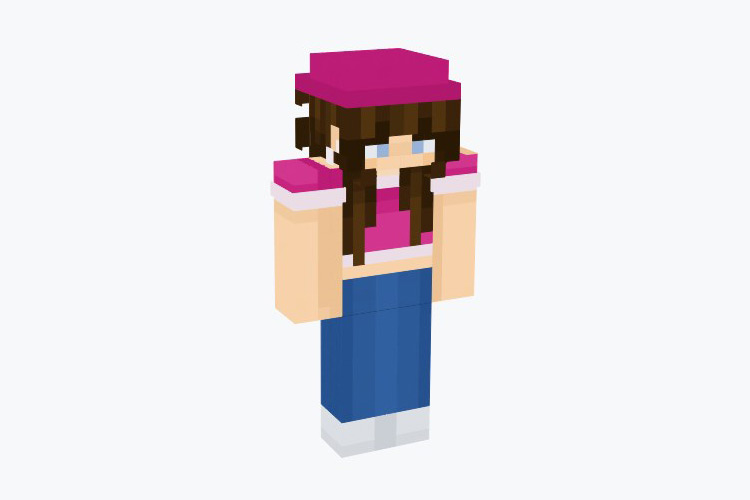 Speaking of Family Guy characters that I tragically relate to, here's a Meg Griffin skin by cloudyplacid.
Born Megatron Griffin because Peter is an a*shole, she was always the punching bag of the family.
Throughout the series, she's had her fair share of misfortunes: she was born with a tail, she was outed as a fake lesbian, and she lost her virginity to Jimmy Fallon of all people.
Because of how bad she's constantly treated, I've always had a soft spot for her.
6.

Lois Griffin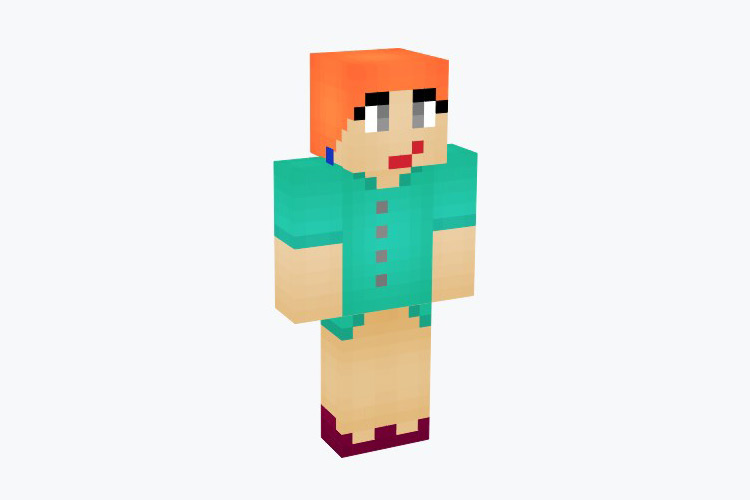 Ah yes, Lois, one of television's hottest moms – animated or otherwise.
It comes as no surprise that she's had a very interesting sex life. She's pretty much done it all, from sleeping with KISS' Gene Simmons to starring in an adult film called "A Quest For Fur".
That said, it really makes you wonder why she fell for Peter.
To be honest, it'd make more sense if the actual Lois looked more like this skin by OsviCraft. But what can you do?
7.

Quagmire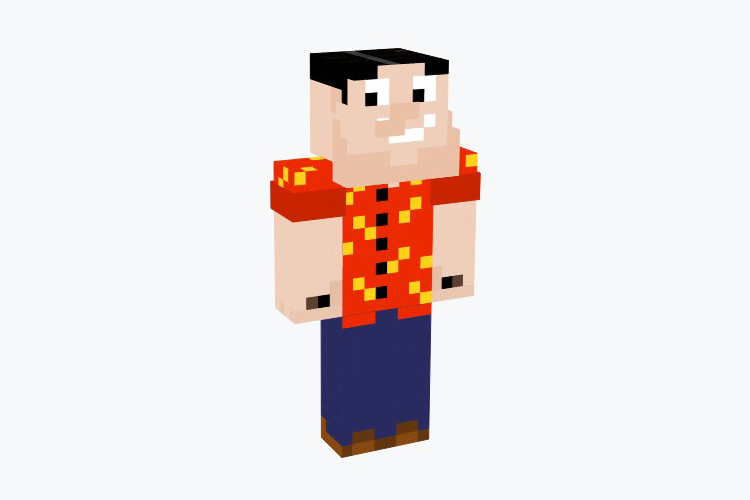 Glen Quagmire is one of those characters that will remind you that the show was made in a world before harassment was taken so seriously.
Peter's over-sexed and overtly sexist buddy has committed everything you could imagine.
After everything he's done, though, I can't help but giggle when he lets out a quick "Giggity giggity".
8.

Herbert the Pervert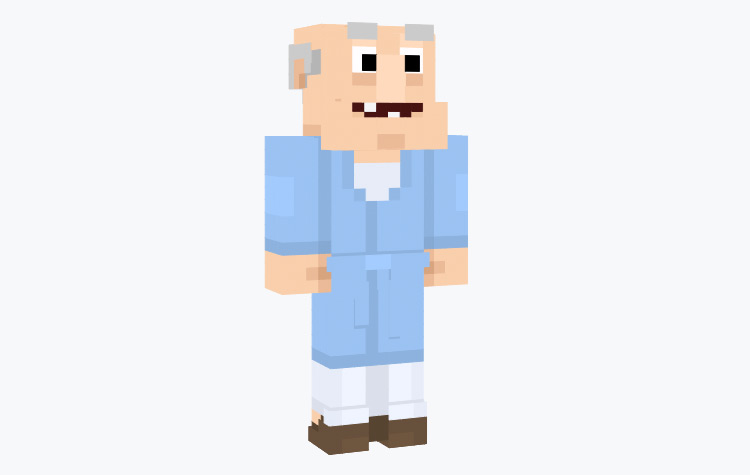 If you think Quagmire is the show's most politically incorrect character, then you haven't met Herbert the Pervert.
Let's just say he has an unhealthy desire to hang out with boys.
The apple of his eye was always Chris, who was thankfully smart enough to always run the opposite direction when Herb showed up.
I really don't want to meet Herb in real life, but I bet this MC skin would come in handy to creep out all the Creepers!
9.

Joe Swanson
Hey, it's Joe Swanson! But he can miraculously walk for some reason.
Quahog's finest became a paraplegic when he slid off the roof while trying to catch The Grinch. Or, wait, wasn't he shot by Bobby Briggs while he was undercover tracking his operation?
Joe has lied about his condition multiple times, it's hard to tell.
Despite being handicap, he remains dedicated to the force and even choreographs musicals in his downtime. I guess you can't keep a good cop down.
10.

Evil Chicken
One of the things I absolutely love about Family Guy is how absurd it can get.
For proof, look no further than Peter's never-ending feud with Ernie the Giant Chicken.
Created by Dr. Hartman in a failed attempt to clone a chicken, this man-sized cock's rivalry with Peter started when Ernie gave Peter an expired coupon.
They've been wreaking carnage on each other and Quahog ever since.
Now you can reenact their legendary fights on Minecraft!
11.

Jake Tucker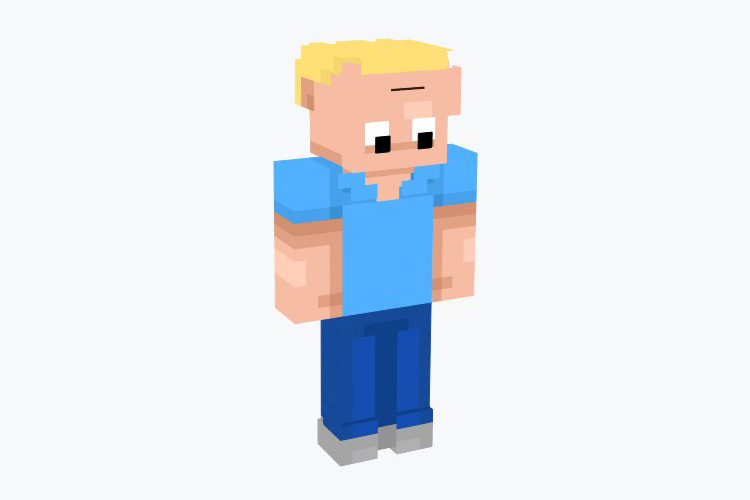 Those who think that Ernie the Giant Chicken is the weirdest Family Guy character may not know who Jake Tucker is.
As the son of Quahog 5 News co-anchor Tom Tucker, he was born with an upside-down face and no buttocks.
You might also say he's the most annoying character because of his privileged upbringing. But due to the birth defect that turned him into a life-long freak, I think it's only fair that he was spoiled.
Maybe he might feel more at home in the strange world of Minecraft.
12.

Cottagecore Peter Griffin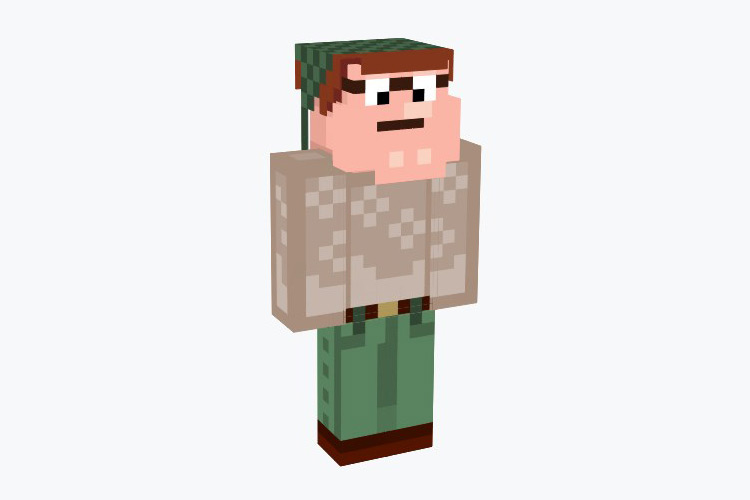 Peter's favorite hobbies are watching television and bullying Meg, so it's very hard to imagine that he'd give in to the cottagecore trend.
He'd probably buy a flock of sheep and then promptly forget all about them.
I can see the cutaway gag now.
Lois: Whatever happened to all that flock of sheep you bought?
Peter: Oh my god, I forgot about the sheep!
Cut to: The sheep eating each other on the farm.
13.

Hypebeast Peter Griffin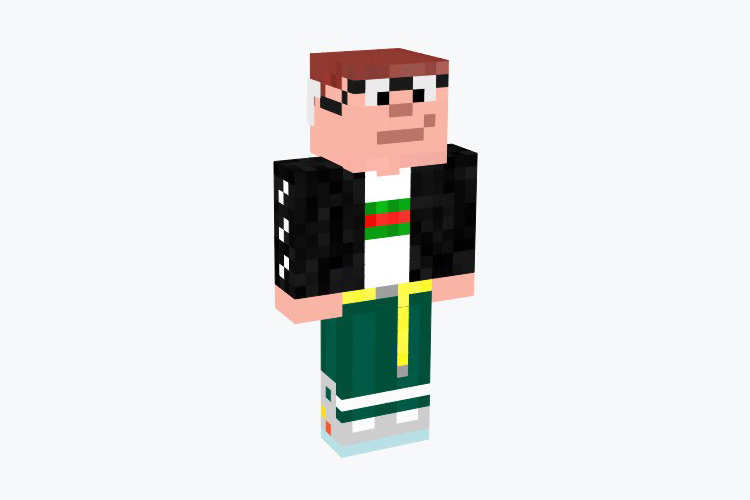 Peter turning into a full-blown Hypebeast is much more believable because he's already proven himself to be a decent dresser.
His memorable fits have even been recognized by Complex as some of the show's most stylish moments.
He hasn't worn any streetwear though – but Family Guy recently got renewed (again) so there's still a chance for this skin to become canon.
14.

Jah-ter Griffin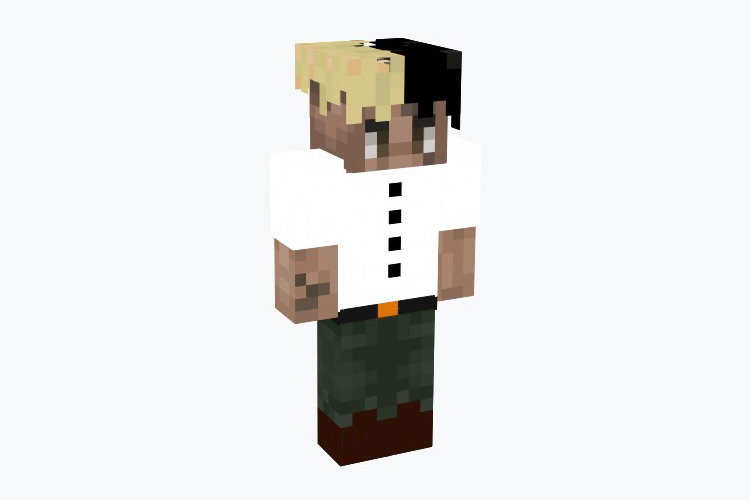 I'm not sure if the late rapper Xxxtentacion – real name Jahseh Onfroy – was a Family Guy fan.
Judging from his earlier tracks, though, it's safe to assume that he would have felt a kinship with the show's irreverent and morbid humor.
This skin came out surprisingly well. Although I think a Stewie and Xxxtentacion hybrid would have been more appropriate.
15.

Dead Brian Griffin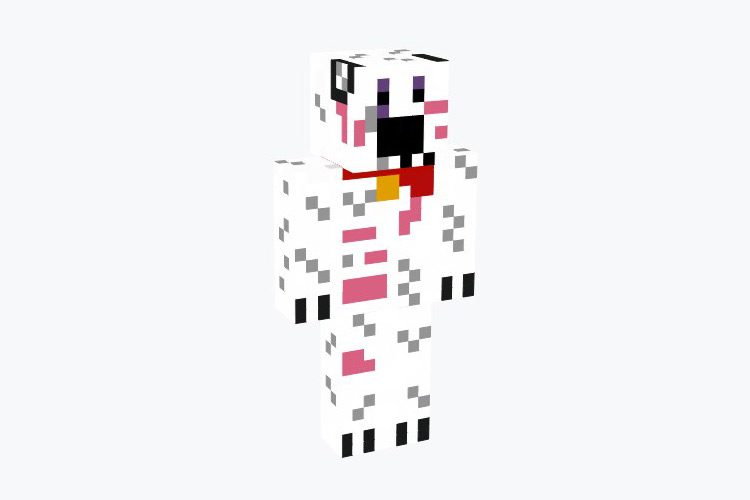 Back in 2013, Seth McFarlane did what at first seemed impossible: kill off Brian Griffin.
In the episode "Life of Brian," he gets hit by a car after he and Stewie set up a street hockey net.
Of course, it only took 2 episodes for him to return after Stewie time travels to bring him back to life.
The sudden reversal now seems totally unnecessary, but without it, we wouldn't have gotten this gem of a skin by BigCookBilly!
Browse:
Family Guy
Lists
Minecraft
Minecraft Skins
Video Games