Sims 4 CC: Best Maxis Match Guy's Jeans (All Free)
This post may contain affiliate links. If you buy something we may get a small commission at no extra cost to you. (Learn more).
Jeans are the bread and butter of any guy's closet.
Maxis match is the bread and butter of The Sims 4 world.
It's a match made in heaven!
Although it's not too hard to find options for guy's jeans with a quick Google search, that doesn't mean you'll find the good stuff – especially if you're looking for Maxis match CC specifically.
It's also a massive time sink that you could be spending on other important things, like trying to stop your sim from eating waffles in the shower.
This CC list is here to help. From ripped and skinny to baggy and cuffed, you'll find a pair of jeans for every occasion and every look.
1.

Joel Jeans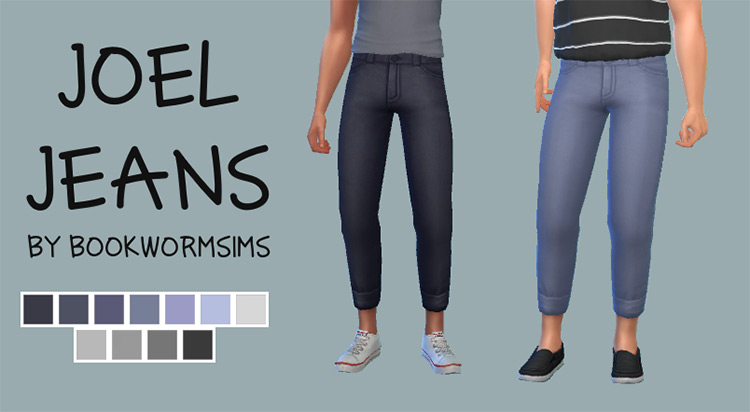 Bookwormsims has the Maxis match style down so well that I honestly thought that these jeans were a recolor of a Maxis item at first.
That's how you know they'll work perfectly in your game!
These are the basic jeans to beat all other basic jeans.
They may not offer any special accessories or wild color schemes, but they go with pretty much any casual outfit.
The 11 color options you'll have are all in classic jean colors, which makes outfit creation way easier.
2.

Slim + Loose Jeans
These jeans are slim but not skinny, and stop just above the ankle with a neat cuff.
Sound familiar?
Since they're guy's jeans, they aren't called "boyfriend jeans". But this is exactly the kind of cut that inspired the comfortable and popular boyfriend jeans in women's fashion!
And their versatility is also hard to match.
36 total swatches is only the beginning, because it's wearable by male child sims too.
This even has a women's version called the Trill Jeans, which aren't included in this CC, but can be found here.
3.

Grannr Jeans
Let me be absolutely clear:
This CC title does not say granny jeans. Seriously, it doesn't. And it's not a typo.
This is actually a pair of men's ripped skinnies, which is a far cry from what your grandmother would wear.
And it's nothing like modern granny jeans either, in case you were wondering.
The rips in these jeans are subtle compared to some of the other catastrophic tears I've seen out there, but they're more than enough to convey a message (that message being "I'm at least reasonably fashionable").
With 32 swatches to match with any outfit, you don't really need your jeans design to say more than that.
4.

Sporty Sweatshirt & Jeans
In this CC, a simple style of jeans is jazzed up with a belt, silver chains, and a Maxis-matching sweatshirt.
And that's really the appeal of jeans, isn't it?
There's nothing better than taking something basic and making it look incredible with only a couple adjustments.
If the usual jean colors aren't doing it for you, then there are tons of extra colors (including camo and split designs), which is just another example of how versatile jeans can be if you give them the chance.
All you need is a few accessories and some fresh color combos.
5.

Hipster Jeans
To the jeans uninitiated, these may look just like your average boring pair of jeans.
But don't be deceived!
This CC is a magical (and surprisingly rare) combination of low-rise, rolled, and skinny.
Rolled cuff jeans are a dime a dozen, and so are skinny jeans.
But once you put those two things together… suddenly it's like hunting for a unicorn.
Aside from that important detail, I will admit that these jeans are pretty regular.
With 4 incredibly normal denim colors and a somewhat worn appearance, it's a great addition to any utilitarian sim's wardrobe.
6.

Bom Pom Jeans
These cool Maxis match jeans are chic with a touch of rebellion.
The best part though is how many different directions you can take these jeans in.
Out of the 26 swatches available, some of them are multi-colored, some of them are default-denim, and some of them are the colors of the rainbow.
You have the option of having a neat waist chain, or not.
You also have the option to change the jean leg hemming.
And if you want to emphasize the bad boy look, you can choose to have frayed hemming!
7.

Take Off Pants
C-pop bands (as with K-pop and J-pop ones) are always ahead of the game when it comes to good-looking fashionable outfits.
While not all of them are practical, these pants actually are!
Your sim could totally rock them as part of their daily wear or could use one of the flashier patterns when they feel like standing out.
There are 20 swatches here, some with rips and some without, so it's up to you how far you go.
Have I mentioned there's a belt chain?
8.

Austin Jeans
The distressed biker jeans from The Sims 4 have a cool look of their own – but they could use some extra jazz.
This CC keeps the Maxis match style of the original jeans while adding some much needed texture and style.
Seriously, if their biker jeans aren't a fashion statement, what are your sims even doing?
There's nothing better than letting jeans (something that usually takes a neutral stance) be unapologetically fashionable.
9.

Male Sweater Tie Jeans
I feel the need to preface this by saying you don't have to wear these jeans with nothing else, like in the picture.
Although that is always an option… but I won't fault you if you use it in an (ahem) more conservative fashion.
There was a point where tying a sweater (or a jacket, coat, etc) around your waist was a hip and fashionable thing to do.
That time may have passed, but it's still an irresistibly practical way to carry a sweater around without wearing it all the time.
This CC comes in 8+ swatches, which change both sweater and jean colors.
10.

Kids Baggy Pants
It's not just men who need great pairs of jeans in TS4.
Boys need jeans too!
This version of the baggy pants from the Snowy Escape gamepack (which you'll need to use this CC) are made just for kids.
And they look equally as good as they do for adults – maybe even better, since there's that added cute factor.
In a cold environment, these pants are the greatest everyday staple.
But with 26 swatches, they can be dressed up for special (ish) occasions, too.
Most of the swatches look like they're jean material, but there are some that don't quite look like denim. Just a heads up!
11.

Male Autumn CC Pack
Before winter comes autumn, and this men's clothing pack will make sure your sim is in their fall best from hair to jacket to jeans.
The most important part, of course, being the jeans.
The style in this CC pack is super smooth and cartoony (or in other words, it's just like Maxis).
But unlike most of the men's clothes in The Sims 4 base game, these clothes are reasonably fashionable and seasonally appropriate!
The jeans come with a chic circle-buckle belt, and every clothing item in the set has multiple autumn colors to pick from.
12.

Error Jeans
I really can't imagine any context where wearing these jeans would be an error.
They're simply a great pair of jeans, and I won't be persuaded otherwise.
These skinny jeans don't fit as uncomfortably close (like, skin paint close) as many other CC jeans, even though they're still thoroughly in the slim fit category. That alone is enough to make me want to download them!
They also have clean cuffs, which add to this CC's unique flair.
Perhaps most importantly, they were edited from an EA mesh – and they keep all of that good ol' Maxis-matchiness from the original mesh.
13.

Pretty Little Things CC Pack
This "pretty little" CC pack is full of goodies, like hoodies, miniskirts, sweatpants, and (of course) two different styles of jeans.
The Charlie jeans are your typical boyfriend-style jeans for women. The Pete jeans, on the other hand, are also your typical boyfriend-style jeans – but they're actually for men this time.
They both have a cute permanently-attached belt too.
There isn't any information on swatches on the download page, but it's safe to say that there will be multiple colors for each clothing item.
But even if there isn't, all of the extra clothing CC means that you can dress up your jeans in plenty of different ways – extra swatches notwithstanding.
Browse:
Lists
Maxis Match
The Sims 4
Video Games