Best Minecraft Star Wars Mods To Download
This post may contain affiliate links. If you buy something we may get a small commission at no extra cost to you. (Learn more).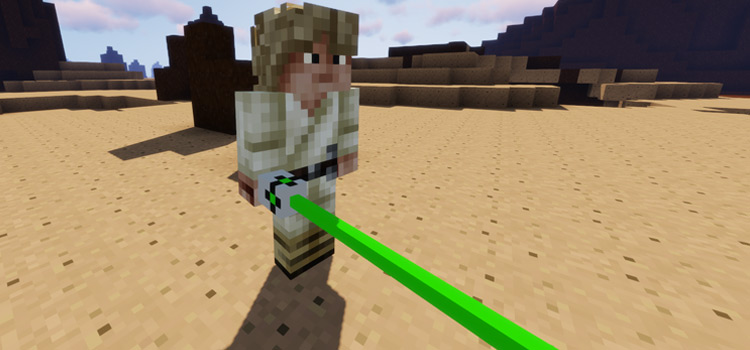 Minecraft is as relevant as ever. And with thousands playing every day, it seems relevant to write a mod list about the best Minecraft Star Wars mods that you can download and use to spice things up.
One of the beautiful things about Minecraft is that almost any type of mod seems to suit the game.
Minecraft is a world where you can build to your heart's desires, regardless of what that may be. Star wars is one fandom that deserves some attention here!
And trust me, I wanted to have a list of mods that you could combine, but there's simply not enough out there (yet). I was hoping to come across crazy mods that would turn the game into a clone of KOTOR, but no one has done it.
If anyone's reading this and has the skillset, please give us KOTOR Minecraft. This random Internet stranger would thoroughly appreciate it.
10.

Starfall
This mod adds a whole bunch of new blocks to the game, all of which resemble mechanical stuff that one would often see in the Star Wars universe.
From the light panels of the Death Star, to the advanced floorings that the Empire always used, the Starfall mod allows you to build your own Star Wars-themed place to call home.
Starfall also lets you build your own lightsabers, but I would advise avoiding them altogether. There are better mods for custom lightsabers listed a bit further on this list!
9.

Kryptic's Star Wars Mod
Now this mod isn't anything too revolutionary.
But it does add Sith and Jedi to the game, as well as the ability to build blasters and even your own cool lightsaber. Again, this might not be the best mod to create your own lightsaber for Minecraft fanatics.
But it's worth checking out based on the sole fact that it adds new mobs to the game.
The creator of the mod also states that he intends to add droids and other Star Wars enemies to the game, but I'm still waiting for that to happen. Fingers crossed!
8.

Imagine SW
The first roleplay mod for Star Wars is here.
And it aims to let you roleplay as your favorite characters, but not break the vanilla feel of the game. Simple, but it works well with your imagination!
7.

Wandercraft
Wandercraft adds a ton of stuff to the game, which includes piloting an X-Wing and fighting Darth Vader himself!
It's worth checking out but might grow stale over time.
Still, it's sure to keep you busy for hours with an additional ten Star Wars items/weapons, four new mobs, and did I mention X-wing Starfighters?
6.

Star Wars – Galaxy's Edge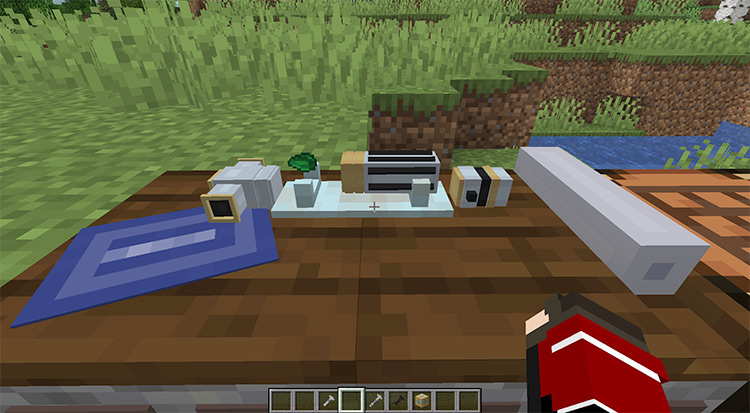 A small mod that adds force abilities, space travels, lightsabers, and droids.
Small but cool Star Wars mod that will help you fulfill your love of the series, without having to supercharge your game too much.
5.

Star Wars: The Skywalker Saga Mod
New mobs, weapons, vehicles, and the ability to actually drive those vehicles.
All of this is based on the Skywalker Saga, which means there's content from the Clone Wars to the fall of the First Order!
4.

Legends Mod
So, the Legends Mod is not technically a Star Wars mod per se.
However it does add the ability to craft lightsabers (shocking, I know) and combines the world of Star Wars with many other fantastic worlds from many of your favorite films.
Grab your lightsaber, put on your Iron Man suit, and fight Godzilla.
This crazy fantasy is now just a part of what you can do in Minecraft.
3.

Star Wars in MC
This mod only adds a handful of cool abilities.
And per usual, you get the option to create lightsabers.
However, it does make Minecraft more in line with the Star Wars universe and helps you live the adventures of a Jedi a world filled with creepers, zombies, and skeletons.
A cool one to test out for sure. I really think this offers a fair balance between vanilla and modded gameplay.
2.

Star Wars A Clone Wars Survival
Clones, Jedi, Sith, and the Separatists.
This mod overhauls the game to turn Minecraft into the closest thing you can have to the Clone Wars.
If you were a fan of the show and you want to relive the adventures of Ahsoka Tano and Anakin Skywalker, you're going to want to check this out.
Lightsabers, blasters, and a never-ending war orchestrated by the future Emperor himself.
Will you be able to put a stop to the plans of Darth Sidious and liberate the galaxy from the clutches of evil?
1.

Parzi's Star Wars Mod
Alright if you're looking for one mod to overhaul the entire game, you'll want to take a look at Parzi's.
This Star Wars mod has been around for what seems like an eternity, having first launched in 2015 and holding its relevancy ever since.
Parzi's Star Wars Mod now has a huge following on Patreon, and it's become a part of Minecraft pop-culture.
It's basically the go-to mod to download for Star Wars fans.
What makes this mod so unique?
Well it adds lightsabers and basic items, of course.
But it also adds new planets to the game, all of which you can visit.
Planets also come with new creatures. And yes, many of them can be mounted too.
This mod also comes with Kylo Ren's lightsaber as well as dozens of blasters and even unique droids that you can craft!
I'm not one to sing too many unnecessary praises for a mod, but as a huge Star Wars nerd, I had a blast giving this one a go. Be sure to try it out if you love Star Wars!
Browse:
Lists
Minecraft
Video Games