What's The Best Pike Fishing Spot in OSRS? (F2P + P2P)
This post may contain affiliate links. If you buy something we may get a small commission at no extra cost to you. (Learn more).
The undeniable best location to catch pike as a free-to-player is the Barbarian Village, while members have a few other decent options in the form of Shilo Village, and north of Seers' Village.
The pike is a low-tier freshwater fish that's commonly found in lakes and rivers, more specifically in the Bait/Lure spots together with trout and salmon.
It requires a regular fishing rod, some bait, and level 25 Fishing to catch.
Just like other freshwater fish in OSRS, pike can be caught much faster compared to something like a tuna – which makes it an excellent choice if your goal is to get experience, even at higher levels.
Best F2P Pike Fishing Spots
Non-members have two locations to choose from:
Lumbridge
Barbarian Village
Both of them have absolutely no requirements attached to them (quests and whatnot), although the Barbarian Village is considered to be the superior area.
The Barbarian Village fishing spots are much closer to a bank (the one in Edgeville) which if you're playing with Runelite and have your draw distance increased, this can be accessed with only a couple of clicks.
It's also fairly close to the Grand Exchange, just in case you want to sell your catches quickly, or need to refill your supply of fishing bait.
On top of that, you're more likely to find other players here too – should you want to exercise your social skills and perhaps meet new friends!
Best P2P Pike Fishing Spots
On the other hand, members have over a dozen spots to catch pike at.
But two of them stand out from the crowd:
Shilo Village
Lake north of Seers' Village
To begin with, the absolute number one hotspot for all your river-baiting fishing needs has to be Shilo Village – which is locked behind the aptly-named "Shilo Village" experienced quest.
For those that want to store their bounty, this is the place to be, since the bank is incredibly close to the river (and thus close to your fish).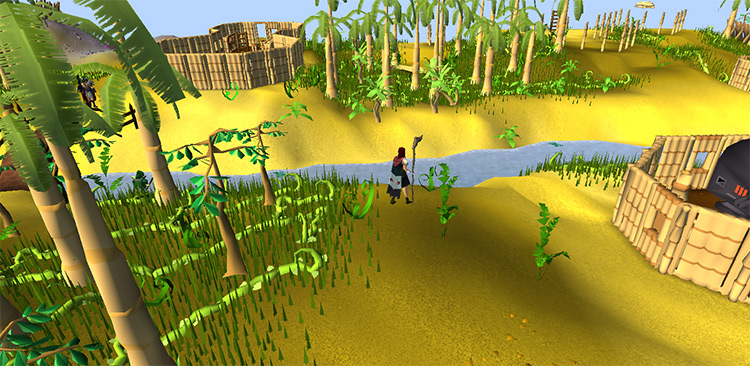 Should you not wish to dabble in the art of questing, the second finest site for Pike is a little nameless lake that sits right above the Seers' Village bank.
Here, together with a couple highwaymen, you'll have the ability to capture a scenic view – while also capturing those tasty fish!
The bank here can be reached with a single click as well, although it is further than the bank in Shilo.
Fishing Gear & Top Tips
The pike is a rather unpopular fish.
Because it sits right between two other freshwater fish with its experience rewards, the vast majority of players prefer to catch either trout and salmon, or their leaping sub-species after the completion of barbarian training.
Nevertheless, Pike is still an entirely acceptable and perfectly good method of training (who am I to crush your pike-catching dreams anyway?)
So let me go ahead and share some extra useful information if you're chasing a bunch of these fishies:
If your main goal is experience and you don't really care about money, then instead of banking, consider dropping your newly-caught fish on the ground.
This is done to cut out time spent banking, with more time spent fishing and getting that sweet precious exp (only do this with freshwater fish).
For even more experience, a full Angler's Outfit will boost your rates by 2.5%.
While Rada's Blessing (acquired through the Kourend and Kebos achievement diaries) gives you a chance of doubling your catch (but there's no extra exp given).
Those of you brave enough to have faced the Skilling-Boss Tempoross might have a Fishing Barrel to bring along, which stores an additional 28 raw fish, like a second inventory.
Or you can even bring some Spirit Flakes that can award you an extra fish (though I'd recommend using these on more valuable fish beyond Pikes).
Browse:
RuneScape
Video Games