Top 15 Best Railway Empire Mods To Try (All Free)
This post may contain affiliate links. If you buy something we may get a small commission at no extra cost to you. (Learn more).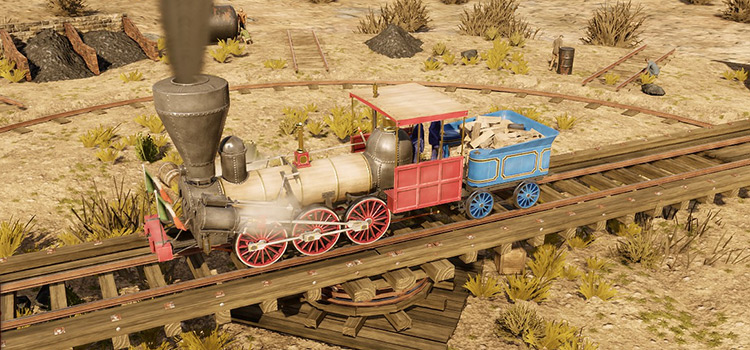 Released in 2018, Railway Empire lets players develop massive railroad systems all-across 19th and 20th century America and (counting the DLC) Mexico, the Andes, Great Britain, and more.
Its lush photo-realistic graphics are one of its best features.
Admire your railroad's efficiency and wonder at the beautiful locomotive models making their way through picturesque regions. Perfect for a relaxing weekend, right?
While Railway Empire isn't the most flexible game for modding, some fantastic scenarios have come from hard-working mod creators with an interest in the title.
From historically-accurate reenactments to insane challenges involving beef jerky, here are the best Railway Empire mods you have to try.
15.

The Great Cattle Invasion
The Great Cattle Invasion is a relatively challenging new addition to the game's scenarios where half of the US has apparently gone on the carnivore diet before it was even invented.
It's up to you as a giant of industry to create a steady supply of cattle to every city, avoiding your competitors' many plots against your empire.
If you want something short and straightforward to get you introduced into fan-made scenarios, this is an excellent starting point.
14.

Easier Start Scenarios
This collection of mods introduces a somewhat faster start for most vanilla maps, granting you 1.8 million dollars as a starting budget and 50 tech points per turn.
Very nice!
Since all techs can be unlocked in these maps, it's sure to come in handy.
This interesting tweak makes for a somewhat faster game. Be sure to give it a try.
13.

The Jerky Rush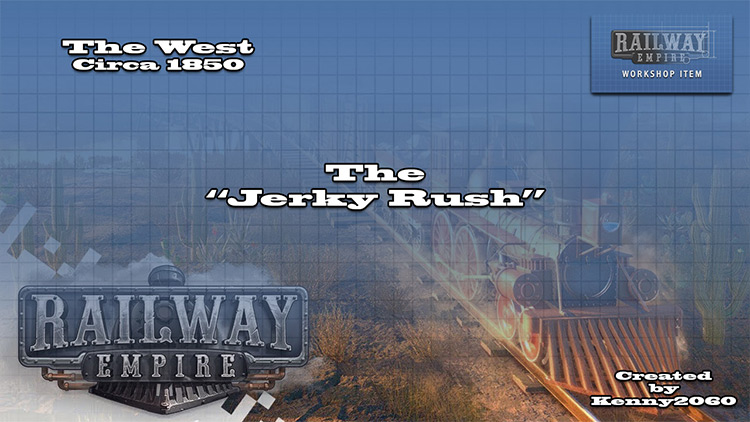 Mod creators have it hard modding Railway Empire.
Most of it is hardcoded, meaning it can't be changed, making any creative modifications a tall order for creators.
So when modder Kenny2060 found the unused item "Jerky" in the game's files, they knew they had to jump on the opportunity.
The Jerky Rush is a somewhat humorous map where you'll be feeding the mouths of miners and fortune-seekers during the 1850s Gold Rush with – you guessed it – Beef Jerky.
It's a pretty challenging map, and maybe not the most balanced one either. But you'll have a lot of fun building a beef jerky empire to feed the world.
12.

Chicago Billionaire
For something a bit more unique in game mechanics, consider Chicago Billionaire:
A scenario where growth is slowed, fuel cost is doubled, and acceleration is halved.
Your objective is to make Chicago a prosperous city with a million inhabitants and have your company be valued at two billion dollars in the 30 years between 1840 and 1871.
Along with realistic locomotive speeds (and freight-hauling capacity), you'll see all techs have been slightly nerfed – making employees much more important.
11.

Pioneer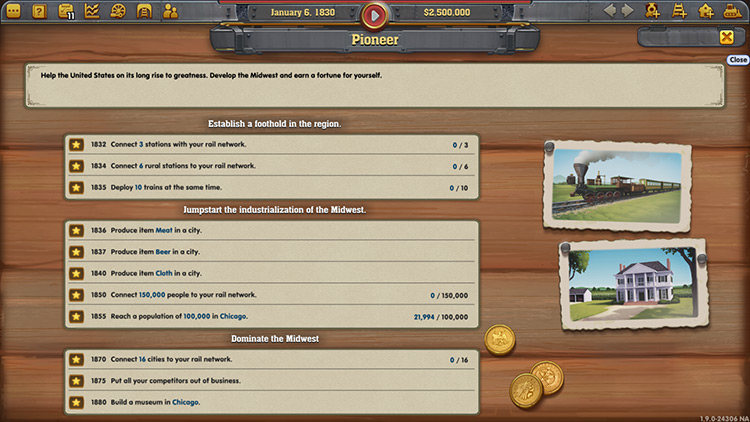 Play as one of the first railroad companies to delve into the American Midwest, bringing small towns and villages into a living, breathing network, and kickstarting a nation's growth.
This map's main feature is the basic state most demographic centers exhibit.
They're small homesteads rather than cities. And the only factory already functioning before your arrival is the one in Chicago.
Establish a foothold in the region, get production started and distribute necessities such as meat, beer, and cloth throughout these sleepy towns.
These virgin lands and fair frontier settlements are about to be forever changed by iron and steam.
10.

Weighty Trains
Most successful Railway Empire playthroughs will eventually lead to massive economic growth.
Of course, that's how it was for the giants of industry in real life. But we want a challenge, right?
Weighty Trains attempts to balance things out by making the game a bit harder. Passive innovation point income is reduced to 20, locomotives are rebalanced, and their prices will go up exponentially the more advanced they are.
You'll also notice most freights are considerably heavier, which means you'll need to invest in the right engine for the job if you want to conquer steep inclines and rugged terrain.
So far, it includes the North and West maps.
9.

Fallout Rails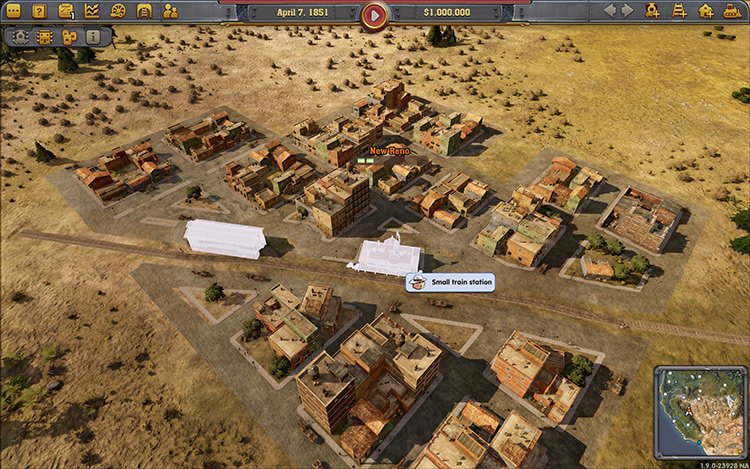 In the year 2451, centuries after the bombs fell, the radioactive Mojave Wasteland consists of several isolated homesteads and small communities of survivors – and maybe it's time to change that.
Set up the first functioning railroad the Wasteland has seen in centuries in this Fallout-inspired map.
Bring back the glory of the old days by igniting the fires of industry with iron and steam.
You'll have to connect settlements like Arroyo and New Reno to transport essential goods on your scrap-made locomotives straight out of Junktown.
It's mostly for immersive role-playing, and it'll require you to use your imagination. But this mod is a blast for any Fallout fan.
8.

N&W Grain to Steel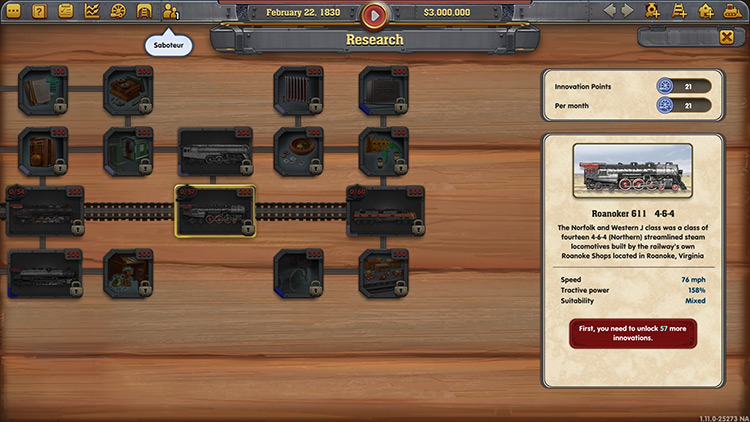 At first, all cities needed was grain to keep their workers fed.
But as the fires of industry started burning, the need for steel soon surpassed that of consumables.
As the leader of the storied Norfolk & Western railroad company, you'll have to create the railway that'll deliver these basic needs, completing tasks related to each of these development stages.
The mod adds five new cities – Cincinnati, New Orleans, Philly, Roanoke, and even Toronto – and a couple of historically-inspired locomotives.
If you want something straightforward and exciting, this is a great option. Rather realistic too.
7.

The North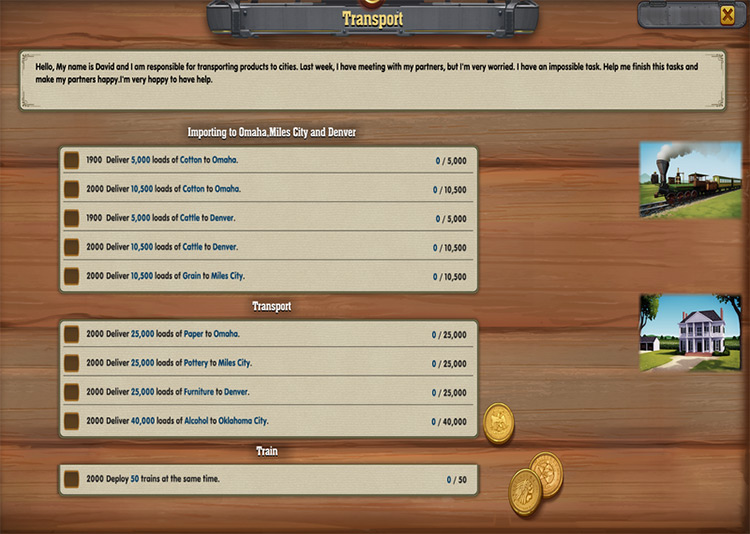 This collection of mods serves to expand the base game's scenarios by tweaking some values and creating new and exciting projects for each city.
There's the Beer Project for Miles City, the Meat Project for Denver, the Leather Project for Omaha, and many more spread across three difficulties.
Give it a try and see what you think.
6.

All of America
One of the most popular fan-made add-ons to Railway Empire is the America scenario, which lets you create a railroad spanning the entirety of the US territory from 1830 to 1930, rather than focusing on specific regions.
This should have been in the base game, if I'm honest.
So I'm thankful to mod creators for bringing this into existence. Maybe one day we'll see trans-continental railways!
The scenario supports up to three competitors and you're free to choose from four starting cities in the four corners of the map.
Of course, you'll have a full tech tree to unlock as well.
5.

SimRE Map Pack – Slower Gameplay Scenarios
If you're the kind of gamer who prefers a slow, detailed simulation rather than a competitive experience, the SimRE Map Pack might be something to check out.
This project aims to bring a more thoughtful experience to Railway Empire, slowing down trains by 40% and opening up all technologies by default.
To compensate, it also reduces the effects of several tech bonuses – especially the financial ones.
Early engines are cheaper, while later ones become progressively more expensive to account for the easy-to-access techs.
All things considered, the game feels pretty balanced.
4.

The Chesapeake & Ohio Railway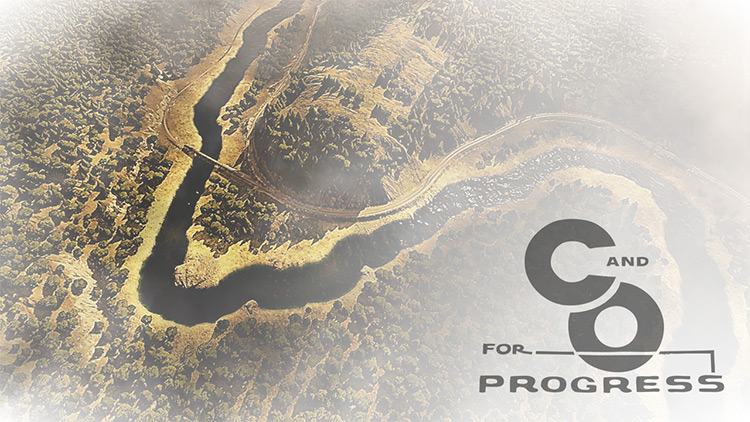 The Chesapeake & Ohio Railway was a crucial player in developing the eastern American railroad system for much of the 20th century.
Standing in the shoes of Collis P. Huntington, you'll be tasked with building up this railroad corporation from its humble beginnings in 1836.
Here you'll traverse the Blue Ridge and Alleghany Mountains and fuel American industry by connecting many coal mines along the Ohio River.
The game's rules are heavily modified to provide a more realistic experience, but still just as fun. Your railroad design decisions will play a critical role too, as track curvature and gradient have more dramatic effects.
3.

Rhine Province – Europe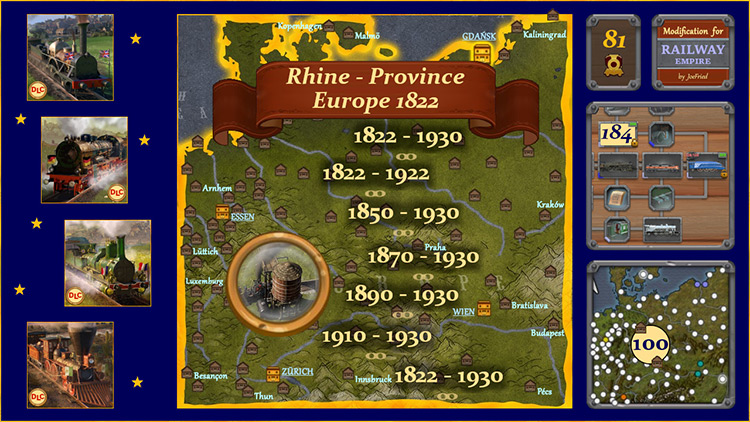 Few scenarios in Railway Empire modding are quite as ambitious as the Rhine Province, which lets you develop a railroad system spanning the Western German Rhineland.
The collection includes several scenarios with different start dates ranging from 1822 up to 1930.
You may choose to start your adventure from cities like Gdansk, Essen, Zurich, and Vienna – among many others, with an investment capital of one million or more depending on the difficulty.
With up to 100 cities to bring into the network and some new period-accurate locomotives to help you conquer the Rhine, there's a lot to do and try out in this fantastic scenario collection.
2.

Austria Scenario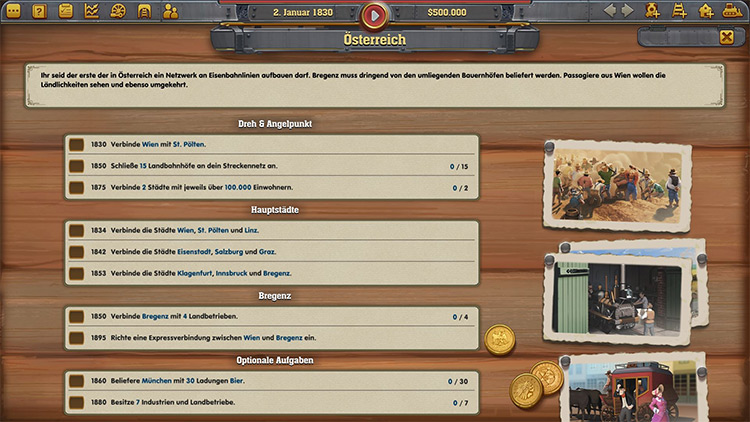 Another fantastic European scenario you have to try is Austria, which puts you in command of a pioneering railroad company in the region between 1830 and 1910.
Transport passengers from Vienna, supply Begrenz with wood from surrounding mills, and connect other cities like Linz and Salzburg to your ever-growing railroad system.
Of course, the actual map is found in the USA. But cities and terrain have been heavily altered to mimic the East Alps.
It's also available for task-less free play.
1.

Pennsylvania Railroad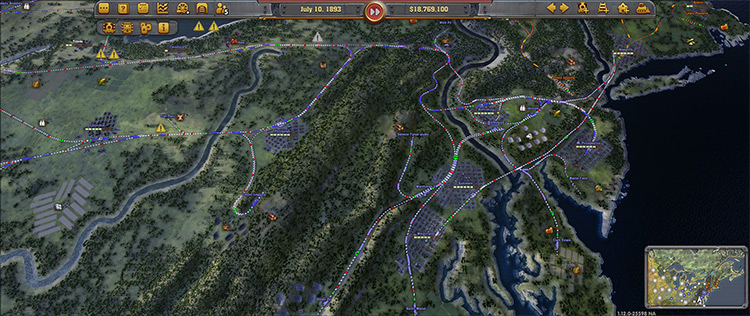 Established in 1846 and headquartered in Philadelphia, the Pennsylvania Railroad was one of the largest enterprises the US had ever seen – with a budget that rose to rival even the entire US Government's.
As Chief Engineer and third President of the "Pennsy" J. Edgar Thomson, you'll have to grow this historical corporation from its early years into the railroad system all other railroads would strive to imitate in the coming years.
This scenario places a heavy focus on historical accuracy, presenting you with the Pennsy's achievements in the form of tasks such as connecting Philadelphia, Harrisburg, and Pittsburgh and helping them grow into the region's beating heart.
History buffs are guaranteed to enjoy time with this mod.
Browse:
Lists
Railway Empire
Simulation Games
Video Games