Best Sims 4 Dead or Alive CC & Mods To Download
This post may contain affiliate links. If you buy something we may get a small commission at no extra cost to you. (Learn more).
There are some surprisingly similar reasons for why we might enjoy both modern fighting games and The Sims 4.
Just like TS4 lets me create idealized versions of me & my friends to live out our wildest fantasies, so do fighting games like Dead or Alive, which allow me to play dress-up with its characters and create my ideal fighter.
Dead or Alive is especially famous for its gorgeous female characters, and its prodigious amounts of customization through DLC outfits that augment their appeal in every way you can think of.
If you like the inherent allure of Dead or Alive, but couldn't care less about the fighting gameplay, then bringing over some of its charms into The Sims 4 through CC is a no-brainer.
1.

Kasumi Dress
First in our list we've got a dress inspired by one of the original eight characters from the original Dead or Alive: the beautiful kunoichi, Kasumi.
This sleeveless ninja outfit is inspired by her look in DoA3.
It's simple but elegant – and though it's pretty revealing in the original game, this Sims 4 CC tones it down quite a bit.
All things considered, this seems like the perfect Kasumi dress if you want to keep your game looking like Maxis intended it to (fully Maxis-match) and it comes in 10 beautiful colors, including the traditional blue.
It's perfect to create a Kasumi look-alike or just dress up any Sim interested in ninja culture.
2.

High Society Dress
As the Dead or Alive series went on, it became more and more about dressing up your characters in cute outfits.
In more recent releases, there have been more DLC packs than I can count.
One of my favorites has been the High Society costume set released for Dead or Alive 5: Last Round.
It gives each of the girls a fancy skin-tight outfit that's perfect for any affluent young lady.
This Sims 4 CC is remarkably detailed and comes in 10 swatches.
The white shirt is nice and frilly, and the pleated skirt has perfect volume.
It's pretty hard to pull off a corset in real life, but with this CC, your Sims will have no problem showing off their fancy new clothes.
3.

Dead or Alive Leifang Swimsuit
Summer is always right around the corner in The Sims.
If you're planning a vacation in Sulani, you'll need cute swimwear that'll make an impact on any onlookers.
This bikini design was first seen in Dead or Alive Xtreme 3, where it's worn by Hitomi.
Eventually it made it back into the game with the Zack Island Swimwear DLC for Dead or Alive 5: Last Round.
I love this swimsuit because of the way it brings together the boldness of a bikini with the juvenile appeal of plaid fabric and frills.
It's ideal for an adorable yet intelligent Sim, much like Leifang – and it comes in a whopping 40 swatches for extra versatility.
4.

Dead or Alive Butterfly Set
For this CC set we're looking at a pack of lingerie that'll leave every other Sim in your vicinity wondering whether they've been kidnapped and taken to a fairy village.
This butterfly babydoll is everything you'd expect from Dead or Alive DLC:
It's delicate yet seductive at the same time.
Personally, I love anything to do with low-rise underwear like this. It's the epitome of risqué.
The CC set is split into the main outfit, plus the tights, wings, shoes, and necklace, all for you to easily mix and match different colors.
And each part comes in at least 16 swatches, meaning there's something for everyone.
5.

Dead or Alive Swimsuit Set
If you really want variety in your summer vacation wardrobe, you can't go wrong with this Dead or Alive swimsuit set.
It includes all kinds of swimwear taken from several Dead or Alive 5: Last Round DLC sets like Hot Getaway and Zack Island Swimwear.
There are bikinis, swim skirts, one-piece swimsuits, and even bathing trunks for male Sims!
Most of them come in upwards of 30 swatches, with some specific pieces going up to 45.
You really won't need to add any more swimwear to your game, ever.
6.

Good Night Lingerie Set
The Sims 4 isn't a very "sensual" game in and of itself.
I mean, Sims call intercourse "WooHoo".
Ask yourself whether that's a hot term to dish out in the bedroom.
That said, The Sims 4 is also whatever the players make of it.
If you can get the right mods in then TS4 can be as sexy as Dead or Alive.
This "Good Night" Lingerie set is the perfect place to start.
It includes all kinds of sultry nightwear ranging from intricate & frilly babydolls to half-open nightgowns – all in up to 20 swatches.
7.

Color of Love Poem Swimsuit
I know I just said you'd never need any more swimwear a couple entries ago…
But the exception proves the rule – and you'll want to make an exception for the Color of Love Poem swimsuit.
Well, maybe calling it a "swimsuit" is a bit much. It's the kind of thing you'd catch the goddess Aphrodite or some nymph wearing for a swim in a secret pond somewhere deep in the forest.
The idea of a beautiful lady barely covered by the delicate leaves of autumn is simply irresistible.
They don't have to be autumn leaves, though.
The CC set comes in 15 swatches – and in varying degrees of foliage density.
8.

Marie Rose Pearl Set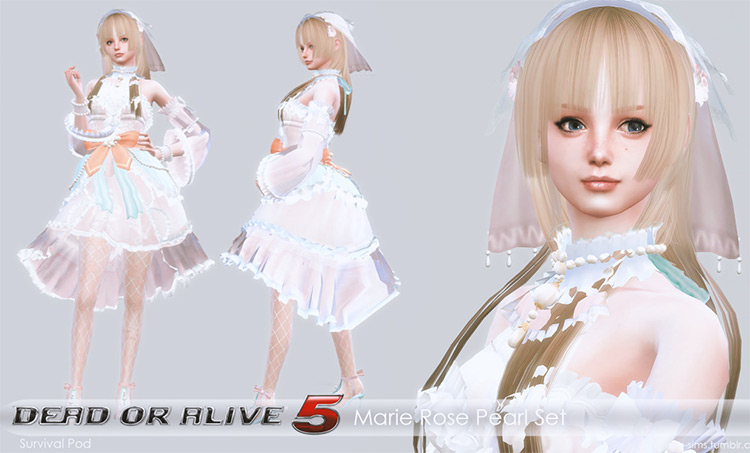 Helena Douglas' wicked pint-sized servant has been a fan-favorite character since her introduction in Dead or Alive 5: Ultimate Arcade.
And now you can get some of her lolita appeal in The Sims 4.
Most of her outfits hinge on Marie Rose's slim and delicate body, and this extremely elaborate lingerie set is no exception.
The amount of frills and see-through fabric is off the charts.
9.

Kasumi & Nyotengu Outfits
It may be what keeps people coming back, but swimsuits and lingerie aren't the only appealing content in Dead or Alive.
For fans looking for something classic that will leave no doubt about who the outfit belongs to, I'd recommend these Kasumi and Nyotengu costumes – straight from Dead or Alive 5.
The Kasumi outfit perfectly captures the essence of this powerful kunoichi, while Nyotengu's black wings will command the attention of anyone who sees them.
Note: CosplaySimmer has taken down all their CC at the time of this writing, but you'll find both outfits by searching for "dead_or_alive" in this folder.
That said, if CosplaySimmer ever puts the links back online, please consider getting this CC through their Patreon to support the artist!
10.

Dead or Alive Lingerie Set #2
We'll finish up our list with another lingerie set – though these outfits look like something straight out of a fantasy world.
I'm sure you can find countless ways to work these into beautiful & creative outfits in TS4.
The designs are delicate and intricately detailed, but they're bold in a way that transcends simply showing more skin.
Some of them bring together the allure of jewelry with remarkably little fabric to create an awe-inspiring exotic look fit for a goddess or a noble seductress.
Now, if you'll excuse me, I'll go take a cold shower to save my soul.
Browse:
Lists
The Sims 4
Video Games