Best Game of Thrones Mods & CC For The Sims 4
This post may contain affiliate links. If you buy something we may get a small commission at no extra cost to you. (Learn more).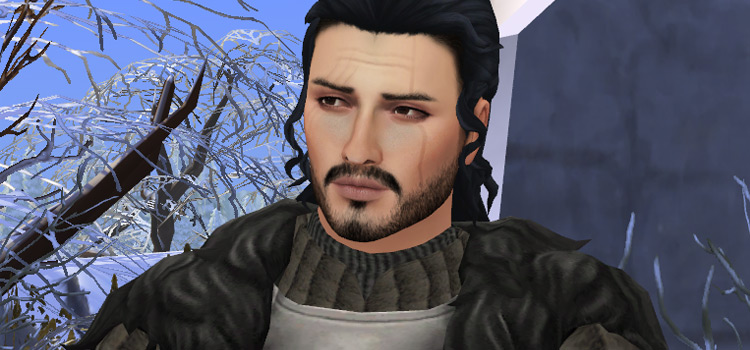 The Sims has allowed fans to create crazy alternate realities where virtually anything becomes possible.
With the freedom the game allows, the community of modders and custom content creators just keeps growing.
Many fans have recreated scenes from their favorite films, tv shows, comic books – you name it, it's probably been made for the Sims in some way, shape, or form.
Today however, we've got a little something for all the Game of Thrones fans out there.
Here are some of the best Game of Thrones mods and custom content available for the Sims 4.
Khaleesi T-Shirt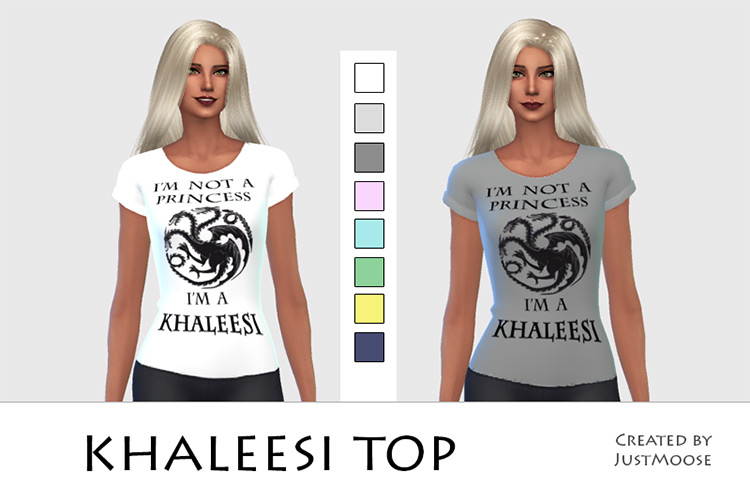 If you don't really feel like role-playing as one of the actual Game of Thrones characters, these shirts would be a perfect way to show off your fandom in a more subtle way.
These Khaleesi t-shirts are for the ladies and fit right in with that cute Sims aesthetic.
It comes in eight different colors so you'll have lots to choose from, and this CC features the Targaryen crest along with text that reads "I'm not a princess, I'm a Khaleesi".
Very nice.
Night's Watch T-shirt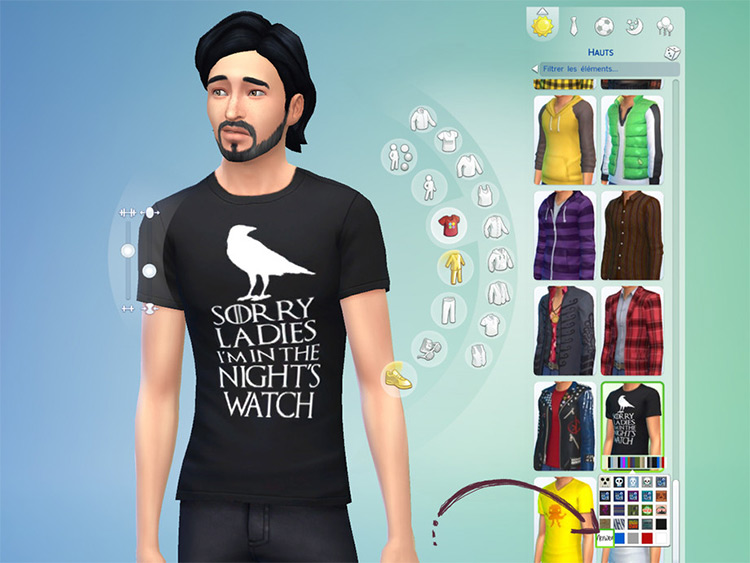 If you've got a male Sim to dress up, we have some Game of Thrones clothing options ready to go.
This Night's Watch T-shirt only comes in black, but I picked it because it fits the Maxis Match aesthetic.
Though it only comes in one color, it cleverly reads "Sorry ladies, I'm in the Night's Watch".
Daenerys Dress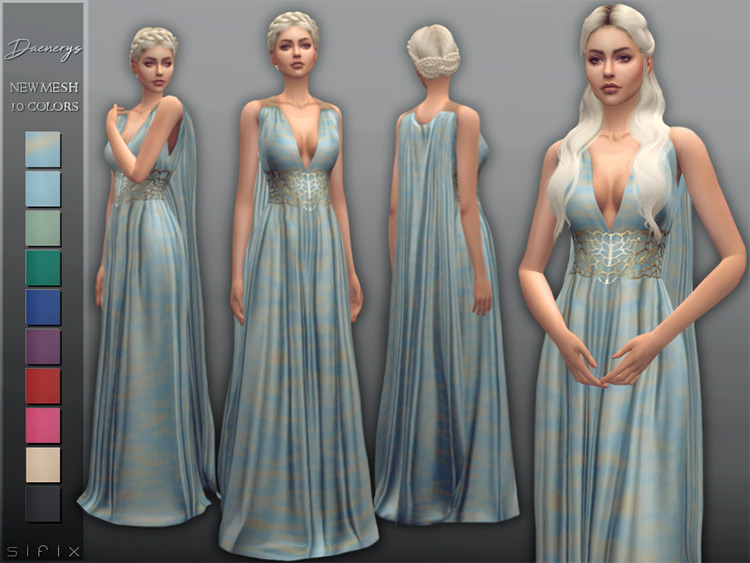 There are more formal options, of course, but these are specifically geared towards the ladies.
Given that the female leads in Game of Thrones are always pretty well-dressed, a number of the more memorable gowns in the show have been transferred into the Sims 4.
This specific dress CC was the long blue gown worn by Daenerys during her stay in Qarth. What's even better about this CC is that the color can be changed, with 10 different options to choose from.
There are other mods for dresses worn by Sansa, Missandei, and Margaery out there in Google, so check around. You might be surprised what you can find!
Game of Thrones Portraits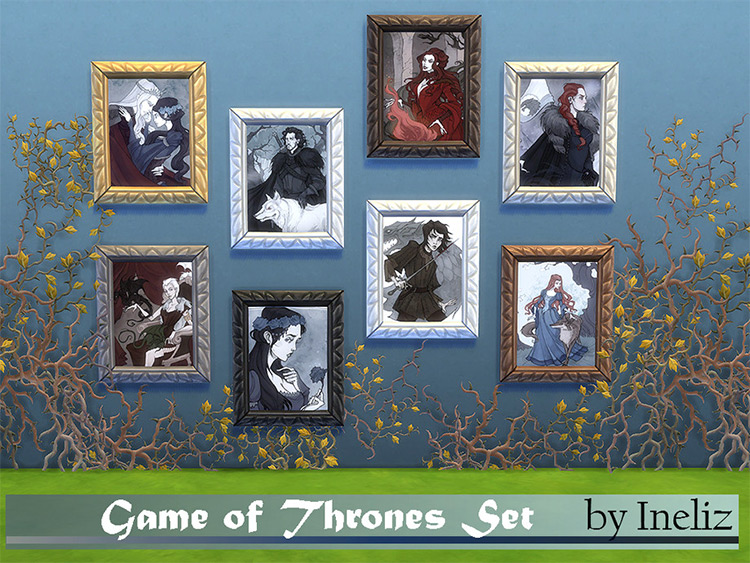 If you feel like taking your Game of Thrones fever back to your home, this Game of Thrones portrait set would be brilliant to liven up any room of the house.
The set comes with eight different portraits, each depicting different characters and scenes from the Game of Thrones storyline.
You can choose from Jon Snow, Arya, and Daenerys, among other options.
Or you can choose to hang one in each corner of the house.
The portraits are drawn in a cartoony design, so these fit well in the Sims world as well.
GoT House Sigil Tattoos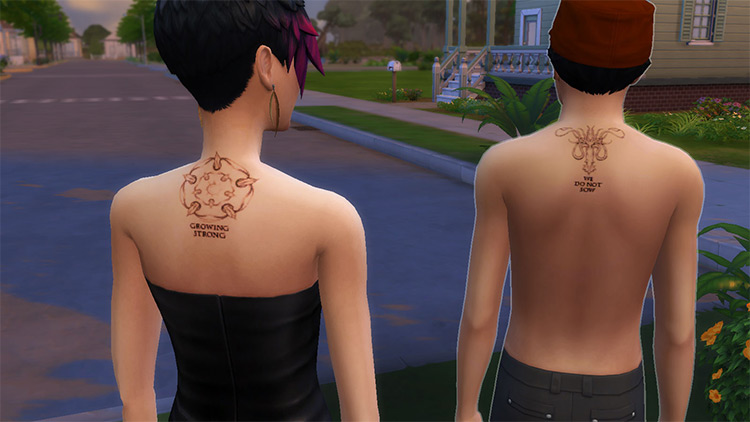 You might be looking for a more permanent way to proudly display your GoT fandom instead.
With these GoT tattoos permanently inked onto your sims, they'll be able to take your love for GoT everywhere.
The CC set includes nine different tattoo designs, each containing one of the proud houses along with the words they live by.
The tattoos are compatible with both men and ladies, and can be placed on the upper back area.
White Walker Makeup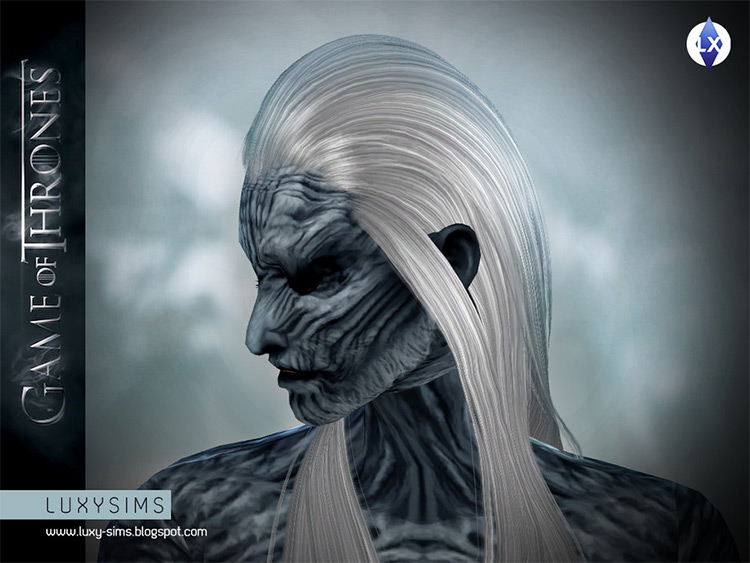 Tattoos are okay, but what about some makeup?
Just have your sim apply this CC and you'll be looking like the Night King in no time.
Now why you'd want to walk around looking like a white walker is not for me to question.
But I think this would make for a great Halloween costume.
Khal Drogo: Beard & Eyebrows Set
Now that you have a white walker for a neighbor, why not go the whole nine yards?
You can actually transform your entire Sims world into Westeros with these next few mods on the list.
Starting off, we have a beard and eyebrows set that will make any sim look like Khal Drogo.
If you're bringing GoT characters into your neighborhood, you're definitely going to want the mighty Dothraki warrior in your roster.
While many fans were saddened by his death in the series, you can always keep him alive in The Sims 4.
Like I've been saying, anything is possible in this game.
Jon Snow
Let's not forget about one of the good guys as well.
We wouldn't want to have a neighborhood littered with white walkers and no Night's Watch to protect the rest of us.
Well thanks to content creator HIM666, we can create our very own Jon Snow.
The set is a complete full body outfit, including options to add or remove arm plates, breast plates, and bracers.
You can even change the color of his fur collar, making it a completely customizable Jon Snow look.
Qarth City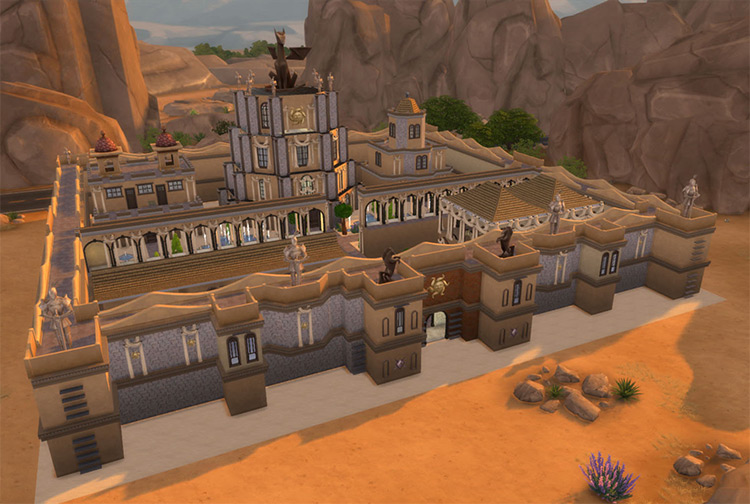 Thought we'd gone far enough did you?
Well surprise! Let's take the transformation even further.
Now that we have a few GoT characters in the neighborhood, these next few mods will help you make an actual Westeros world in your Sims 4 game.
Starting off we have the city of Qarth. One of the largest trading ports in Westeros, and home to the "Milk Men" as coined by the Dothraki for their pale complexion.
You'll be able to build this 50×50 city for 326,818 simoleons.
Great Sept of Baelor
While I haven't seen a complete recreation of King's Landing for The Sims 4 yet, you can get some of the major landmarks to start building your own capital with.
To start off, you're going to need to Great Sept of Baelor.
It's the setting for many significant events in the series.
The sept is also the largest structure found in King's Landing, so you're definitely going to want this at the center of the capital.
This comes in a 50×50 lot size as well, and can be purchased for 245,571 simoleons.
The Red Keep
It goes without saying that you can't have King's Landing without The Red Keep.
Well thanks to sim4fun, you can build an accurate replica for 326,818 simoleons.
The castle comes in a 50×50 lot size and is an impressive recreation of the one from the series.
Just seeing the moat surrounding the towers takes you back to your favorite scenes from the show. Well, at least that's the idea.
The inside is completely decorated to match, so you'll be spending lots of time just exploring the interior once you have it built.
The Iron Throne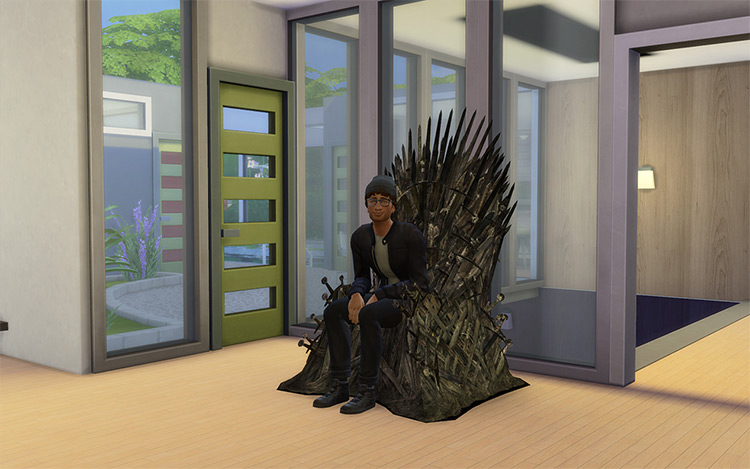 Finally, what kind of Game of Thrones list would this be if we didn't have a mod for the actual throne?
User LOolyharb1 provides us with this placeable replica of the Iron Throne.
Drop it anywhere you like.
You can do pretty much anything with it, too. Maybe you just want to use it as GoT memorabilia to decorate your home with.
Or maybe this is an actual seat in the corner of your living room.
Like I say, anything is possible with The Sims.
Browse:
Game of Thrones
Lists
The Sims 4
Video Games