Sims 4 Tank Top CC For Girls (All Free)
This post may contain affiliate links. If you buy something we may get a small commission at no extra cost to you. (Learn more).
Move over, little black dress. There's a new wardrobe staple in town.
Have you ever noticed tank tops don't get the love they deserve?
Under a jacket, cardigan or by themselves, spaghetti straps or thick bands, and the list goes on.
There's so many ways to rock tank tops that we can't list them all here.
But we can share some great CC tank tops for your game.
Check out these super-cute tanks and if you see anything you like, give 'em a try in-game.
10.

Palmino Top
Starting off our list is a cute cropped tank top from Margeh-75.
We love the spaghetti straps, plus the sweetheart neck and transparent sides give it a unique look.
This is a cute choice for a fun night out to the club or a party.
12 swatches are available, including several shades of pink and blue.
It's also disabled for random.
Want the jeans featured in the photo for a complete look?
You can download all three at each link.
9.

Tank Sweetie
Alpha Simmers, we've got a go-to top for your teen and YA Sims.
Or older, if you prefer. No age-shaming here!
This tank-top set from BabyTears includes four HQ tank tops with some pretty cool designs.
They come in two swatches of white and black, pink and orange.
Really digging the Peachy Keen and Babygirl tees.
The mesh is included with the package file too, so no other downloads are needed.
8.

Tied Tank Top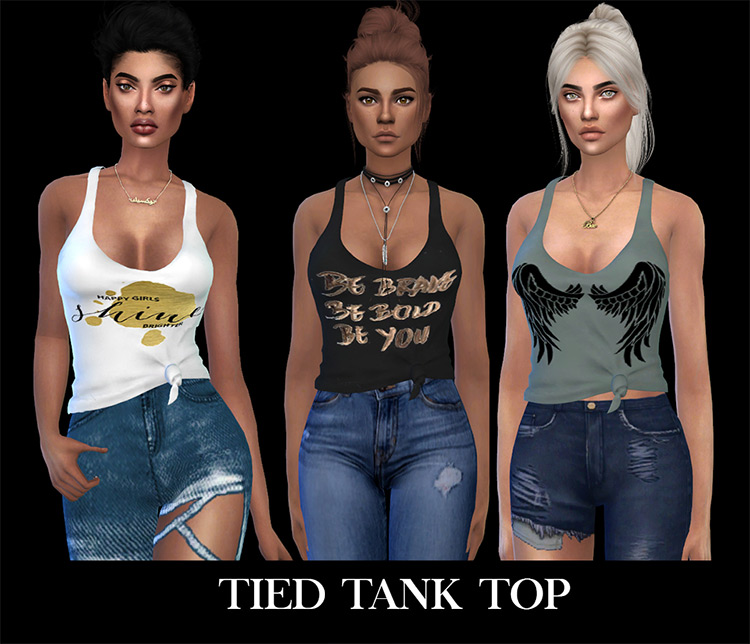 Have a tank top that's stretched a bit too long?
Don't throw it away, just tie it up!
We love the comfortable look of LeoSim's tied tank top.
It's the perfect casual choice for a fashionable on-the-go look.
We count three swatches:
White and gold, black and gold, and gray and black.
All three have bold and creative designs, and all are worth trying to see what you think.
7.

Harry Potter Tank Tops
The Harry Potter craze has been going strong for 20 years now.
Seriously, time needs to slow down!
It's so popular that even our Sims are fans of the franchise.
These HP tank tops from ShesATimeLord gives the most hardcore Potterheads four options to show off their fandom loyalty.
The black-and-white color scheme looks reminiscent of those cute tops found in H&M and Hot Topic.
No pack requirements are listed so base-game players can download, too.
6.

Aesthetic Tank Top Pack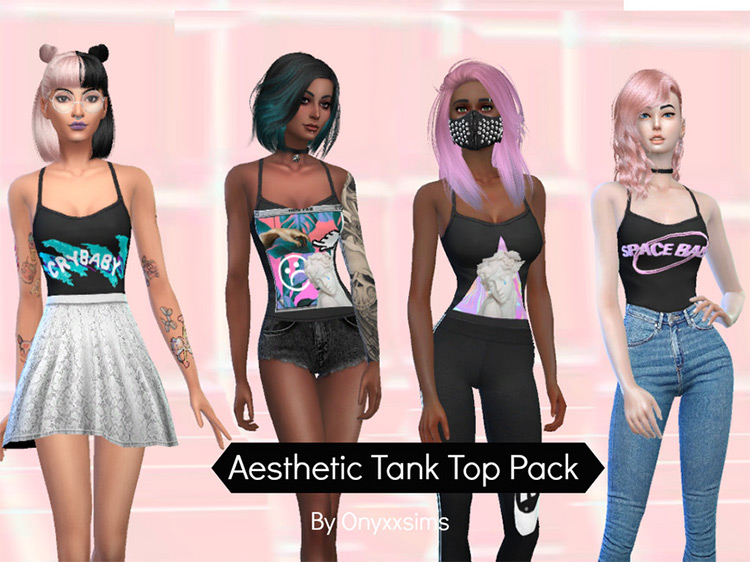 Tank tops?
No way.
OnyxxSims' tank top pack can only be described as art.
Featuring the vaporwave aesthetic, each top gives brilliant splashes of color and either interesting visuals or quirky statements like Crybaby and Space Babe.
I especially love the top that appears to feature a '90's website.
It's wearable by Teens through Elders and can be found in the everyday category.
5.

Sport Tank Top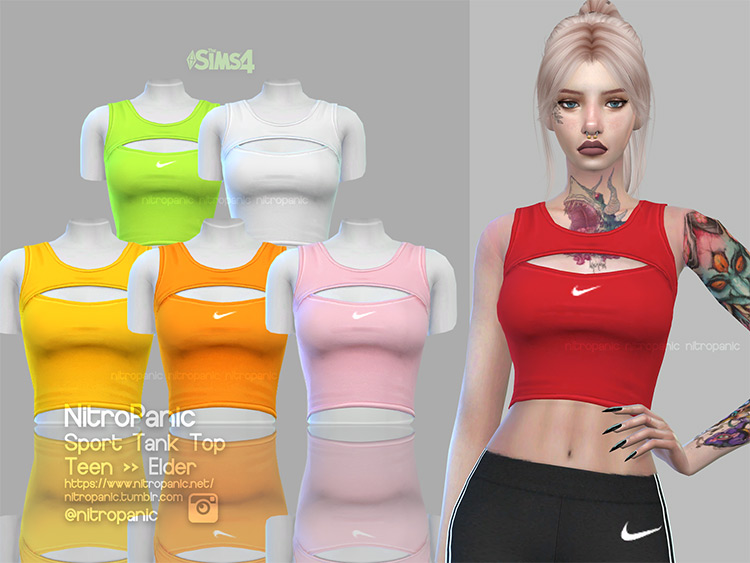 Tank tops aren't just great for lounging around in.
They're also an excellent choice for exercise and physical activity.
The sports tank top from Nitropanic is HQ and Nike-themed, with the famous swoosh featured right above the bust.
A cutout also above the bust gives it a cute design and also allows for breathability.
There are two versions of this top:
A solid version (33 swatches) and a gradient option (17 swatches).
4.

Oversized Tank Top
The straps on this tank top are barely there.
If your Sim would rather not have straps but still need support, this is a must have.
Annabluu's oversized tank top is loose and comfy, with a wrinkled look added to it for realism.
This would look great (and feel amazing) in sweltering hot Oasis Springs or Sulani weather.
This base-game compatible top comes in 16 swatches, including pink, green and blue.
It's also very HQ, and would work best for Alpha Simmers.
3.

Soft Tank Top
We love a tank top with flair!
And this soft tank top CC from Pinkzombiecupcakes stands out for the rest for one reason:
The tied wrap at the top.
Instead of a bow, the extra fabric is wrapped into a cute little knot.
It almost looks like a flower at first glance.
31 swatches are available for this in total. And the creator recommends pairing with jeans for a cute casual look.
Available for everyday, athletic, sleepwear, and party outfits.
2.

Simple Tank Top
When it comes to fashion, sometimes simplicity is best.
EllieSimple's simple tank top will quickly become a must-have staple in your Sim's wardrobe.
Thin straps with a loose fit will make for a comfortable, easy-breezy wear.
It has a high quality appearance and comes in a wide variety of 20 swatches.
1.

Wrapped Top
We've found it:
The queen of all tank tops.
The second LeoSims entry on our list is this wrapped top, an amazing tank with a truly unique style.
Instead of your standard straps, these meet at the back to form an X shape.
And if that's not enough, the wrapped fabric in front has a beautiful rose design on the bust area.
Plus the white and red top shown is already so gorgeous that we know the other 17 swatches are equally as wonderful.
Browse:
Lists
The Sims 4
Video Games