The Sims 4: Best Harry Potter Mods & CC Packs
This post may contain affiliate links. If you buy something we may get a small commission at no extra cost to you. (Learn more).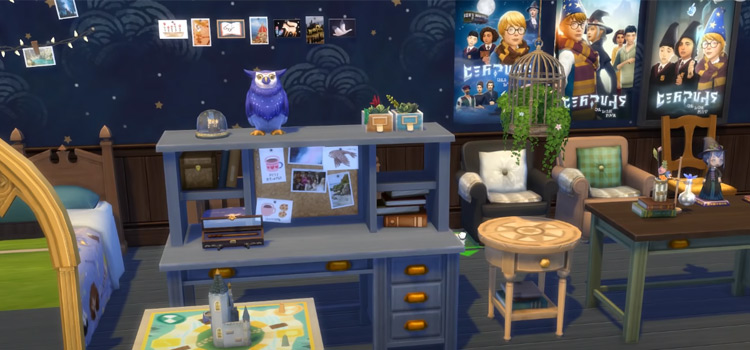 We've all put in crazy hours customizing in The Sims 4.
And with brilliant content creators producing new goodies for us, it seems like there's CC out there for everyone.
Harry Potter is no exception!
We all have our favorite books, films, TV shows, and in this list I want to focus on all the best Harry Potter CC you can find for TS4.
From décor to clothes and everything else, let's get magical.
Golden Snitch Earrings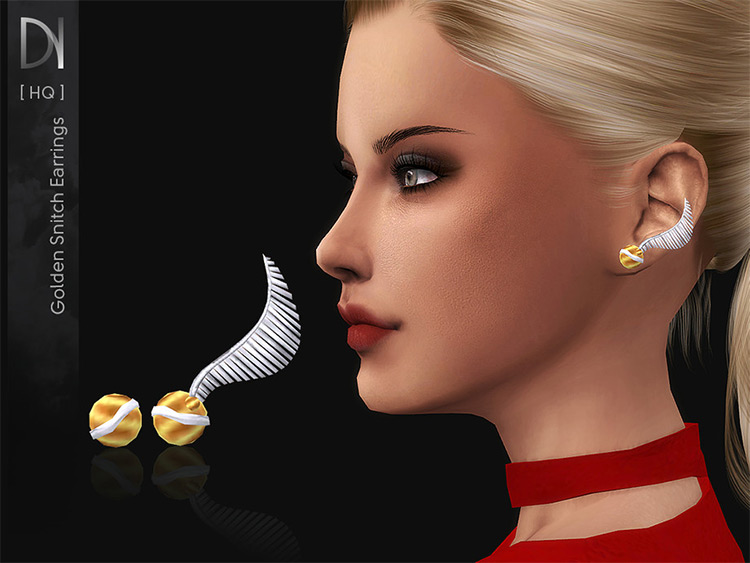 Let's start off with some accessories for the ladies.
There are a lot of options when it comes to jewelry, but Harry Potter jewelry? Come on.
First off we have these Golden Snitch Earrings by modder DarkNighTt.
We all know how elusive that golden snitch can be, but with these earrings you can permanently have them for yourself.
Deathly Hallows Earrings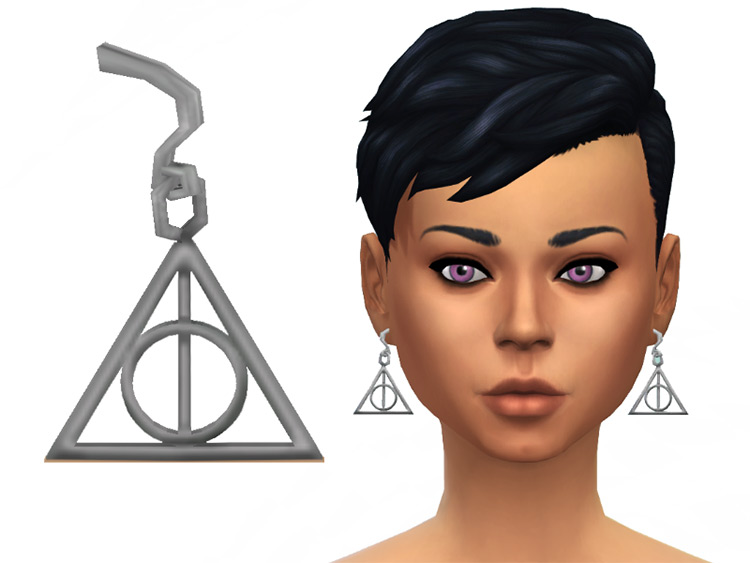 Instead of wearing golden snitch earrings, why not give the deathly hallows a try?
They're definitely less flashy in all silver, but will still catch people's attention
I mean, they're pretty big!
Also considering what the logo represents, these would be a great option if you're going for an edgier look.
Hermione Gown
If you need something for a more formal occasion, here's an outfit you may want to have at the ready.
You're eventually going to have to attend events that require something a bit more proper, and the Hermione Gown would be a perfect fit.
Just looking at side-by-side photos, this is an accurate replica of the pink gown worn by Hermione Granger in the Yule Christmas Ball at Hogwarts.
Luna Lovegood Glasses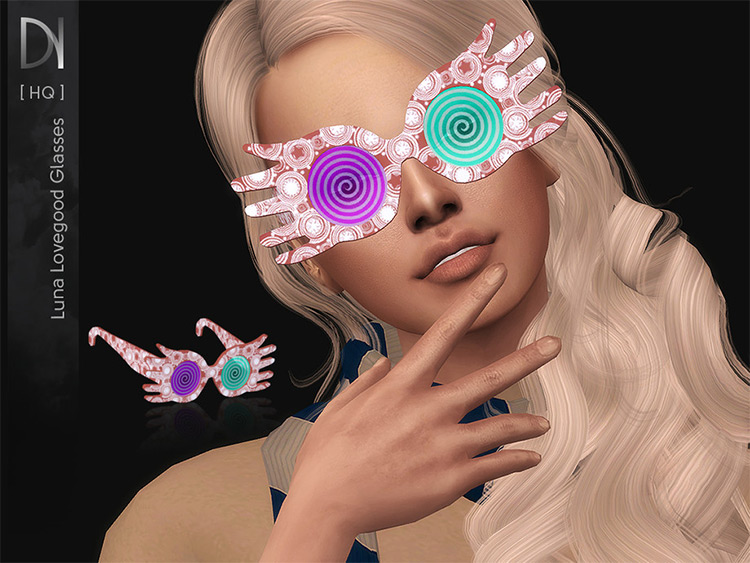 And if you feel like getting a bit wacky – here's some interesting CC for our glasses-wearing sims.
We all love Luna Lovegood's weirdness. So why not let a bit of that side show?
You can have your sims wear their very own Luna Lovegood Spectrespecs with this CC, again created by DarkNighTt.
Who knows, you might end up seeing wrackspurts as well.
Harry Potter's Hoodie For Men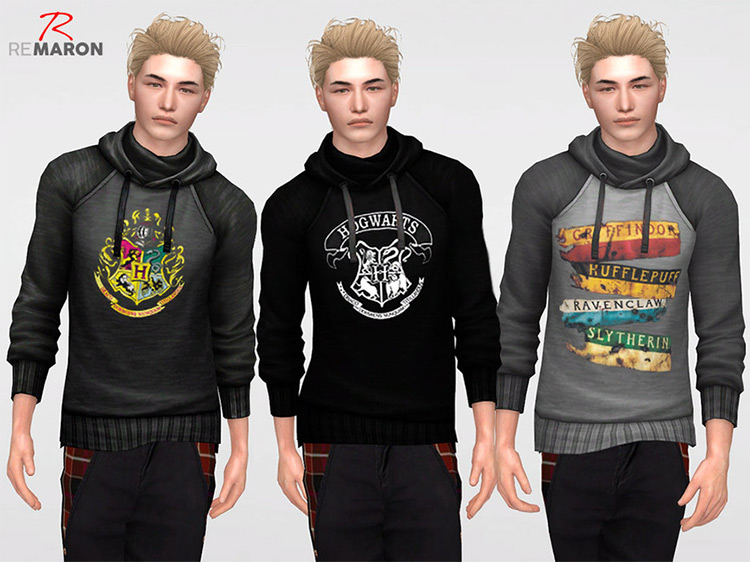 There are a few options for the guys as well, like this set of Harry Potter hoodies by remaron.
The set comes with nine different designs in different colors, so you'll have more than enough to cover each day of the week.
Two designs feature the Hogwarts crest, while the others display the different Hogwarts houses.
You can choose your favorite or wear them in rotation, whichever you prefer. Always a good time of year for some custom hoodies.
There's also a Hogwarts Quidditch hoodie here for your jock sims.
Simmy Potter's Hogwarts Uniform Top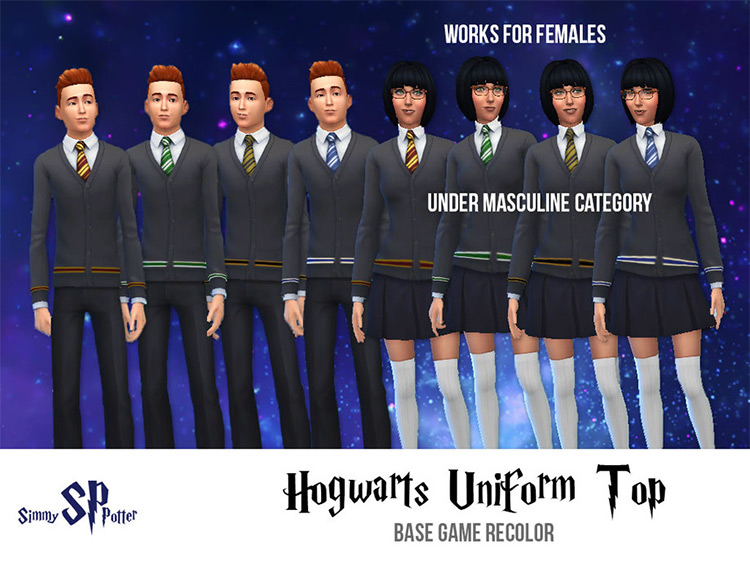 Do your kids ever wish they could ditch school to attend wizarding school instead?
Well in the Sims there's no stopping them (or at least they can pretend, right?).
Make it easy with this Hogwarts uniform set.
These even come with matching ties and accent color combinations, depending on which house they belong to.
Cool, right?
Harry Potter Toddler T-Shirts
Maybe your little sims aren't old enough for school yet.
But who says anyone's too young for some Harry Potter fandom?
Start them early with this Harry Potter Toddler T-Shirt set.
The set includes five different Potter-themed designs, and it's compatible with both male and female toddlers.
You'll have a couple Harry Potter, Deathly Hallows, and Severus Snape designs to choose from.
Their opinions won't really matter anyway, since they're too young to form their own, so go ahead and choose whatever grabs your attention.
Harry Potter Tattoos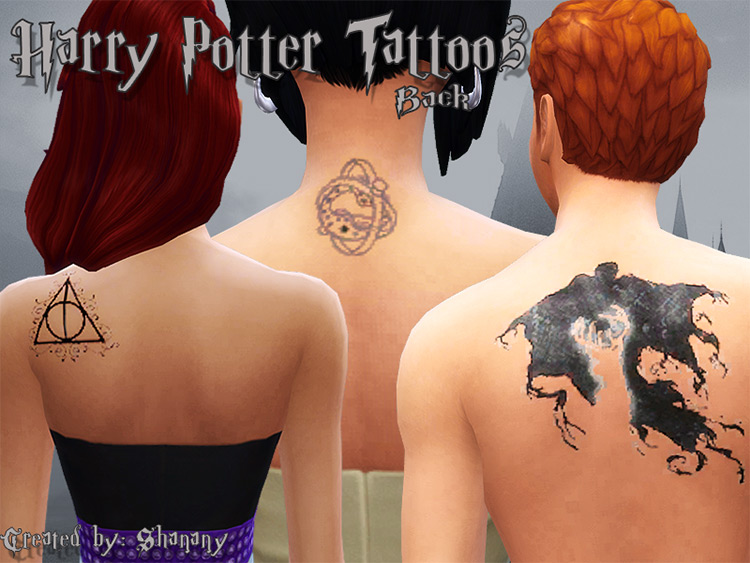 The more hardcore Harry Potter fans might be looking for a more permanent way to express their love for the films/novels.
What better way to do this than with Potter-inspired tattoos?
This CC set features three different minimalist designs, including the time-turner, Deathly Hallows logo, and Dementor and stag design representing the expecto patronum spell.
Tattoos can be placed on the back for a more conservative look, but other placements are available too.
And these are compatible with both male and female sims.
Full Body Tattoo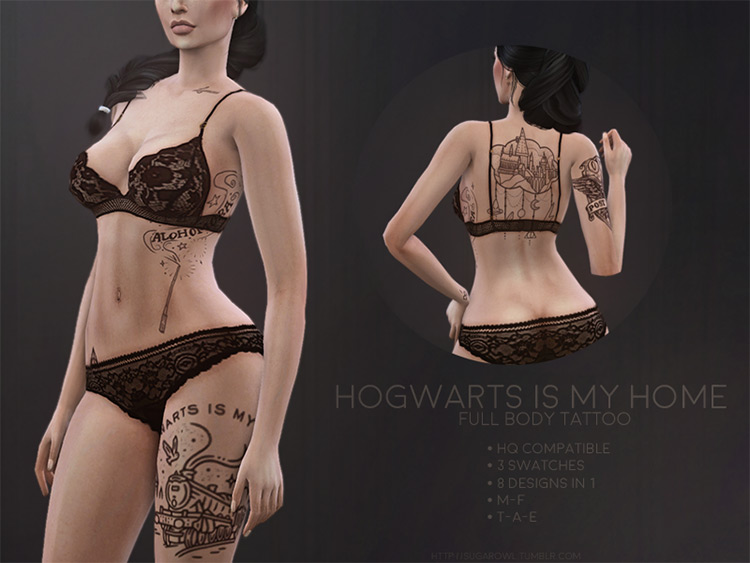 Those of you looking for an even more hardcore body art option to express your Harry Potter fandom, this tattoo pack should do the trick.
The pack actually includes eight different tattoo designs in one, so you'll be able to wear all your Harry Potter tribute art across your entire body.
The tattoos have no compatibility issues, so they can be used by all genders, all skin tones, and are available for teens and above.
Simmy Potter's Hogwarts House Wall Banners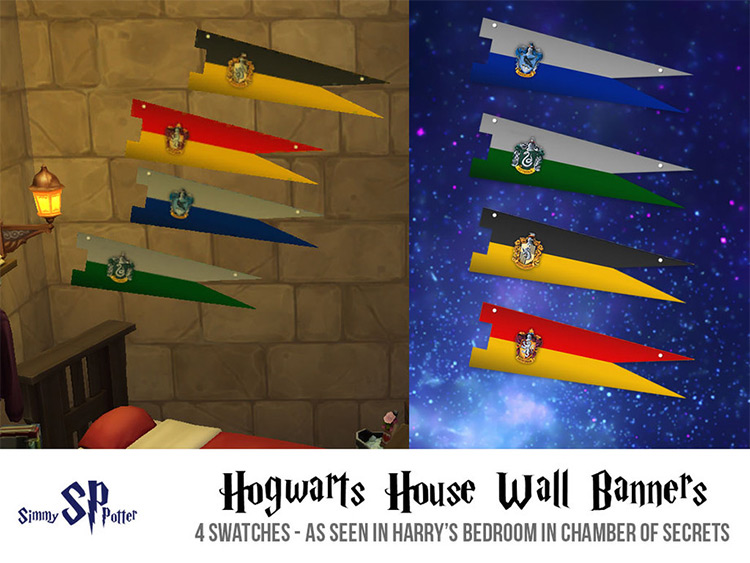 There is tons of CC out there for home decorations.
For those who want to display your fandom love in your house, instead of on your body.
Here you can proudly display your favorite house banners on your walls, as this pack includes one for each.
The banners are based on the design seen in Harry's bedroom in the Chamber of Secrets, and would bring life to any room of the house.
Harry Potter & Fantastic Beasts Movie Posters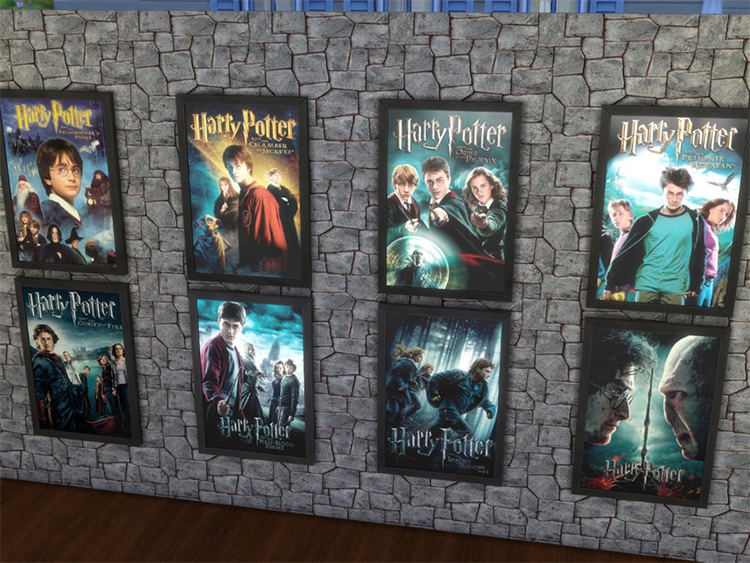 There's always something magical about seeing the evolution of the Harry Potter films from beginning to end.
Fans have noticed every detail, from obvious ones like how the cast has grown, to more subtle details like the font degrading over time.
The journey we took with the Harry Potter series is pretty hard to compare to anything else.
And here's a fun way to commemorate the series with your sims, with a chronological display of their posters!
As an added bonus, the CC set includes the posters for the two Fantastic Beasts films as well. I imagine these would look great in your movie room.
Harry Potter House Crests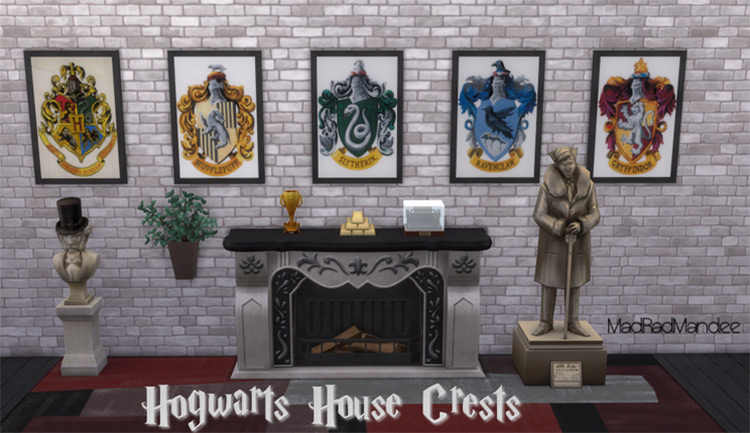 For an option that fits the Sims art style better, you can always go for these house crest frames instead.
The pack features frames for each of the four houses of Hogwarts, so you get to pick and choose where you hang each of them.
Albus Dumbledore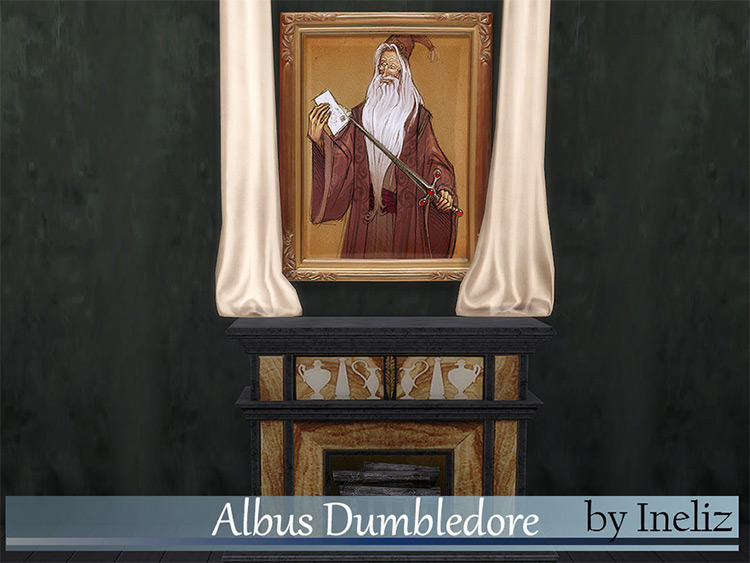 Dumbledore is basically everyone's favorite Hogwarts headmaster.
You might have your own opinion of who the most powerful wizard was, but Dumbledore's significance in Harry Potter is undeniable.
He was so important that Harry even named his second son after him!
What better way to pay tribute to one of the greats, than to hang this portrait in your home?
Though he wasn't alive to see the impact of his contributions, with this CC he will never be forgotten.
Harry Potter Room Set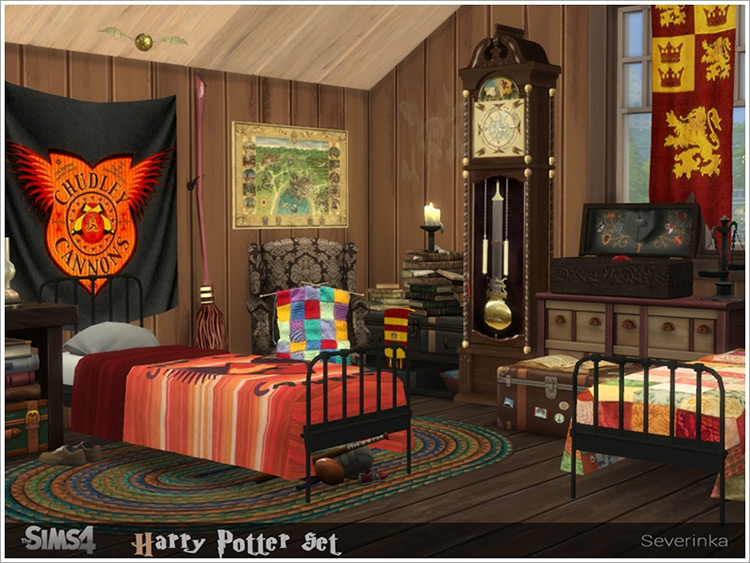 If you're looking to give your home a more expansive makeover, this Harry Potter set might be exactly what you need.
The pack includes a total of 11 new items that will turn any room into a wizard's chambers.
Featured in the pack are an antique clock, a blanket knit by Molly Weasley, Ron's bed, a quidditch chest, and a flying snitch.
The set also gives you access to two brooms – one that's strictly decorative and a completely functional Nimbus 2000!
Of course, the broom will only work for wizards. You're one step closer, though!
Dursley House – 4 Privet Drive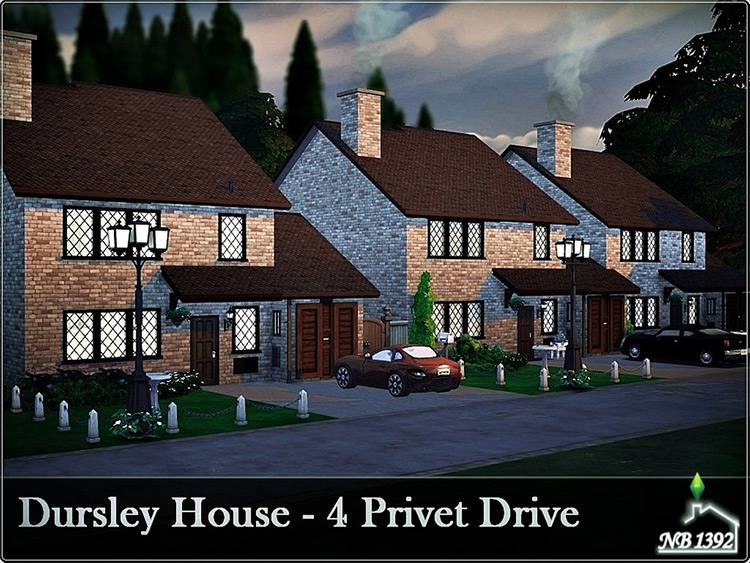 Since anything is possible in The Sims 4, you can even turn your neighborhood into the Wizarding World of Harry Potter.
And what better place to start than with the Dursley House?
The Dursley House at 4 Privet Drive was actually the beginning of it all. Where Harry lived in a broom closet, was eventually picked up by Hagrid, and would be the beginning of his great story.
This lot mod lets you build a complete replica of the house, including interiors based from shots in the film.
12 Grimmauld Place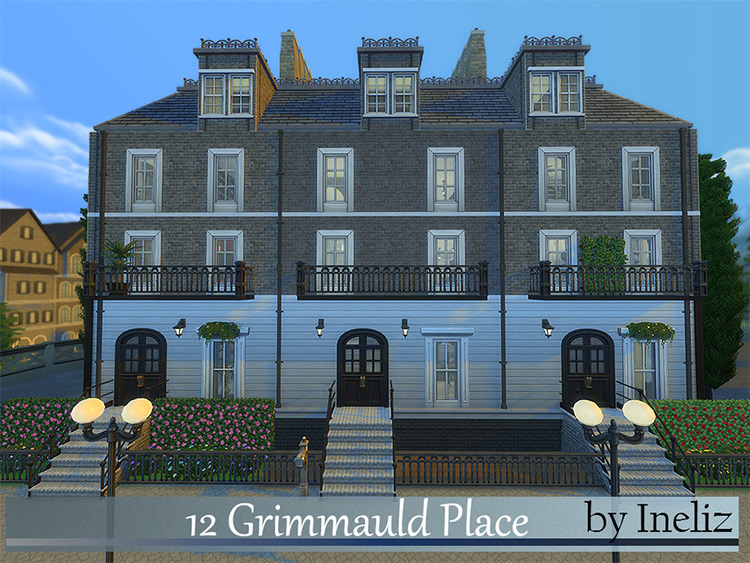 Next up we have 12 Grimmauld Place.
A fantastic lot worth downloading for sure.
You'll be able to build your own replica of the Black family, as seen in the films.
The house eventually became the headquarters of the Order of the Phoenix, so you may want to use this as headquarters for your own secret organization.
I'm not too sure how you're going to make it invisible to muggles, though.
Gringotts Wizarding Bank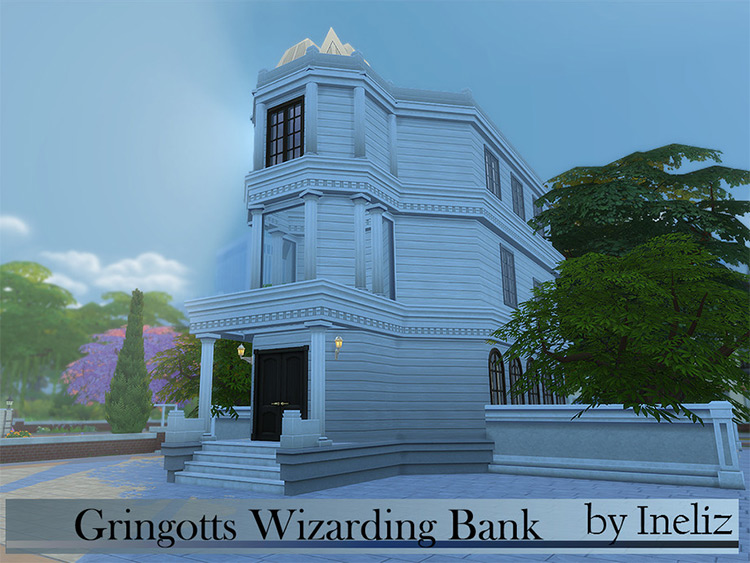 As in the real world, wizarding worlds need banks.
In the case of Harry Potter, there was only one bank in the entire world: Gringotts Wizarding Bank.
As you can imagine, the bank is rich with history being the only one in existence.
This is where you'll want your sims to go to sell their precious metals, crystals, and rare gems. Beautiful re-creation too!
Weasley Burrow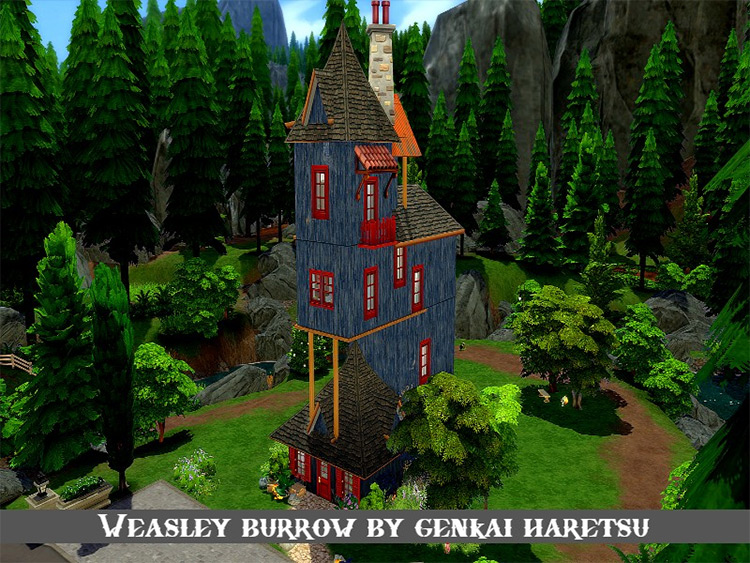 The Burrow was the family home of the Weasleys in the Harry Potter series.
It's easily identifiable due to its vertical orientation, which probably made it harder to recreate in TS4.
Thanks to GenkaiHaretsu, you can have your very own Burrow in your neighborhood.
The house lot features 4 bedrooms, 3 bathrooms, a kitchen, and a dining room, all based on the house from the movies.
The Burrow was used as headquarters as well, after the death of Dumbledore, so this would be a great way to commemorate the series in your Sims file.
Cabin of Hagrid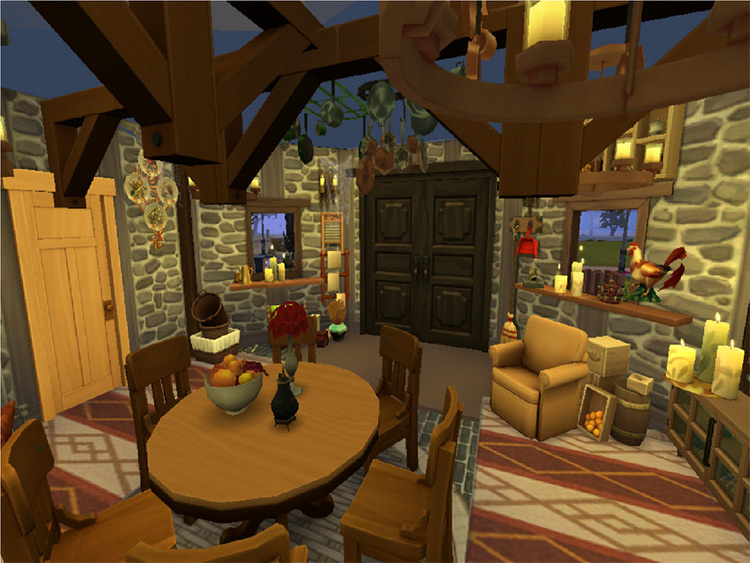 Let's not forget about Hagrid's Hut too.
The trio Harry, Ron, and Hermione would frequently visit here, and now your sims can as well!
Just like in the films, this recreation features a small cabin based on the one Hagrid lived in just outside the Forbidden Forest.
Though it's not a completely accurate replica since it has multiple rooms, it's probably the closest one you'll find. At least for Custom Content made for The Sims 4
The changes made here only improve on the original, so it would make for a better living space for your sims.
Hogwarts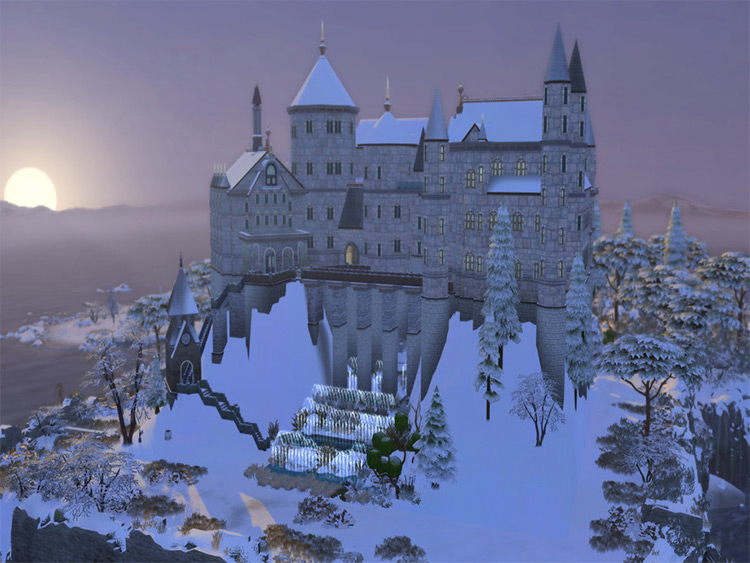 Of course, your wizarding world can't be complete without Hogwarts.
This large replica lot of the wizarding school is very impressive, to say the least.
It accurately captures how everything was depicted in the films.
Stepping inside, you'll see all the different classrooms and the great halls in all their detail.
There's so much to explore in this building alone, so you'll be spending lots of time finding new interesting details with each visit.
The hard work that went into this is definitely impressive, so the CC is absolutely worth checking out.
Browse:
Lists
The Sims 4
Video Games