Sims 4 League of Legends CC: The Ultimate Collection
This post may contain affiliate links. If you buy something we may get a small commission at no extra cost to you. (Learn more).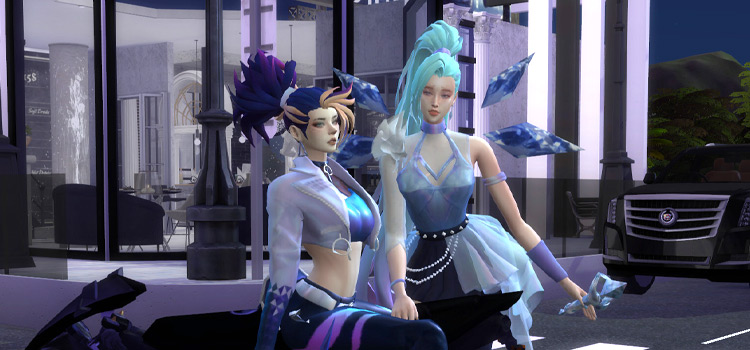 As someone whose first major exposure to League of Legends came in the form of K/DA (Riot's genius marketing move), I'm not yet a hundred percent familiar with all the champions in this game.
But since the League of Legends character designs fit so closely with EA's Maxis Match texture (kind of like Overwatch or Life is Strange), I can see why a crossover of content from the two games is such a good idea.
So this list of CC gave me a chance to get to expand my LoL knowledge, while simultaneously finding some pretty sweet LoL-inspired custom content.
1.

True Damage Mini Fan Pack by Purpretta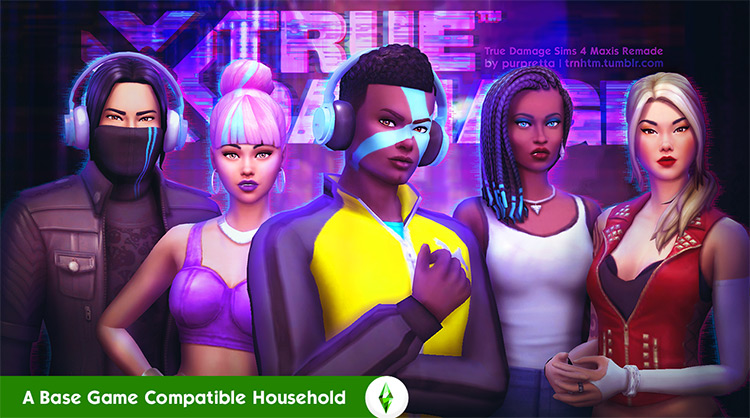 Even if you aren't familiar with League of Legends, you probably know of True Damage and/or K/DA.
I was there when Akali, Kai'sa, Ahri, and Evelynn broke the internet with their single, Popstars.
Giants by True Damage may not have raked in as many views, but the character concepts were definitely just as superb!
If you want Ekko, Qiyana, Senna, Akali, and Yasuo (in all their hip-hop glory) in your EA library, Purpretta's CAS pack is a must-have. It contains 11 BGC CAS items and 200+ new color/design swatches.
2.

Arcane Jinx (Updated) by mucammo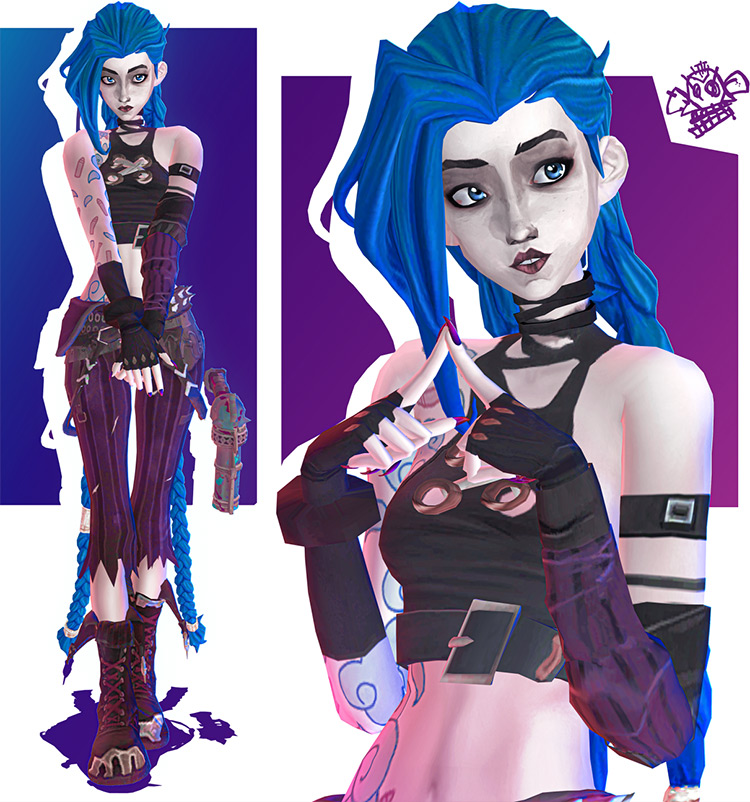 Arcane is another one of Riot's recent League of Legends-related masterpieces.
If you caught it on Netflix, then I guess Powder-turned -Jinx needs no introduction.
A lot of people praised her character redesign for Arcane, and I can honestly say that the hype was very well deserved. Absolutely loved her final look!
And if you want her in your game, mucammo created a pretty accurate – and fully downloadable – Sims 4 version of her!
3.

Arcane Vi by mucammo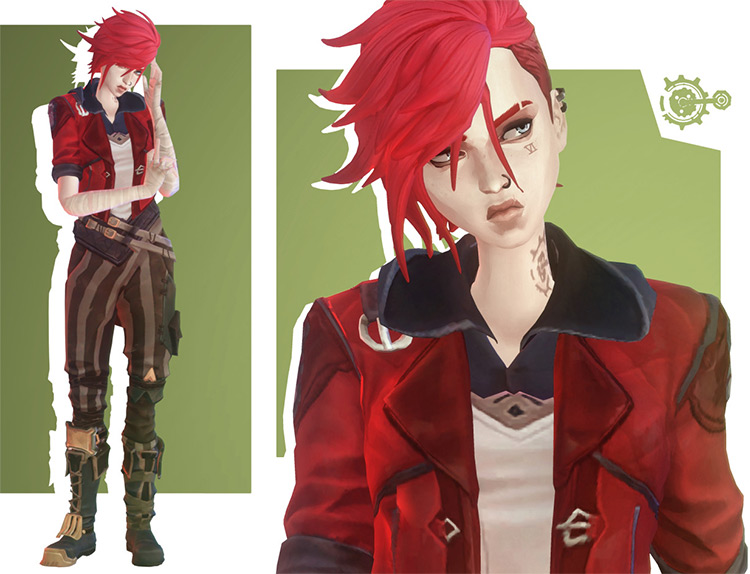 I love that mucammo did almost the whole cast of Arcane, because the characters really were well-written.
Vi happens to be my person favorite, and mucammo's recreation of her is so spot-on.
I highly recommend you download her Tray + CC files, because they did a fantastic job capturing the details of her facial features!
4.

Arcane Caitlyn by mucammo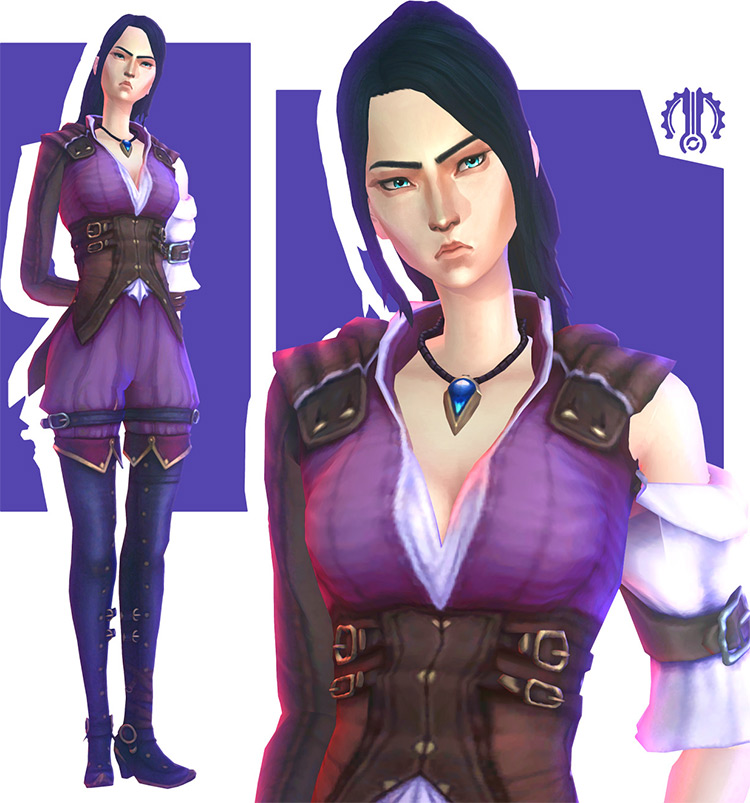 Gorgeous, sharp-shooting, by-the-book Caitlyn Kiramman is another strong Arcane character that I did not expect to fall in love with.
(Neither did Vi).
As before, I recommend downloading the creators Tray files as well as the CC used if you want your Caitlyn Sim to look exactly like she does in their preview photos.
But, of course, feel free to download just the CC folder if you want to build your own version from scratch.
5.

Arcane Viktor by mucammo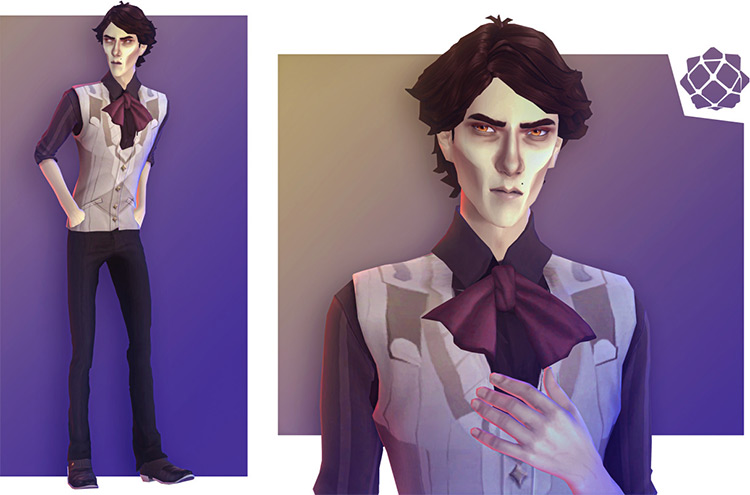 As someone just learning League of Legends lore, it breaks my heart to know that Viktor will eventually become The Machine Herald. But until it happens in the show, I feign ignorance.
Anyway, mucammo's TS4 version accurately captures Viktor's sickly, sallow skin. The mesh edit for his hair also adds a nice touch!
6.

Arcane Ekko by mucammo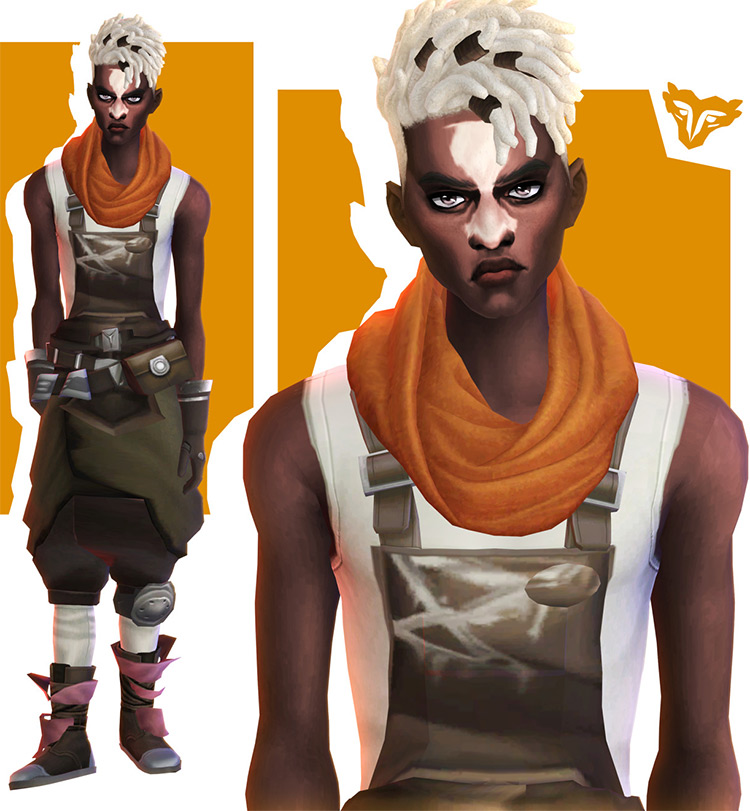 Last on the list of mucammo's TS4 Arcane cast (for now) is Ekko.
Apparently they built his outfit from scratch, which is why this particular CAS project was so challenging.
Definitely worth it, though; he looks fantastic!
7.

Slayer Jinx by mucammo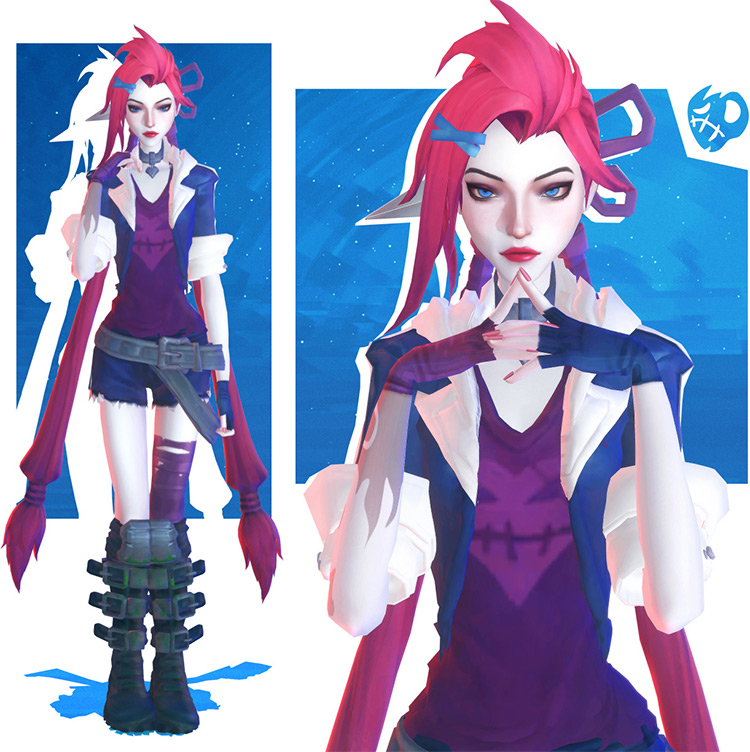 Not from Arcane, but definitely still League of Legends. This version of Jinx is based on her Slayer skin.
A quick Google Image search will tell you that mucammo, once again, nailed this TS4 recreation.
8.

Lux by Natalia-Auditore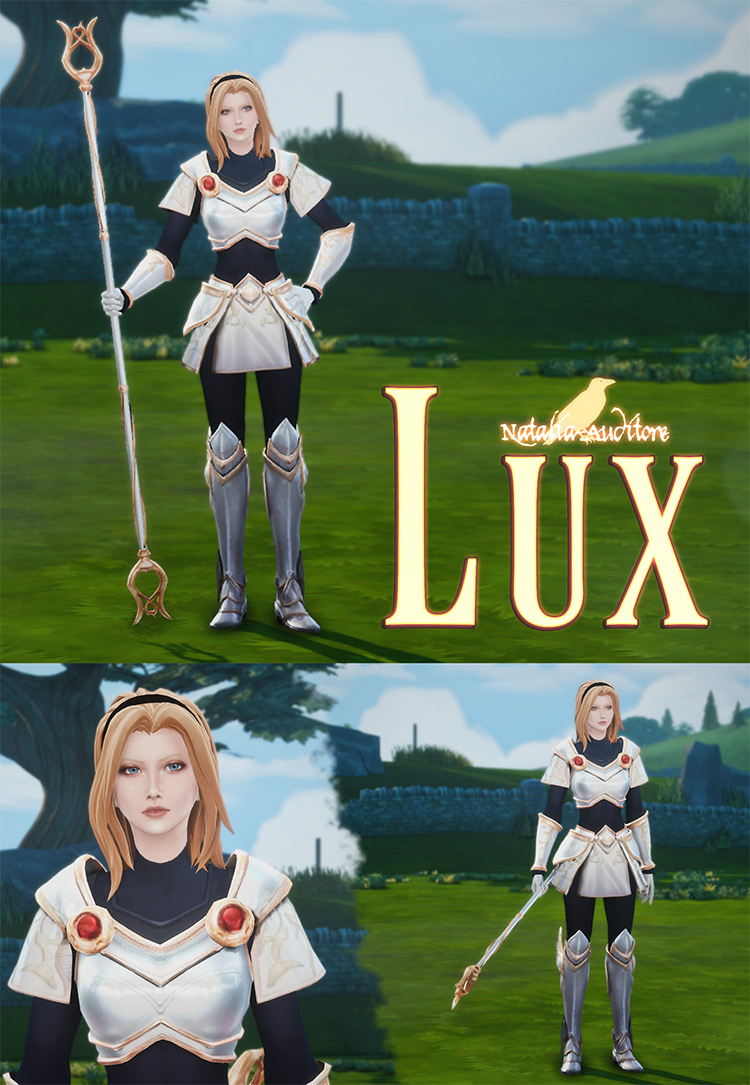 Luxanna Crownguard's design reflects her light-bending abilities.
What color palette would best suit the Lady of Luminosity other than yellow, white, and gold?
Natalia-Auditore's Lux pack is a simple set that contains most of what you need to build her in CAS: her outfit, her hair, and her staff.
9.

Kai'Sa Accs by Natalia-Auditore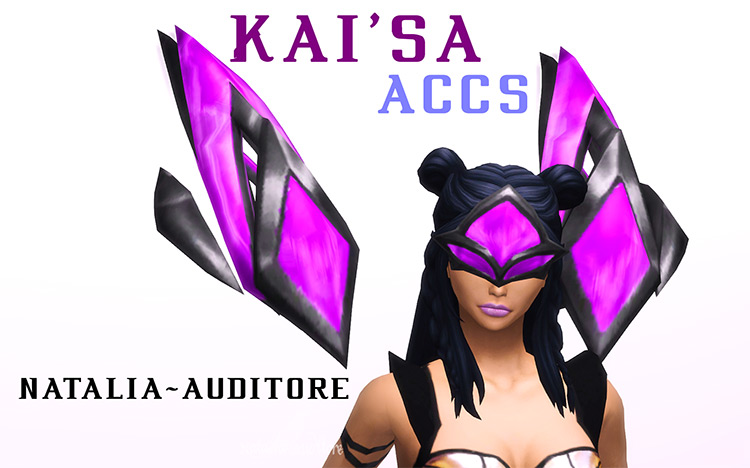 In League of Legends canon, Kai'Sa's character design includes some pretty sick epaulettes that – from certain angles – resemble wicked-looking wings.
They kept them for her K/DA Popstars look, only they made them more streamlined and futuristic-looking.
So I wouldn't recommend using these specific custom accessories if you're aiming to recreate Kai'Sa's base LoL design.
But if you're making Kai'Sa from K/DA, this set is perfect!
10.

K/DA Popstars Ahri – Set001 by AleNikSimmer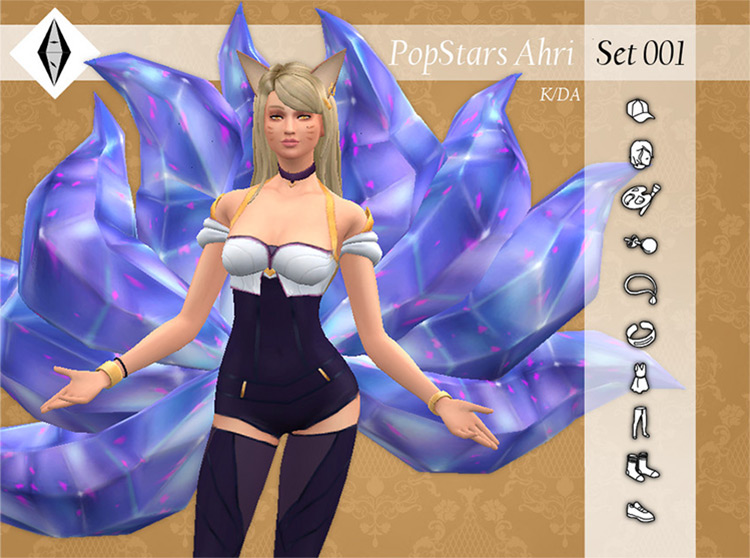 Same cautionary instructions from the last item apply to this K/DA Popstars Ahri set by AleNikSimmer.
Ahri's base League of Legends design is pretty different from Popstars Ahri. Her tails are more crystalized, her clothes are more modern, and her hair is blonde.
This set is pretty far from LoL Ahri, but you can use it to create K/DA Ahri just fine!
11.

Evelynn Acc by Natalia-Auditore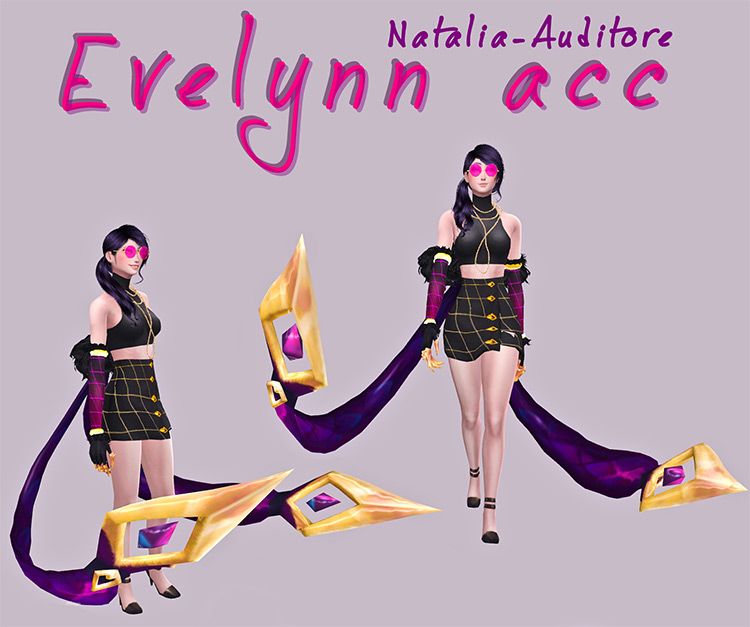 Seeing Evelynn's original LoL design, having come from K/DA Evelynn, was a bit of a shock (but she's still freaking gorgeous either way, so).
These custom ropey, tendril-y accessories are every bit as gravity-defying as Evelynn's actual cosmetics. They make for some pretty dynamic screenshots, too!
12.

Evelynn (Hair) by tekri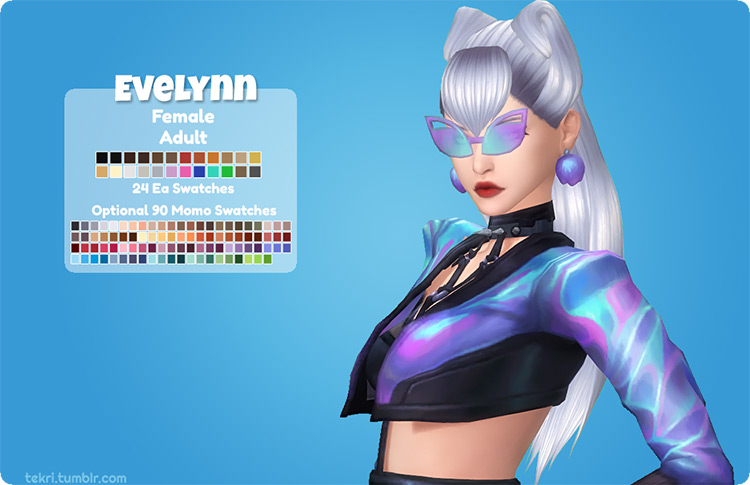 K/DA Evelynn's hair in their All Out comeback is pretty different from her Popstars 'do. I wasn't a big fan at first, but the style eventually grew on me.
Plus, it's a lot closer to her actual League of Legends base hairstyle, I think.
Tekri's file contains three variations of Evelynn's ice-white locks: two without bangs and one with.
13.

K/DA Hairs Set by Azerty Sims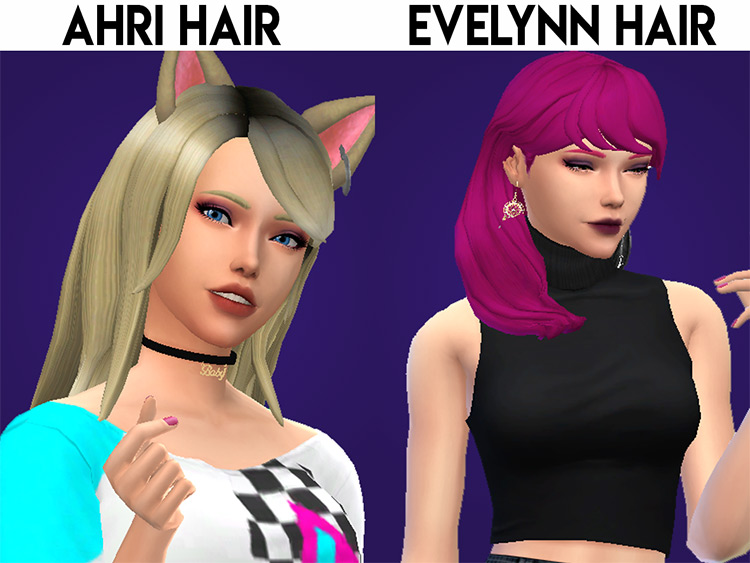 If you want to create all four K/DA girls for Popstars, Azerty Sims' pack is pretty handy! It's a one-stop grab-gag that contains custom hair for all four members (plus Ahri's earring, if you want it).
They even include two versions of Akali's hair; one with the K/DA cap (it's actually part of the base hair mesh), and one without.
14.

K/DA – All Out Akali Hair by Raccoonium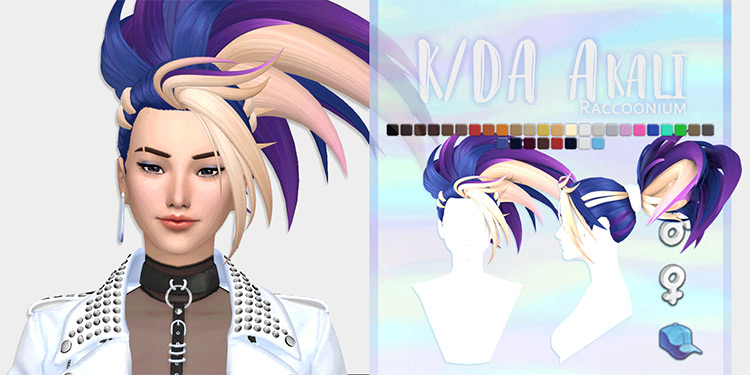 K/DA Akali's hair for their All Out comeback is this spiky, colorful, windswept mash-up of blue, purple, and blond.
The shape isn't easy to achieve through any normal means, either.
It's a high pony with lots of pointed sections. If you want to recreate it IRL, you need either a wig, a truckload of hairspray, or a personal favor from God.
Thankfully, Sims 4 meshes are a lot easier to mold. Racoonium's custom All Out Akali Hair is incredibly accurate (and incredibly high-quality, too!).
15.

Nami Mermaid Tail by Merman Simmer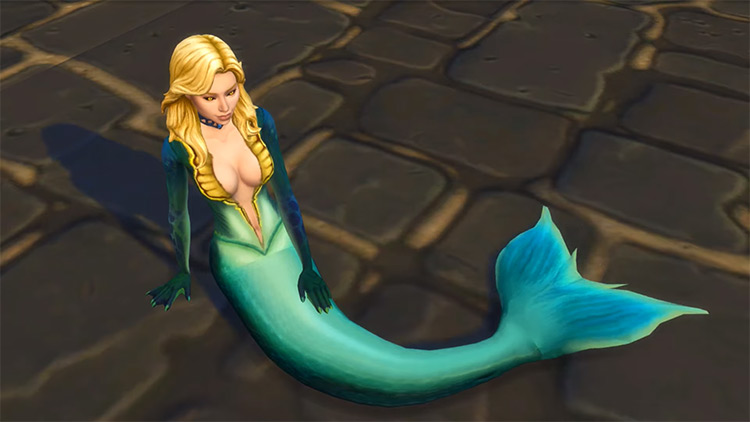 Described as a "headstrong young vastaya of the seas," Nami the Tidecaller is a water-based LoL champion with a full crown, an intimidating staff, and – you guessed it! – a mermaid tail.
Even if you have Island Living installed, none of the default mermaid tails that come with the pack match Nami's.
So, best to get Merman Simmer's Nami Mermaid Tail. It's pretty darn accurate too, based on the comments League players are leaving!
P.S. the download link is in the top pinned, but here's the direct SFS link if you can't find it!
16.

Rakan – Star Guardian by Natalia Auditore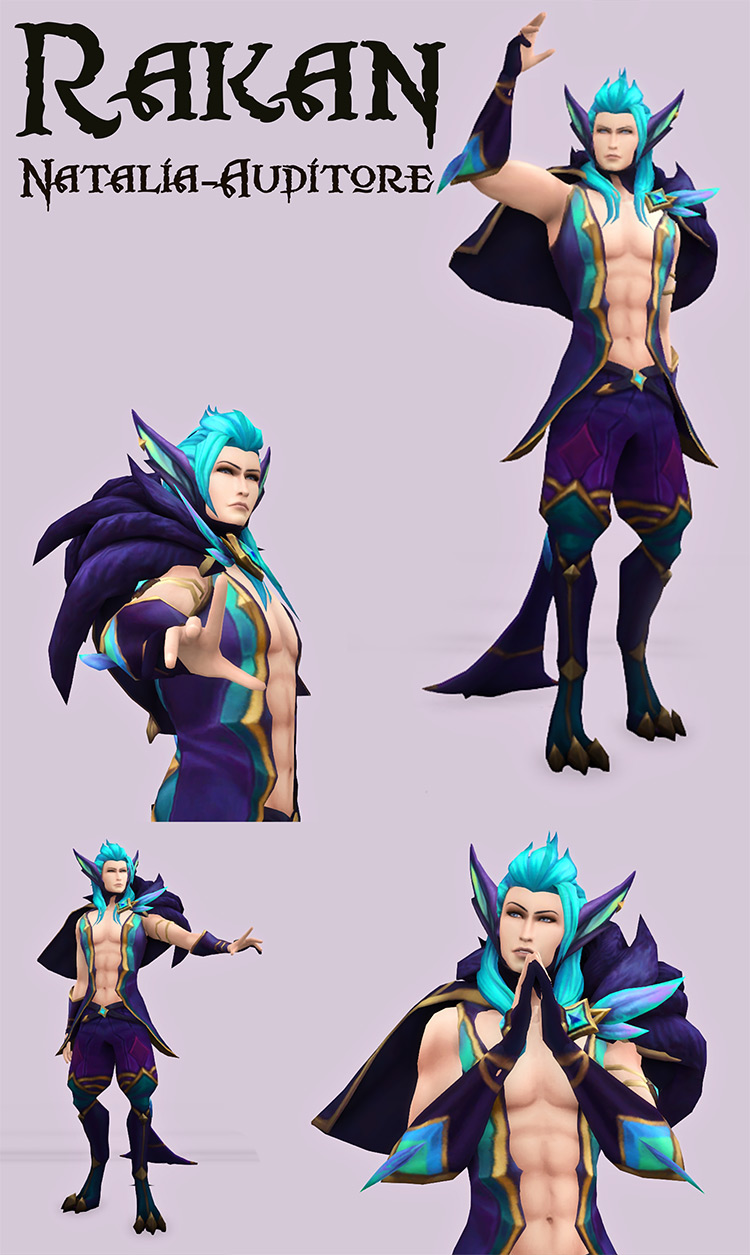 Rakan is a League character that I've never come across on any other consumable media (like videos, cosplay photos, fanart, etc.), so I'm basing my judgment of Natalia-Auditore's CAS set on Google Image results.
They definitely nailed this one, as per usual. The hair, cloak, and outfit are all on-point.
17.

Syndra Star Guardian by Natalia-Auditore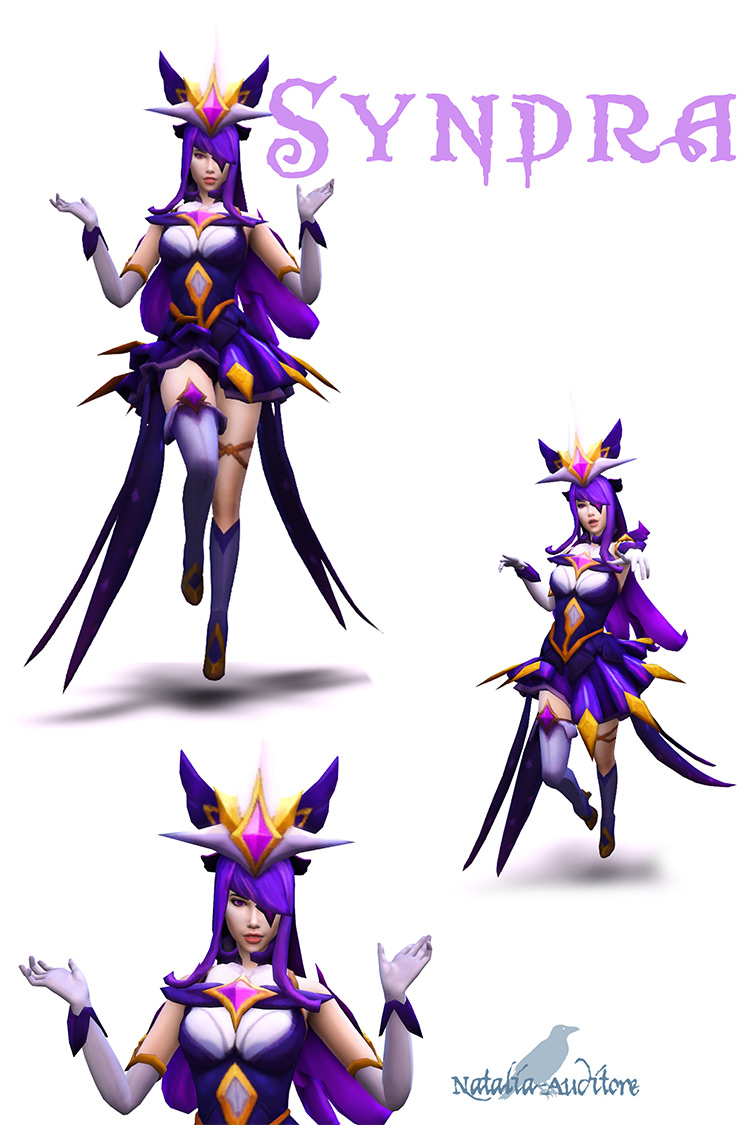 I've seen enough of Syndra's game skins to know that her main color is rich purple.
However, Natalia-Auditore's recreation of her Star Guardian outfit comes with several other color options, just in case you feel like mixing things up.
This pack, despite being for just one character, is pretty extensive! It contains Syndra's Star Guardian hair, outfit, boots, and eye patch.
18.

Ahri Set by Natalia-Auditore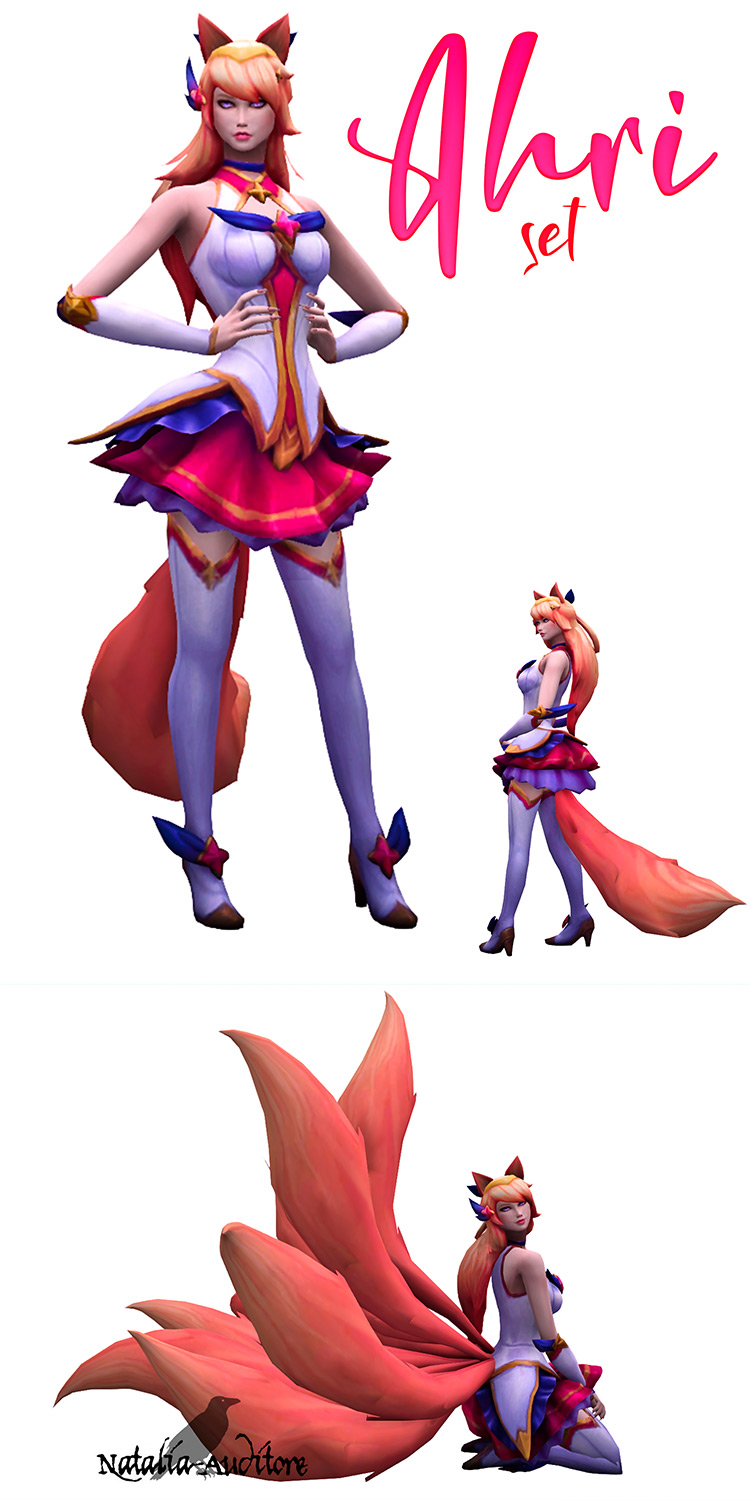 Unlike her K/DA iteration, Star Guardian Ahri's tails are quite fluffy! Seems like there's a lot more fur and a lot less crystal involved.
If you're going to download the whole pack, do note that this specific tail accessory only works with Ahri's hair from this set!
This means you can't give these nine tails to other random Sims. They'll either mess with the texture of other CAS stuff or they won't show up at all.
19.

Caitlyn Outfit by Lavoieri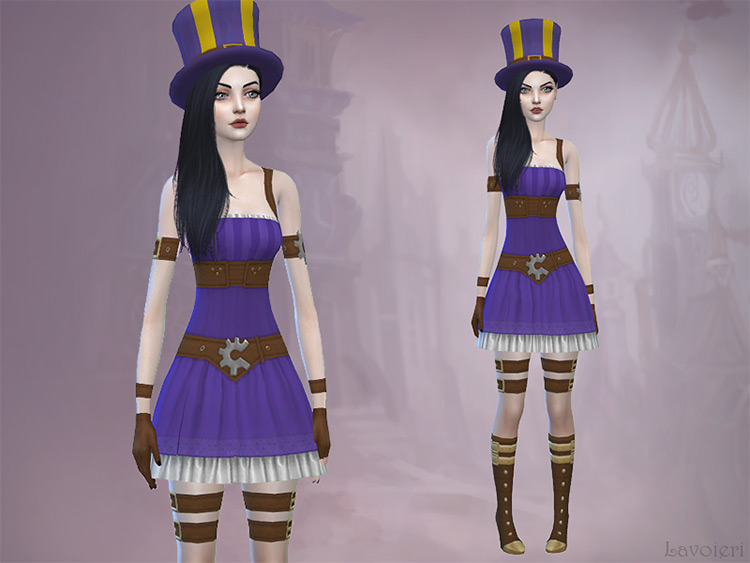 This is, apparently, Caitlyn Kiramman's actual League of Legends outfit.
Dunno how I feel about the striped hat, but the dress is cute!
All the items in this pack can be installed separately, so you can customize Caitlyn's look in your game (to some degree).
20.

Morgana Set by Lavoieri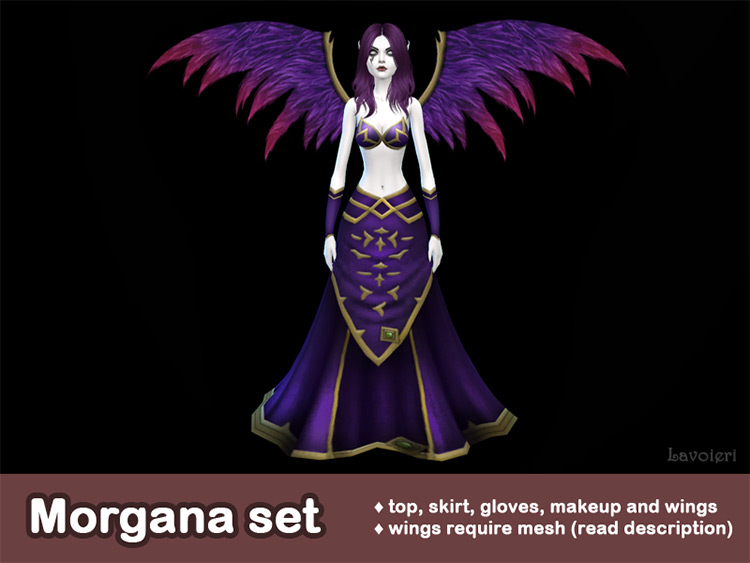 This fairly extensive CAS set is for creating Morgana, the Fallen, in TS4.
You get five separate .package files here:
Her top, skirt, gloves, makeup, and her wings.
All the items are base game compatible, but you'll need to download and install a separate mesh for the wings to work. You'll find the link the creator's description!
21.

Sentinel Vayne Hair by Racoonium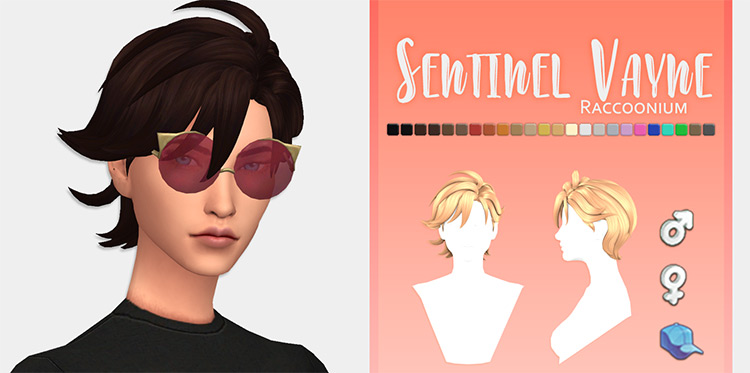 Vayne is a sharp-shooting, vengeance-driven champion with a pack full of sharp crossbolts and an even sharper sense of fashion.
Her style seems very sleek, svelte, and spiky—in all the best ways.
Not sure if any Sims 4 CC creator out there has made her outfit yet, but – thanks to Racoonium – we can at least have her spunky hairstyle.
22.

Miss Fortune by Natalia-Auditore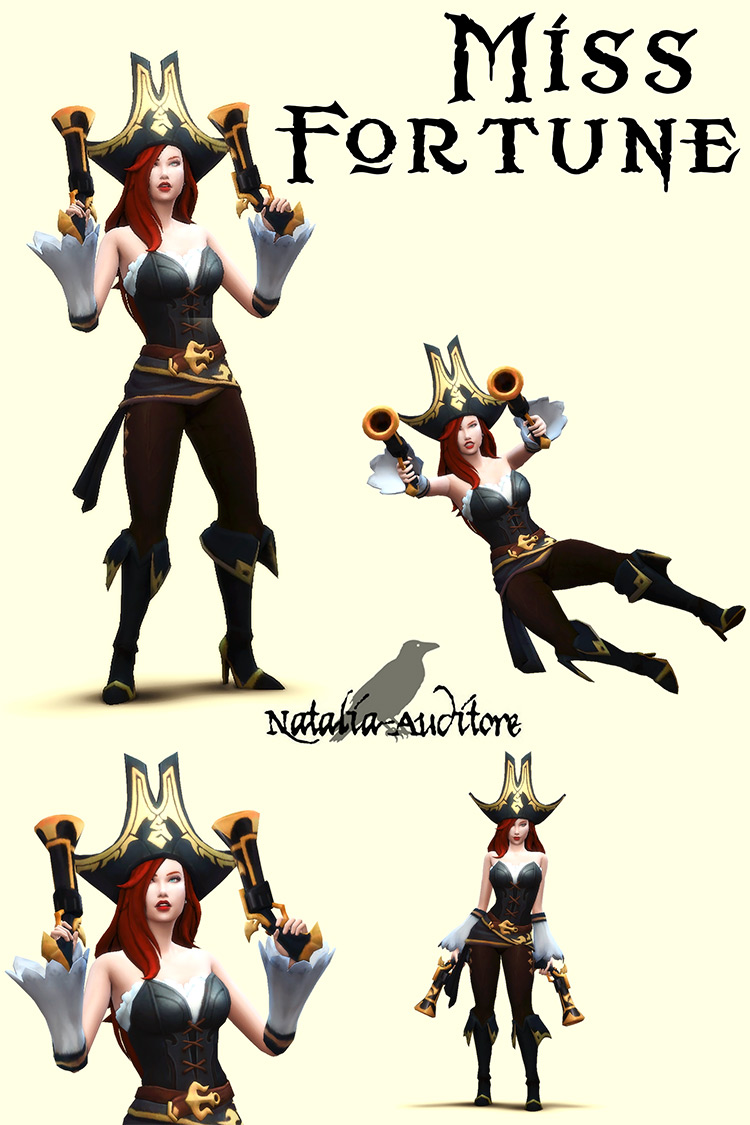 If I were to ever play a LoL champion based on the names alone, I'd definitely choose Miss Fortune. The wordplay alone is beautifully done!
Natalia-Auditore's character set includes her brilliant red hair (which, unfortunately, doesn't work with other hats except the one in this pack), her tricorne, her outfit, and her pistols. You'll still have to build her from scratch, but CAS packs like these make it easier to nail her general visuals.
23.

VI Arcane Set by Natalia-Auditore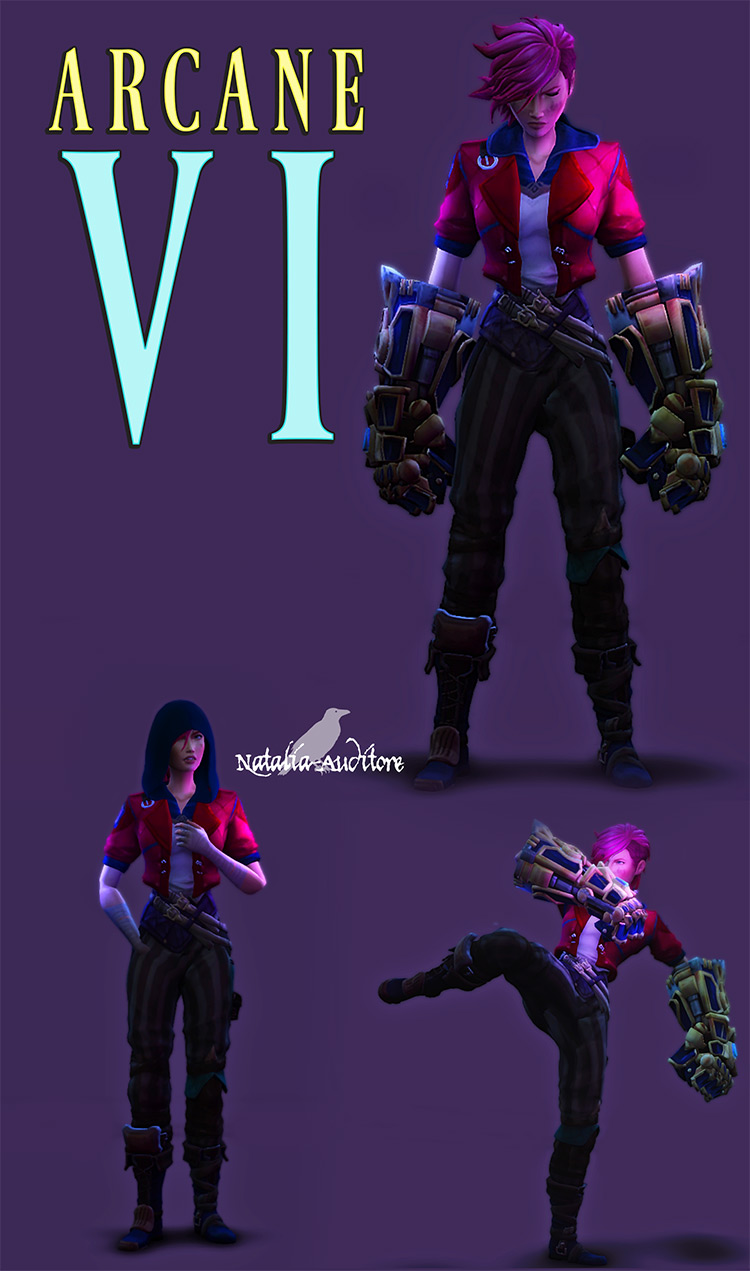 This is another CAS set for Vi based on her Arcane design!
The items translate beautifully in-game; especially her spiky pink hair and the huge-ass gauntlets. I also love that they included an option for hooded Vi. It just adds to her effortlessly cool vibes!
24.

Evelynn from League of Legends by botrom-u1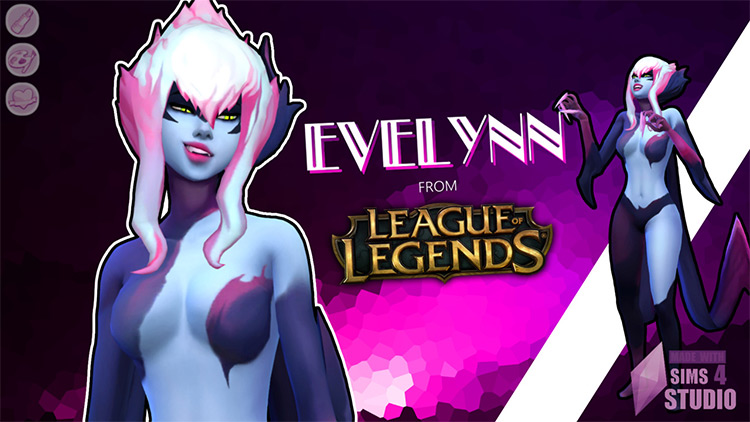 This CAS pack for Evelynn contains stuff for her League of Legends base design. Her demonic, otherworldly features are pretty difficult to translate to TS4—especially since the vanilla CAS sliders are pretty limited.
Thankfully, botrom-u1 fixes that with a ton of custom skin and body overlays.
25.

League of Legends: Star Guardian Akali by kaguya-fox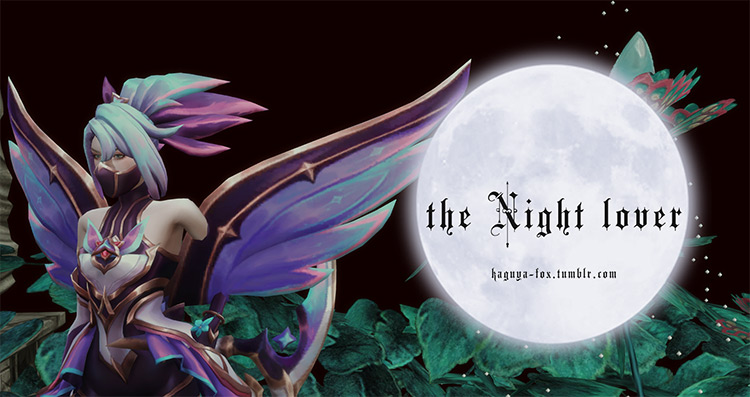 This set by kaguya-fox contains most of what you need to recreate Star Guardian Akali in the Sims 4. She still retains her sharp, deadly assassin charm.
This version is just a little more colorful (and sparkly).
26.

KDA All Out Kaisa by kaguya-fox
Kai'Sa outfit for the All Out comeback is this sexy cropped halter top paired with skin-tight spandex pants. But there also about a dozen additional accessories attached to the outfit to make it K-Pop Idol-worthy.
Thankfully, kaguya-fox's custom, full-body outfit combines all the fiddly bits into one seamless costume that your Sim can wear in just one go!
27.

K/DA All Out Akali & Seraphine by fielero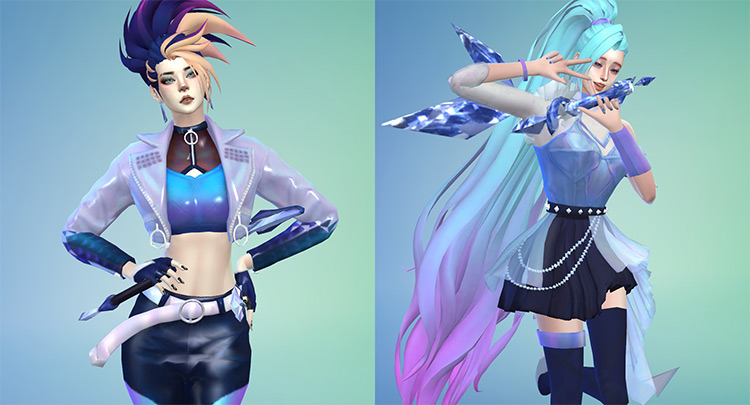 As someone who always struggles with creating even mildly attractive Sims, I'm forever in debt to talented Simmers who don't mind sharing their masterpieces with the rest of the community.
These K/DA Akali and Seraphine Sims were apparently paid for (by the original poster, I'm guessing) but can be shared – and downloaded – for free.
That's really cool of them, especially since the quality of these custom Sims is so insanely high.
28.

League of Legends: Seraphine by kaguya-fox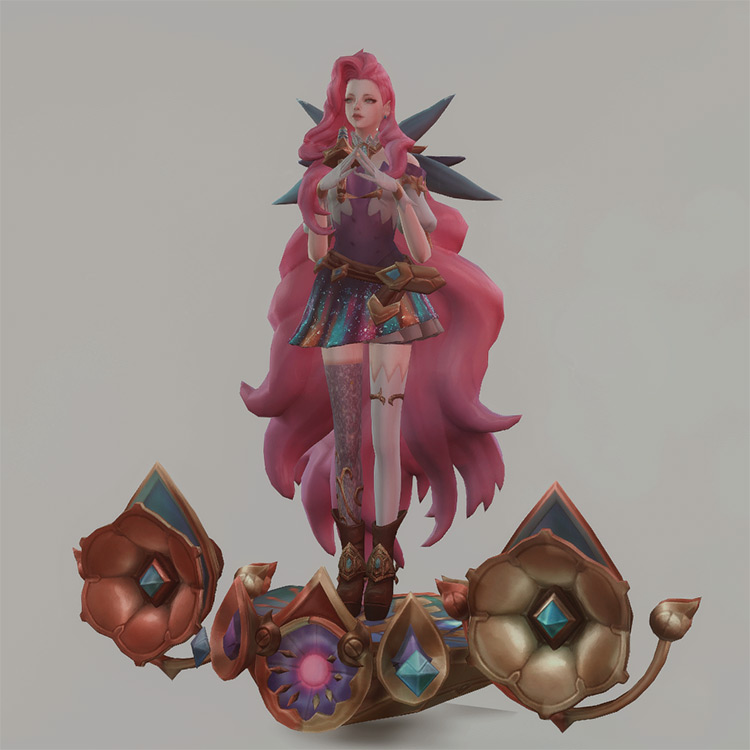 Pink-haired Seraphine for your game?
Why not!
I first thought this was her Star Guardian skin or something, but no. Turns out, Seraphine is just a naturally bright and sparkly character.
The creator couldn't include all of the tinnier, more obscure items of her outfit, but they managed to keep in the most important accessory of all: Seraphine's crazy-long hair in all it's thick, fluffy, voluminous glory.
29.

Viego: Ruined King by Natalia-Auditore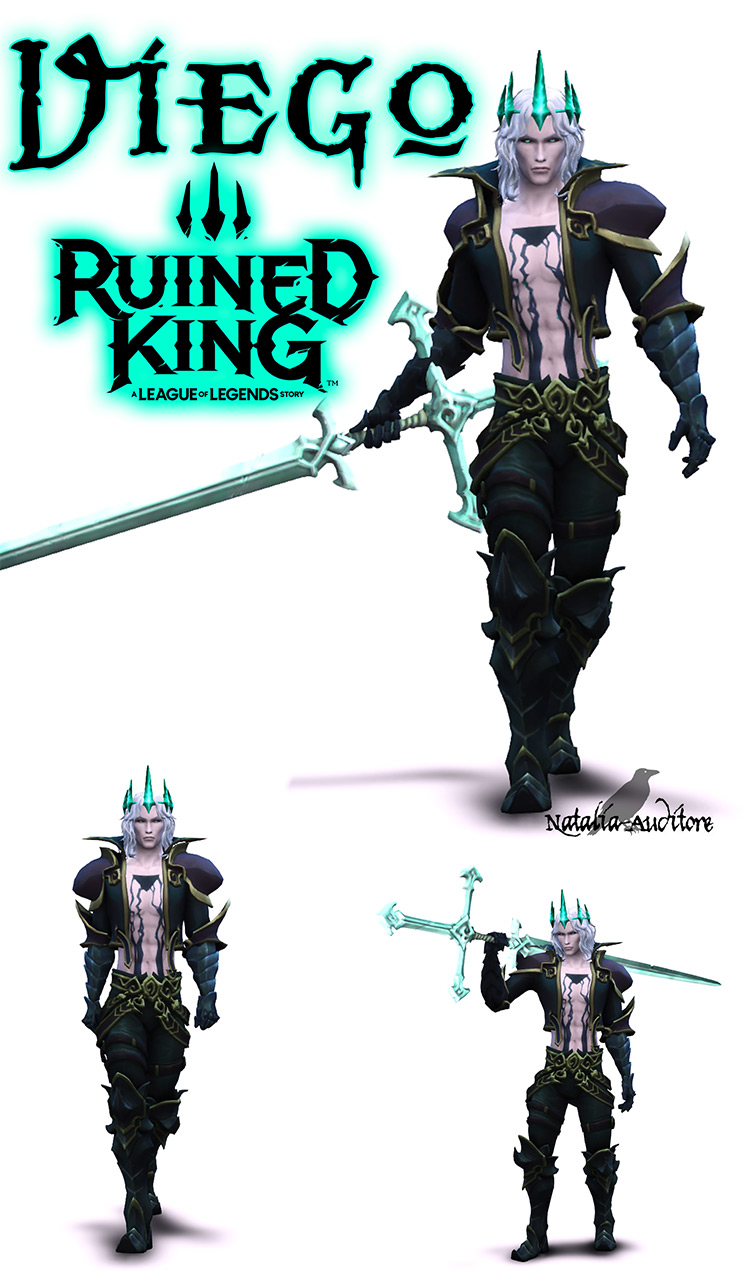 Viego's lore is one I got genuinely invested in.
I won't dare go into the details (lest this article double in length), but I will say that it's a tale of deranged love, heartache, and woe that's right up my alley!
This CC pack contains several cosmetics for the Ruined King, like his sword and his crown. You'll have to download his hair via a separate post (linked in the description), though.
30.

Viego Posepack by Natalia-Auditore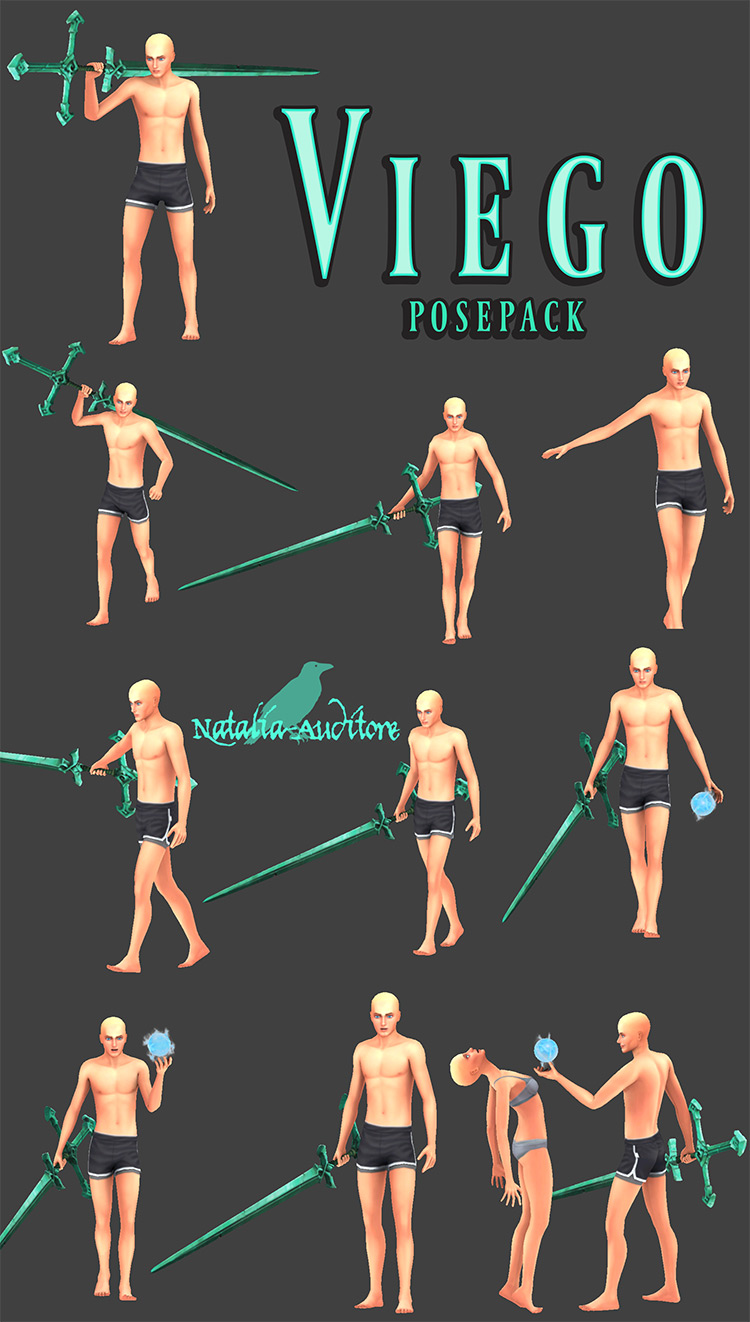 If you loved Natalia-Auditore's preview photos for their Viego: Ruined King CAS set, you can recreate them in your own game.
This is a separate download containing some cool custom poses for our suffering sovereign.
Hey; if you're going to install his giant-ass sword, you might as well go the whole nine yards and give him some cool opportunities to wield it!
Browse:
League of Legends
Lists
The Sims 4
Video Games