20 Animal Crossing: New Horizons Basement Design Ideas
This post may contain affiliate links. If you buy something we may get a small commission at no extra cost to you. (Learn more).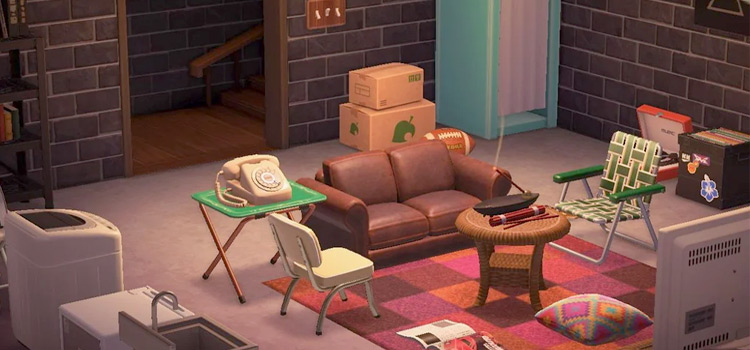 Who said basements have to be dark, dusty, and damp?
Animal Crossing: New Horizons provides plenty of decor, furniture, and QR code access to make the bottom-most floor of your home into a hub of activity – or a peaceful escape for you to practice self-care.
Maybe you're just not sure what to do with that basement space. We all need a bit of inspo every now and then, right?
Well take a peek at some of our favorite ideas ere, and see if you can come up with your own!
Note: just remember that HHA doesn't grade the cellar, so you can be creative without worrying about boosting your feng shui every Saturday evening.
20.

Laundry Room Basement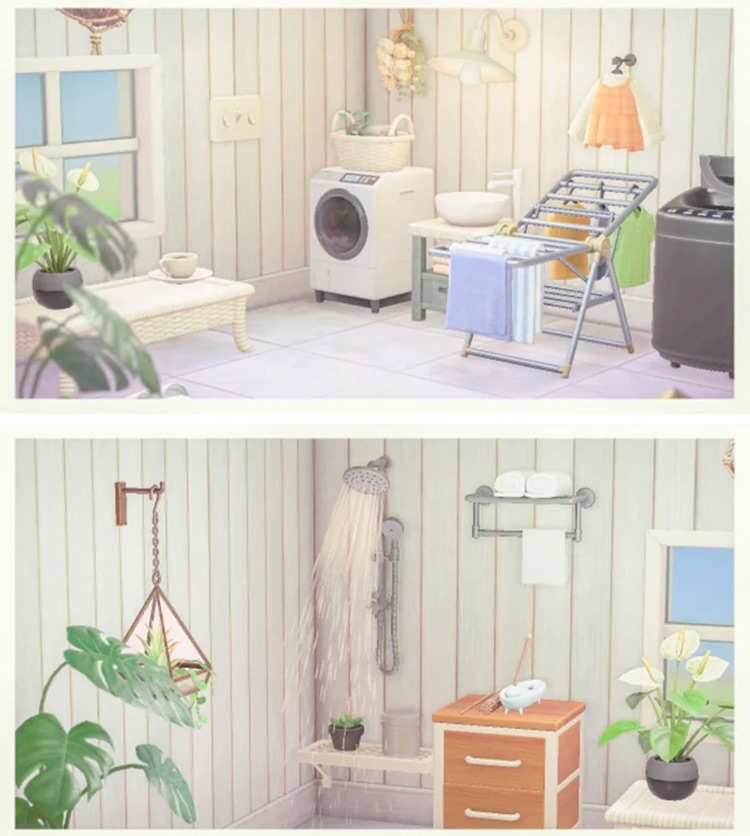 There's something about doing chores in a game that's so much more fun than doing chores in real life!
This basement laundry room is decked out with everything you need to wash, dry, and fold your way to a tidy, happy home (at least on your island).
The built-in shower is perfect for washing off the sand after a day at the beach. Or for taking a shower and warming up without tracking water when you're done splashing around.
Crisp, white furniture keeps the room light and airy.
Simultaneously, charming accessories (like the miniature tub on the side table) make this basement laundry room cute enough to be featured in the latest Nook Inc. getaway package brochure!
19.

Home Gym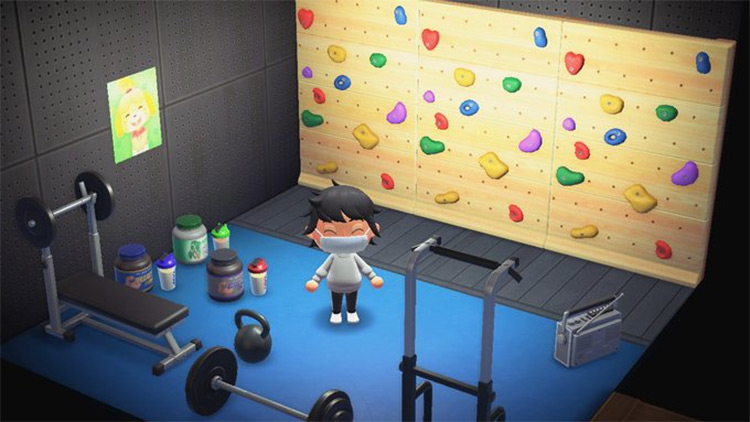 Every day is leg day on the island.
Put Scoot to shame by beefing up in your very own basement home gym! This design is packed with muscle-building protein powders, workout equipment, and even an inspiring portrait of Isabelle to keep you motivated.
Best of all, though, is the rock wall.
You can grab one for yourself from Nook's Cranny in various colors (including natural, pink, white, and blue) to match your interior design needs.
18.

Guest Bedroom
This foliage-filled basement guest bedroom makes us green with envy.
Invite your friends over for a sleepover, or treat yourself to an extended stay-cation by turning your cellar into a delightful spare room.
The monotone green in a variety of hues creates a lush, tropical feel, even in the middle of winter.
Plus there's a cozy couch and plenty of literature to keep guests entertained when they're not fishing, bug-hunting, or shopping.
17.

Spa Basement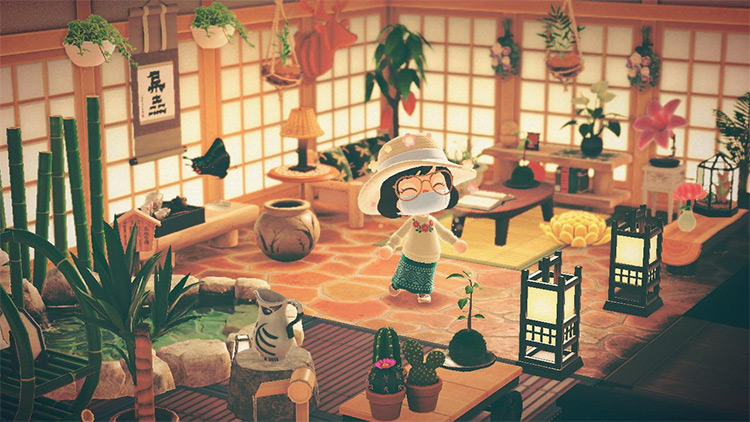 If you love the idea of having a basement decked out in flora, but prefer something a little more private than a guest bedroom, this underground spa is the perfect solution!
With a basement sauna, you can get away from the hubbub of island life by escaping to your own little piece of paradise just down the stairs.
The natural stone hot tub is the centerpiece, of course.
And it's surrounded on all sides by a plethora of greenery, including bamboo, succulents, and even a miniature palm tree!
16.

Witchy Kitchen Basement
Spooky and sweet, a witch's kitchen is a cozy way to utilize your bottom floor.
Create a cluttered-chic vibe by bringing in all of your favorite oddities, like a nice pile of leaves, a towering stack of spellbooks, and of course, your very best cauldron.
You'll have everything you need to study your (witch) craft, far away from the prying eyes of the HHA.
I love the little tea set and dining space next to the wood-burning stove. It looks like a lovely spot to take a break from all of your incantations and hexes to enjoy a steamy cuppa before you plan your next potion.
15.

Home Theater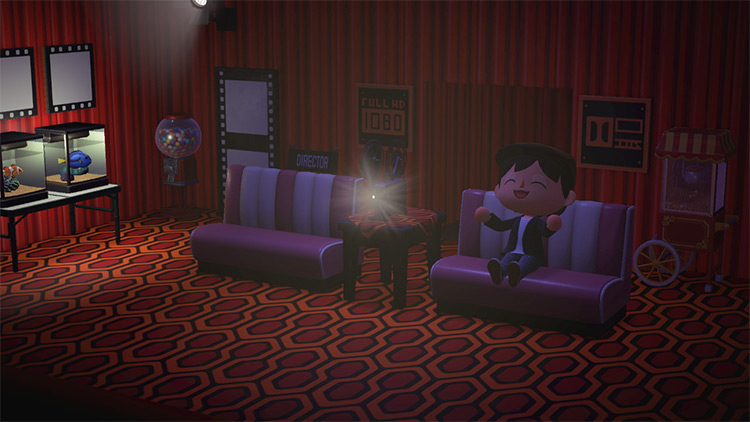 Home theaters are a pretty classic basement setup. But there's a good reason!
Without natural light, you can get it dark enough to make your projector reach peak performance. So you can make it feel like you're really at the movies, without the sticky floors and overpriced popcorn.
This theater for two has all of the essentials including a popcorn cart, gumball machine, and even theme-appropriate movie reel posters that bring the design together.
For the full effect, hang the Heavy-Curtain Wall around the room.
They closely resemble stage curtains and give a vintage touch to this modern auditorium.
14.

Studio Apartment Design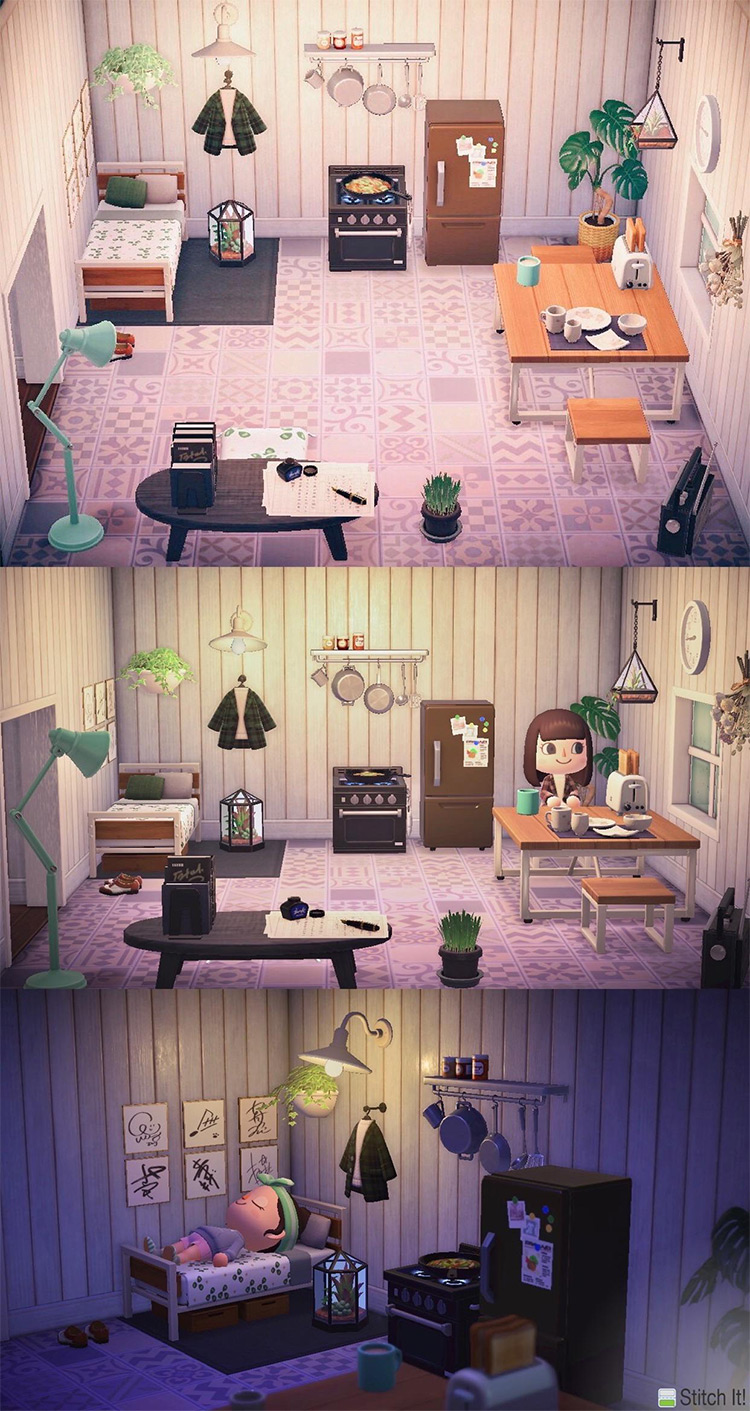 Dreaming of the days when you lived in your very first studio apartment?
Like to work odd hours without disturbing sleeping neighbors?
Give yourself a basement with all of the whole-house amenities… just on a much smaller scale.
The breakfast nook is a lovely spot for a midnight snack. And the twin-size bed is ideal for a quick cat-nap when you don't feel like stomping up the stairs.
The only addition I'd make is a little en-suite half-bathroom with a toilet, sink, and mirror.
Block it off with room dividers for privacy, and you've got a lovely small space with everything you need to power through a long night reviewing resident applications and approving public works projects.
13.

Art Studio Basement
Do you have an inner artist that desperately wants to be expressed?
There's no better place than a basement-turned-art-studio.
Keep your latest creations under wraps by tucking them away into your sanctuary of creativity, where you're free to be as messy as you like!
Use QR codes to create paint-spattered floors, hang up any pieces of fake art Redd slipped past you, and don your very best smock. It's time to let your inner artist shine.
12.

Coffee Café Basement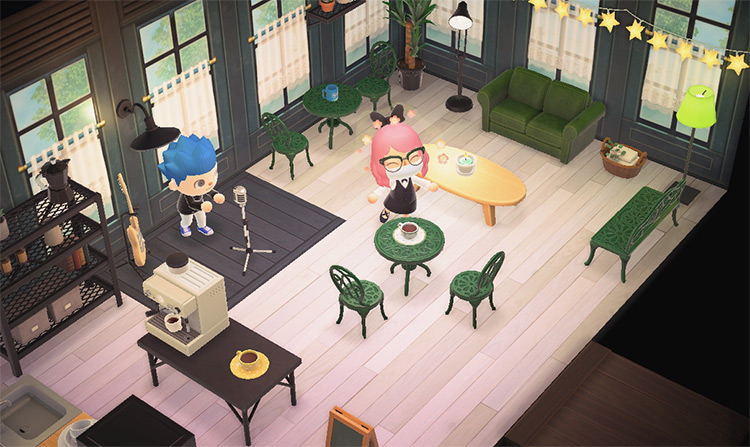 Your patrons will be begging for an encore after an invitation to a basement cafe like this, complete with a stage for performances of all kinds.
Invite musicians to strum the strings, poets to recite their latest piece, or amateur mimes to… mime… while the rest of your pals enjoy fresh-brewed espresso.
Keep it simple and intimate, like this creator did, by limiting the seating.
Or try decorating floor cushions to resemble coffee bags for a unique alternative to chairs.
Put your heart into it, and I'd bet Brewster would be proud to call you a fellow barista – If we could ever get him to move to the island!
11.

Gift Wrapping Room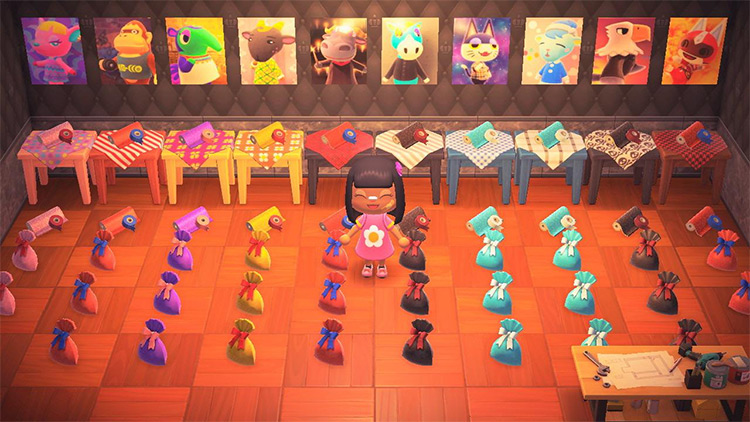 This basement inspiration is focused not on aesthetics, but organization!
One of ACNH's coolest features is the ability to earn friendship points by exchanging certain kinds of presents with your villagers.
In return, they can stock your inventory with clothes, furniture, and other goodies.
The real prize, though, is being able to snag a super cute portrait of them from the Nook Shopping catalog.
But when it's time to delight your villager with a gift selected just for them, it can be frustrating shuffling through your catalog of items to track down what you're looking for.
Make your life easier by designing an underground storage center. Here you can organize little treats for your residents, get them neatly gift-wrapped, and always be ready with a heartfelt handout.
10.

Underground Prison Basement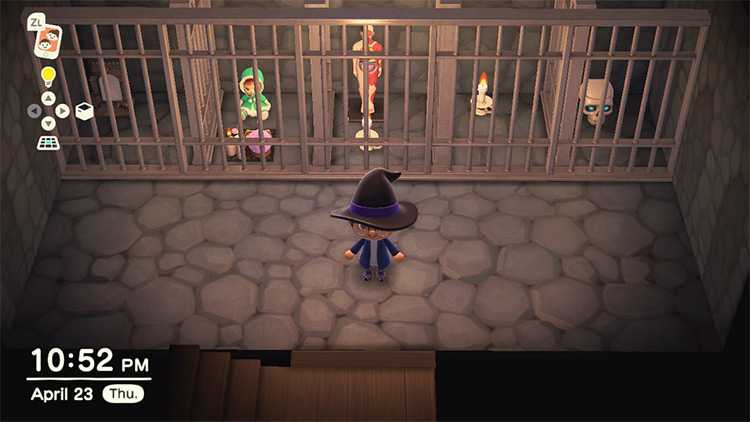 Villagers running through flowers should be a criminal offense. Especially when you've finally got the formula right for golden roses or purple pansies, only to have it crushed by the pitter-patter of tiny paws.
When stern warnings just aren't getting the message across, you'll be glad you have an underground prison where your residents can serve their time and reflect on making better choices.
You could also take a less punitive approach and use it as a kooky way to dress up your basement storage space!
You'll definitely need to craft some Jail Bars to get the full effect. For that you'll just need five iron nuggets and the recipe from a villager with a cranky personality.
9.

Wine Cellar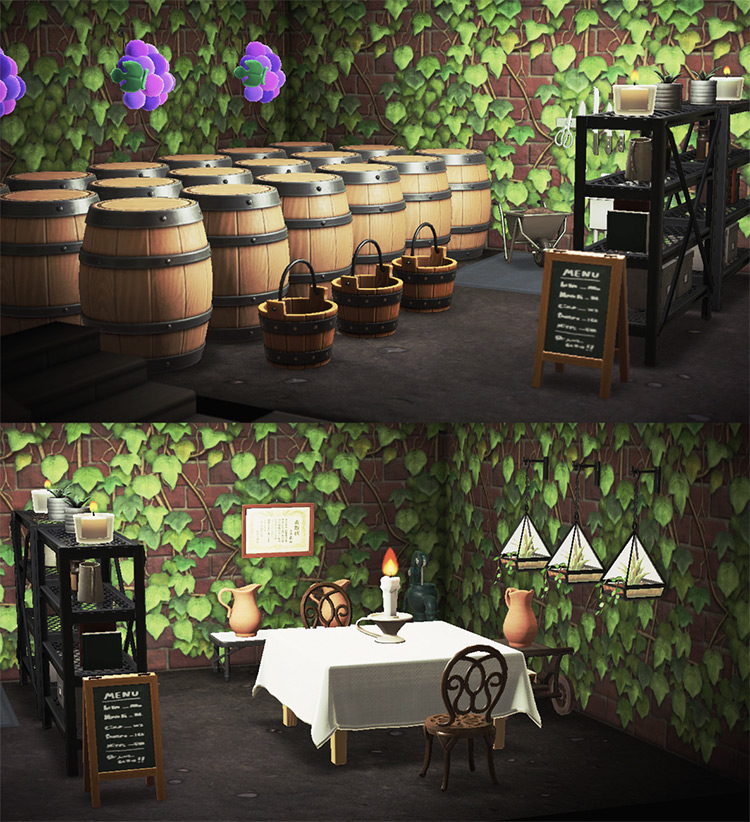 While wine cellars might cause chills if you've ever read Edgar Allen Poe's "The Cask of Amontillado," a room stocked with vino doesn't have to end in horror.
This creation keeps it classy with a romantic dining area and vine-covered walls.
Add in a couple of barrels and buckets, light a candle, and you've got a date-night hangout that's fancy enough to impress even your snootiest animal neighbors.
8.

Indoor Pool Basement
Just because there's snow on the ground doesn't mean you have to miss out on taking a dip!
Use custom flooring to build your very own indoor pool, complete with lounge chairs, a tiki bar, and pool floaties.
The Palm-Tree Lamp in this design is practically a necessity to truly create a beachy feel. Plus it helps shine some light on your underground splash zone.
7.

Tavern Basement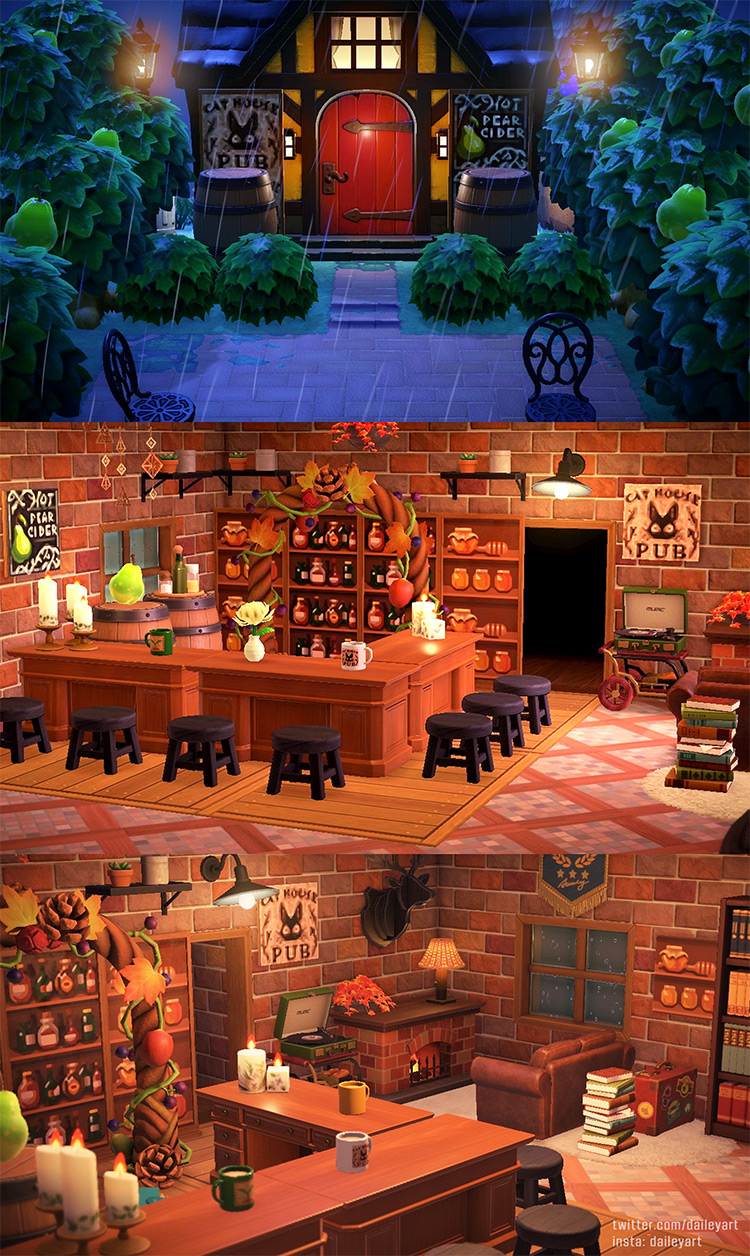 I don't think it can get much cozier than this cellar Cat House pub, where the pear cider is hot, and the shelves are stocked with honey!
For those of us who prefer something a little stronger than coffee, open up a small pub for those chilly autumn nights when you just want to stay inside.
You can use custom signage to give your tavern a creative name. And you can keep the colors warm and rich with a variety of furniture.
Maybe even place a crackling fireplace in a corner.
Just don't be surprised if a merry band of adventurers stops in for a hot drink after their trek for treasure in the far-flung corners of your island.
6.

Homeschool Classroom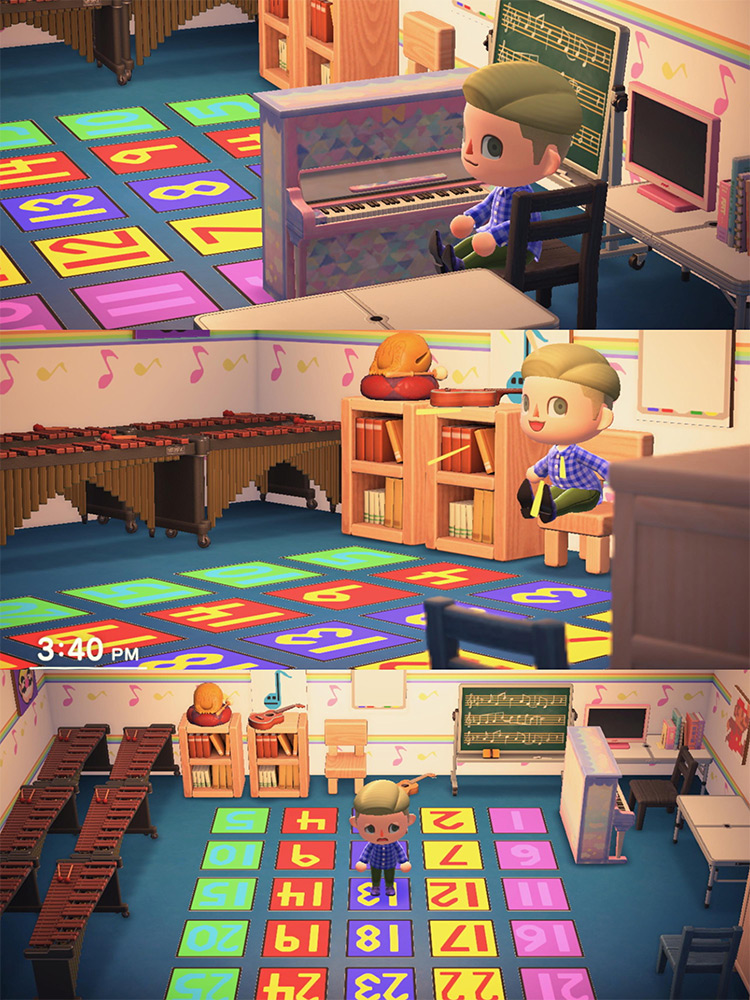 Give your residents a good education by inviting them to join you for a day of reading, writing, and arithmetic.
You could setup learning areas that cover all the subjects, or pick a specialty as this music teacher did!
Small details make all the difference. Like a teacher's desk tucked behind the piano, and music note wallpaper brightening the walls.
You can be as creative as you want, and get a chance to play school, just like when you were a kid!
5.

Ultimate Walk-In Closet
I've been dreaming of a Clueless-style walk-in closet since the first time I saw the movie.
And ACNH gives me the chance to finally fulfill that dream.
Use your basement to showcase your passion for fashion. Pack it with mannequins, makeup, shoes, and purses out on display.
The best part is that you can choose decor that complements your unique style.
This creator went with a goth look to go along with her style. But there are virtually endless options to create a closet space that is uniquely you.
So whether you're interested in everything pink and preppy, prefer to dress in chill boho casual, or just need a place to show off all of your Halloween costumes, your basement is the place to do it.
4.

Turnip Storage
The stalk market is the topic of much debate.
And ACNH players regularly devise Wall Street-level strategies to rake in the big bells.
All of those turnips need a place to call home until the next time you see your favorite drippy-nosed veggie aficionado.
So what better place than an underground plot of land, complete with scenic wallpaper and neat rows of plowed earth?
Bring in some gardening tools, lawn care necessities, and your favorite overalls, then get to digging.
Or go out and find the perfect QR code that gives your root-vegetable beds that "freshly tilled" look.
3.

Spooky Cemetery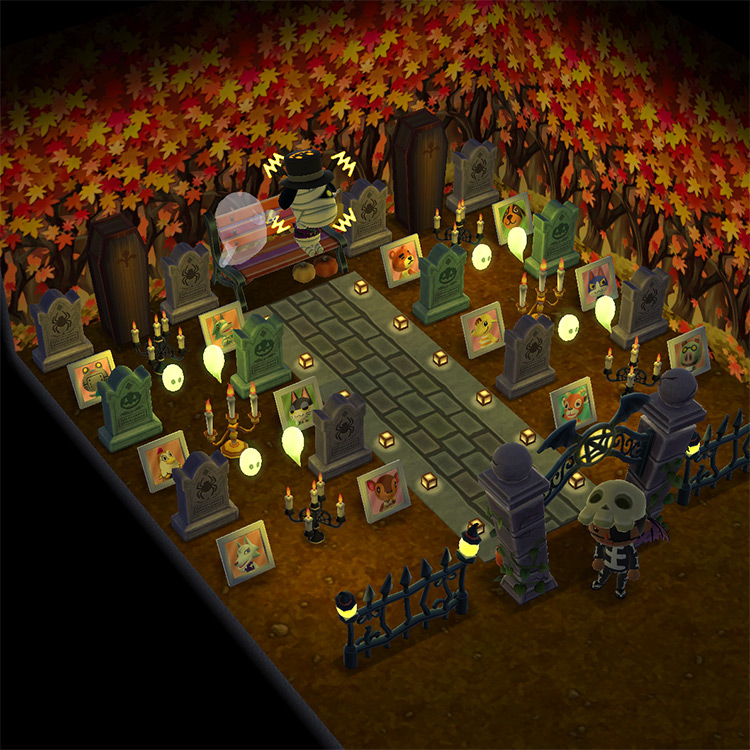 Ask anyone who loves Halloween, and it's almost guaranteed that they would like to keep their plastic skeletons, cotton spiderwebs, and creepy crawly decor up all-year-round.
You can live like it's October every month by building a super spooky cemetery indoors, that's sure to become your villagers' new favorite haunt.
What makes this basement design particularly petrifying are the tombstones complete with resident portraits.
Just think of the chaos that would ensue if twelve of your past neighbors decided they all wanted to go bump in the night!
And if you want some more ideas for ACNH cemeteries we actually have a big list worth checking out.
2.

Candy Store Basement
You've heard the saying, "Like a kid in a candy store."
And that's exactly how I feel about this adorable setup.
Create a seasonal stop for sweet treats by swapping out your stock and wallpaper to coordinate with the holiday at hand. Then stack your shelves high with jars of jawbreakers and bowls of bubblegum.
If you're feeling particularly business savvy, you might even bring in resident ruby-hued rhino Merengue to help out.
After all, sugar is her specialty!
1.

Vaporwave Gamer Den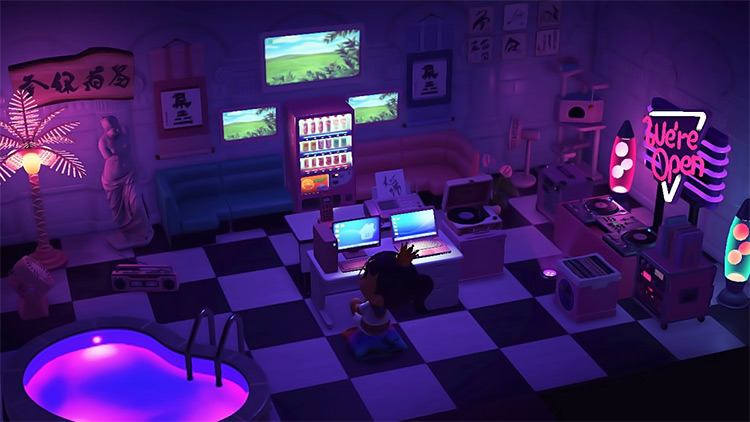 You can always get a little meta by building the ultimate vaporwave gamer basement, where you can kick back with your favorite Nintendo consoles (or PC).
No vaporwave aesthetic is complete without hints of neon, a color scheme that relies heavily on turquoise, magenta, and violet, and a few marble statues.
This player takes it to the next level with an in-home vending machine and 5-monitor setup.
Ask your neighbors over for a LAN party, or enjoy hours of solo play.
Either way, you'll love spending time under the bright lights of a lava lamp while you blast enemies up until the wee hours of the morning.
Browse:
Animal Crossing
Lists
Video Games