25 Entrance Designs & Ideas For Animal Crossing: New Horizons
This post may contain affiliate links. If you buy something we may get a small commission at no extra cost to you. (Learn more).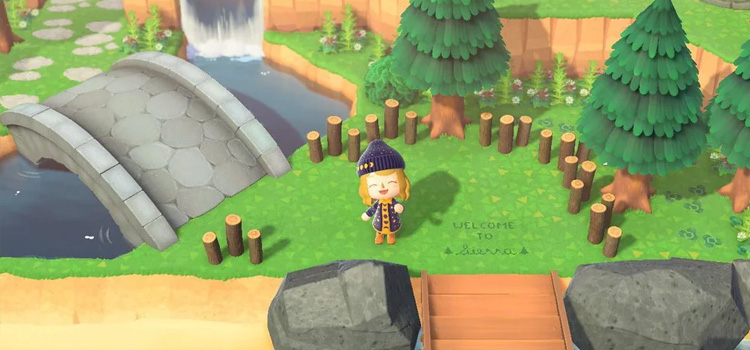 When visitors come to your island, your entrance is the very first thing that meets their eyeline. So you want it to stand out!
But maybe you're not sure where to start?
If you're in need of some ACNH entrance inspo, I've got you covered.
Here's my list of some adorable entrance designs & custom ideas for you to try! You'll be sure to wow every visitor you get.
25.

Town Center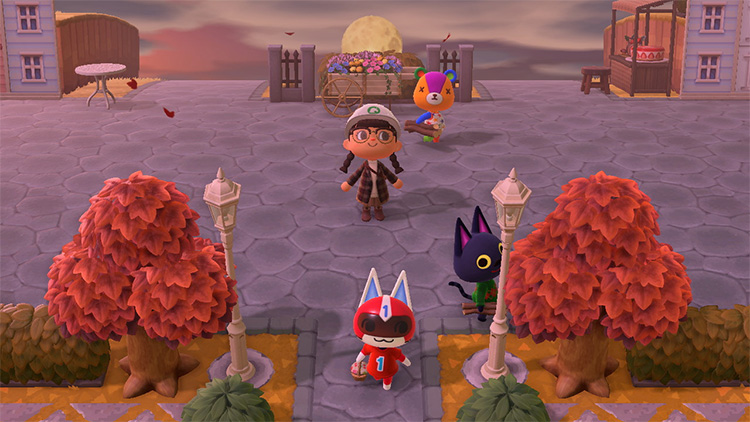 As soon as your visitors step foot on your island, they'll find themselves in the town center with this elaborate entrance layout.
If your Resident Services isn't located close to the entrance of your island, then you're one of the lucky ones!
So if you've got a lot of space to work with, this is the perfect design.
Lay down some city paths, some lamp posts, and a few trees and hedges to add to the look.
In this design they've even used some simple panel exteriors with custom home design patterns to give the appearance of houses, although you can use any design you like.
24.

Cliff Maze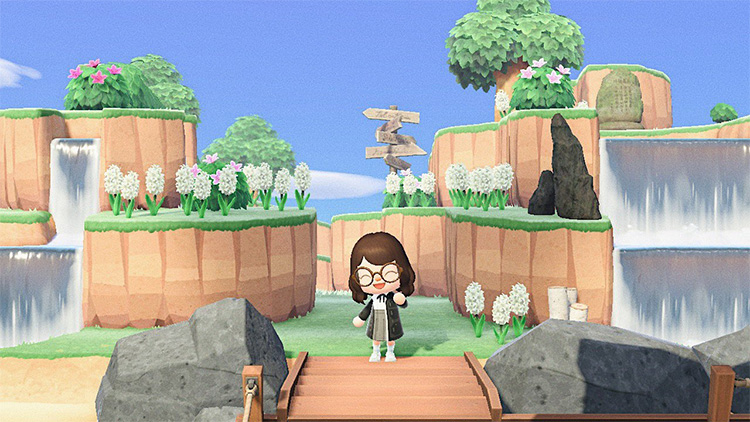 This entrance really sparks curiosity. Visitors won't be able to fully see what lies ahead unless they venture into the maze between the cliffs.
(Granted they've probably already seen your island on the plane, but we can still imagine!)
To re-create this idea, start by building a series of twists and turns with your cliffs, leaving a pathway through the middle.
Throw in a few waterfalls sprinkled with flowers, and of course a signpost for your guests to follow.
23.

Jungle Feels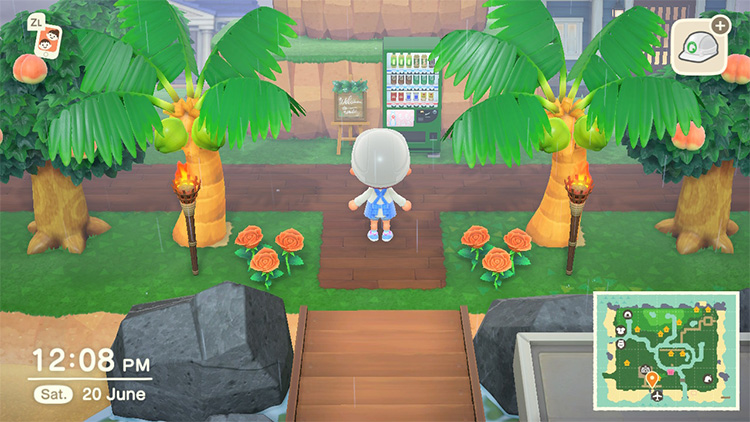 Welcome all visitors to your island with this tropical entrance theme.
Make it summer all year round by adding a host of coconut trees and colorful flowers.
You can even add some fruit trees along the beach area to fit in with your tropical theme.
Why not also add a welcome sign? Use a custom design to really put your own stamp on it.
Finally complete the look with some tiki torches.
22.

Moon Landing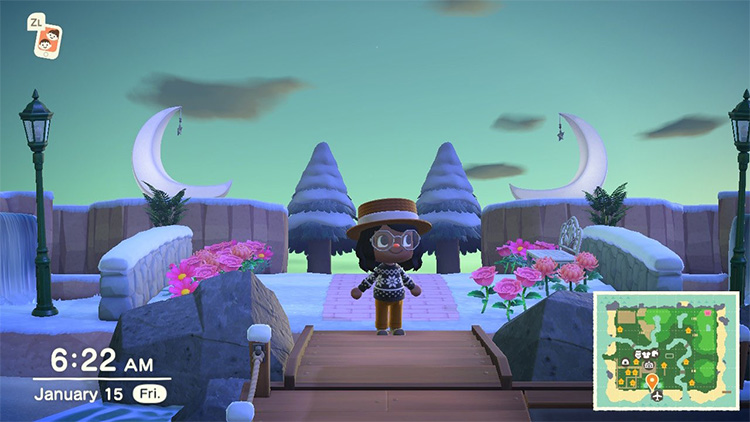 This cute entrance is super simple to do, and gives visitors an adorable "welcome!" when they set foot on your island.
What's amazing about this entrance is its symmetry. If you're trying to create this setup yourself, make sure that you create both sides identical.
Create two similar cliffs with space to pass through the middle. Then choose your favorite path and lay it down from your airport, leading through the two cliff edges.
Pop two crescent moons up on the cliff tops and add a waterfall at each side to complete the look.
21.

Concrete Jungle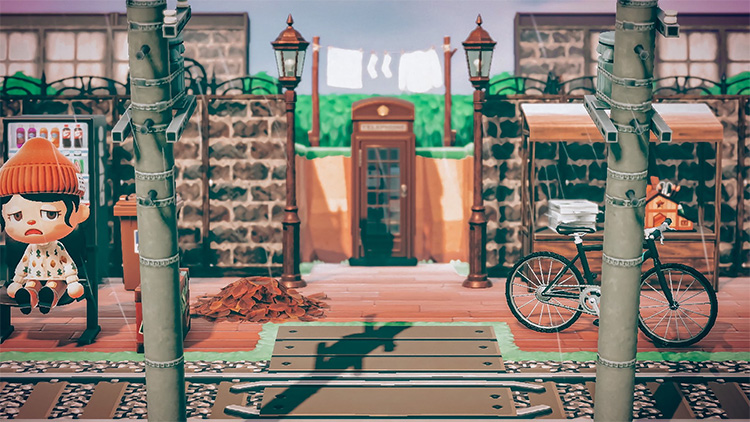 Turn your entrance in to a concrete jungle with this urban city creation.
The use of simple panels here changes the look of the island completely. You can do this too by customizing some simple panels with a custom brick design.
It's about time we have some transport on our islands, too!
Create a train track that runs from your entrance to the other side of your island. You can even create a train track by laying down a custom design for the track and station.
Don't forget to complete the city look with some vending machines, telephone boxes, and bikes. You'll have yourself a bustling city in no time.
20.

Bright Lights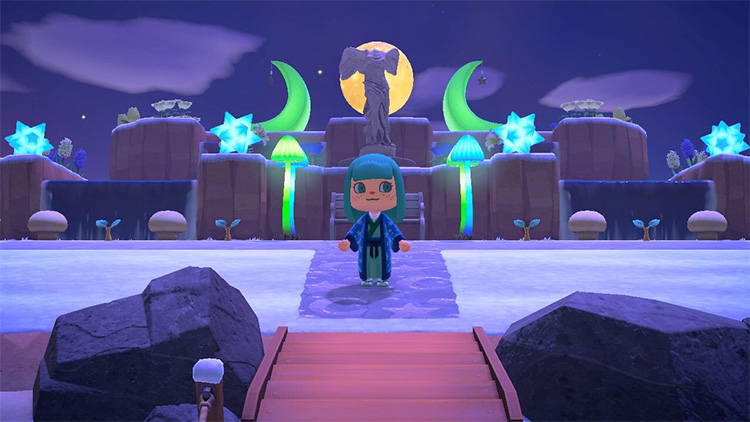 This celestial entrance looks amazing in the dark of the night!
DODO airlines definitely won't miss this island when the entrance is filled with glowing lamps, moons, and star fragments.
To create this spectacular entrance, you'll need to build a set of cliffs two tiers high. And within these cliffs you'll need to create a series of waterfalls.
You can add nova and mush lamps around the cliff edges, then continue on to add some crescent moons and even a full moon to complete that amazing glowing look.
19.

Cherry Blossom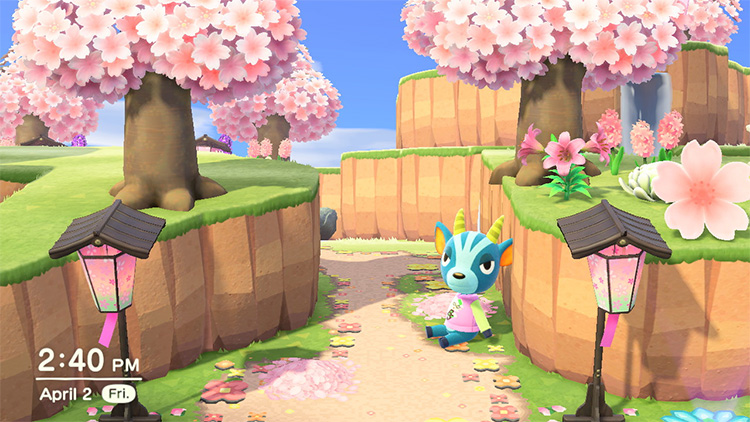 Now this entrance is for all you cherry blossom lovers! And who doesn't love cherry blossoms?
From the cherry blossom trees down to the custom paths and lanterns, this has everything you need to create the pink entrance of your dreams.
Be sure to build some cliffs leaving a path leading into your island, then lay down some custom cherry blossom paths to add to the aesthetic.
Plant some pink flowers to tie in with the theme, and complete with cherry blossom lanterns. They'll really light up the area on a dark night.
18.

Faux Bridge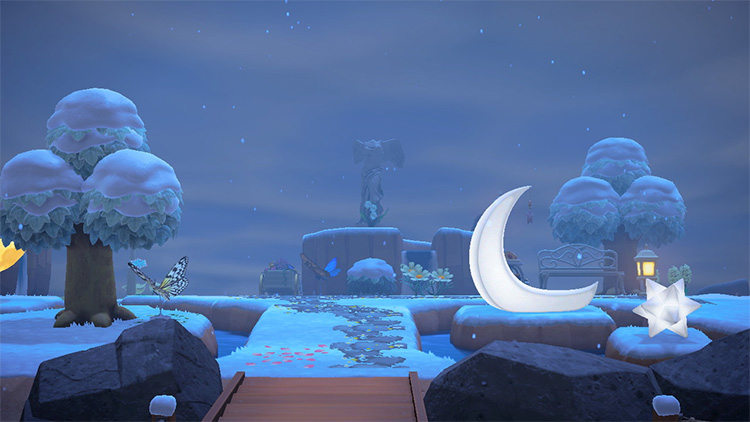 I love this entrance with all its additional small islands. It's super simple yet looks amazing.
This is a great idea if you've already used the maximum number of bridges on your island. (what a nightmare, right?)
Well if that's the case, you can simply shape your rivers around a path leading into your island. And this will act as a bridge.
Design it so it'll connect the airport to the island. And within the rivers you can create steppingstones or tiny islands too.
You can even add nova lights or star fragments to add some light in the area. And don't forget to compliment your entrance with some trees here & there.
17.

Zen Garden
If you've got a zen garden theme going on, this entrance will tie in perfectly.
Be sure to line your shore with heaps of bamboo trees and bamboo partitions to keep it all totally zen'd out.
You can also lay down a path heading into your island. If you add some stone steps leading up to the first level of your island it'll even give it that temple look.
And don't forget to add some trees to complete the look with some cherry blossom lanterns.
16.

Cottagecore Entry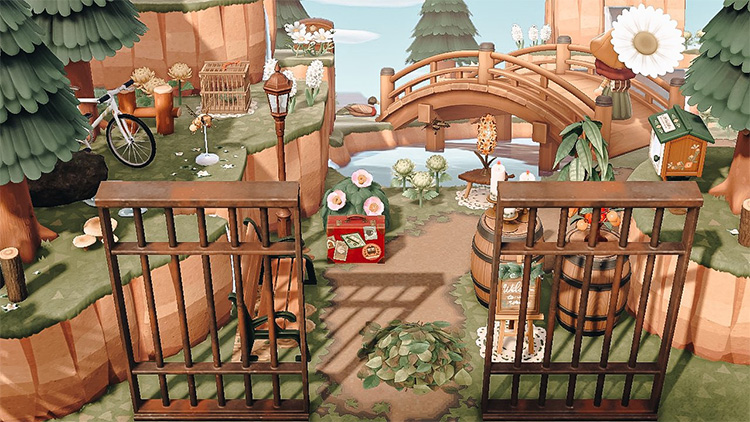 This cottagecore entrance has so much going on and I love it!
This is such a fantastic way to set up the entrance if you're big into the cottagecore aesthetic.
I love the way the jail bars have been used to feel old-fashioned. Who said they always have to be for jail, huh?
Load up your area with pretty antique looking items, maybe throw some barrels in there along with a park bench and an old suitcase.
And make a lake that runs through the middle of the area to link the whole look together. Then finish strong with a wooden bridge connecting it to the rest of your island.
15.

Mushroom City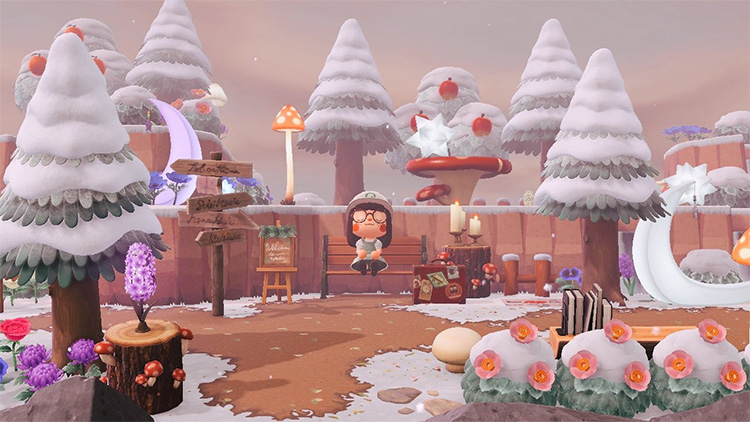 Make your visitors feel like they've stepped straight into a fairy-tale with this mushroom entrance.
Keep the fantasy theme consistent with a magical themed custom path pattern running through your island.
Decorate the area with as many mushroom items as possible. And of course you can't forget those all-important mush lamps!
Add an array of hardwood trees, shrubs, and flowers to complete your magical forest look.
14.

Disco Lights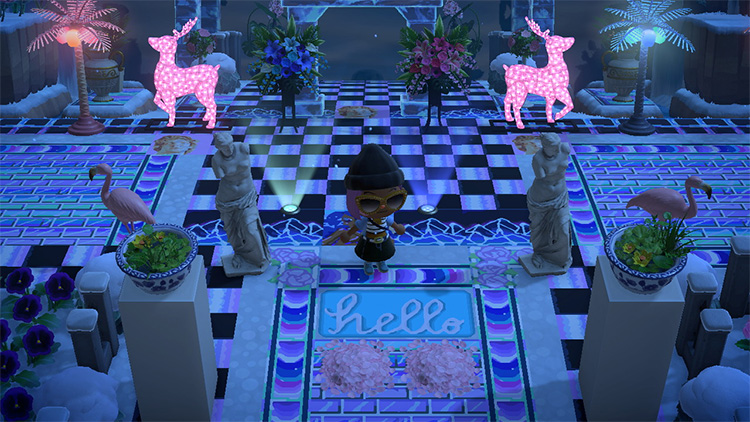 Your island will be the envy of every guest with this amazing disco-themed entrance.
This takes up a fair few design slots, but it's worth it!
The beauty of this design is that you can create any kind of welcome floor sign you like.
If you want to make it smaller you can, or if you want to go ahead and make one gigantic welcome sign, all I can say is go for it!
The palm lamps are an absolute essential for this entrance. And of course you can add a checkerboard dance floor for that true disco vibe.
13.

The Courtyard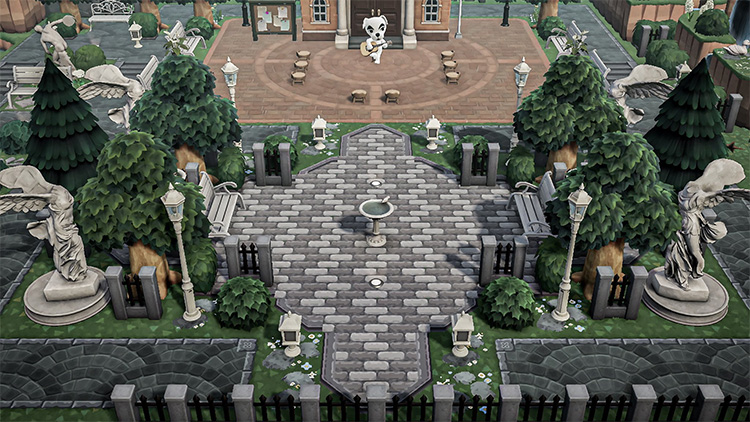 I'm actually living for this courtyard entrance!
This works well if your Resident Services building is unfortunately close to your airport and you're tight on free space.
You'll need a custom flooring design first. To create a funky shape like this one it's good if you can find a design that also has a border to go around the edges.
Complete with lots of trees and statues to match the vibe. Floor lanterns are a good shout too, as in the evening they'll illuminate the way for visitors.
Add some cute benches in the middle to create a little seating area and finish the edges with some iron fencing.
12.

Icy Wonderland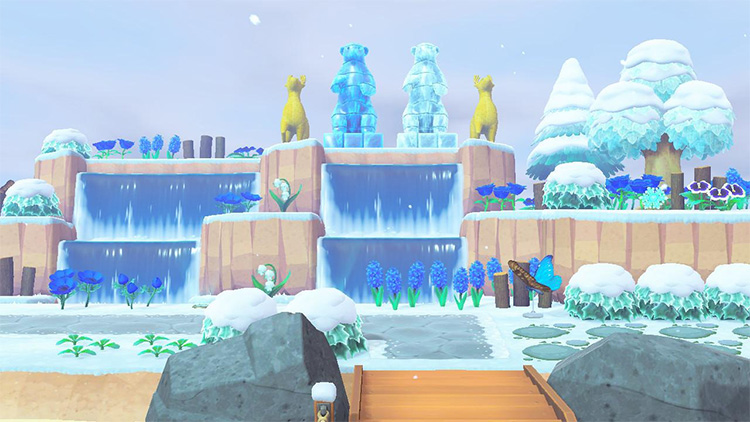 I'm feeling the chill just looking at this amazing icy entrance!
Fill your entrance area with two major waterfalls, and these can be as big as you like.
I think a two-tier waterfall works well, just be sure to top them off with some ice sculptures overlooking the island.
Team it all up with an array of different blue flowers to keep that cool vibe.
Then finish with a series of shrubs and trees to give it a bit more spice (and bonus points if it happens to be snowing).
11.

The Statue in the Forest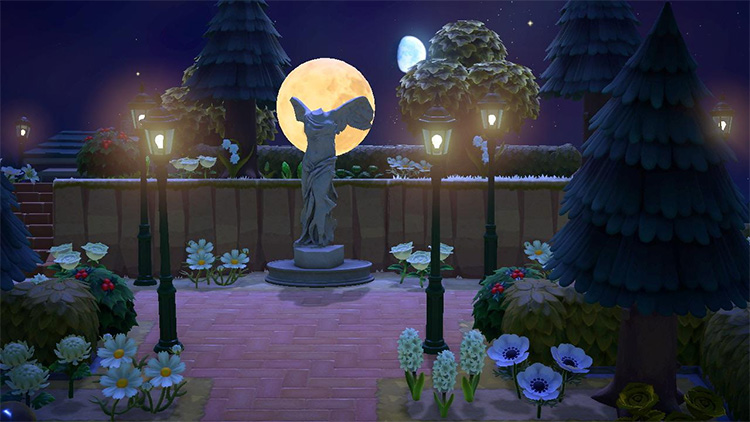 This magical entrance is an eye-catching addition to any island.
Lay down some brick paths and fill the edges with flowers and lamp posts to illuminate the walkway.
Add some steps leading up to a cliff edge around your entrance and top with a moon, and of course add lots of trees and hedges too.
Place your favorite statue in the middle for dramatic effect!
10.

Rainbow Island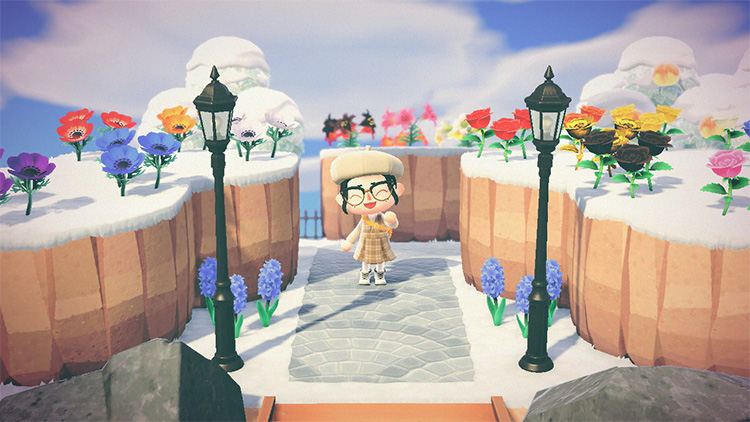 Who doesn't like being greeted with a rainbow?
This vivid array of flowers is the perfect colorful entrance idea. It's crazy easy to make too!
Just create some cliffs in any way you like, and don't forget to leave a little pathway into your island.
Once that's done, you can cover the top with lots of different types/colors of flowers, and you've got yourself the ultimate rainbow welcome path!
9.

Japanese Garden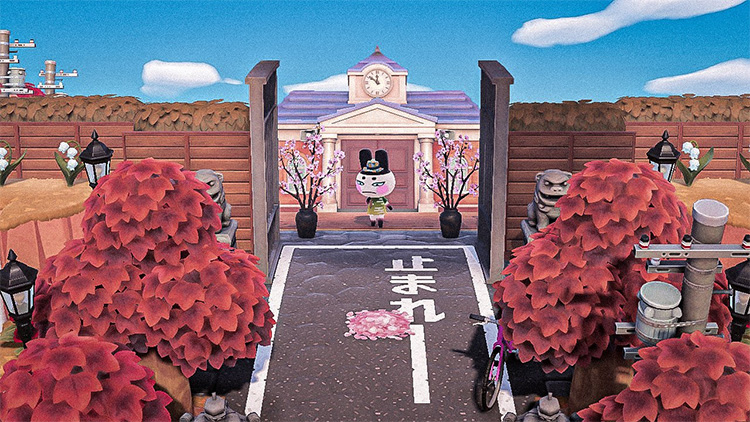 This Japanese-inspired entrance idea is simply beautiful!
I love how the entrance leads visitors straight into Resident Services.
You can create this too, with an array of cherry blossom items and a custom path leading up to the plaza.
The use of simple panels here acts as a wall, and this can easily be recreated by customizing the panels with some of your own designs.
Don't forget to add some trees at either side of your path, and maybe those Japanese-style telephone poles too.
This entrance will look incredible in fall!
8.

Botanical Entrance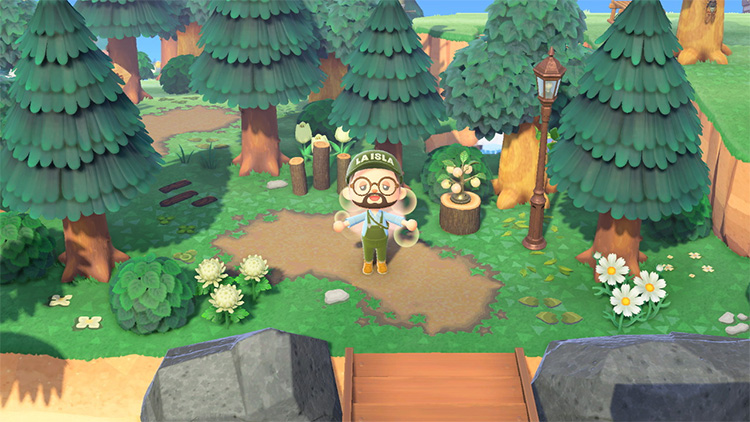 Keep your forest theme alive with this super green and natural entrance.
Be sure to add a mix of hardwood and cedar trees to create your forest area first.
Rustic paths and tree stumps keep this area looking natural, too. You can also plant some flowers around the trees too.
It's the perfect start to a hiking trail, or just a general entrance. Make sure to tell you visitors to wear sensible footwear!
7.

Tropical Entryway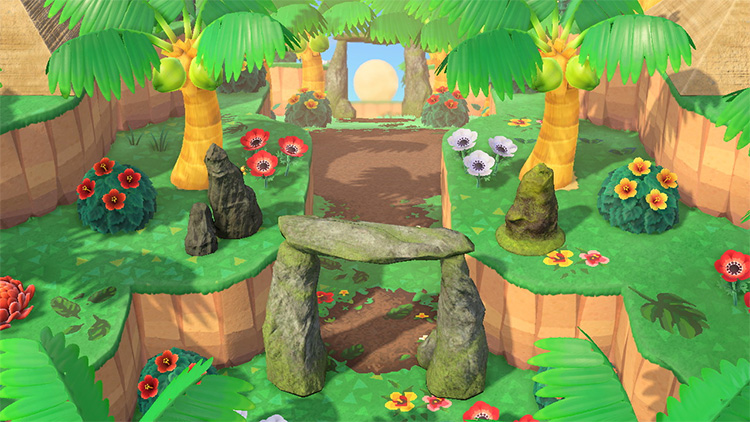 Now this is what I'd call a sunny entrance!
Create two-tier cliffs and decorate the top level with pyramids.
Use the cliffs to create a path leading through from your airport to your island, then line the edges of the cliffs with coconut trees.
Visitors will love walking under an archway of trees, but you can make it even more incredible by adding a stone arch to the path.
You can even customize your stone arch into a mossy arch for that extra rainforest vibe.
6.

Super Greens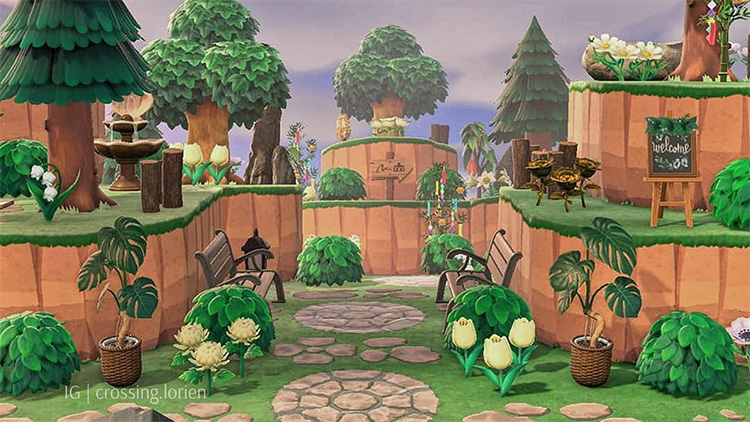 This entrance is every plant lover's daydream.
The geometric style is uncanny: two cliffs opening up to a large path which leads to a third cliff located in the middle.
Be sure to add lots of greenery, then cover the area in cedar/hardwood trees and shrubs.
Adding plants and flowers is a must for this botanical entrance.
You can also create your own custom welcome signs to add a little personal touch. And don't forget some benches to create a charming seating area, that way you can sit back and admire your creation!
5.

Gold Fields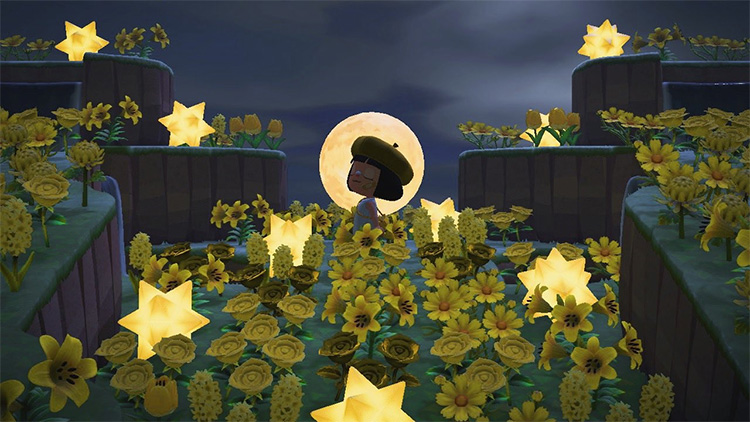 This golden field has to be one of my most favorite entrances.
With the grass and cliffs covered with a mix of gold and yellow flowers, and a bunch of nova lights, it looks truly spectacular in the evening.
You can even add some waterfalls to the cliff sides for some added atmosphere to this gorgeous area.
Don't forget to capture the moon in the background for that ultimate welcoming glow!
4.

Waterfalls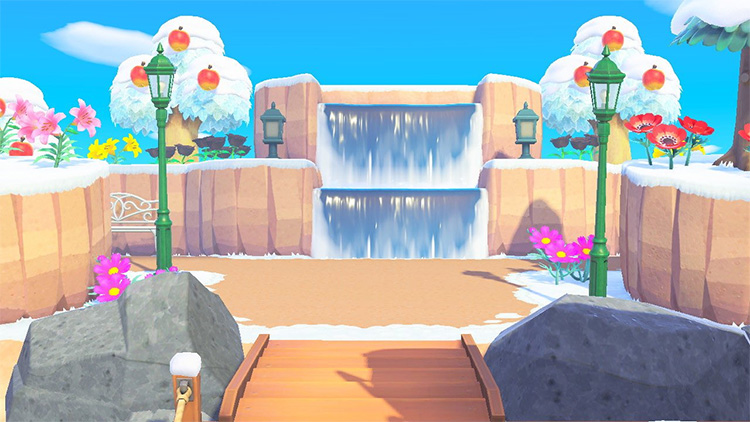 A huge waterfall is always impressive. So why not put one right at the entrance of your island?
Show off your terraforming skills by creating a two-tier waterfall surrounded by flowers and fruit trees.
Add some lamp posts to the side just before your airport to illuminate the way.
You can even add some smaller lights up on your cliffs too. And those crisp apple trees are an even nicer touch.
You visitors are bound to be impressed as soon as they step outside.
3.

Simple Flower Forest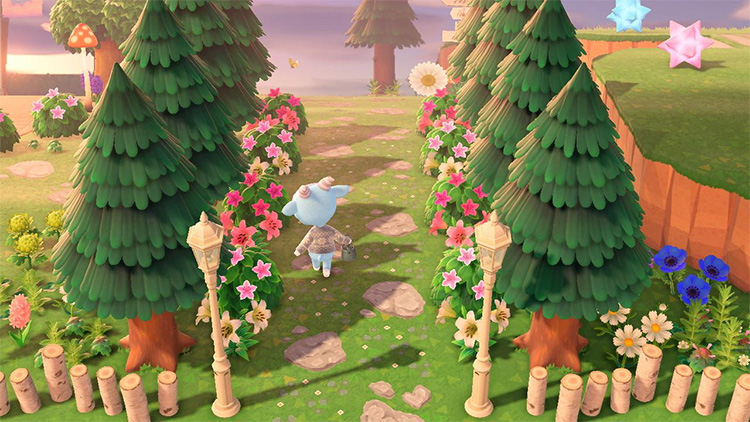 If terraforming isn't really your thing and you'd prefer to keep it simple, this entrance couldn't be easier.
Grab a custom design to create a stone path with, and line the edges with flowering shrubs.
Throw in a bunch of hardwood trees down the side of your path. You can even leave some weeds around them too.
It's support to look natural, right?
Then add some lamp posts and a wooden fence and you're done. It's that easy!
2.

Fairy Lights Entrance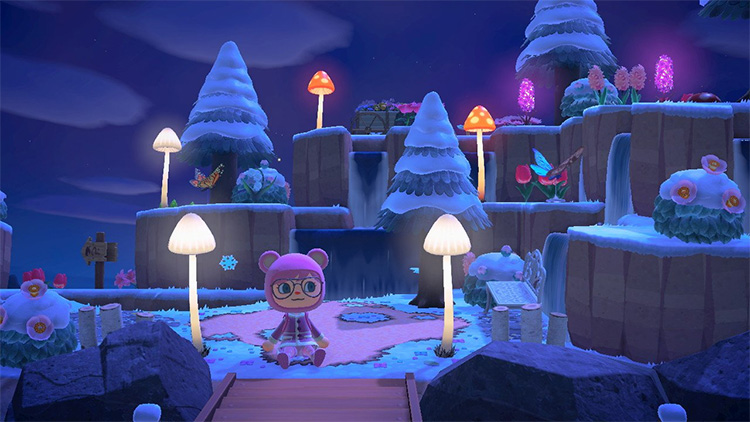 Just take a gander at this fairy entrance. You can almost feel the magic just by looking at it.
If you want to be a little adventurous, then try this mix of cliffs and cascading waterfalls.
Choose your favorite custom path to lead the way into the depths of your island.
Add trees, flowers, and shrubs to give it that natural look. Then scatter around a mix of mush and hyacinth lamps for that magical glow.
To complete the look, maybe add some butterfly models! You can get these commissioned by Flick. If you give him three of the same bugs, he'll return with a model for you.
1.

Mermaid Falls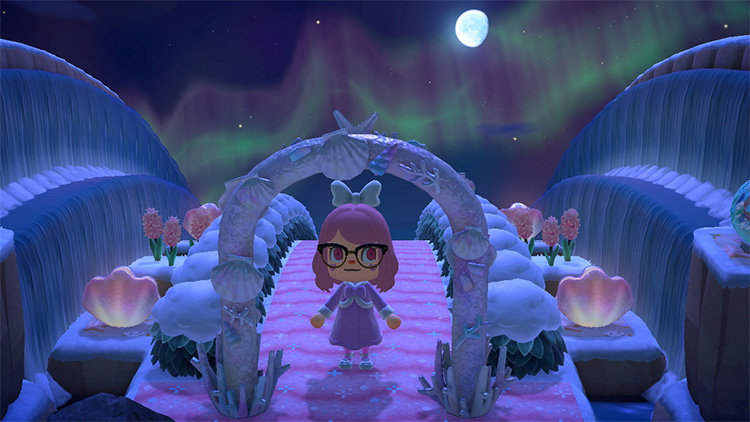 This is my ultimate favorite entrance by far. And it's not as complicated to re-create as you might think!
Create this mermaid entrance by first building two huge waterfalls running down either side, and leave space in the middle for a path and some steppingstones.
Choose your favorite mermaid custom design to lay down the middle. This creates your path.
You can line the sides of the path with lots of shrubs, and then place mermaid items and flowers on your steppingstones. Those mermaid shells are a beautiful touch.
Complete your entrance by adding a mermaid arch, and bonus points if the northern lights make an appearance!
Browse:
Animal Crossing
Lists
Video Games