Best Beat Saber '80s Custom Song Map Mods
This post may contain affiliate links. If you buy something we may get a small commission at no extra cost to you. (Learn more).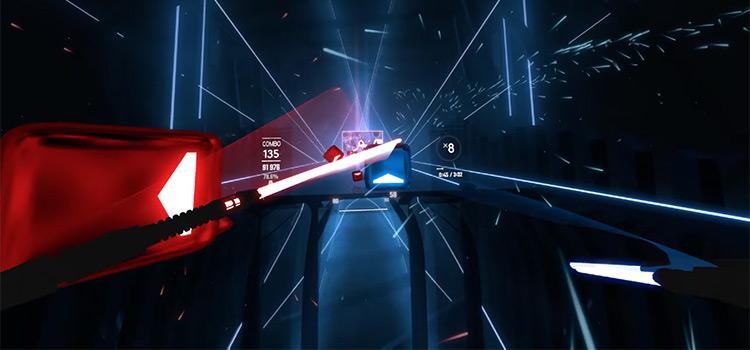 The 80s were a time where "outlandish" and "cool" were hard to tell apart.
Most artists had big hair, flashy outfits, androgynous stage personas, and all sorts of quirks – and the music they made followed a similar philosophy.
Everything was full of synth and avant-garde, almost futuristic composition that, ironically, sounds vintage to the modern ear.
Still, it was a golden age for creativity in the medium. Artists were trying to create rather than recreate, which led them to give us timeless works that still speak to us 40 years later.
Hop in the DeLorean and let's travel back to 80s so we can rank some of the best custom-mapped tracks you can play on Beat Saber.
10.

Ashes to Ashes – David Bowie
David Bowie was a major influence during the 80s, and Ashes to Ashes is one of his most iconic songs.
This tune is a crystallization of everything I just talked about.
It's weird, full of mysterious and unique sounds you've never heard anywhere else, and it's still as good after 40 years.
There's a definite lack of David Bowie songs mapped for Beat Saber, considering how many love the extravagant artist. I'm thrilled this is among the few that have made it into the game.
9.

99 Red Balloons – Nena
I've never heard an anti-war song as good as 99 Luftballons – released in English as 99 Red Balloons in 1994.
Nena was part of the Neue Deutsche Welle, a novel music genre born in West Berlin while the city was still cut in half by the Berlin Wall.
As such, the reality of the Iron Curtain was more than visible to them – and their distaste for the whole thing is evident in the song's lyrics.
I love how upbeat and full of jubilant energy the song is despite its somewhat dark lyrics.
I'd have given it a higher spot if it was the German version – not even the band was too happy with the translation – but the mapping on the English one is miles better.
8.

I Wanna Dance With Somebody (Who Loves Me) – Whitney Houston
Whitney Houston was one of the biggest winners of the 80s music scene.
And "I Wanna Dance With Somebody" was her fourth consecutive song to top the charts in the US.
Unlike the somewhat political 99 Red Balloons, this song is personal and emotional.
It's about finding that one person who's willing to dance away the night every day of your lives together.
It's super funky and super romantic at the same time. It's about loneliness, but instead of longing for love, the song makes you feel like going out and finding that one person.
7.

Gloria – Laura Branigan
If you're looking for an 80s song that will get you in the mood to slice and dice at incredible speeds, Gloria is the way to go.
The original Italian version of Gloria by Umberto Tozzi was a love song, but Laura Branigan's version is about the kind of girl who never stops for a breather in any aspect of her life.
I fell in love with the song while playing Metal Gear Solid V: The Phantom Pain, which is full of amazing tunes from the 80s.
It's one of the first tracks you can get for your in-game library, and I captured a fair amount of enemy bases while singing along.
6.

Take on Me – A-ha
Another fantastic 80s song I listened to on repeat while riding a horse around Afghanistan was Take on Me by A-ha, released in 1985 to become the band's only chart-topping single.
The song is a melting pot of different instruments and synth-pop sounds.
Its unique vibe keeps bringing it back to popular attention through movies and games like Deadpool 2 and The Last of Us 2.
Another reason we still feel connected to this song is its timeless lyrics, which are all about chasing love and not letting opportunities slip through our fingers for fear of failure.
5.

Livin' on a Prayer – Bon Jovi
American rock band Bon Jovi had its fair share of chart-topping tunes.
But none were quite as influential and iconic as Livin' on a Prayer.
This song is the working man and woman's anthem. It's a song about the people who live holding on to a dream of a better tomorrow.
People who run together toward an uncertain future where only their love and support of each other are assured.
If you're playing Beat Saber on your own VR headset, you're probably not struggling to make ends meet – but we all have struggles, and this song will help you drain out the stress of fighting for a better future.
4.

Thriller – Michael Jackson
For some of us, Halloween is always right around the corner.
Thriller is a timeless spooky anthem that'll transport you to the scariest night of the year no matter the date on the calendar.
This is especially true in the VR environment of Beat Saber.
Once you put on the headset, the outside world ceases to exist – it's just you and Michael Jackson's Halloween anthem.
We've all tried to learn the moves to the Thriller music video sometime in our lives.
But this map will take your performance to the next level.
The note blocks, walls, and bombs are all in just the right place to get you moving like MJ.
3.

Little Shop of Horrors Playlist
Speaking of spooky, check out this playlist based on the beloved 1986 Little Shop of Horrors musical film – which is based on a 1982 musical comedy, which is in turn based on another film from 1960.
I get dizzy just thinking about it.
It may not be the most orthodox entry, but this black comedy is nothing short of genius – and it has been widely revered as such since its release.
It has some great musical numbers such as "Dentist" and "Suddenly, Seymour" – and you can enjoy them all in this fantastic playlist.
2.

Never Gonna Give You Up – Rick Astley
I hope you'll excuse me for rickrolling you.
I'm a 90s kid. I couldn't help it!
Jokes aside, it's hard to miss the appeal of Rick Astley's most famous song.
I might have learned about it because of the meme, but the reason I still keep it on heavy rotation is how catchy it is.
This song fills me with a sort of nostalgic warmth I can't get anywhere else.
And this track will make you dance like Rick Astley in the famous music video. You'll never want to turn around and desert Beat Saber until you master this song.
1.

Africa – Toto
Who doesn't like Africa by Toto?
It has been on memes, television, and video games.
The song is a Millennial anthem, though it's not new. It has been plenty popular since its 1982 release when it managed to climb to the top of American and international charts.
Since January 2019, there's been a solar-powered sound installation in the Namib Desert playing the song 24/7. That's what I call timeless!
Hopefully you'll keep it on heavy rotation for Beat Saber too.
Browse:
1980s
Beat Saber
Lists
Video Games