Beat Saber Maps: The Funniest Meme Songs, Ranked
This post may contain affiliate links. If you buy something we may get a small commission at no extra cost to you. (Learn more).
Dancing around and slashing note blocks in Beat Saber is a lot of fun – and a great cardio workout.
But if you're really trying to shake off the blues, you'll need something special.
Some of the first-ever memes like Caramelldansen and Ievan Polka were songs, and the tradition of funny songs taking over the Internet has continued for decades.
Nowadays, you only need a few clicks to find a funny song to listen to – but finding a Beat Saber track for it can be a tad more complicated.
To help those of you who want to train their abs by laughing while they work up a sweat in Beat Saber, I've put together my favorite custom-mapped meme songs for Beat Saber – or should I say, Meme Saber?
10.

Kyle's Mom's a B*tch (South Park)
Calling somebody's mom names is never okay, but given how much it seems to hurt the victim, it can be hard to control yourself in a moment of passion – especially if you're Cartman.
Not content with calling Kyle's mom a big f*t b*tch, Cartman goes on to sing an entire musical number about how she's a b*tch on every day of the week, everywhere she goes – and it just keeps getting worse.
This song was featured in the "Mr. Hankey, the Christmas Poo" episode from Season 1, making it a true classic of South Park humor.
Just make sure there are no Kyles nearby whenever you play this song.
9.

Xue Hua Piao Piao Bei Feng Xiao Xiao
Also known by the original name of "Yi Jian Mei by Yu-Ching Fei", the Xue Hua Piao Piao song went viral on YouTube and other social media after Chinese actor Zhang Ai-Qin – the Chinese Eggman – posted a video of himself singing it emotionally in the snow.
Since then, the video has been reposted thousands of times, and the song has been used as a backdrop for new memes.
And if you're not so much a fan of slow romantic songs from the heart, then consider playing the Eurobeat remix.
8.

Caramelldansen
Many years ago, back when memes didn't have a name yet, a series of videos started coming out where cute anime girls danced to the Caramella Girls' now-hit song Caramelldansen.
The iconic dance became a symbol of Western Otaku culture, and it spawned a ton of memes where characters from several different shows like Death Note, Code Geass, and Soul Eater danced to the song's beat.
Some also made fun of the song's incomprehensible Swedish lyrics (for non-Swedes).
This song deserves a spot on the ranking just because of its history – though it's also a pretty damn fun song to slash to.
7.

Coffin Dance (Camellia Remix)
The Dancing Pallbearers first came to public attention after a feature on BBC News aired in 2017 showing the world their unique service – adding choreography to their coffin-carrying.
It may not sound great to Westerners, but not all cultures consider death and funerals such a somber time.
Some people prefer to liven things up a bit, and dancing pallbearers seem to do the trick.
With time, the video became the punchline of many memes – and was coupled with the song Astronomia by Russian artist Tony Igy.
The song happens to be a total bop, so it's perfect for a funny Beat Saber level.
6.

Guinea Pig Olympics
Marvel at the blur of their tiny feet!
Whether it's jumping the stick, leaping the hoop, or running the lawn, guinea pigs can be true athletes if they put their minds to it.
In all honesty, guinea pigs tend to lose focus pretty fast at the Critter Olympics.
Be sure not to follow their example when you're playing through this short but sweet Beat Saber track.
We're lucky the level doesn't replace blocks for guinea pigs.
I don't think I could bring myself to slash such a cute creature.
5.

Daddy – PSY
The line between a "serious" song and a meme is thin indeed – especially when we're talking about South Korean artist PSY.
I considered including Gangnam Style but concluded that might be too trite. Instead, I think you should try out this fantastic map based on another one of his hit singles: Daddy.
If you've ever watched the music video, you know why this song is so funny.
PSY has a brand of humor that blends in fantastically with his high-energy pop anthems, and Daddy is a prime example.
If anyone asks where you found this, tell them you got it from your daddy.
4.

Nyan Cat Elevator – NST Audio Works
Creator NST Audioworks did us all a favor by turning the iconic Nyan Cat tune a whole lot less annoying – so much so, it's actually fun to play in Beat Saber.
Nyan Cat is synonymous with memes. The poptart-coated cat has been making the rounds all around the world since 2011.
It has made cameos in games, movies, TV shows, and the cutesy tune was even played in elevators for a while – hence the remix's name.
3.

Cooking by the Book (Lazy Town) ft. Lil' Jon
Mashing together two very different things tends to have funny consequences.
The whimsical innocence of Lazy Town's Cooking by the Book clashes with Lil' Jon's excessively obscene lyrics about female reproductive organs, butts going up and down, and all sorts of hip hop staples to create one of the funniest songs ever made.
If you don't believe me, give the music video a watch.
2.

Rasputin (Funk Overload)
I've been sitting on this chair for hours trying to think of a bigger meme bop than Boney M's Rasputin.
This dangerously funky tune went viral several years ago through a YouTube music video where a parade of brave Soviet comrades try on a pair of scientifically-enhanced funky boots.
In the end, only one man can endure the funk overload.
Will you endure it in Beat Saber?
1.

The Entire Shrek Movie, Literally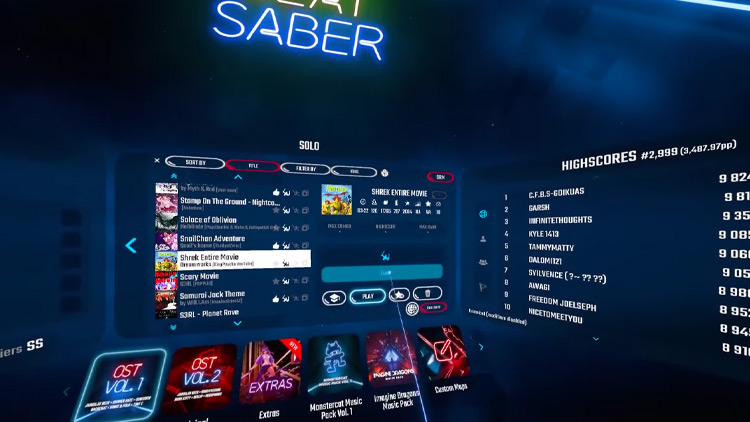 The single funniest meme track for Beat Saber isn't really a song – it's the entire Shrek movie.
No, really.
This iconic early 2000s Dreamworks movie has given rise to more than its fair share of memes.
It's a meme staple for Millennials and Gen Z, and playing through the entire film will expose you to dangerous levels of dank humor.
Alternatively, you can also check out All-Star by Smash Mouth as played at the film's opening sequence.
Or maybe try out I Need a Hero from the ending sequence of Shrek 2.
And here's another Shrek 2 hit mapped to Beat Saber that you can try: Accidentally In Love by Counting Crows.
No matter what direction you take this idea, fun is guaranteed.
Browse:
Beat Saber
Lists
Video Games