Top 40 Best Custom Beat Saber Songs (All Free Mods)
This post may contain affiliate links. If you buy something we may get a small commission at no extra cost to you. (Learn more).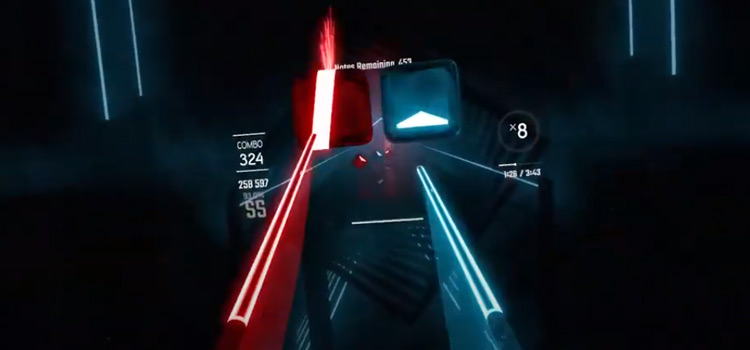 I've been following Beat Saber ever since its initial Early Access release back in 2018.
Since then, it's grown steadily into one of the most promising VR experiences available to date. And it offers a unique take on the rhythm game genre.
Possibly one of the leading reasons to get any of the major VR headsets in the market, because damn this game is fun!
Now it originally shipped with just ten songs, but its outstanding commercial performance has helped it grow through official song packs featuring tunes from Imagine Dragons, Panic at the Disco!, Linkin Park, and many others.
Still, a true musical Jedi never have enough songs in their repertoire.
Once you've gone through the official song packs, it's time to add some more with the help of modders – and there's a massive roster of user-created custom songs to choose from.
To save you the time and trouble of scouring the Internet for the best tunes, I've put together a diverse list of some amazing custom songs you can add into Beat Saber right now. All of these are worth playing and they're bound to keep you busy for a while.
40.

Under the Sea – Samuel E. Wright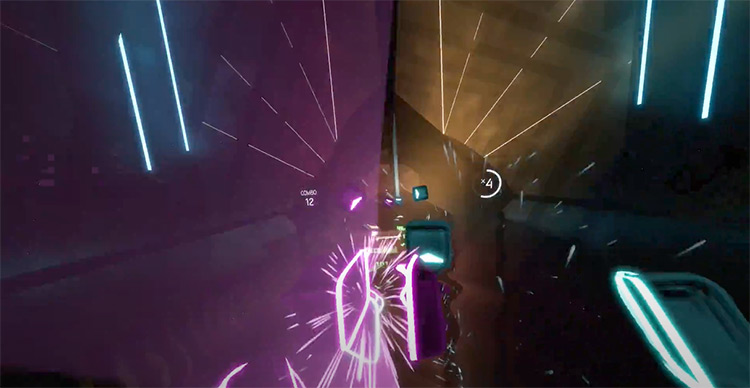 Difficulties: Normal, Hard, Expert, Expert+.
Let's start slow, shall we?
The Little Mermaid was a critical and commercial hit when it debuted in theaters back in 1989, and years of VHS/DVD/Blu-Ray re-releases have made sure everyone has seen it at least once.
Among its most memorable bits is the musical number performed by charming crustacean Sebastian, and an orchestra of sea creatures in which they explain how good life is "Under the Sea."
It's tropical, with clear inspiration drawn from Caribbean rhythms like calypso and reggae, and you'll have a blast warming up with this classic jam.
39.

Caramelldansen – Caramella Girls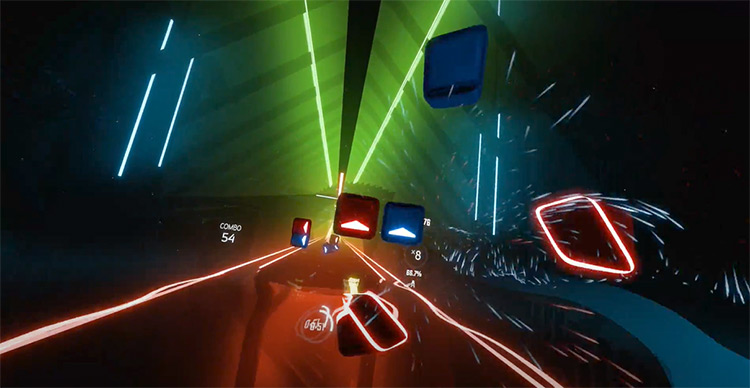 Difficulty: Expert.
I spent more time on the Internet growing up than I did at the playground. I still remember the massive phenomenon that was "Caramelldansen" in the mid-2000s – especially among the anime-watching community.
It was one of the first memes, and it spread like wildfire.
You can now enjoy this Eurodance pop jam thanks to beat mapper Dack, who used obstacles and block placement creatively so that the player reproduces this caramel dance.
You'll reminisce about better times while you work up a sweat.
38.

It's Tricky – Run DMC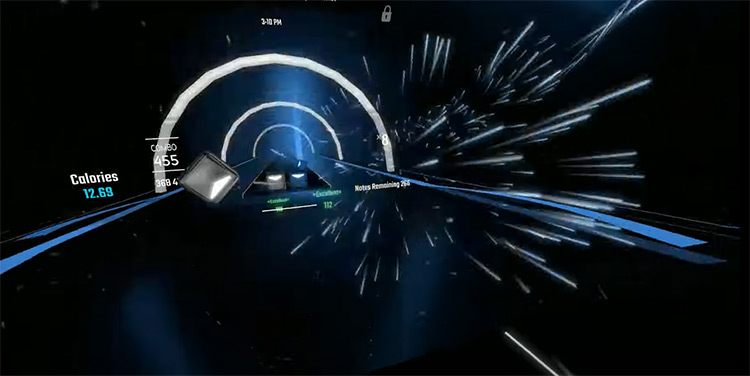 Difficulty: Expert.
Run DMC's fourth and final single for their Raising Hell album was a pretty popular song back in the day, and its catchy beat is perfect for keeping you motivated.
Despite being 30 years old, the song remains just as fun to dance to in the age of VR.
It's also expertly mapped by Joetastic, which is generally a guarantee of great flow and fun block note patterns.
If you're looking for a feel-good workout song, this is an excellent option.
37.

Ievan Polka – Miku Hatsune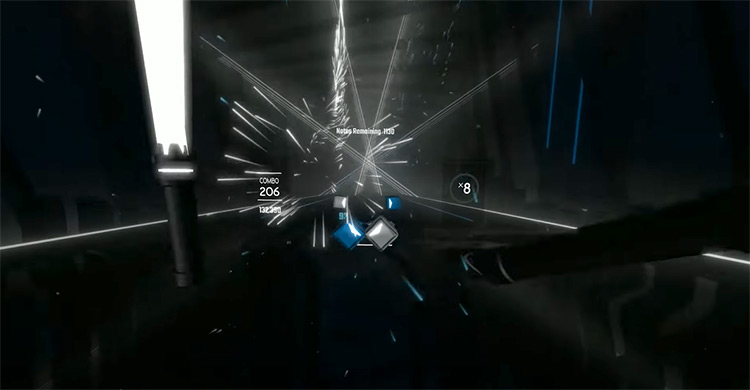 Difficulty: Expert.
Just like Caramelldansen, Loituma's "Ievan Polka" achieved international notoriety thanks to a meme that paired up the song with a clip from shounen anime Bleach where Orihime spins a leek around.
In time, Loituma's original vocals were replaced by Miku Hatsune's voice, as the song yet again rose in popularity – this time as one of the Vocaloid's first hits.
To this day, this still plays spontaneously in my head from time to time.
Thanks to Franktar, I get to exorcise my ear-worm through dance.
36.

Bonfire – Knife Party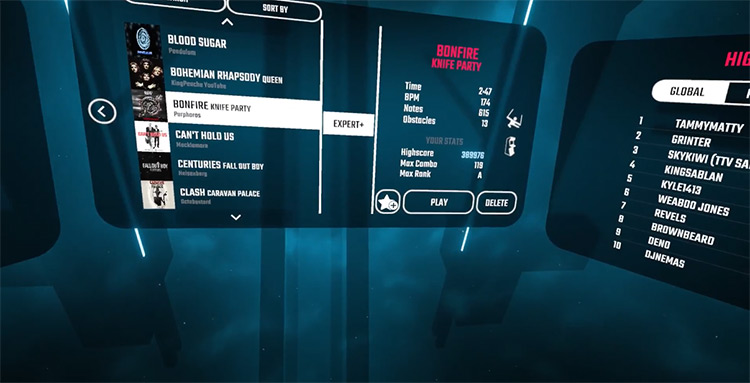 Difficulties: Expert +.
Bo- bo- bo- bo- bo- bonfire!
Who hasn't hear that iconic sample? "Bonfire" by the Australian group Knife Party was a banger for electro-house and dubstep fans back in 2012, and it's a surprisingly fantastic fit for Beat Saber.
The beat mapping by Slimyblob is of the highest quality, with intense patterns that'll get your body moving.
This song also shines for the amazing Chroma light show accompanying it.
35.

Rasputin (Funk Overload)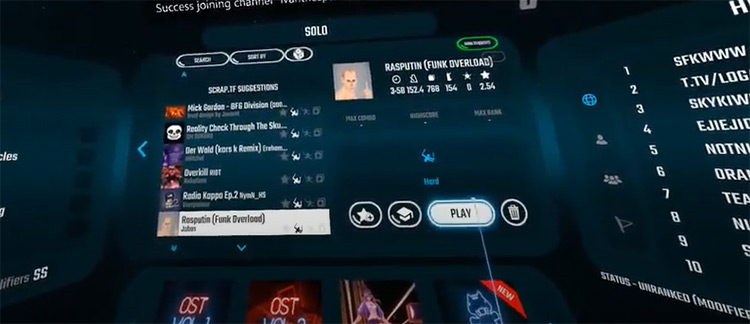 Difficulty: Hard.
If you've never heard this meme-tastic and catchy song, you've probably lived under a rock for the past few years.
It was made famous by this video, now counting over 100 million views on Youtube.
This dance/electronic bop tells the story of Grigori Rasputin – the legendary superhuman lover of Russian Empress Alexandra.
You'll feel possessed by this funky beat, and creator Jobas made sure to map it so you'll have to move around a lot – ensuring a good sweat.
It's definitely one for the history books.
34.

Revenge – CaptainSparklez ft. TryHardNinja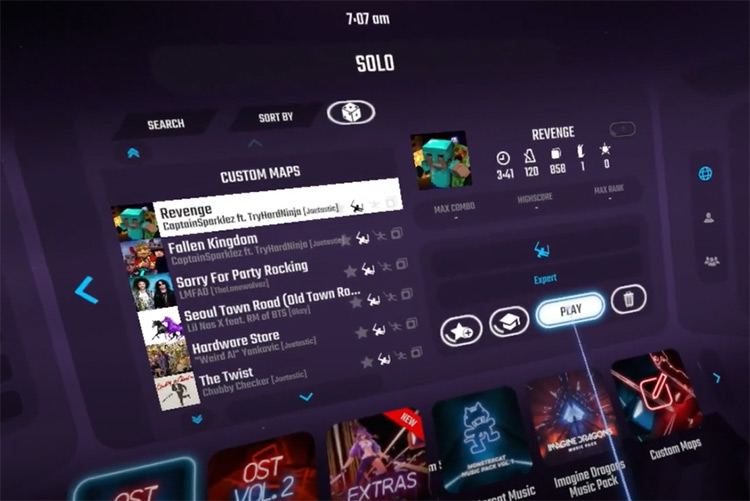 Difficulty: Expert.
Another tune that became popular through Youtube is "Revenge," a Minecraft-themed parody of Usher's "DJ Got Us Fallin' in Love Again."
This remix was performed and released by famous Minecraft streamer CaptainSparklez during the height of the Minecraft craze.
It's sure to bring back memories of how the creative building game completely took over Youtube.
Joetastic mapped it, so you can expect excellent quality and lots of movement. A fun warm-up for fans of the blocky sandbox adventure.
33.

Hornet – Hollow Knight OST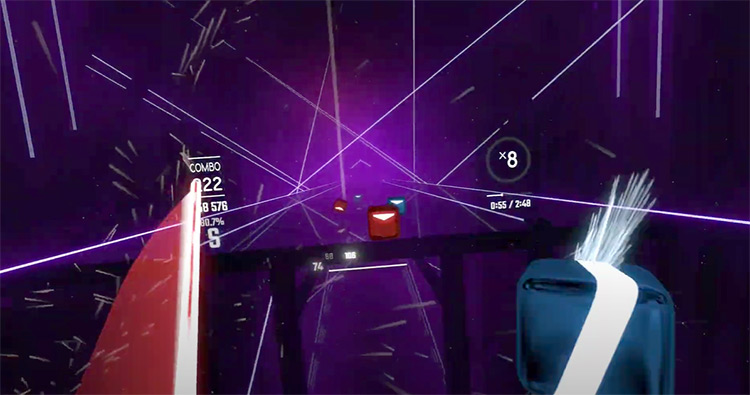 Difficulties: Hard, Expert.
Also gaming-related but with a considerably darker tone is "Hornet", the theme song for the Hollow Knight character of the same name.
You probably weren't able to really listen to it during the fight against this needle-and-thread wielder, as you'd have been desperately fighting for your life and narrowly avoiding her attacks.
Still, once you start slicin' to this song, you'll instantly recognize it.
Even if you're not big on Hollow Knight, this map by Skaiamechanic is consistently engaging and has superb flow. Give it a try!
32.

Cheeki Breeki Hardbass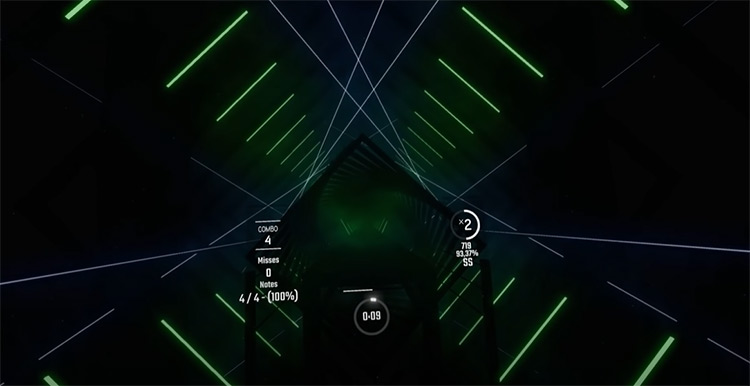 Difficulties: Normal, Expert
As a fan of famed Slav Youtuber Boris, I've heard this song countless times.
And I still find it just as fun!
The Hardbass genre grew into a bit of a phenomenon in Eastern Europe during the last two decades. Slowly, it has become synonymous with the Gopnik subculture – which we mostly know for wearing Adidas bodysuits and squatting while drinking vodka.
"Cheeki Breeki Hardbass" was made famous as a meme through this video.
Its fast tempo is excellent for a workout.
But you'll need some vodka first if you want the genuine Gopnik experience.
31.

Toss A Coin To Your Witcher – Joey Batey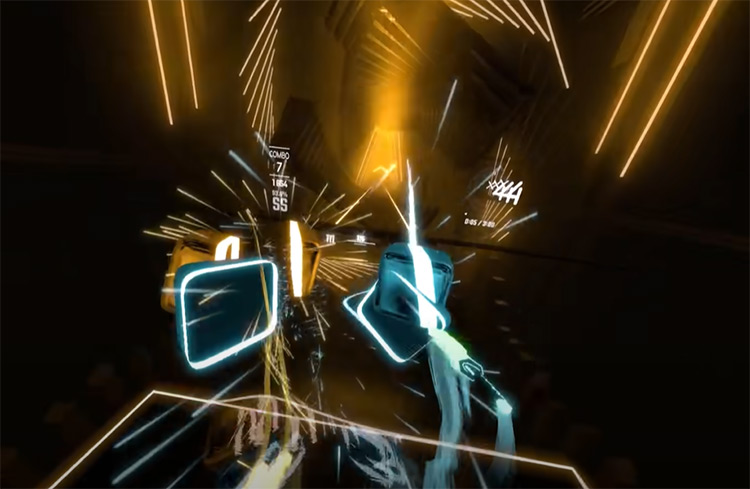 Difficulties: Easy, Normal, Hard, Expert, Expert +
For something much more recent, I'd suggest trying out this map of the most memorable song played by the bard Jaskier in Netflix's 2019 adaptation of The Witcher.
In a way, the song is blatant pro-Geralt propaganda.
But considering we all love the superhuman monster hunter, I don't think anyone will object.
Keep in mind that mapper Holair focused on the sung lyrics rather than the beat when placing down blocks. This is one for those of you who feel inspired by Geralt's adventures.
30.

Legends Never Die – League of Legends ft. Against the Current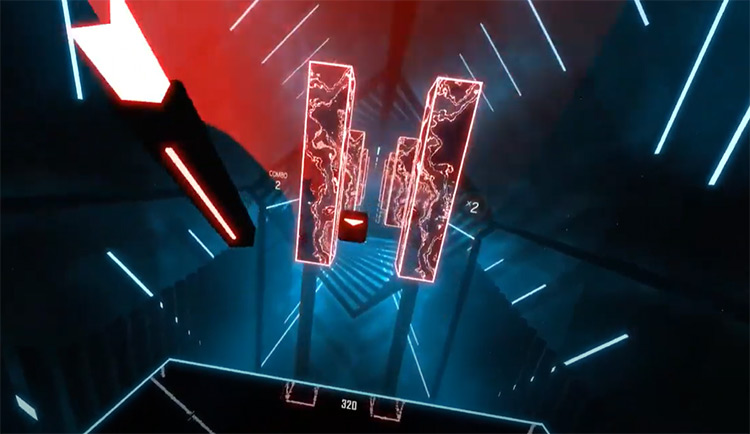 Difficulties: Expert, Expert +
League of Legends has remained one of the most popular online games for almost a decade.
And I'm sure many Beat Saber fans are also grinding their way up to Challenger when they're not slicing blocks to catchy beats.
This song was written to promote the League of Legends World Championship in 2017, and even if you're not a fan of the game, I'm sure you'll agree it's exciting and inspiring like few others.
This one is perfect for those of you who like picturing yourselves as fearless heroes striking down darkness while working out. Definitely a challenge song to push through.
29.

Baba Yetu – Christopher Tin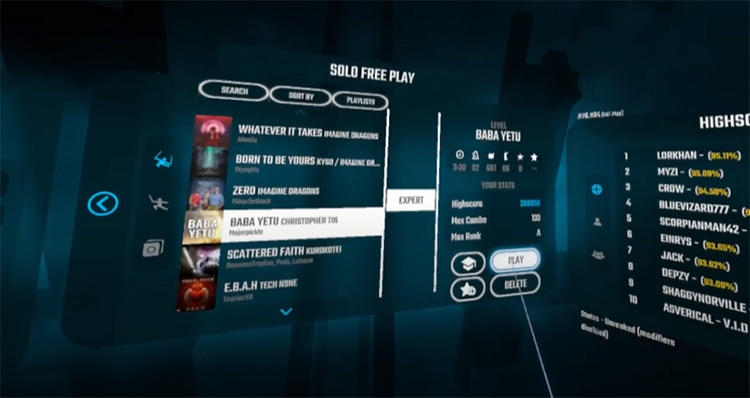 Difficulty: Expert
This may be an unusual choice, but I'm a Civilization fan.
And dancing to the beat of Civ IV's main theme is a dream come true.
It's great for a warm-up or a cool down, as its relatively slow beat won't have you jumping around from the get-go. Famous mapper Majorpickle also dropped some interesting irregular patterns here and there, so even if it's not that intense, it never gets boring.
Even deep strategic historical simulator aficionados need to strut their stuff from time to time, right?
Fun Fact: It's impossible to tell if you don't speak Swahili, but the lyrics of this song are a translation of the Lord's Prayer to the East African lingua franca.
28.

Du Hast – Rammstein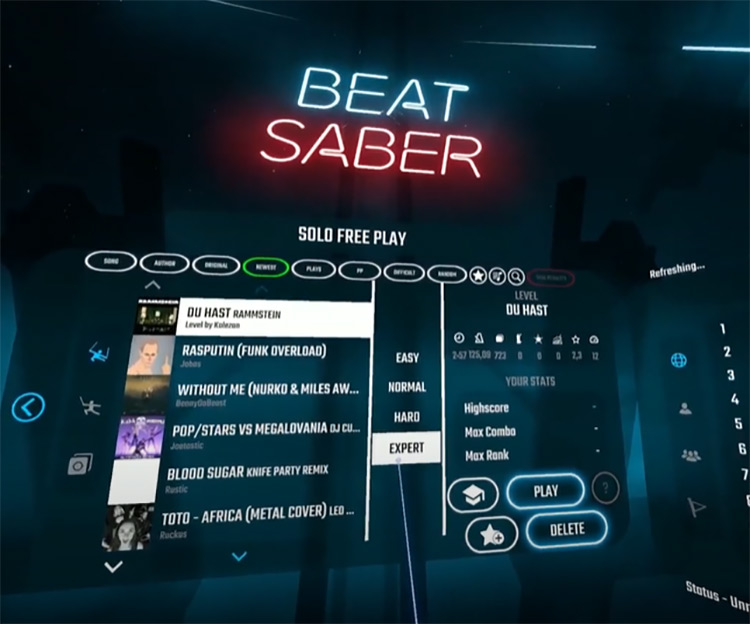 Difficulties: Easy, Normal, Hard, Expert.
On the opposite end of the "chill" spectrum, we find Rammstein's hyper-famous anthem "Du Hast."
Released in 1997 as part of their second album, Sehnsucht, this song quickly became a bit of a cultural ambassador for Germany back in the day.
It's the best song you can listen to if you're just getting the hang of the German language.
This metal track was expertly mapped by Kolezan to capture the song's aggressive energy. It uses a shorter version of the original song to avoid getting repetitive or tedious.
27.

Animals (Radio Edit) – Martin Garrix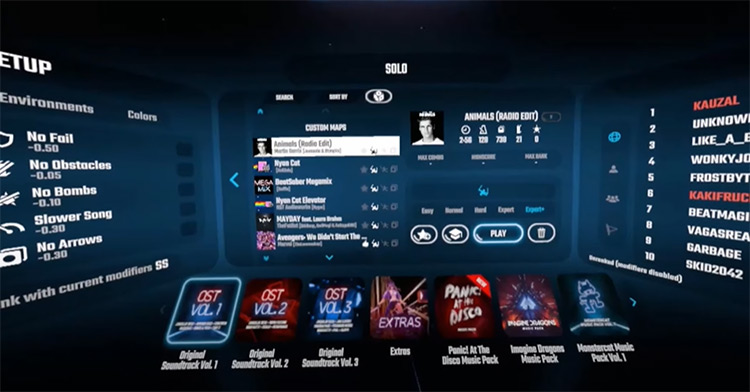 Difficulties: Easy, Normal, Hard, Expert, Expert+
Few songs made such a massive splash in 2013 as Martin Garrix's "Animals", a hit during the early 2010s EDM revolution.
Mapped by Joetastic and StyngMe, this big room house anthem makes a comeback in Beat Saber as a small room VR dancing bop.
It features loads of fun and unique patterns you won't see anywhere else. And it's a better way to enjoy this jam than getting black-out drunk in the club.
It also won't give you a hangover!
26.

Blinding Lights – The Weeknd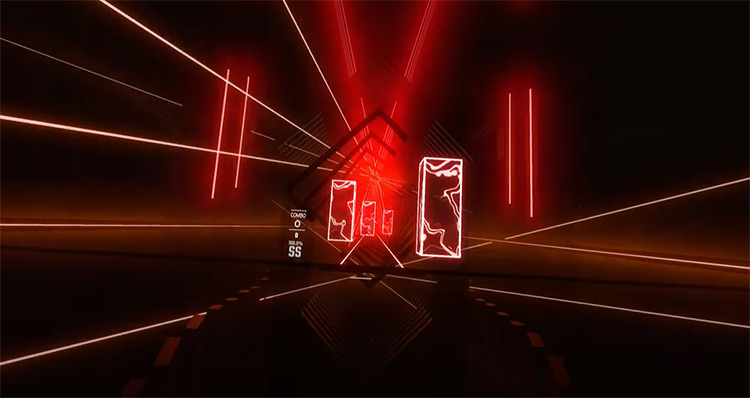 Difficulties: Easy, Expert+
EDM is still pretty popular.
But recent years have seen the rise of experimental genres like synthpop and synthwave – as heard on The Weeknd's fantastic "Blinding Lights".
It's the second single for their recent album, After Hours.
It reached #1 on Billboard Hot 100 playlists in several countries all around the world in a matter of days, making it The Weeknd's most successful single to date.
This map by creator Xcheesy gives you the perfect way to fully enjoy this song without leaving the comfort of your home by dancing and slicing to this 80s-inspired beat.
25.

Kung Fu Fighting – CeeLo Green ft. Jack Black
Difficulties: Easy, Normal, Hard, Expert.
If rather than dancing you'd rather spend your time "Kung Fu Fighting", this song from Dreamwork's fantastic 2008 film Kung Fu Panda is perfect for you.
It has a bit of a Chinese sound, which makes sense considering where the movie draws most of its influences from.
This adds to its authenticity and will help you transport yourself to the windy Chinese mountains as you slice and dice to Sturmi's fantastic beat map.
You'll have a blast while playing it, I swear.
And it's one of those upbeat motivating tunes to get a Beat Saber session rolling.
24.

Tokyo Chopp ft. Shiki – HentaiDude (Moe Shop Remix)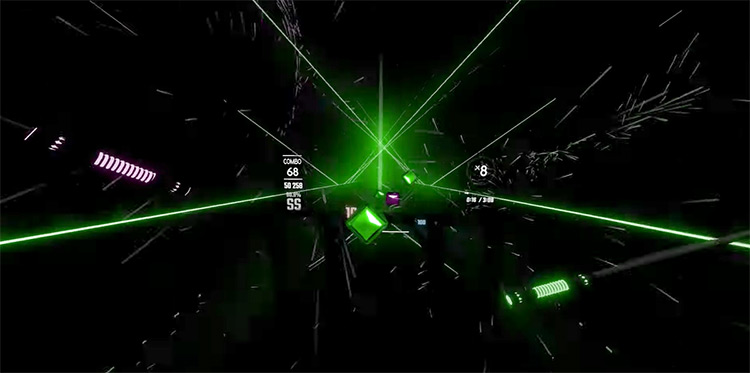 Difficulties: Easy, Normal, Hard, Expert, Expert+
Another fantastic song with an Asian influence is Hentai Dude's "Tokyo Chopp", now remixed by notorious French electro-pop producer Moe Shop.
This is one of the few truly "different" songs to make their way into Beat Saber, with an evident 80s influence and even some rap thrown in.
Moe Shop's mix is part of a relatively new genre called Future Funk, which has been gaining a lot of traction among anime and lo-fi fans in recent years.
This mix of American rap culture with Japanese anime references remixed by a French DJ is a refreshing multicultural blast for the senses.
23.

Disco Lady – Nanidato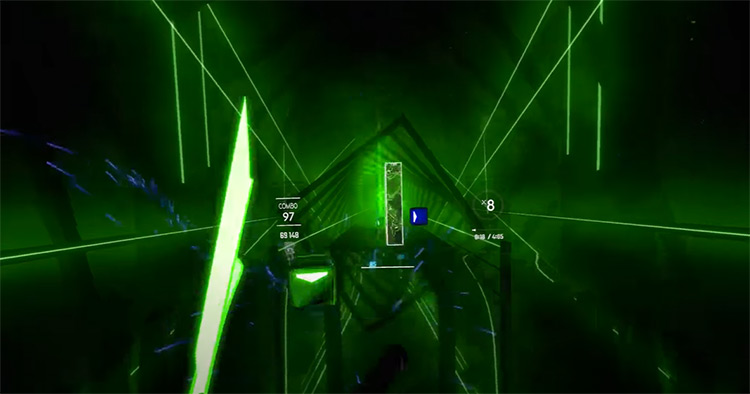 Difficulties: Easy, Normal, Hard, Expert, Expert+
Another fantastic example of future funk to make its way into Beat Saber is Nanidato's "Disco Lady", which samples Tomato n' Pine's classic "Wanna Dance!".
Unlike our previous entry, this one is considerably less explicit.
And the sampled song is an excellent introduction to Japanese funk.
The song has been mapped by Etan, just like the previous one, and it has the same great flow and readable notes.
22.

Wet A** P**** – Cardi B ft. Megan Thee Stallion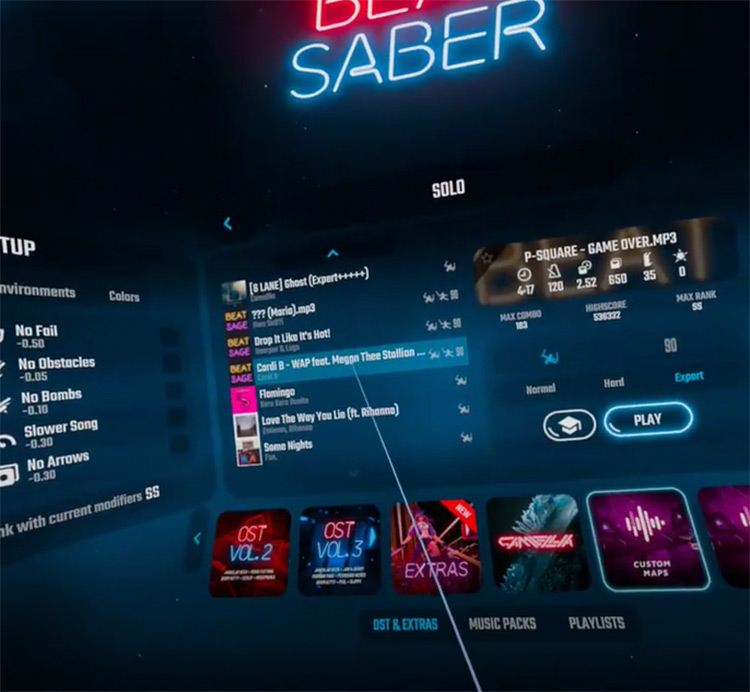 Difficulty: Expert.
Whether you feel empowered or unsettled by Cardi and Megan's explicit anthem to sexual pleasure, it's impossible to ignore its massive worldwide success. It was a matter of time before it made it to Beat Saber.
It can be described as an unapologetically raunchy bop with a heavy bassline that'll get your a** moving up and down like nothing else.
Be sure to have a bucket and a mop ready to dry-up the puddle of sweat you'll leave on the ground after playing through this juicy song a couple of times.
21.

Gloom – Geoxor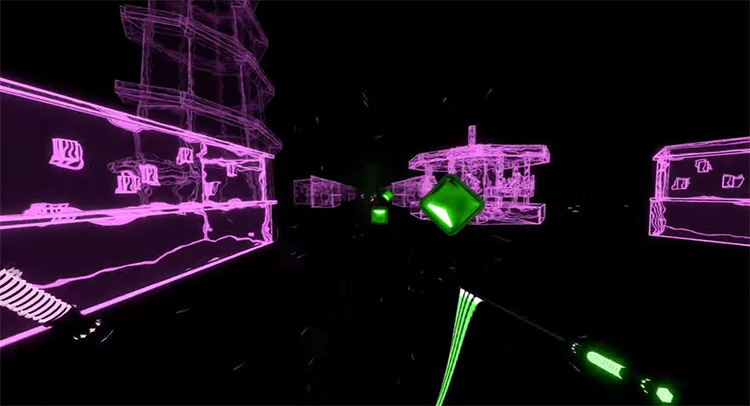 Difficulties: Easy, Hard, Expert, Expert+
If you're not a fan of Cardi B's illustrious discography, perhaps you'll enjoy something slow and reflective.
I've had Geoxor's "Gloom" high-up on most of my Spotify playlists for a while, and this beautiful map is one of the best ways to experience it.
While Minething's mapping is spot-on and accessible for players of all skill levels, it's the fantastic light show that elevates this custom track to greatness.
Just keep in mind that you'll need a powerful system if you're planning to play through this sensory experience.
20.

Stressed Out – Twenty One Pilots
Difficulties: Expert.
Musical duo Twenty One Pilots shook the world in 2015 with "Stressed Out", one of the most successful songs to come out of their Blurryface album.
Like the rest of the album, this song explores the challenge of figuring out your place in the world and becoming an adult in a capitalist context where money and upward mobility seem to be the only real societal value.
I can't think of a better block mapper than Joetastic to do this millennial jam justice, and its enjoyable flow is the best way to sweat out all that pent-up cortisol from your stressful life.
19.

Uptown Funk – Mark Ronson ft. Bruno Mars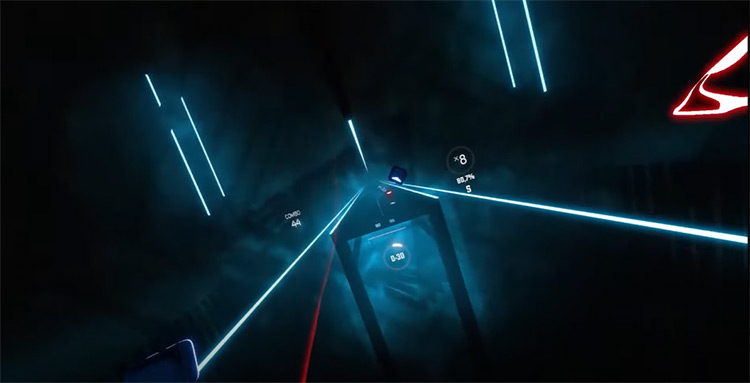 Difficulties: Hard, Expert.
If our last entry is too much of a downer to make its way into your workout playlist, let me recommend this excellent map of Mark Ronson's "Uptown Funk".
Bruno Mars performs the song, and most people remember that over the actual author for obvious reasons.
It's a bit on the easy side.
But BennyDaBeast's flawless mapping and smooth flow complement this uplifting, feel-good bop.
Whether you're a fan of boogie, disco, funk, or pop – this song has a bit of everything. Give it a try!
18.

YoiYoi Kokon – REOL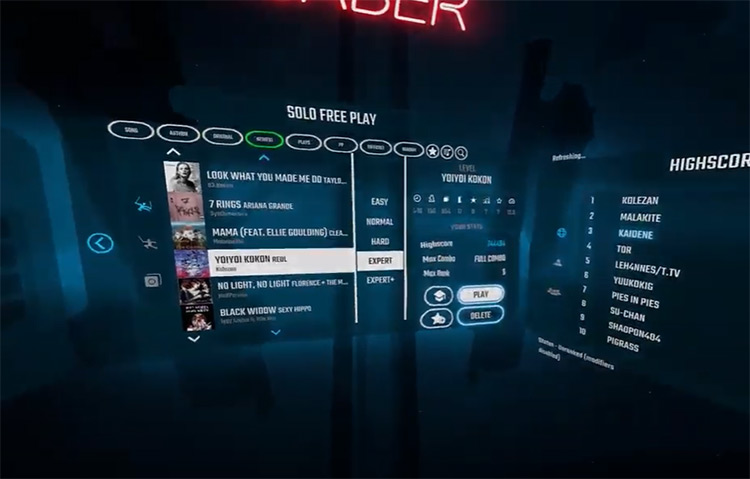 Difficulties: Easy, Normal, Hard, Expert, Expert+
We're back to the Eastern part of the world with famous J-Pop artist REOL, performing a song that feels as if it was made for Beat Saber – especially after watching the official music video.
Coincidentally, that's also the version of the song used by Kolezan for this Beat Saber map. According to the author, the fireworks at the end of the video are a vital part of the song, and perfect for some fun slashing in BS.
The lighting effects make this song feel exciting. Kind of like an open-air music festival.
But they're tame-enough that you won't feel dizzy by the end of it.
17.

Venom of Venus – Powerwolf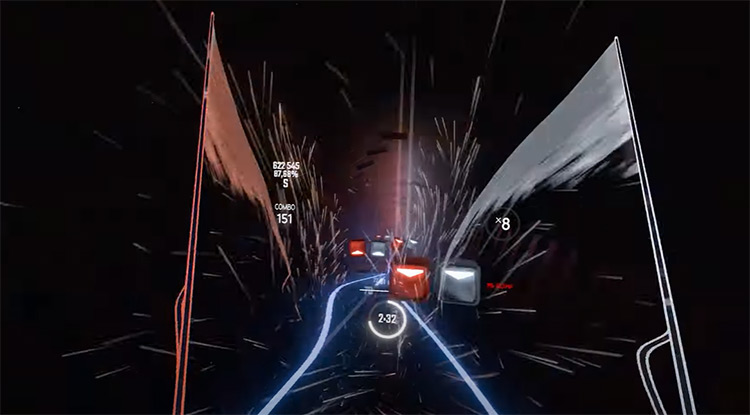 Difficulties: Normal, Hard, Expert, Expert+
If you like high-energy songs but aren't exactly a fan of Japanese vocals, perhaps you'd prefer Powerwolf's "Venom of Venus", from their 2018 album The Sacrament of Sin.
This power-metal band has a knack for lyrics with biblical themes and… werewolves? I'm not sure where the combination comes from, but it sure is epic.
It's fun, exciting, and Cyrix's high-intensity patterns are the perfect fit for this inspiring song.
16.

Technologic – Daft Punk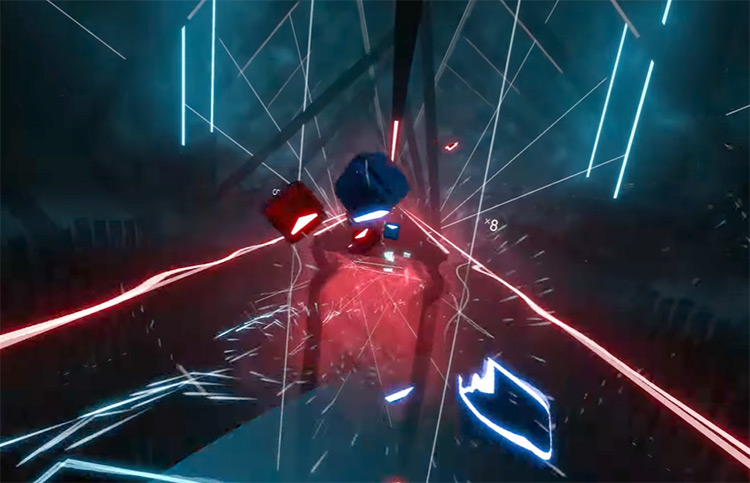 Difficulties: Normal, Hard, Expert.
I first heard Daft Punk's "Technologic" while watching MTV as a teenager.
And while I found the accompanying video deeply disturbing, I loved the song to bits.
This 2005 hit by the French electro-rock duo captures the atmosphere of a technologically advanced and industrialized society, where everything is fast and set-up like a production line.
The same feeling is expertly transmitted by Awfulnaut's mapping, which uses obstacles to complement the rhythm and get you moving to this upbeat – if a little weird – song.
15.

At DOOM's Gate – Mick Gordon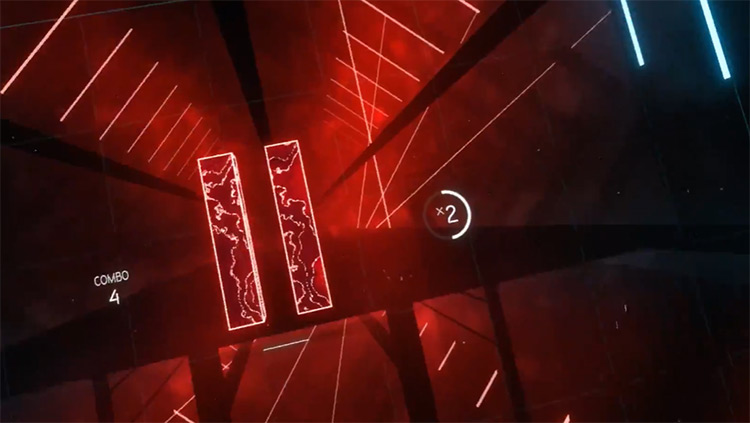 Difficulty: Expert+
Here's one that'll stimulate your ears, eyes, and body – all at the same time.
This excellent mapping of Mick Gordon's iconic DOOM track was made as part of the Extra Sensory event, in which authors like CyanSnow used several mods to create complex custom wall maps.
The result is a musical journey into the gates of hell, with lots of fire and lava – and even some diabolic imagery like upside-down pentagrams for you to frighten your religious family members in VR.
Truly unique if you like striking down demon scum.
14.

Fuji Opener – Skrillex ft. Alvin Risk (Virtual Riot & Xomega Remix)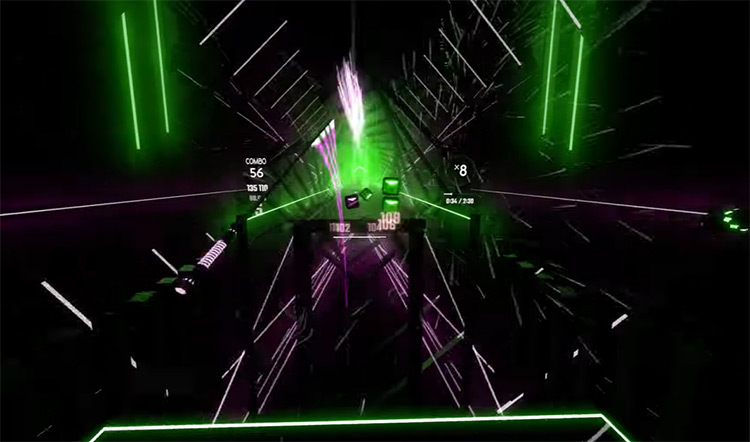 Difficulties: Easy, Normal, Hard, Expert, Expert+
Skrillex may not enjoy the same level of notoriety as he did in the Age of Dubstep, but he's still very active, and "Fuji Opener" is among his best recent accomplishments.
Released in 2019, the song is experimental and a little wild.
The beat mapping done by Pkdan reflects this with short, irregular patterns that'll require speed and focus if you hope to clear it.
I especially like the build-up to the song's main bass drop, which is absolutely insane and will surprise you the first time around.
13.

Flamingo – Kero Kero Bonito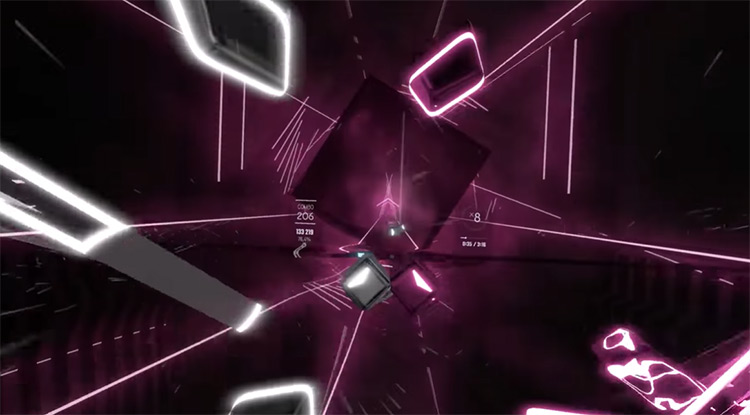 Difficulties: Hard, Expert.
Have you ever wondered exactly how many shrimps you'd have to eat to turn pink?
This song by English band Kero Kero Bonito may not have the answer, but it does have a nice message about equality that resonated with audiences worldwide.
Its cute and upbeat style was also a significant contributor to its success, and it translates pretty well to a Beat Saber map.
Creator Etan did it justice with near-flawless mapping. It's not too fast, and it doesn't have too many notes – it's just perfect, like this song.
12.

Bohemian Rhapsody – Queen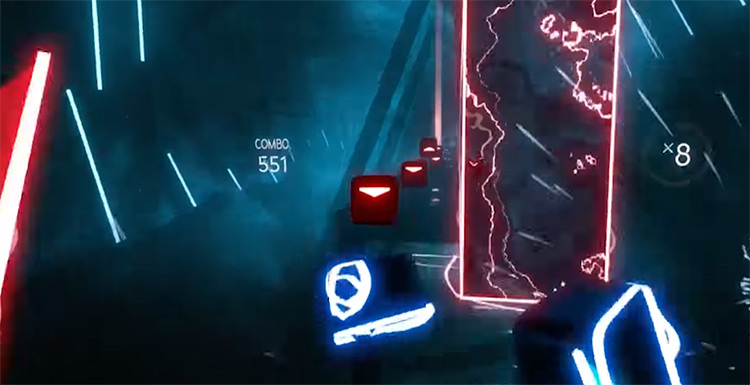 Difficulties: Easy, Expert
"Flamingo" may have reached audiences worldwide, but it'll never get close to the colossal success and profound cultural influence of Queen's 1979 "Bohemian Rhapsody".
While other mappers have already tried their hand at bringing this song to Beat Saber, none will make you feel as close to Freddie Mercury's glory as this map by Jokidum.
It never gets boring or repetitive, which is an achievement when you're mapping a six-minute-long track.
And it's also pretty challenging. But the epic lyrics will inspire you to pull through.
11.

Daddy – PSY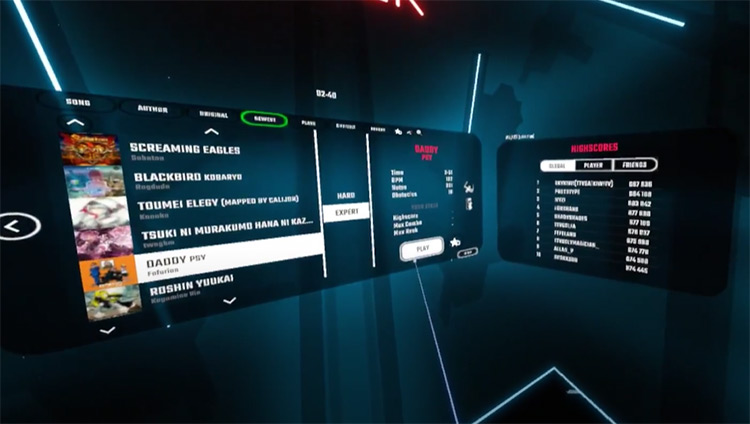 Difficulties: Hard, Expert
Apart from having one of the weirdest music videos in recent memory, PSY's "Daddy" has an inevitably catchy rhythm and the Korean artists' characteristic flow.
It wasn't half as successful as "Gangnam Style", the artist's first worldwide hit, but I think it's actually a better song – and a fantastic fit for Beat Saber.
Fafurion's expert mapping will have you dancing around like an idiot just seconds into the song, using obstacles and blocks to make you swing your hips and flail your arms about like a madman.
Just be careful not to jump into a wall in your excitement.
10.

Whatever It Takes – Imagine Dragons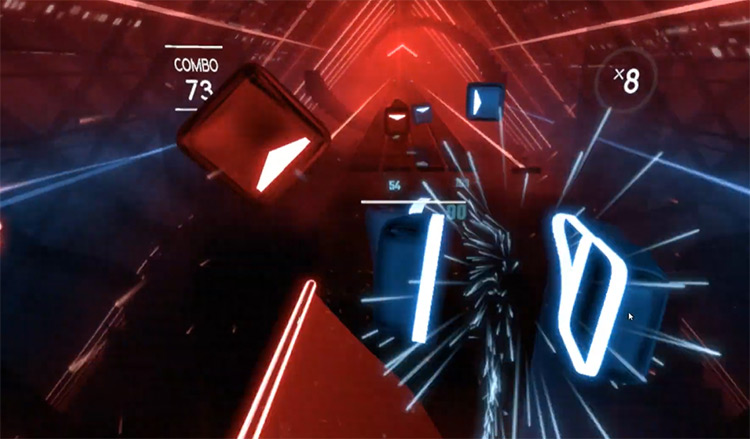 Difficulties: Easy, Normal, Hard, Expert, Expert+
Imagine Dragons songs are always oddly fitting for Beat Saber, especially when accompanied by a fantastic light show and precise mapping.
There's an incredibly funky flow to Baxter395's block patterns that I love, but it's also a fantastic workout.
It includes physically-challenging patterns that'll make you jump, dodge, and even squat to keep your streak going.
Make sure you're aware of your surroundings before attempting this intense track.
9.

Gangnam Style – PSY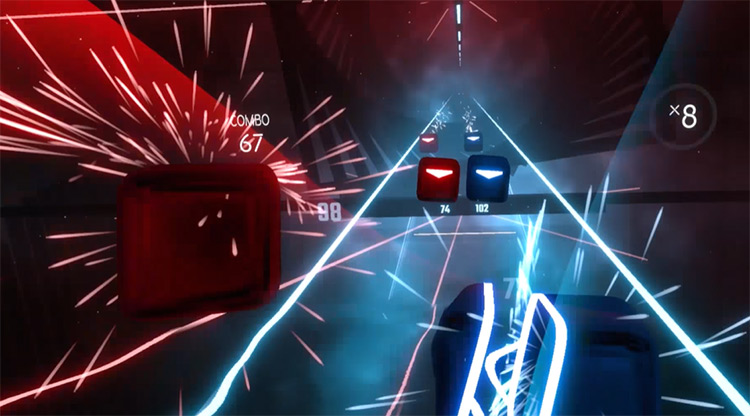 Difficulties: Normal, Hard, Expert
One of the biggest songs of the past decade has to be PSY's "Gangnam Style", which is also one of my favorite songs of all time.
This K-Pop anthem became a colossal pop culture phenomenon in 2012, and its influence continues to be felt almost ten years later.
Expert mapper GreatYazer creatively uses walls and note blocks to make you replicate the iconic cowboy-like dance, which is the only acceptable way to enjoy the song.
It's upbeat, gets your blood pumping, and you probably know the dance by heart already, so be sure to try this one out.
8.

Moves Like Jagger – Maroon 5 ft. Christina Aguilera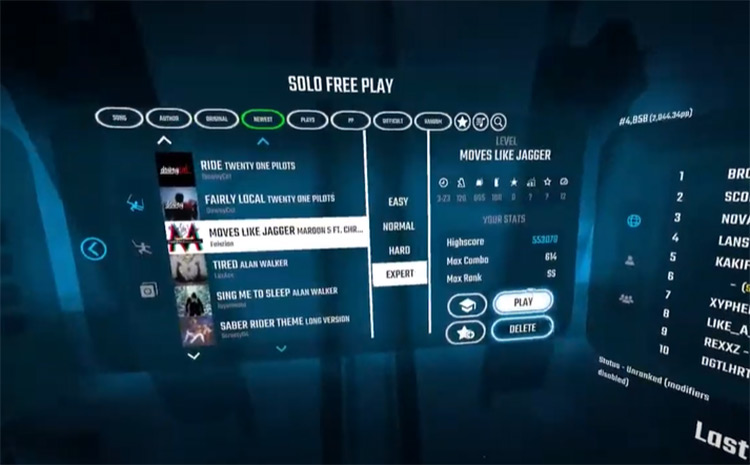 Difficulties: Normal, Hard, Expert, Expert+
"Moves Like Jagger" was Maroon 5's second single to reach #1 in American charts, thanks to Adam Levine and Christina Aguilera's great chemistry.
It also topped the charts in over 15 other countries, and it might just be their very best song to date.
Just like our previous entry, this track – mapped by Baxter395 – employs lots of creatively-placed walls to make you swing and sway to the beat, and keeps you active from start to finish.
If you want to sweat profusely while positively jamming, this is the one.
7.

Shut Up and Dance – WALK THE MOON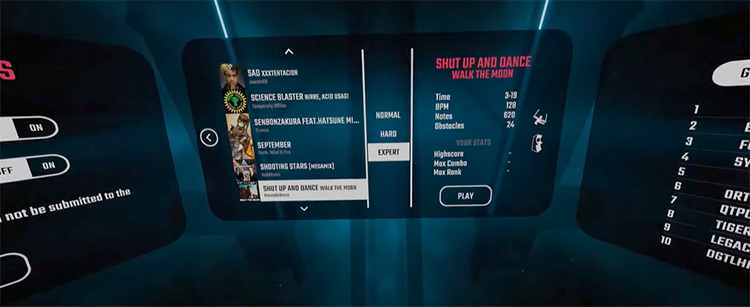 Difficulties: Normal, Hard, Expert, Expert +
WALK THE MOON's biggest hit also happens to be one of the hottest songs in the Beat Saber community right now, and for a good reason.
Mapper BennyDaBeast knows what works and what doesn't when it comes to creating engaging patterns. The solid learning curve presented by a wide range of difficulty options is also much appreciated.
While some expert players may find even the hardest difficulties a bit too easy, it's still plenty of fun and will get you sweating in no time.
6.

New Rules – Dua Lipa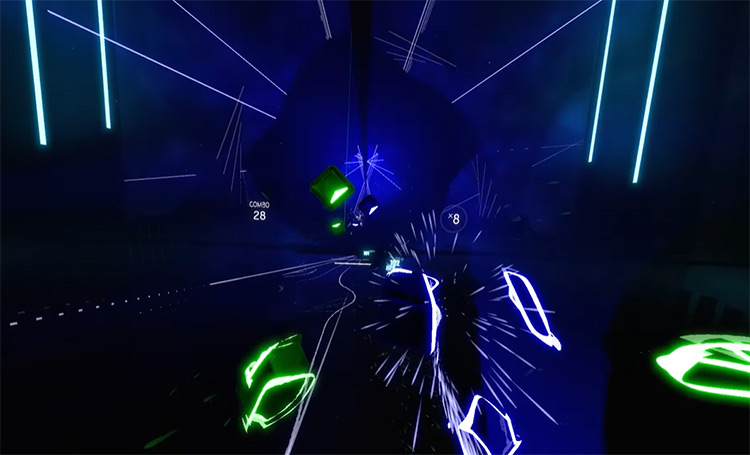 Difficulties: Normal, Hard, Expert, Expert+
So you broke up with your boyfriend, you're devastated, and you don't know if you'll ever recover.
What's a girl to do?
Play Dua Lipa's women empowerment anthem "New Rules" on Beat Saber, of course.
In this song, the English singer goes through a series of rules to get over your ex, delivered with a catchy tropical house beat that'll help you remember them in your time of need.
Like the previous entry, this one is also mapped by BennyDaBeast, and provides the same high-quality patterns and coherent difficulty levels.
5.

Believer – Imagine Dragons (100k ver.)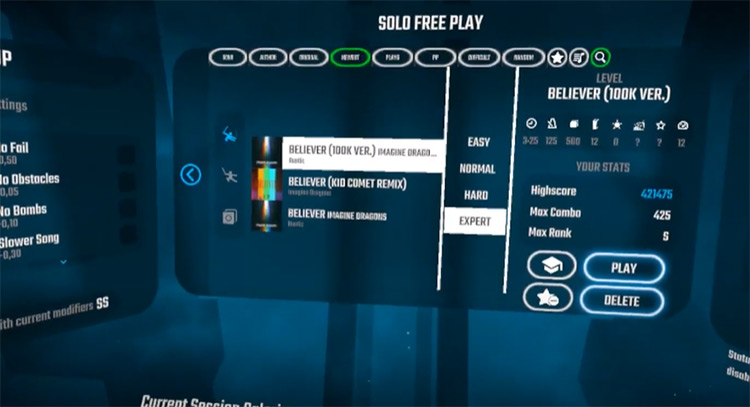 Difficulties: Easy, Normal, Hard, Expert
As I said before, Imagine Dragons and Beat Saber are made for each other, and "Believer" is the most prominent example of this match made in heaven.
Sure, you can find this song in Beat Saber's official roster.
But Rustic's mapping is several times better than that of the original.
Everything in this track comes together to create the best experience possible, and it'll remind you of why this song became such a worldwide success.
4.

Analys – Hayako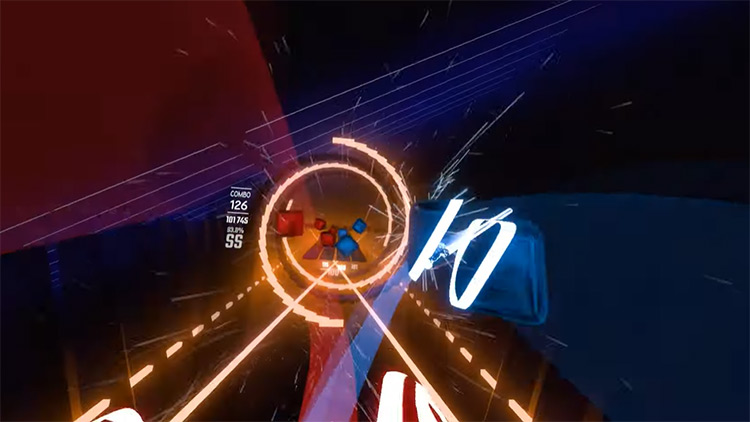 Difficulty: Expert+
If you're interested in a track that'll take you on a trippy journey, this map of Hayako's "Analys" will do the job and then some.
It was made as part of the Extra Sensory event, and it features a wacky custom wall map that's unlike anything you've seen before in Beat Saber.
Quite frankly, it's a stunning map.
And it'll require lots of precision to clear.
3.

The Wall – ABIS & Signal & Tasha Baxter (Buunshin Remix)
Difficulties: Hard, Expert
Another track to take you on a visual journey is "The Wall", mapped by proficient creator Rustic.
There's no end to the support and celebration this track gets online, and it's no wonder why. Not only does it have a captivating light show, but the block patterns used by Rustic are positively mesmerizing.
You might even start missing notes if you let your mind drift too far.
The only downside to this fantastic track is that a powerful processor is needed to run it correctly, so only the technologically privileged will enjoy it to its full extent.
2.

Mr. Blue Sky – Electric Light Orchestra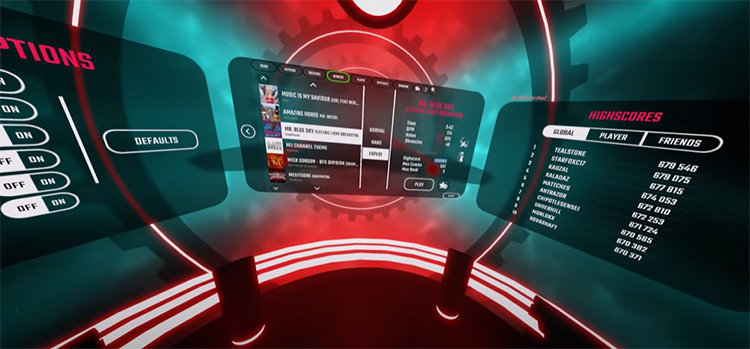 Difficulties: Normal, Hard, Expert
Made famous by Marvel's Guardians of the Galaxy, this 1977 song by Electric Light Orchestra is quite different in style to most Beat Saber tracks – and that's part of its charm.
Expert mapper GreatYazer manages to make this relatively calm and easygoing song very exciting to play with the creative use of unique patterns that bring out the Baby Groot within you.
1.

Midnight Lady – Dirty Androids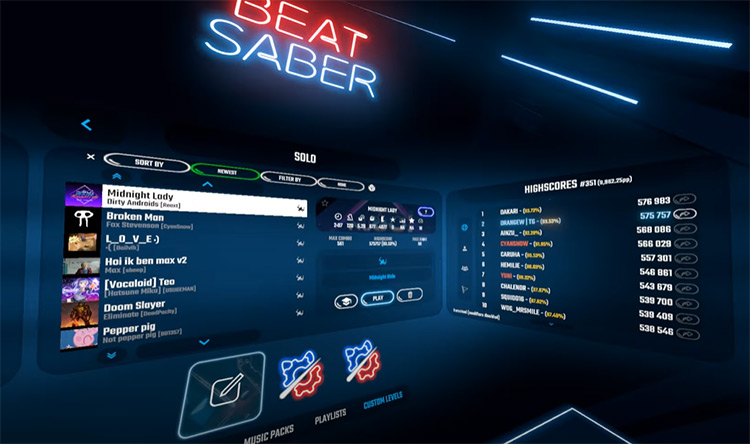 Difficulty: Expert+
The top spot on our ranking goes to another one of Reaxt's Extra Sensory creations – the biggest, most impressive one yet.
The wall map for Dirty Androids' "Midnight Lady" features a breathtaking light show that immerses players in a vaporwave Japanese cityscape that perfectly complements Beat Saber's somewhat cyberpunk concept.
In other words, it looks incredibly cool.
Of course, the mapping is just as good too.
It isn't as challenging as some other entries in our list, but it'll get you dancing to the beat and help you to immerse yourself in this all-encompassing sensory experience.
Browse:
Beat Saber
Lists
Video Games