How To Farm Wolf's Blood Swordgrass in Dark Souls 3
This post may contain affiliate links. If you buy something we may get a small commission at no extra cost to you. (Learn more).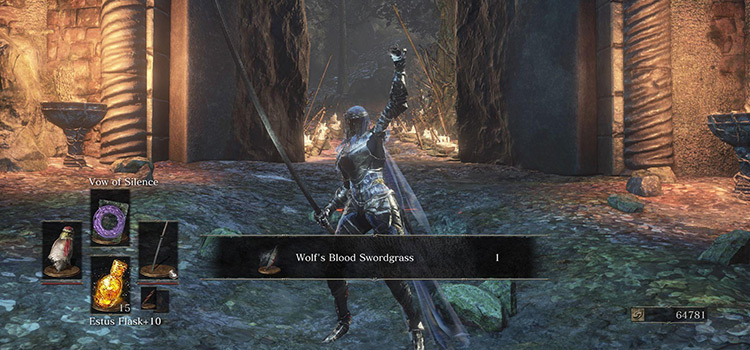 You can farm Wolf's Blood Swordgrass in a couple of ways:
Defeating Ghrus in Farron Keep (offline method)
Defending Farron Keep as a Watchdogs of Farron covenant member (online method)
We'll cover the quickest ways to carry out both farming methods in this guide.
Defeating Ghrus in Farron Keep (Offline Method)
The most reliable way to collect Wolf's Blood Swordgrass is by repeatedly killing the Ghrus that populate Farron Keep.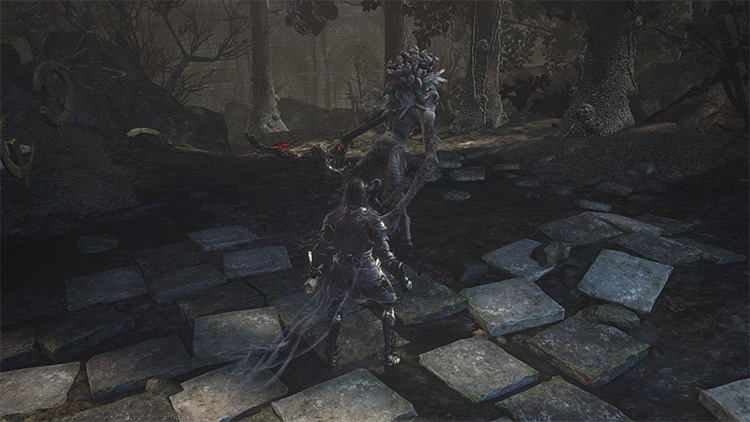 Any type of Ghru has a chance to drop a piece of Swordgrass, so picking a farming spot just comes down to the quickest way to kill the largest group of Ghrus.
Before you pick a spot, though, you should first equip some item discovery-boosting gear to speed up your farm.
For a full run-down on the best gear to use to boost your item discovery, check out our farming build guide.
Location 1: Keep Ruins Bonfire Method
The first Ghru farming spot you'll come across is right next to the Keep Ruins Bonfire, so warp there to get started.
From the Bonfire, walk out towards the three Ghrus just outside the room. Perform a charged attack before they know you're there, then try to quickly take out the group before they overwhelm you.
Once you've defeated all of them, loot any items they may have dropped, then return to the Bonfire and rest to respawn the enemies for another farm.
The success rate for a run of this farm is around 1.2% without any farming gear equipped.
With a farming build equipped, your chances rise to around 3.8%.
While this may seem low, 3.8% is actually an excellent success rate for farming an item as rare as Wolf's Blood Swordgrass.
Keep at it and you'll eventually get the drops you need.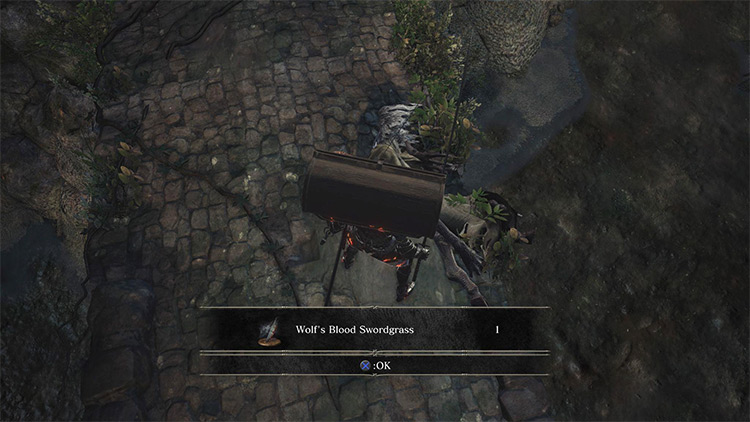 Location 2: Farron Keep Perimeter Method
This takes a bit longer than the Keep Ruins route, but it's much safer.
If you're having some trouble consistently defeating the Ghrus at the Keep Ruins, this spot is your best bet.
Warp to the Farron Keep Perimeter to start.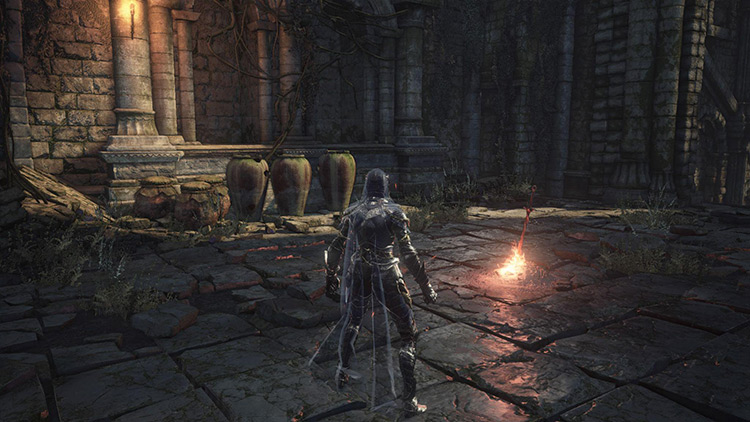 Walk down the corridor until you reach the arch that leads to the main path of the area.
Wait here and you'll be able to see two Darkwraiths walk up the path towards the Abyss Watchers Bonfire.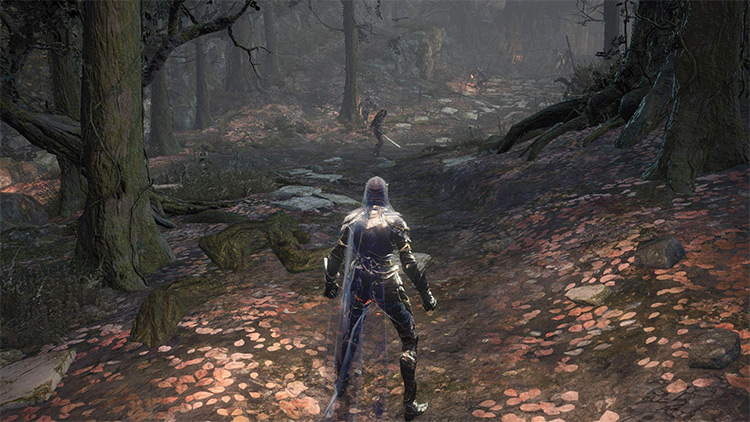 Further up the path they'll meet with 5 Ghrus and begin to fight them, starting a large battle between the two enemy factions.
Once the Darkwraiths are about to begin fighting them, run up behind them and join in, staying on the fringes of the fight where possible.
Try to stay out of the most dangerous parts of the battle, and take any chances to finish off Ghrus where possible.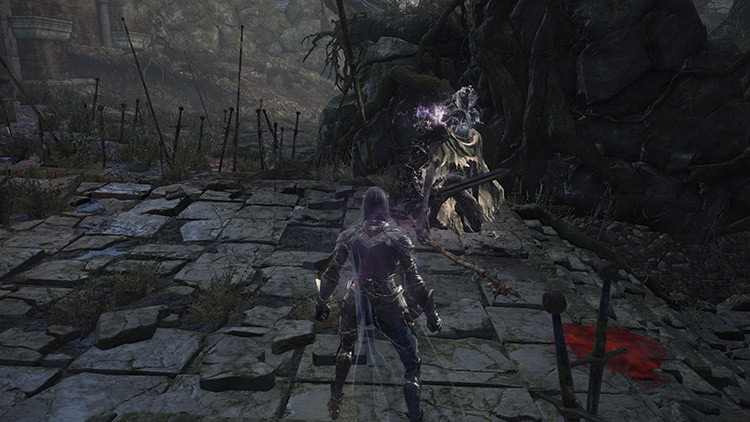 While Darkwraiths can get Ghrus to drop Wolf's Blood Swordgrass, they aren't equipped with item discovery-boosting gear, so the odds of them getting one to drop is low.
For this reason, you'll want to "snipe" Darkwraiths' kills from them, dealing the finishing blow on the Ghrus so that your farming gear will boost the chances of getting Swordgrass.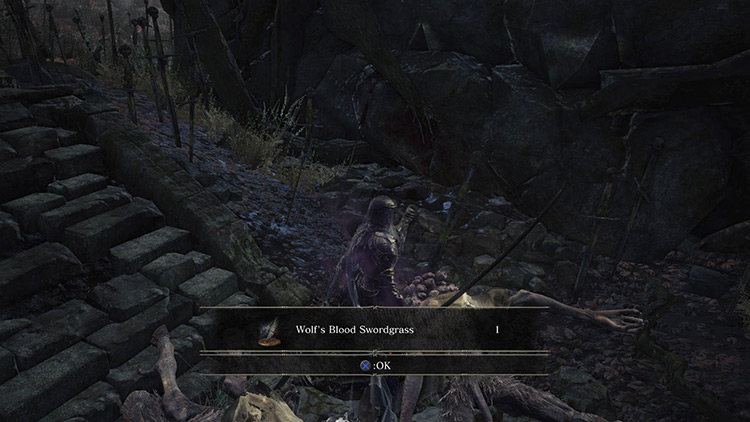 It can take some time to get good at sniping these kills, but with some practice you'll be able to safely take out Ghrus every time.
Defending Farron Keep (Online Method)
The next best way to farm Wolf's Blood Swordgrass is by joining the Watchdogs of Farron covenant and using their PvP mechanics.
To do this, you'll first have to find the Old Wolf of Farron to become a member.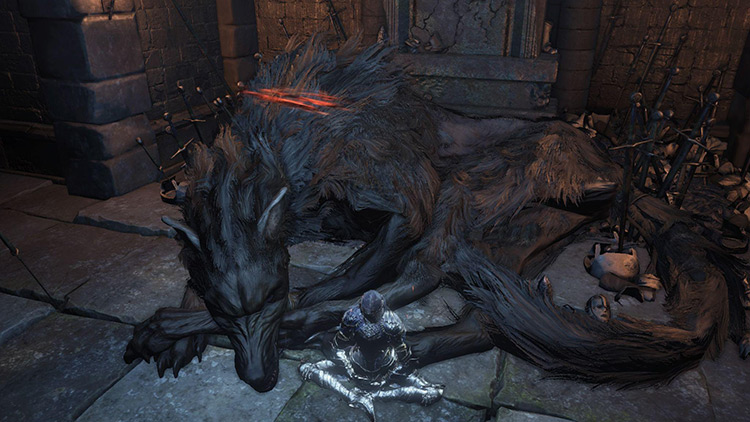 Step 1: Joining The Covenant
To find him, warp to the Keep Ruins Bonfire and leave through the exit that isn't guarded by Ghrus.
Walk down the sunken bridge until you meet the swamp, then look to your right to see a group of slugs next to the large stone building in the distance.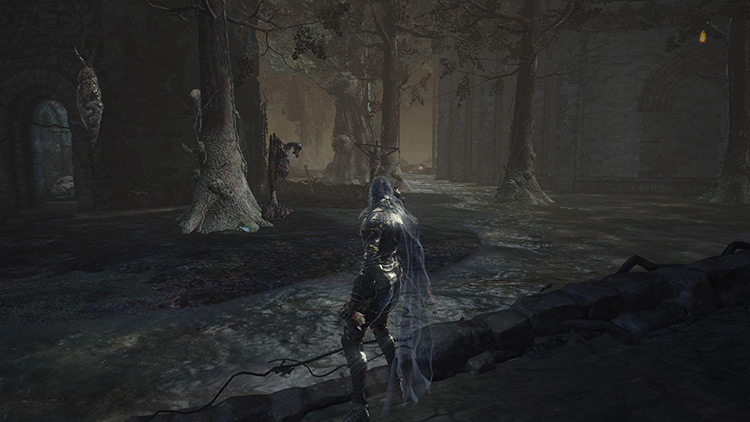 Walk across the swamp to the slugs and take them out, then climb the ladder they were guarding.
At the top of the ladder, turn right and head through the archway to your left to find the Old Wolf's chamber.
Approach the Wolf and choose to pray to it when the prompt appears. From here you can choose to join the Watchdogs of Farron covenant.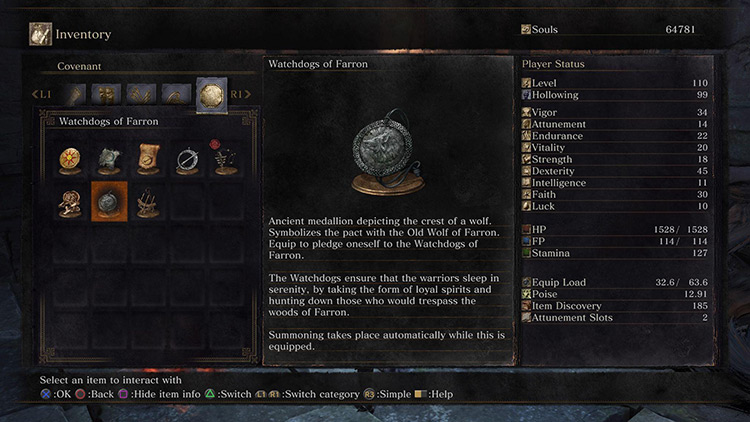 Now that you've joined the covenant, equip the Pledge to start the PvP matchmaking process.
Step 2: Defending The Keep
Any member of the Watchdogs of Farron who is playing online can be automatically summoned to defend Farron Keep from players who don't belong to the Watchdogs covenant.
You'll get one Wolf's Blood Swordgrass for every summoning in which you manage to kill the host.
This can be a long and tedious process nowadays, since Dark Souls 3's servers are emptier than ever.
Luckily, there's still a couple of things you can do to speed this process up.
The first is to avoid moving between levels. Although unconfirmed, some players believe that this resets your place in the matchmaking queue, causing you to not be summoned.
The second and most effective thing to do is waiting just outside the Abyss Watchers boss arena. This has been proven to greatly increase your chances of being summoned.
Browse:
Dark Souls 3
Video Games