Barbie-Themed Skins For Minecraft (All Free To Download)
This post may contain affiliate links. If you buy something we may get a small commission at no extra cost to you. (Learn more).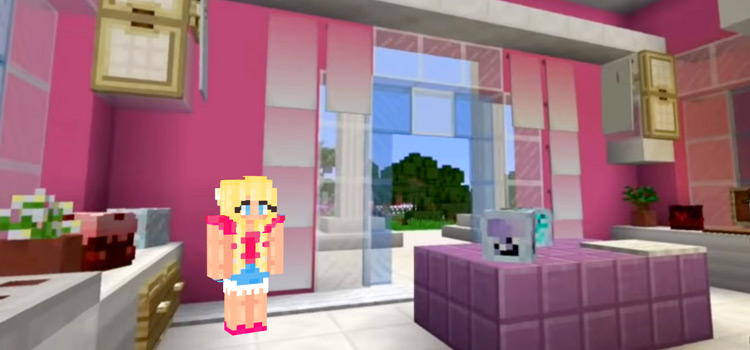 Life in plastic is fantastic, so long as you're a Barbie girl!
But we're not in the Barbie world this time. We're in Minecraft.
Yet Barbie's infective influence has spread to even the most popular video games.
While there are no official Barbie Minecraft skins, players have still taken inspiration from this pink-obsessed blonde and created many skins for us to enjoy.
So I've curated all the best quality ones right here into one compilation – enjoy!
1.

Classic Barbie
Introducing: Barbie!
The inspiration is clear here: Blonde hair, pink shirt and shoes, and pink flower accessory.
Barbie here does have some inspiration borrowed from Minecraft though, as her shirt sports the design of a slime face on the back.
However, with those doe-y blue eyes and fair skin, your generic Barbie may find it tough to survive in the not-so-Barbie world.
If you're all for the Barbie aesthetic of pink, blonde, and dainty, this skin is for you.
2.

Checkered Barbie
This Barbie looks ready to face the outdoors with style.
Here we see her swapping the pink dress and high heels for a comfy pink plaid shirt, shorts, and walking shoes.
She's still not quite willing to give up the pink in her color palette, at least not yet.
But at least she's dressing sensibly.
I would certainly be more willing to hand her an axe and send her out to collect materials dressed like this.
But I can't say if this Barbie is ready to face off against Creepers, much less the Ender Dragon. Still, she's getting there.
3.

Casual Barbie
This Barbie has done away with the dresses and stuck with more casual attire.
While her shirt is painfully pink, her style still works for her.
From the black tights and ugg-esque boots, all the way to the pink hair bow, this skin design looks like Barbie if she was in her pre-teens.
I'd be willing to let her outside to tend to the crops and farm animals, which I don't think she'll mind too much.
But she still seems like a ways away from delving into caves and climbing up mountains.
4.

Summer Barbie
Even though summer always comes to an end, that doesn't mean we can't enjoy the aesthetic in Minecraft.
Still with her pink style with this tank top, hair bow, and sandals, we get Barbie look that's ready to rock the summer away.
And in this skin she's coming with white accessories, like the sunglasses and shorts.
This Barbie design is ready to hit all the hot climates that Minecraft has to offer.
Trekking through the desert, running along the beach, and hiking through the jungle. It's all good!
5.

Rapunzel Barbie
Hailing back to medieval fairytales and the renaissance, this modest princess skin shines bright.
This is one of the first on this list with a dress we can appreciate – as it's not a vivid, eye melting pink, but instead rather subtle with a pastel pink paired with lavender.
And the braided hair in back with the lavender hair bow is a nice touch, as is the small flower crown she's wearing.
This princess will desire to have a sizable cottage in the forest alongside her animal friends – and a nice carriage to go into town on weekends to shop.
A definite defender of the home in a stylish dress!
6.

Swimsuit Barbie
This is likely the most scandalous skin on our list so far!
Here we see Barbie going for more of a blue. And the color is a nice change.
Barbie certainly isn't hiding anything this time around, as she shows off all those curves with minimal tan lines.
But with her hair tied back with a white bow, this girl is ready to relax on the beach and relish in the warmth of the sun and surf.
This would likely surprise a lot of players if you took this into a PvP server.
7.

Sugar Plum Princess
Here we're cranking up the pink color scheme, as well as the cute factor.
While not a Barbie skin in name, this skin does radiate with a Barbie-inspired energy.
We see a sweet pigtailed girl with blonde hair and bright blue eyes wearing a cute pink outfit. What's not to love?
This skin is likely what you would imagine Barbie wearing in her school days, before becoming the icon she is now.
And the fact that this skin looks like a Barbie-inspired magical girl makes it all the better.
8.

Formal Barbie
We're going back to the dresses and getting ready for a formal affair.
While the coloring on this skin leans towards the flat and bland side, the style still fits the Barbie theme.
We have a woman in a long pink dress with what looks like leopard or cheetah print on it. And take a gander at those pink dress shoes.
Not exactly "adventuring attire", but this Barbie is certainly trying her best to look her best.
Flaunting this skin on a server will garner attention, but maybe stick to the more casual servers, and not uber hardcore survival for this girl.
9.

Island Princess Barbie
Another dress, but this time it comes with a tropical(ish) feel. Perfect for island living.
The design seems to be inspired by her outfit in the movie of a similar name. And this outfit is simple and basic, yet it still works great.
The simple white dress and shoes don't stand out too much here – and are certainly a nice break from all the pink we've seen so far.
Plus her braided hair in the back looks fantastic. And the only hint of pink is in the flower accessories you can see in her hair.
This Barbie is ready to explore an island and have fun doing it.
10.

Country Girl Barbie
Here's the roughest & toughest Barbie skin on the Internet (to my knowledge).
Introducing: Country Girl Barbie!
Just look at her. This is a gal not afraid to get dirty.
With wavy blonde hair, a pleasing pink plaid top, tattered jean shorts, and pink boots, I'd say she's ready to kick up dirt with any tough mobs she faces.
This is a Barbie skin that's ready to set out into the forest and wander. Maybe even tame a horse or two.
Grab this skin, and then get yourself a sword and a pickaxe. You may feel surprisingly ready to take on the world.
Browse:
Barbie
Lists
Minecraft
Minecraft Skins
Video Games