10 Best Morrowind Houses To Live In & Call Home
This post may contain affiliate links. If you buy something we may get a small commission at no extra cost to you. (Learn more).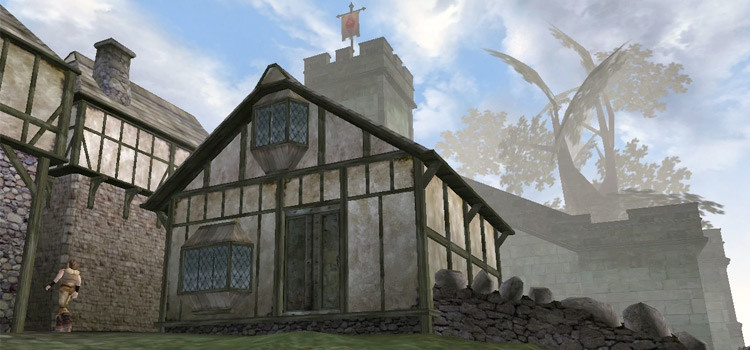 Finding a quality home in Morrowind can seem a bit troublesome at first.
And that's something I remembered struggling with back when I played this game on a daily basis. And now that I started playing again I realized I couldn't seem to find one that suited me.
Naturally I did what every lost gamer does best: I went to Reddit and looked for answers.
The friendly community over at r/Morrowind had a post filled with home suggestions over there, so I visited them all and organized the best ones.
So instead of wasting all that hard work I put in, I've compiled this list to help you decide which house you might want to inhabit!
10.

Addamasartus
This place with a weird name is mostly a slave cave, so you won't find much here.
It has a few places where you can store your stuff as well as some weak foes that you can slay.
It's the perfect place to call a home if you're just starting out in the wild, though, as it will provide you with a decent shelter and enough storage for the first few hours of gameplay.
9.

Ghorak Manor (Caldera)
If you want to get a house where storage is aplenty, then go ahead and storm this place.
You'll need to take down a couple of orcs and trader (who has 5k gold, by the way).
Murder them all in cold blood and occupy their cool home.
It's time for you to claim the spoils of a murder-spree!
8.

Gra-Bol's House (Balmora)
This massive house has four stories, which is probably more than enough reason to forcibly take it.
You can also get access to Dura Gra-Bol's chest if you happen to be level 45 and complete his quest. But hey – why do that when you can kill the man and get his house first?
7.

Balmora's Mage Guild
There's hardly a better place to live in the game than the Mage Guild located in Balmora.
In fact, I read a cool strategy that someone has regarding Mage Guilds: inhabit them all at the same time.
Use a mage guild to store your weapons, another to store your armor, and another one to store other items.
It's a pretty cool strategy and one that will serve you a good purpose through the entire game.
Just be sure to remember where you left your stuff!
6.

Ra'Virr's House
Look I'm going to be completely straight with you: killing Ra'Virr is an asshole move.
I mean, the guy is super chill and he sells you cool weaponry; why would you murder such a nice and elegant man?
Well to me, the answer is simple: he has a nice house. Dark? Perhaps. But we all gotta sleep sometime.
And maybe it's time for you to stop being a pansy and kill the guy.
Do it in the start of the game and you'll also have access to his kickass katana, which is going to be the best weapon that you can get to start off the game with the right foot.
A perfect scenario for everyone – except poor Ra'Virr! God bless his soul.
5.

Hlaalo Manor
I'm adding this manor not only because it's a damn manor, but also because there's a body in the floor.
That might sound anticlimactic and a bit of a bad reason to add it to my list, right?
Hear me out – it literally lets you store as many things as you want.
That's right, that body on the floor offers you infinite storage. Let's not overthink it and just accept this nice little treat.
4.

Indarys Manor
Defended by House Redoran, this settlement will not exist unless you've completed the necessary quests of the story in order to make it spawn.
In any case, should you happen to do it, there will be plenty of storage areas that you'll be able to access.
It's one of the three main strongholds of the game, and it's one of the favorite places for many players to inhabit.
3.

St. Delyn Waist North-Two
This house might have a single wardrobe plus a chest of storage, but it's beautiful and very cozy.
The best thing about this house is that it's abandoned. So you don't have to commit any crimes if you wish to occupy it.
I mean, trespassing is probably a bit immoral. And keeping a property that isn't yours might be deemed as a crime in certain countries.
However you don't have to spill the blood of an innocent landlord just to stay unbothered at this fantastic little home. Look on the bright side, my immoral friend!
2.

Nerano Manor
You could help Sugar-Lips Habasi by bringing her the key to Nerano Manor.
You could also murder her and keep the manor to yourself.
Hey don't judge me – I'm here to tell you all about the best houses regardless of how to get them.
I'm not about to keep my hands clean if it means that I'll be able to get myself a nice little abode to store my stuff and sleep tight at night.
As many other homes on this list, you will need to drop your moral standards below ground level if you wish to get this house for yourself.
For Nerano Manor it's totally worth it, though.
1.

Fargoth's House (Seyda Neen)
So I know that killing Fargoth is a but of an immoral act, given that the guy is actually pretty friendly.
It's a shame, though, that we could get your hands on top of one of the most beautiful and practical houses in the game by just shedding the blood of this poor Bosmer in the ground.
If you're going for a peaceful playthrough, I regret to tell you that the number one option on my list might not be the one you want to pick.
However if you don't mind being a bit of an asshole and killing an innocent, rejoice – you're well on your way to getting the nicest house in the game all in your name.
Browse:
Lists
Morrowind
Video Games