Best Sims 4 Bed Poses (Couples + Individual Sims)
This post may contain affiliate links. If you buy something we may get a small commission at no extra cost to you. (Learn more).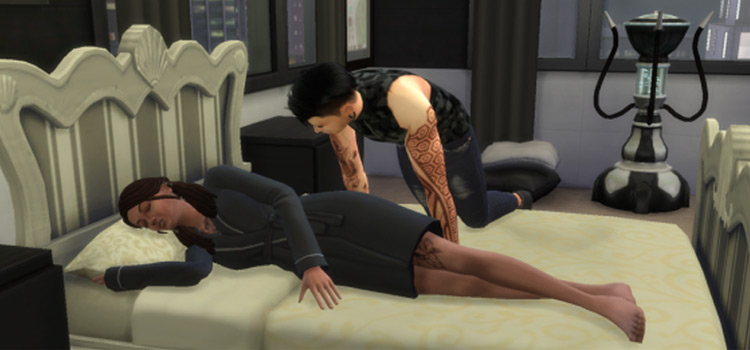 There's a custom Sims pose/animation for practically any scenario you can think of by now.
There has to be, seeing as the general Sims community contain some of the most dedicated machinima makers in the worldwide web.
I don't make them myself, but they're definitely part of my guilty YouTube pleasures.
So I can understand why poses specifically involving beds would be in demand.
So let me share a handful of pretty cool bed-focused pose packs with concepts involving this particularly loved Build/Buy object.
Breakfast in Bed by Lost in Parris
Number of Poses: 4 [couple]
This is a pose pack that I genuinely wasn't expecting to find, as a breakfast-in-bed concept for the Sims 4 never occurred to me.
Lounging in bed, yes.
Some safe PG cuddling, sure.
Aimless phone scrolling, definitely.
I was fully prepared to weed through bed selfies and the occasional emotional tableau (or two) before this cute, wholesome surprise popped up on Patreon.
And I'm glad it did, because the poses are one-of-a-kind!
Lost in Parris's custom pose pack depicts a couple in bed, having what looks to be an enjoyable chat over a modest tray of food and some warm drinks.
Like I said: wholesome.
They also included the cup and tray (credited to Storybooksimblr) in the download page to make things easier for us (much appreciated), but the food-and-seasoning assortment you can see in the preview photos will have to be sourced elsewhere.
Family Pack 01 by OpheliaSim
Number of Poses: 7 [group]
You know how TS4 Toddlers will sometimes (make that often) wake up the nearest adult (or young adult) in the household because they had a nightmare?
And then you have to help them go back to sleep or have them take a nap in a different bed because they're scared pantsless of their original bed?
This posepack is a softer, sweeter, more picturesque version of that event.
Sorry, I'm a veteran of the 100 Baby Challenge, and Toddlers always up the challenge rating.
Quality and execution for these poses are a perfect ten, as are the expressions.
But as far as versatility is concerned, they're pretty much catered to a specific scene and setting.
Ergo, you'd be hard pressed to use them in a drastically different scenario than what the creator intended.
But if their concept lines up with your storyline, then this pose pack is exactly what you need.
Crying in My Bed by sim_plyreality
Number of Poses: 9 [solo]
If you've got a soft spot for your Sim and you're an emotional, empathic mess easily brought to tears (like me), I feel it's my duty to advise: use these poses with caution.
Sim_plyreality does an amazing (and I mean amazing) job with the expressions and limb placement for the poses.
Zero percent unrealistic, zero percent awkward, one hundred percent emotionally devastating.
These poses are going to make your Sim look like their heart has shattered to fine powder and their world is in utter ruins.
And you can't do a single thing about it.
All this to say, the poses are high quality and the concept was executed excellently. If you need to pluck a couple heartstrings, this pack'll do it.
Depression Pose Pack by OpheliaSim
Number of Poses: 5 [solo]
Not sure if this one needs a trigger warning (you can never be too sure nowadays), but here you go.
A pack of custom poses depicting a supposedly depressed Sim.
This one's also drastically different from the other warm, cutesy, and wholesome pose packs that I've listed here.
But I know a lot of Simmer's can use this for TS4 machinimas and storylines, so.
Here you go.
Five solo poses that, honestly, depict the "contained emotions" quite well.
The emotions aren't as raw and obvious as the ones in sim-plyreality's Crying in My Bed pack, but the intensity is still there.
Limb positioning and facial expressions all 10/10, too. Works for both single and double beds.
Laptop Poses for TS4 by loriesimsposes

Number of Poses: 22 [solo]
This pack's a fun one.
Very reminiscent of the days when instant messaging platforms and chat forums didn't have mobile-friendly apps, leaving our laptops as the primary source of mobile overstate (or even overseas) communication.
I know the page tab text reads "47 poses," but don't freak out.
We're counting only bed poses, so that brings the grand total down to a more manageable 22: specifically 11 "feminine" poses and 11 "masculine" poses.
The other 25 poses here depict Sims using the laptop on the floor or kitchen counter. Interesting and potentially useful, but irrelevant for this list.
The poses themselves are clearly marked in the Pose Selection window (i.e., Female on Floor, Embarrassed/Awkward, Female on Bed, Smiling, Female on Bed, Laughing, etc.), so you should have no problems finding the one you want.
But the laptop decor that the creator links in their post seems to be missing, so I recommend grabbing this one from Around the Sims 4.
Family Night – PosePack by StefaniaOnlinda
Number of Poses: 2 [couple]
Family-oriented gameplay Simmers, this one's for you.
Custom Sims 4 poses involving beds seem to revolve around several repetitive themes:
Sleeping (obviously), lounging, and varying levels of physical affection.
For the sake of keeping this article PG, I've done my best to steer clear of the third one.
So when custom poses that don't fall under any of the aforementioned categories pop up, I am always pleasantly surprised.
This pack by StefaniaOnlinda gets double the kudos from me because it's soft, wholesome, and tooth-achingly sweet (on top of it being incredibly high quality).
You get two poses: (1) parent A plays with the kid happily as parent B fondly watches, and (2) parent B and child sleep peacefully as parent A watches over them lovingly.
Check out the preview photos and tell me those aren't scenes straight out of a Hallmark holiday movie.
Bored in Bed Poses by Katverse
Number of Poses: 5 [solo]
You know those days when you just flat-out refuse to be productive?
There aren't any immediate deadlines to meet, no impending responsibilities to sort out, and even your Twitter feed is starting to feel repetitive and stale.
So you just flop on your bed and stare at your ceiling for a solid five or ten, simultaneously looking for something to do but just not having the energy to chase it down?
Yes, there's a Sims 4 pose pack for that.
And yes, it's crazy accurate.
Right down to the semi-vacant expressions, the accidental 90's pin-up poses, and the shoes on the bed.
Poses in the Bed "I'm Tired" by MaryGelal
Number of Poses: 5 [solo]
This one's the darker, grungier, more emotionally-fragile version of Katverse's Bored in Bed poses.
Same concept, only instead of flat-out refusing to do anything, your Sim is physically and emotionally incapable of action.
They're drained dry.
They've just had the crappiest day to top off the crappiest week (or month) and they're at wit's end.
Or something along that vein.
Honestly, these custom poses are some of the more versatile ones on this list.
Sim physically tired? These poses work.
Sim emotionally tired? These poses also work.
Sim just heard a piece of disturbing/upsetting news? Yep, still fits.
Sim just had a not-so-major, not-so-minor fight with their significant other? The second and fourth pose are particularly well-suited.
These poses do seem more suited for a double bed, by the way, but I tried them on a single and they still photographed well.
Nap Time Poses by KatVerseCC
Number of Poses: 5 [solo]
Aaand we're back to warm, casual, lighthearted poses.
I can always count on Katverse (or KatVerseCC on The Sims Resource) to deliver some high-quality custom content – and this pack's no different.
This is a very simple concept that, honestly, is one of the most common poses involving a bed.
So there are a lot of similar pose packs out there.
But because I'm a huge fan of this creator – and I genuinely adore the way they mold the facial expressions on their models – I'm recommending this one.
The title says "nap time," but these poses can easily be reused for a concept involving deeper nighttime slumber.
Texting You!!! By Pandora-sims
Number of Poses: 9 [solo]
Now, this is the modern mobile-prevalent equivalent of loriesimsposes' Laptop Poses pack.
Whereas that pack was for Sims happily chatting it up on the laptop, this one's for Sims who prefer texting and calling.
The limb placement's pretty good (not awkward, basically), and the fact that the creator could come up with nine different ways to pose with a phone is impressive.
But what I really love are the expressions.
Zoom in on your Sim's face when you try these poses and you'll see what I mean.
The emotions are crazy clear: casual, chill, fond, excited, giddy… they managed to retain the expressiveness of Sims 4 faces without over-exaggerating the details.
Absolutely recommend!
P.S. The iPhone that the creator recommends isn't linked, so I pulled up two options: LittleDica's iPhone8 Hand Accessory or inabadromance's Accessory Iphones. Both worked fine in-game.
Browse:
Lists
The Sims 4
Video Games