Sims 4 Clock CC: Wall Clocks, Alarm Clocks & More
This post may contain affiliate links. If you buy something we may get a small commission at no extra cost to you. (Learn more).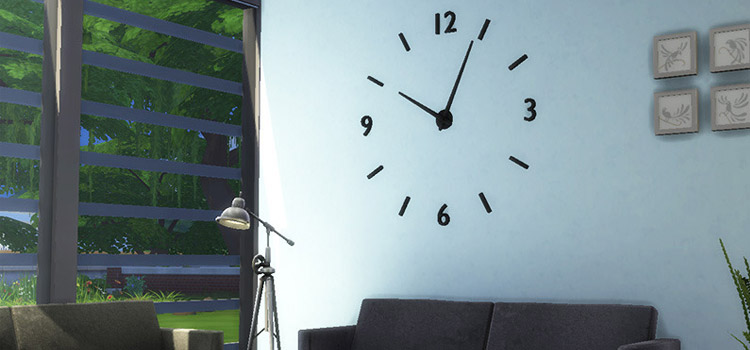 In the age of cell phones, tablets, and even televisions that'll tell you the time instantly, physical clocks have started to go the way of VCR tapes and floppy disks.
In other words, some will say they've become obsolete.
But they aren't there quite yet. Far from it, as a matter of fact.
There are actually more cute, stylish, and aesthetically pleasing options than ever.
Whether it's analog or digital, there is definitely still a place for clocks that are just…clocks.
Clearly, there are a ton of Simmers out there who would agree with me, since there are so many must-have CC clocks. Be it for the wall, tables, or heck, even the floor – there is certainly something here to suit your needs.
1.

Animated Kitty Clock
Everything's better when it's in the shape of a cat. That's just a fact of life.
This adorable wall clock is actually a replica of the real thing. Known as the Kit-Cat Klock, it dates back to the early 1930s.
I bet that's way older than you thought, right?
Your Sims won't know the difference, though. They don't really appreciate antiques, they just like things that are pretty and fun. This definitely is both of those things, and even better, it's animated!
Just like its real-life counterpart, this kitty's eyes and tail will rhythmically move from side to side.
2.

Young Way Table Clock
Here we have a simple old school alarm clock.
Why on earth is this style so familiar?
I've never personally owned one. And I don't know anyone who has. And yet this is like, the quintessential alarm clock. Weird.
…which makes it perfect for The Sims!
It comes in a few different swatches. One is black with a slightly yellowed face, giving it a nice aged look perfect for those old houses or elderly Sims. There are bright teal or yellow options as well for a more modern twist.
3.

Classic Table Clocks
I never thought I'd call a clock handsome, but here we are.
There's just no other way to describe the wood on these!
If you too are a fan of natural wood, then these are the clocks for you. Talented creator Severinka includes nine clocks in this set, all very different yet equally beautiful.
One thing they do have in common is that all nine are tabletop clocks, so be sure to clear some space on your Sim's nightstands, dressers, and fireplaces.
4.

Waaaaaake Up! Alarm Clocks
This set has six different alarm clocks, but their swatches are all so vastly different, it feels like way more.
These include a bunch of different styles, like sports-themed clocks in the shape of baseballs, basketballs, soccer balls, or tennis balls.
Since there's already so much sporty decor in the game, from bedding to clutter, these will fit right into any kid's room.
My personal favorites are the critter clocks. They're in that same 'quintessential alarm clock' shape as seen above, but this time in smooth, fun colors with animals like butterflies, dolphins, cats, and more on the face.
And finally, there are a few simple square ones too that will work for a multitude of decorating styles and living spaces.
5.

Modern Wall Clocks
Custom content creators clearly know that if analog clocks are to stay relevant, things have to change.
Forget those boring circular ones – the clock must serve as part of the room's decor.
It must be tasteful and well-designed.
These modern wall clocks from pihe-89 are all of those things and more.
From the shape to the designs, these are simply cool. The face is centered on a long rectangle, which can be anything from wood, brick, or patterned like wallpaper depending on what you pick.
6.

Jordan Clock
As one of the most recognizable and beloved brands in the world, Jordan's have become the go-to shoe for millions of people.
And now, they can be on your Sim's wall in the form of a clock!
You get twelve stylish familiar kicks surround the face, and the center is the Jumpman logo itself.
Now that's certainly thinking outside of the box when it comes to clocks. This will be the perfect choice for modern lofts or houses.
7.

Raynuss Clocks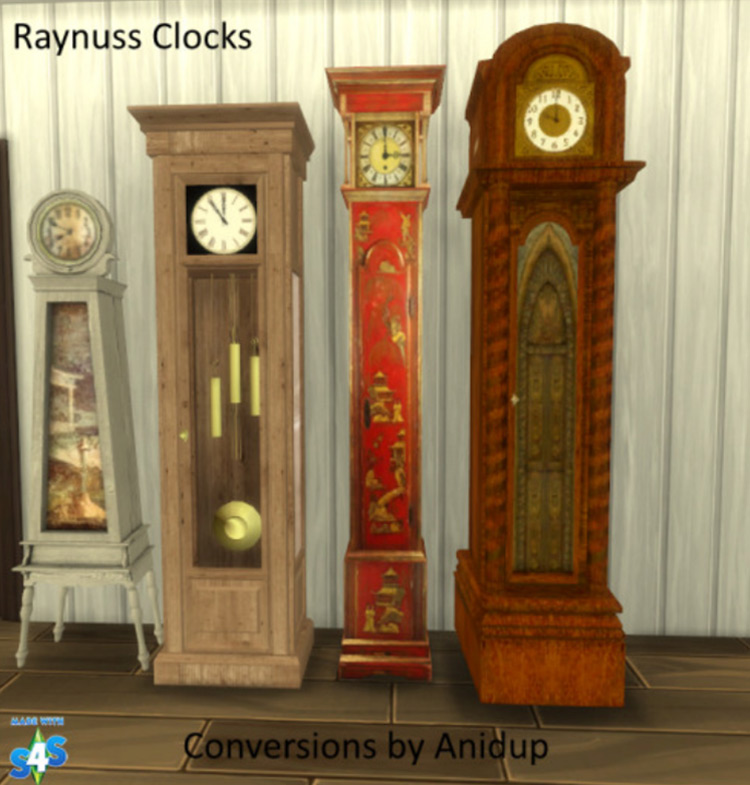 If there's anything The Sims 4 lacks, it is definitely ways to fill up floor space.
All of my Sim's homes are actually too spacious. Which is one complaint real people never have.
But all of those blank walls and open areas that are big enough to park a car in add up quickly and can leave your Sim's home looking rather cold.
Real houses tend to have a lot of space filled up.
And while these Raynuss Clocks won't totally give you that lived-in feel, they are a beautiful way to spice up otherwise empty areas.
8.

Modern Wall Clock
Here we have another familiar style, one that calls back to the '60s.
While the shape itself may be a little retro, all of the swatches available here really give this clock a modern spin.
Some of them are so bright and colorful that they almost look like candy. And there are plenty of toned down palettes as well.
This is another one that works as decoration as much as a clock. It'll stand out like art, whether it's the sole item on the wall, or part of a whole display of your Sim's cool stuff.
9.

Mid-Century Table Clocks
The mid-century era certainly produced a lot of unique tastes when it comes to home decor and furniture.
Fortunately clocks are one thing that, no matter how unique, you can find somewhere in your home for them to fit in.
Especially in The Sims.
It's hard to find things to fill a shelf or mantle, especially aesthetically pleasing things. There are plenty of table clocks here, all of them gorgeous, so they will be a charming addition no matter where you place them.
Mid-century decor isn't for everyone. But quirky designs and bold color combos are always a plus.
10.

Cats Wall Clock
Well, I've said it once, I'll say it again… everything is better when it's in the shape of a cat.
This is a design truly too cute to pass up.
The silhouette of a cat is perched on top, with a paw reaching down like it's batting at one of the clock's arms.
There are three color variations with this CC, and they're all pretty, but let's be honest – the feline is the star.
Isn't that always the case?
Browse:
Lists
The Sims 4
Video Games