Sims 4 Microwave CC (Countertop + Wall-Mounted)
This post may contain affiliate links. If you buy something we may get a small commission at no extra cost to you. (Learn more).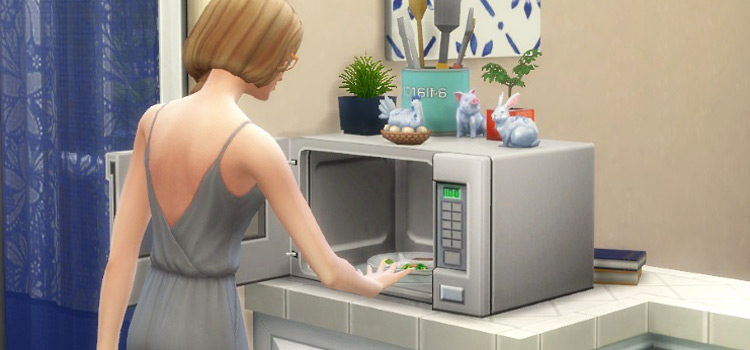 Microwaves have been included in The Sims series all the way back to the first game. There's no debate that they're a very helpful part of life for most people.
Sims especially benefit from owning one. Effortless meals are vital for those who don't have a lot of spare time, and Sims rarely do.
However, microwaves are a little one-note in this game.
You know what you're gonna be in for, and that they're gonna take up an entire counter.
CC helps offer something new.
Not only are there all sorts of brand new styles on this list to try out, but at long last, you can have wall-mounted microwaves as well!
1.

H&B Macrowave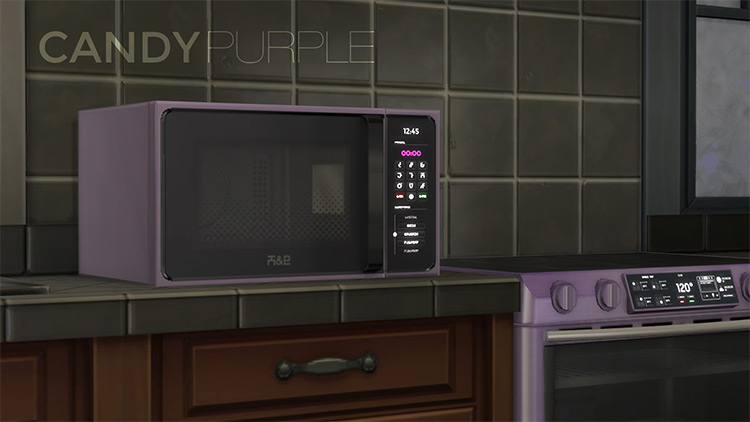 Most appliances in this game are there to serve a purpose – and they don't get much more detailed beyond that. It's understandable.
This is a life simulator, and chances are when it comes to your real house, you're a lot more concerned with function over aesthetics.
Well… things are a little different since this is a video game.
As players, we're often eager for better looking build & buy content, since the vague kitchen appliances we have won't suit every build.
This CC is truly a state of the art microwave, with all the bells and whistles you'd expect in this day and age. The buttons even have Simlish characters, so it won't clash with the natural look of the game!
It looks as true to real life as you can get without going all Alpha and getting fully devoted to a hyper-realistic interior.
And you may think this seems too good to be true. But this is one case where that old adage doesn't apply.
This is fully functional, so your Sims can nuke their nuggets in style.
2.

Balmuda Microwave (Decor)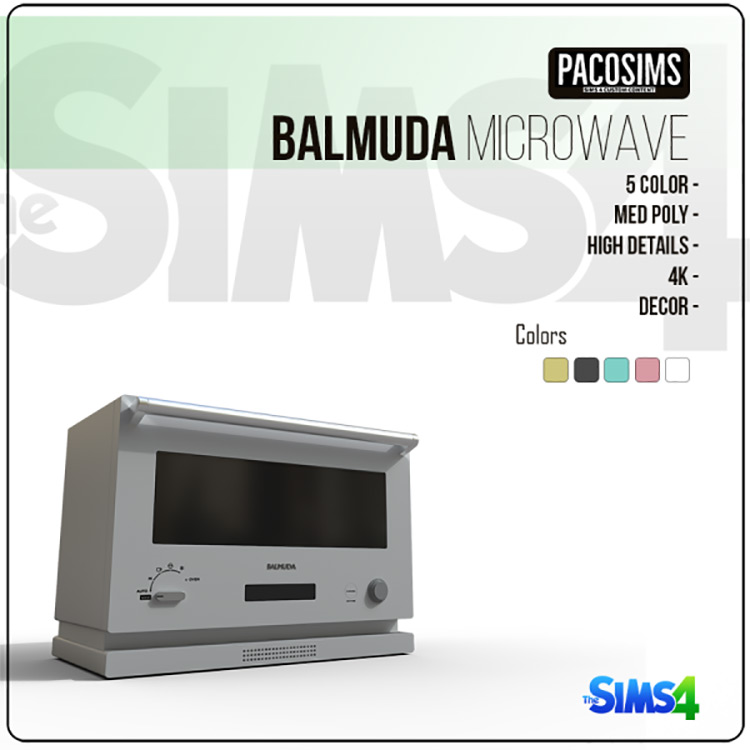 This thing really puts the "oven" in "microwave oven".
Even though they aren't usually referred to like that anymore, the original premise was a smaller version of the large ovens connected to stoves.
That's exactly how this looks, like a regular oven minus the stovetop.
Tastier things tend to come out of the oven, anyway. Forget those burners, they can't give you cakes, pies, or casseroles!
And this highly-detailed creation comes complete with dials, a vent system, plus 5 colors that'll integrate perfectly into any kitchen, big or small.
3.

SMEGlish Microwave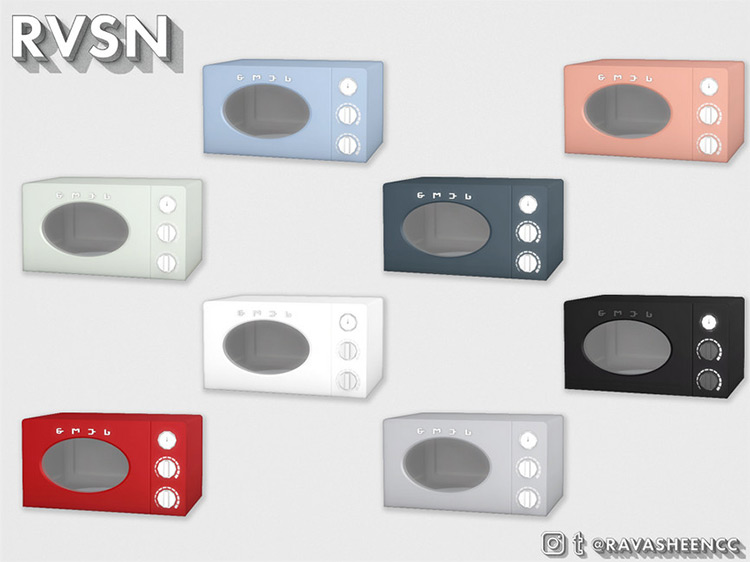 If you know me, then you know how much I love retro stuff.
But chances are you don't know me, so let me reiterate: retro furnishings are the bee's knees.
It's groovy. Rad. Far-out.
Outdated slang aside, one or two vintage pieces actually can add a really cool look to your Sim's home.
You don't have to fully commit to every room being straight out of 1960, either.
RAVASHEEN's microwave CC has such a unique look, it's not necessary to go on a total blast to the past to make it work. It's quite simple, with a smooth exterior, three dials, an oblong window, and Simlish label.
I don't know about you, but I know if I ever own a pink microwave, that'll be the moment I know my life is a success.
Is that a little dramatic? Perhaps.
But not many appliances get to be pretty in pink – and I'm living for this one. In case that's a little too much for your taste, don't worry. Your basic colors are also included, like white, black, and gray.
4.

Modern Microwave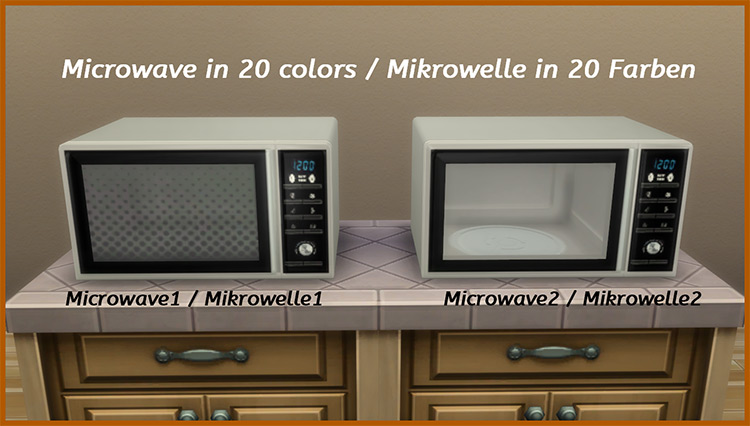 As awesome as the above models are, most of us probably have a microwave closer to this CC's design.
It's your standard modern microwave that'll get the job done without flames or leaking radiation.
And what more could you ask for?
Well, a lot. But not all Sims deserve a cute appliance.
There are two versions here – and the main difference is visibility through the door. Aside from that, both of them are a good size and have a somewhat detailed user panel.
Although this is a more typical style, the creator still killed it with the swatches, surpassing anything you'll find at your local Walmart or Target.
They also come in every shade like blue, green, yellow, orange, and every other color you could hope for.
5.

Wall Microwaves (Maxis Match)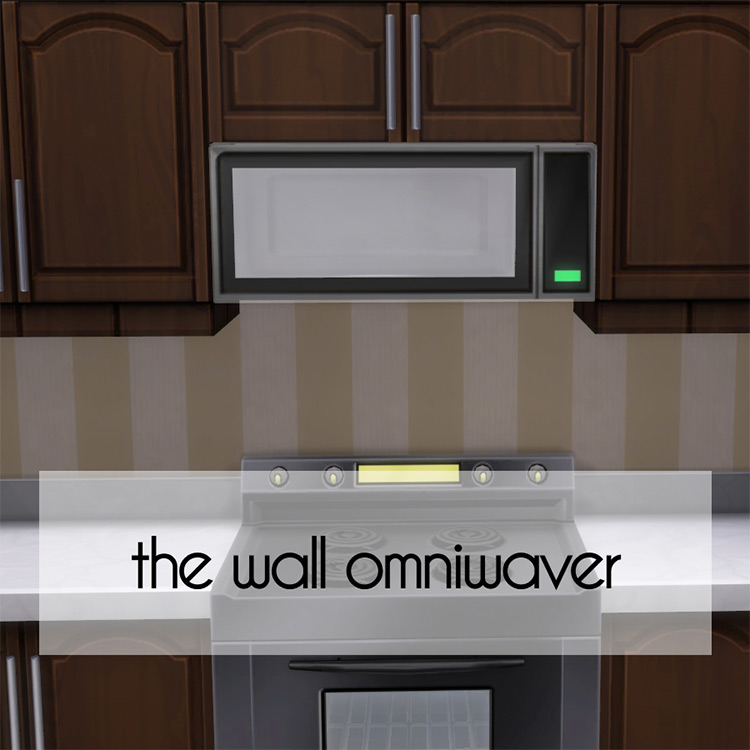 Most of the time, I try to stay away from "broken" CC. People may see something and get really excited, only to be disappointed when it's not what they thought.
So full disclosure: these used to be fully functional but haven't been for a few years. Updates do funky things to mods and creators can't always keep up.
However, these still will work as some of the best wall-mounted microwaves available.
They look downright flawless.
And I for one didn't realize how handy such a thing would be until the option was there.
Sims are constantly in dire need of more counter space. It doesn't seem to matter how big of a kitchen I give them, there's a very delicate balance between decorations and appliances that's really hard to manage.
There's just no reason a coffee maker should take out a whole counter, or why a microwave really can't be placed on a corner. It's an injustice!
Thankfully you can effortlessly include this CC with your counters & along bare walls alike.
And Madhox didn't include just one version. They actually resized all of the base game microwaves and made them compatible to be placed like a wall hanging.
6.

Microwave Slots Mod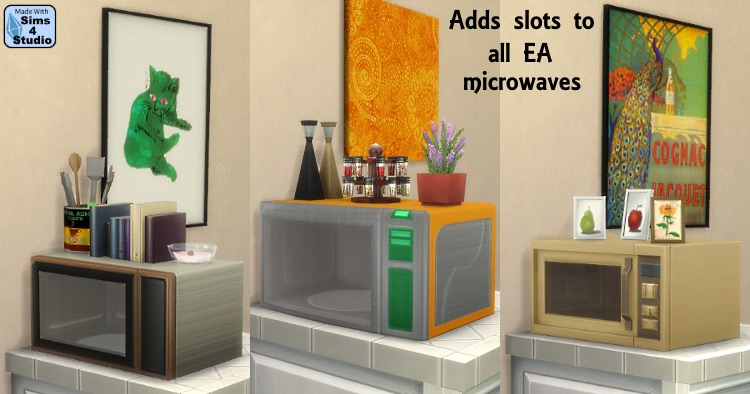 This creation doesn't bring you any new microwaves. But it'll instead allow you to use the existing countertop ones in a more realistic way.
What does every Sim kitchen lack? Clutter!
No matter how much crap you pile around, chances are it still looks nothing like the real thing, because you just can't utilize the surfaces the same way.
Every real home I've ever seen has stored various utensils on top of the fridge, cabinets, and of course, the microwave.
A blank space like that is just begging for salt & pepper shakers and utensils.
Now you'll have no problem adequately decorating & cluttering your Sim's kitchen – at least as far as the microwave goes.
This nifty mod adds a whopping 15 slots to them all, so pretty much anything you want to place up there, you can.
It's worth noting that the microwave will still be functional.
So this is an ideal mod where you lose nothing & only gain new opportunities!
7.

Avis Microwave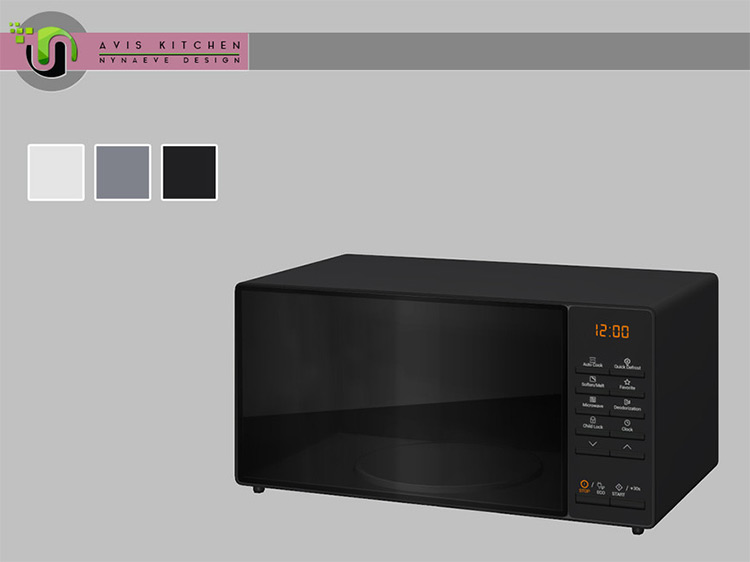 Here's a sleek design that's neutral enough to work in any home.
Little apartments in San Myshuno, big mansions in Oasis Springs, and starter homes in Willow Creek don't have much in common.
But this microwave transcends the boundaries of class and creed.
Okay, so that's a little dramatic when we're talking about something that warms up leftovers.
The point is, people from all walks of life find this machine useful. And the Avis Microwave is as simple as they come.
It has just three swatches, with your standard options of white, gray, or black. But that's plenty.
This is one of the only models here that won't sit directly on the countertop, and instead has little bumps for legs. Even if Sims don't need to clean up crumbs and spells, that's still pretty handy.
8.

Pacific Heights Microwave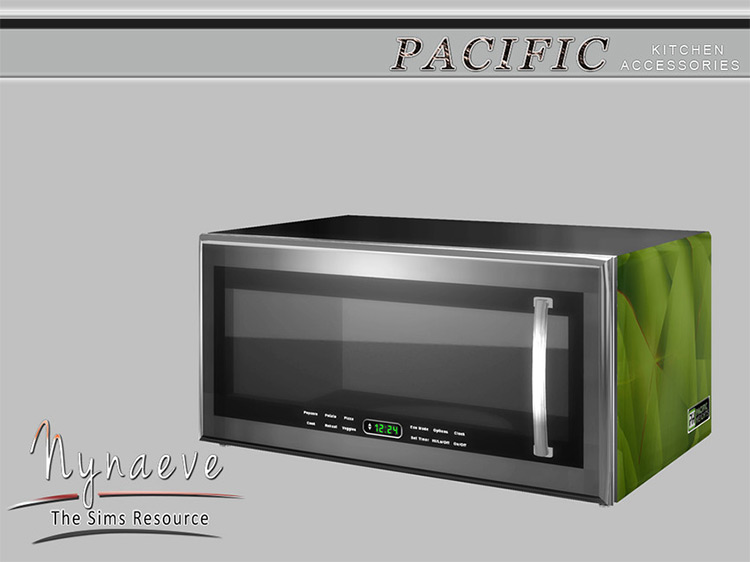 I really have to wonder why some microwaves have a handle on the door, and some don't.
Is it just for aesthetics? Possibly.
But surely it's not a coincidence that most of the microwaves I've ever seen with handles are on the expensive side, costing hundreds of dollars.
I'm gonna go out on a limb and guess it's not the handle tacking on all those extra bucks, but a better product overall. So if you want something a little more high end for your Sims, this is a good contender!
In theory, of course. This is mostly my own speculation.
But it is 750 Simoleons, so maybe I'm onto something.
This custom microwave also has such a cool design that you'll want to show it off. The side panels have a sort of marbled pattern and a glossy finish that really makes it shine.
9.

Naturalis Microwave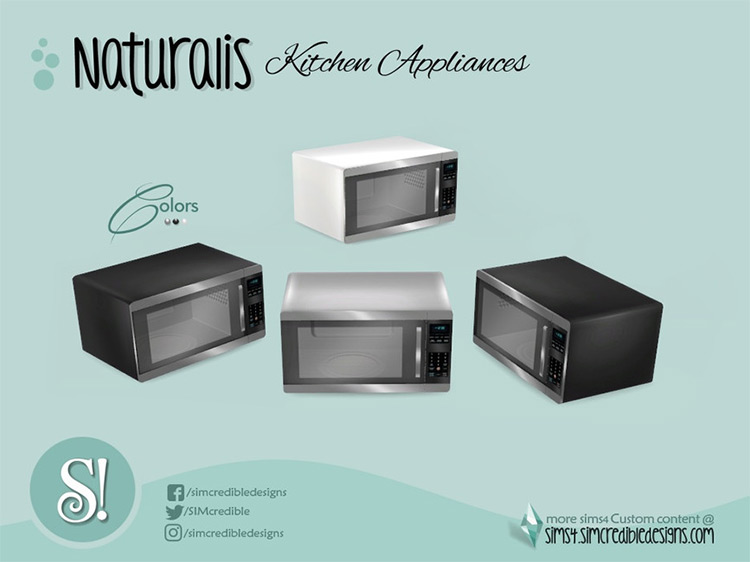 Every kitchen appliance is vital, but the truth is that some are more vital than others.
An ice cream machine is fun, but it's a little harder to get by without a refrigerator or stove.
Microwaves in general are a little "newer" in comparison. But for most people, they're integral to everyday life. Where would we be without the option to have a cup of hot chocolate within minutes, or cook a pizza in a fraction of the time?
Nowhere good.
This Naturalis Microwave reflects the importance of this appliance.
What SIMcredible! has here is another standard type of design, with lots of buttons and a handle. And it comes in 4 metallic designs.
10.

Manon Kitchen Microwave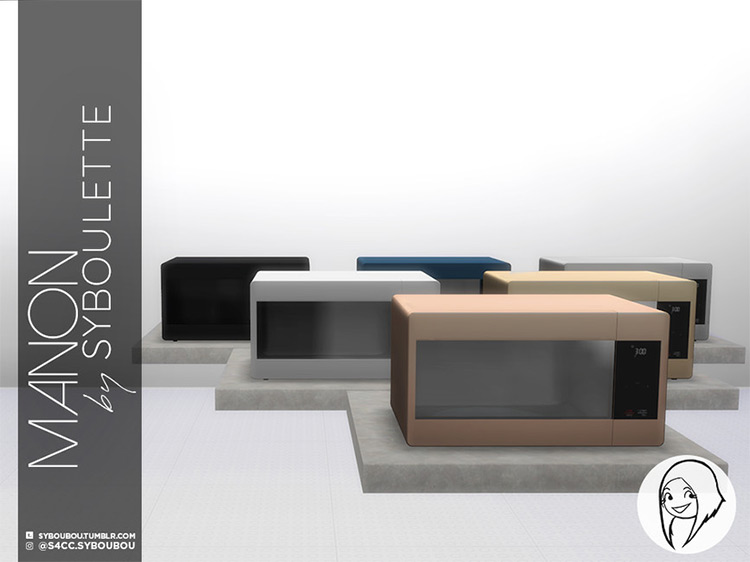 Syboubou brings us one more option here – a fantastic choice for when you want to stick to the basics with some Maxis Match CC.
This microwave has a nice smooth exterior, with some subtle buttons and a digital clock.
The creator even describes it as "modern and minimalist", and I'd have to agree.
Many people opt for the least flashy things they can find for every part of their home. And that of course includes the kitchen.
With an unintrusive design and a clear MM style, this microwave will blend in with the rest of the room easily – and compliment any countertop style effortlessly.
Browse:
Lists
The Sims 4
Video Games