Sims 4 Iron Man CC & Mods (All Free)
This post may contain affiliate links. If you buy something we may get a small commission at no extra cost to you. (Learn more).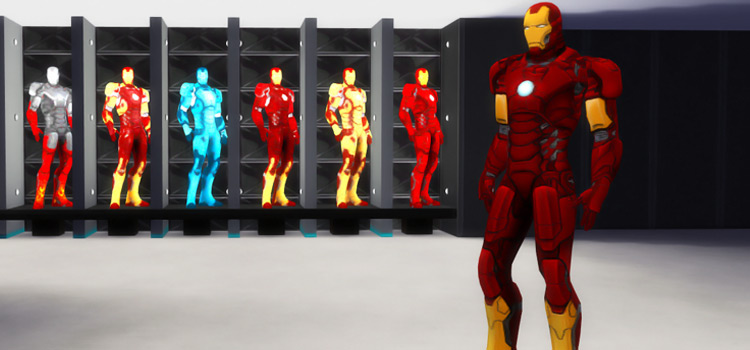 The Discover University expansion let our Sims get higher education in STEM fields like Engineering and Robotics.
This doesn't only mean a higher median income for your cultivated Sims, but an array of new skills like building high-tech robots.
Finally, it's possible to create a realistic version of Marvel's Tony Stark in The Sims 4…
Or at least have a Sim following his footsteps to worldwide fame and mountains of cash.
Let's take a look at some fantastic custom creations that'll no doubt help your Sim fulfill their dream of becoming the Iron Man and running one of the biggest tech companies in the (Sim) world.
1.

Volvox Beard
What makes Iron Man such a great hero?
Is it the big bucks?
The amazing high-tech battlesuit?
While these things definitely have something to do with it, I think the suit would be nothing without the man who created it (in most continuities anyway).
I'm talking about Tony Stark.
Creator RemusSirion used Robert Downey Jr.'s interpretation of Mr. Stark as the inspiration for this stylish beard.
It's available in 10 colors, and even if you don't end up making a Tony Stark sim, it's still a great asset.
2.

Iron Man & Spider-Man Costume Set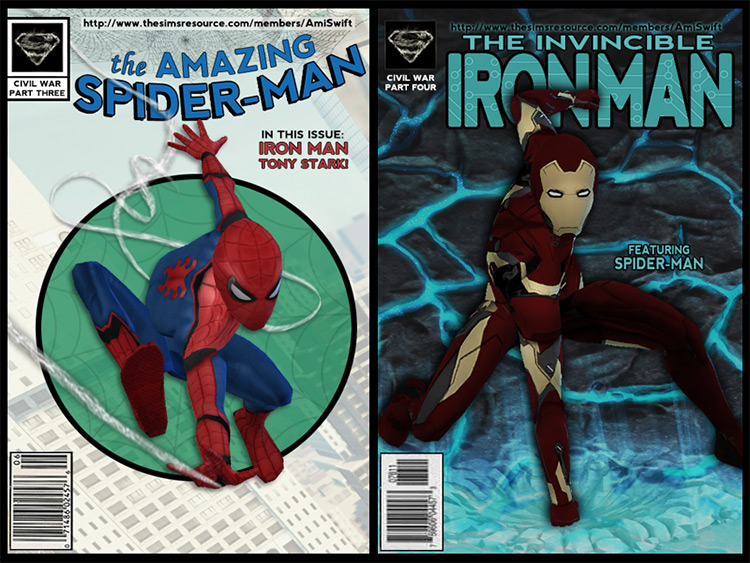 So you've got the character who'll wear the suit figured out.
What now?
Well, now we make them look like a superhero.
This costume set by AmiSwift includes skin-tight outfits for both Spider-Man and Iron Man.
Get these for when your Sim wants to visualize their future as a business magnate with a cool battle suit, or just have fun during Halloween.
3.

Avengers/Tony Stark T-Shirts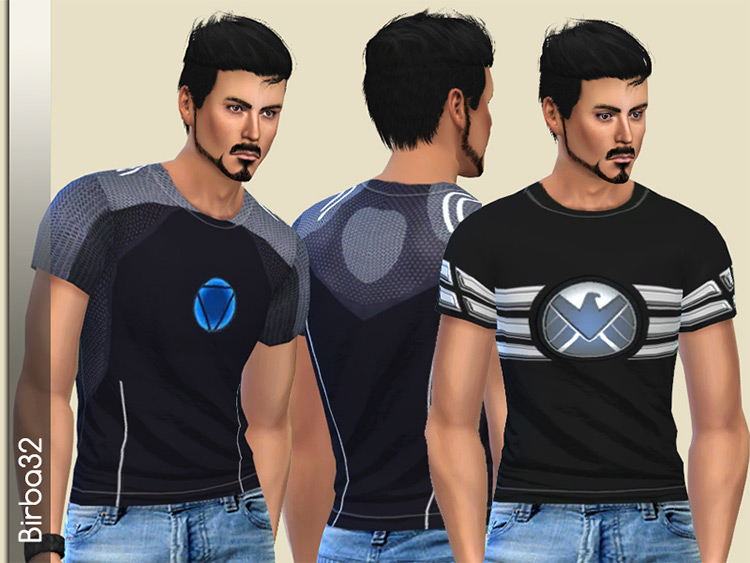 The truth is, you can't wear a suit all the time.
I mean, you can if it's made of an intelligent material that somehow stores itself in your bones then resurfaces whenever you need it.
But The Sims doesn't support that model yet.
One excellent option that still shows your Sim's allegiance is one of these T-shirts by Birba32.
One of them features the Avengers logo, which Iron Man has been a part of since times immemorial, while the other one is a direct copy of a shirt Robert Downey Jr. is seen wearing in Iron Man 3 – complete with the glow of the Arc Reactor peeking through.
4.

Iron Man Cap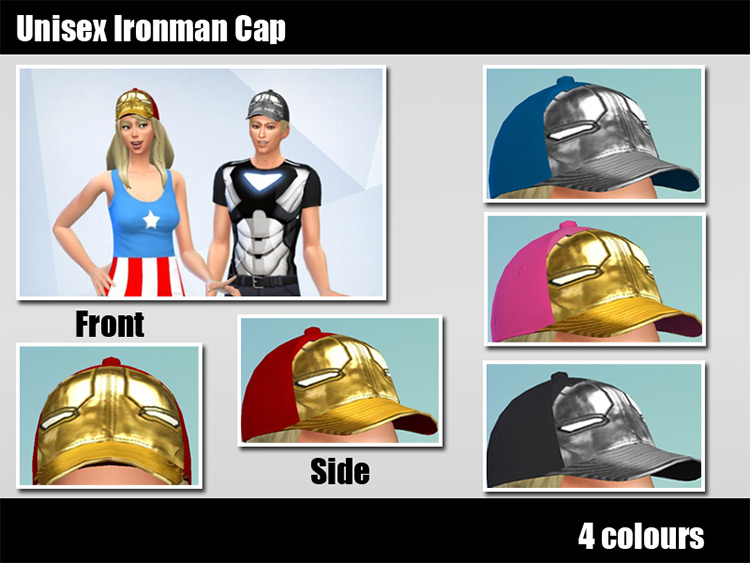 If there's something Tony Stark is good at, it's making money – and the only thing that could possibly make him more money than weapon dealing is Iron Man merch.
One of my favorite Iron Man merch items is this Iron Man Cap designed by Kronronko, which lets any Sim carry the superhero's stern gaze on their forehead.
It comes in four colors, including magenta, blue, red, and gray, highlighting the shiny golden Iron Man face on the front.
It's either bold and creative or downright ridiculous, and I love it either way.
5.

Stark Industries Hoodie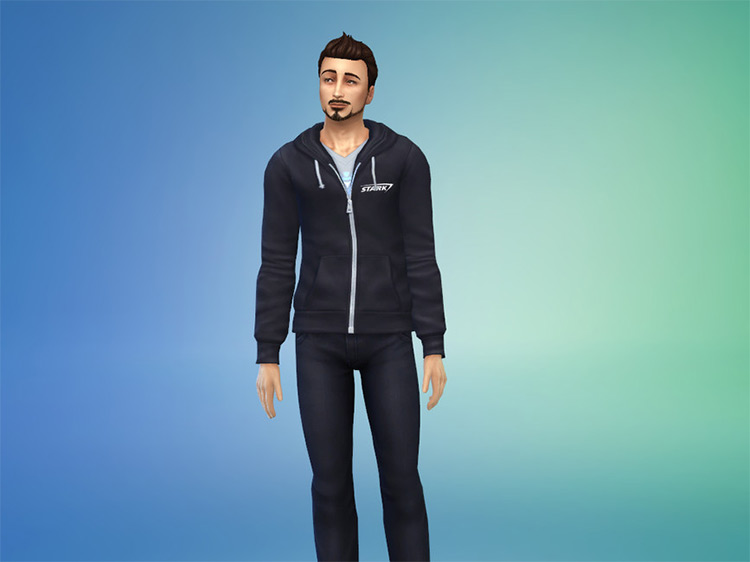 My favorite piece of Iron Man apparel has to be the Stark Industries hoodie by aptly named creator MariaStark.
This is the kind of simple, sporty look you'd see Tony sporting in his lab or during facility inspections. It's comfortable, looks fantastic, and lets everyone know where your affiliations lie.
The simple white Stark Industries logo looks eye-catching on this all-black hoodie.
Get this for a sporty Sim who likes going jogging to get the creative juices flowing before designing futuristic tech.
6.

Tony Stark's Arc Reactor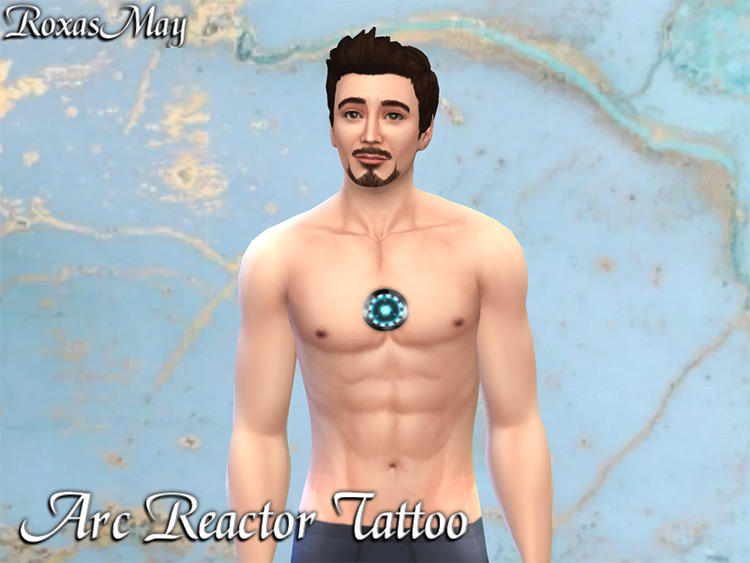 After being attacked and gravely injured in the middle of a warzone his weapons helped create, Tony devised the first version of the Arc Reactor.
This magnet-based contraption keeps his heart safe from shrapnel lodged in his abdominal cavity – or, at least, that was its intended use at first.
It's also a fantastic energy source, and it went on to power every one of Iron Man's gadgets, including the suit itself.
Creator RoxasMay brings us their take on the world's fanciest pacemaker.
This shiny panel will shine bright on your Sim's chest – making it perfect for aliens, androids, and other techy characters other than Tony Stark.
7.

Iron Man MK. 42 Suit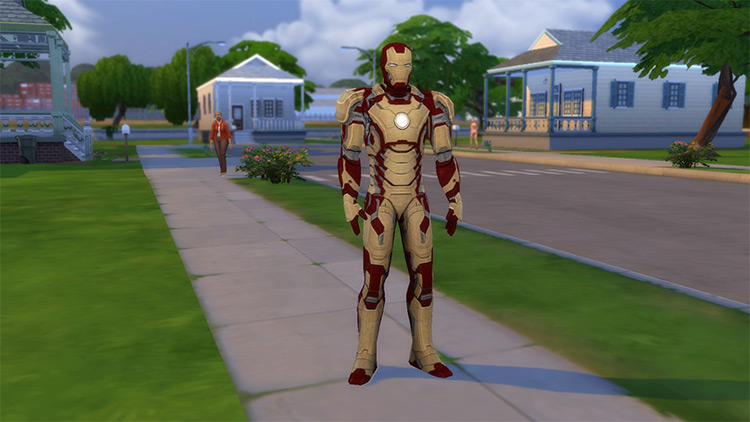 Once you've got the power source, it's time to choose your superhero suit.
Tony has designed many suits ever since that first scrap metal abomination that saved his life in Afghanistan (or Vietnam, if you're a comic-book purist).
The 42nd version is one of the most iconic, thanks to its prominent role in Iron Man 3 (2013).
Among other things, this golden-plated suit has the unique ability to trap people inside it, thanks to its Prehensile Propulsion tech. Now, it'll wrap around your favorite Sim.
This set by G1G2 comes in both the traditional Iron Man gold and red and an all-gray palette reminiscent of War Machine.
8.

MK. 42 Recolor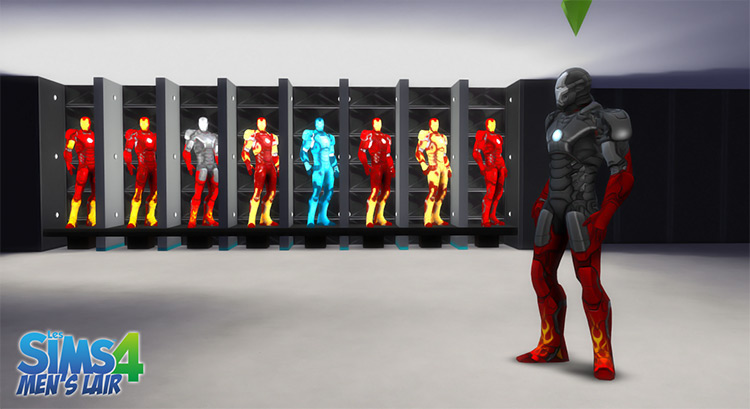 Tony used to have a small army of semi-autonomous Iron Man suits in his basement, until he blew them all up through the House Party Protocol at the end of Iron Man 3.
I can't offer you every model he had, but creator Xenos Artefact came up with an exciting alternative:
Several recolors of the MK. 42.
It includes numerous variations on Iron Man's characteristic red and gold and more unique ones like deep blue/red and a red/gray combo with flame decals on the legs.
My recommendation?
Get some Sims into these suits 24/7 and pretend it's a reality show about sentient robots living together.
9.

Iron Man MK.25 "Thumper"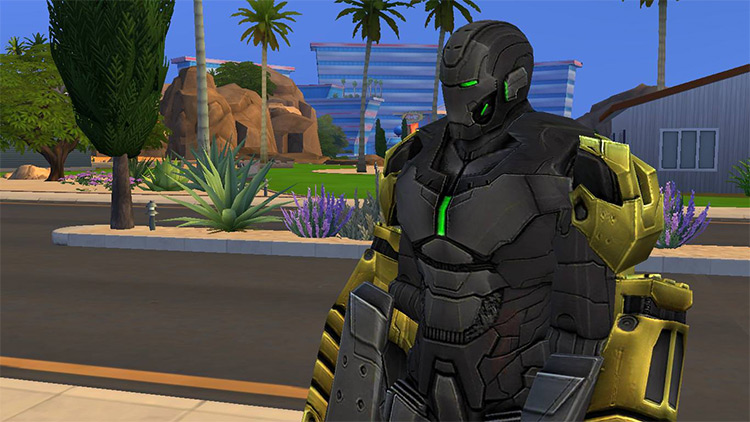 If you're looking for something bulkier, the MK. 25 Thumper is a classic option.
Also known as "Striker," the MK. 25 has massive arms and a thicker frame than the MK. 42 and most other Iron Man suits, with the notable exception of the MK. 44 Hulkbuster.
Its powerful jackhammer-like arms make it ideal for construction – which is why they're painted like a CAT truck. They're probably stronger than any CATERPILLAR machine, though.
10.

Functional Iron Man Suit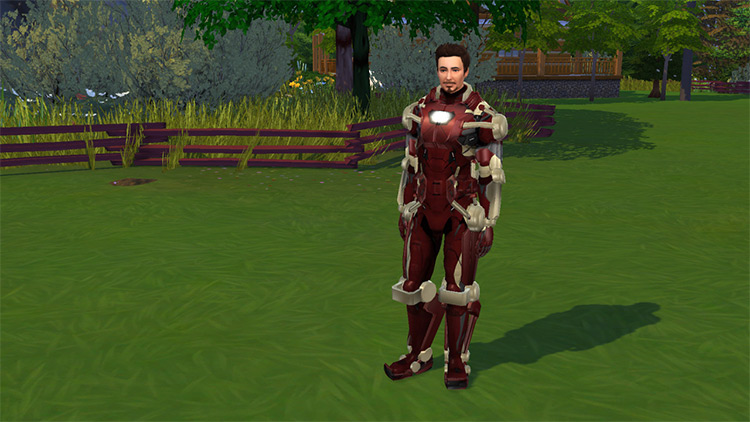 I've always valued function over looks.
But it's always better to get both simultaneously.
Any Sim can dress like Iron Man, but only the smartest can actually get any use from the suit's tech.
Students of the Mechanical Engineering at Sim University will eventually learn to build the Exo-Mech Suit introduced in the Discover University expansion pack – but it's usually a dull gray and green color.
This mod by Cantransimmer gives this fantastic piece of Simgineering an Iron Man makeover by painting it red and gold, and adding some cool details.
With it, your Sims can hover around like Iron Man, and J.A.R.V.I.S. will help them scan other Sims for mood and traits.
Browse:
Lists
Marvel
The Sims 4
Video Games