Spider-Man CC & Mods For Sims 4: The Ultimate List
This post may contain affiliate links. If you buy something we may get a small commission at no extra cost to you. (Learn more).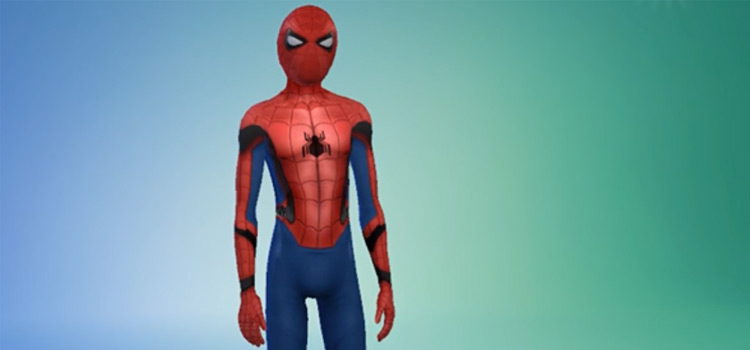 There's tons of fandom crossover potential when it comes to custom content for The Sims 4.
With a quick Google search, you'll find that there's something out there for everyone, no matter what your interests are.
Recently I've created some lists for the best themed CC with crossovers like Pokémon, Batman, and even Harry Potter.
And for this piece I'll share some amazing CC with another one of our favorite superheroes – this time from the Marvel universe.
Here are some of the best mods and custom content created around Spider-Man, the guy that's doing whatever a spider can.
15.

Spider-Man Tee
One of the simplest ways to proudly display your love is through clothing. And we have the perfect Spider-Man CC for your wardrobe.
To start off, here's a cool Avengers Spider-Man shirt for all the guys out there.
The design features Spidey posed for combat in the front with "Marvel Spider-Man" strewn across the top.
The back side features the Avengers logo from the Marvel Cinematic Universe, giving it that official Marvel merch look.
The shirt comes in 10 different colors as well, so you'll be able to mix and match depending on your outfit of the day.
14.

Spider Earrings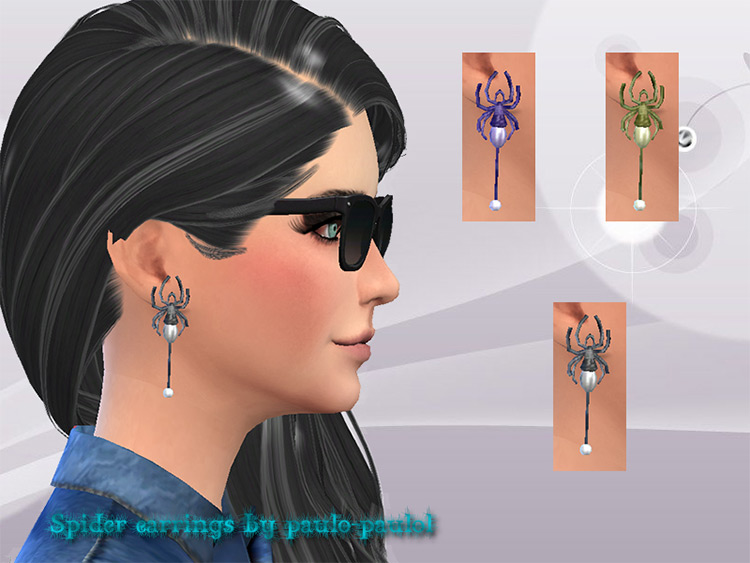 Now here's something for the ladies.
Instead of just t-shirt options, we're going with something a bit more elegant – a pair of Spider-Man earrings.
This jewelry may not represent your Spidey love as loudly as a shirt would. But these offer a more subtle way to express your sim's inner fandom desires.
The earrings come in the shape of the Spider-Man logo, with what appears to be a thread from a web dangling down, making a unique earring shape for sure.
And these come in three different colors as well, so you'll be able to choose which best matches your outfit.
13.

Superhero T-Shirts For Children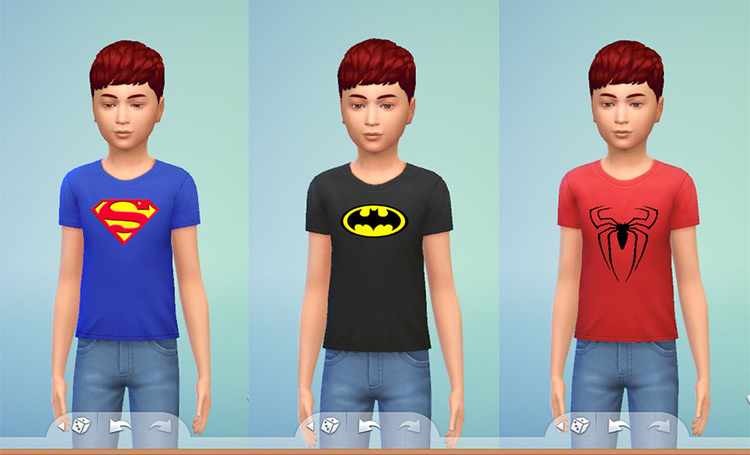 Did you think I'd get away with skipping over kids and their own Spider-Man merch?
Well this superhero t-shirt CC pack includes Spider-Man in the roster, so this is perfect for the kids to enjoy.
The pack contains shirts with other heroes, but that red Spider-Man shirt may be all your little one needs.
All shirts are compatible with both boys and girls too.
12.

Spiderman Jumper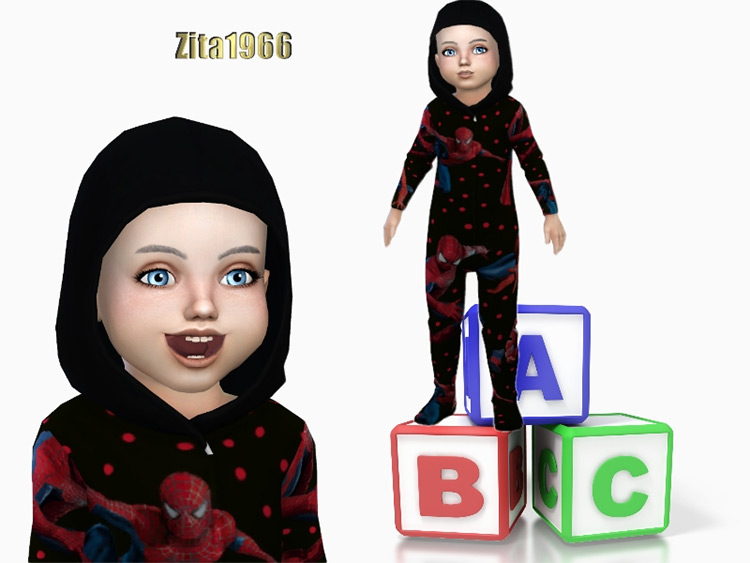 If in case your children aren't old enough to realize they've inherited your love for Spider-Man, don't worry.
We have something for the toddlers as well.
This Spider-Man jumper would be perfect for your younger tykes, as you're still picking out their clothes anyway.
In that case, why not push 'em into Spidey world young?
The Spider-Man jumper features a kiddy Spidey design and comes in four different variations.
11.

Male Spiderverse Miles Morales T-shirt
If you're looking for an alternate depiction of Spider-Man, you should check out this Miles Morales shirt.
Miles Morales is an alternate Spider-Man that does appear in comics, but was recently made popular by both the Spider-Verse animated film, as well as the Spider-Man video game for the PS4.
This is the smoothest way to join in on the hype, as Sony announced that Miles Morales will be starring as the main hero for the upcoming Spider-Man prequel coming up later this year for the PlayStation 5.
10.

Spiderman Tattoo
Maybe you love Spider-Man even more than shirts or earrings can express.
Maybe dressing your kids in Spidey-themed outfits isn't enough.
Well this Spider-Man tattoo is a great way to permanently etch your Spidey fandom into your skin.
It may not be the most detailed tattoo out there, but this will draw some attention for sure.
It features a rough outline of Spider-Man's face in a neat circular design, making for a great subtle tattoo. Not too hardcore, not too basic.
9.

Spiderman Chest Tattoo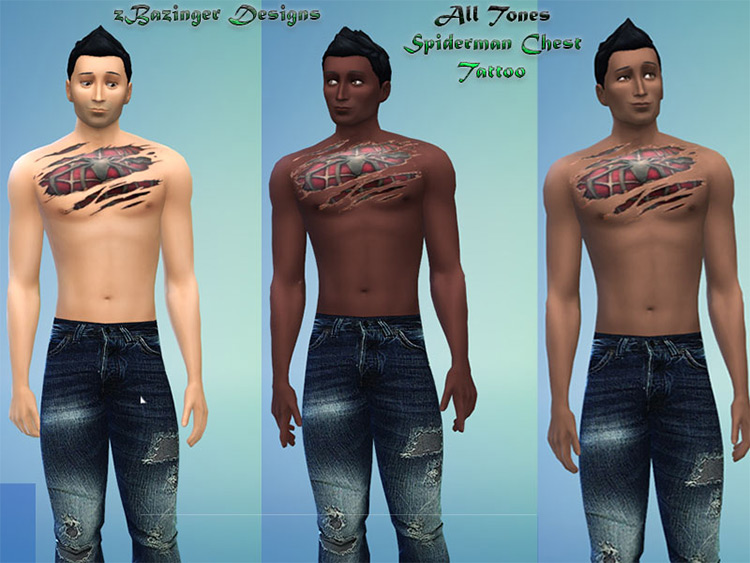 Now if you're looking to get a bigger piece of work done, this CC might do the trick.
This Spider-Man chest tattoo features a cool skin-ripped design revealing the Spidey suit underneath.
It's much bigger and much more detailed than the previous CC, so if you want skin art that your sim can really be proud of, this is the way to go.
You'll have to get undressed to show it off, though, but I'm sure this will leave anyone impressed.
8.

Superhero Rug Pack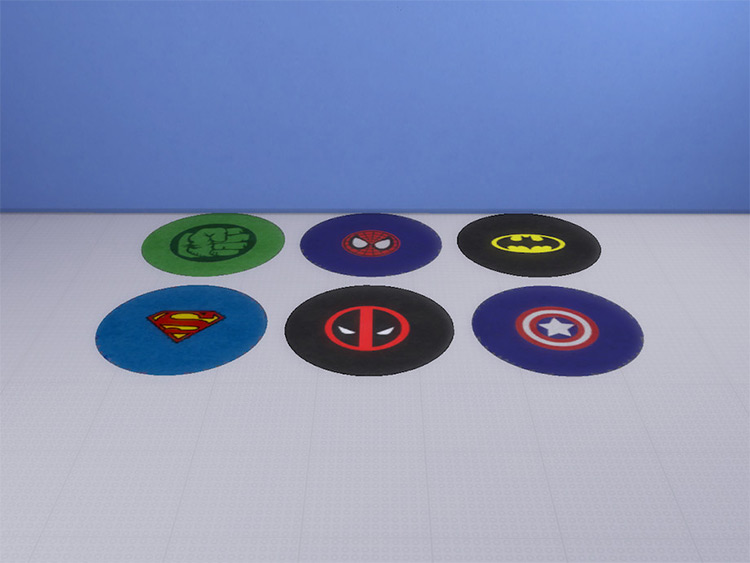 There are tons of ways to bring Spider-Man into your sim's home as well.
And with these decorative items you'll be able to do exactly that.
This superhero rug CC pack includes six different rug designs, all featuring different popular superheroes from both the DC and Marvel universes.
The pack does include one Spider-Man rug, so go ahead and take the opportunity to grab it. Maybe mix in some other designs too.
7.

Children's Bed Recolor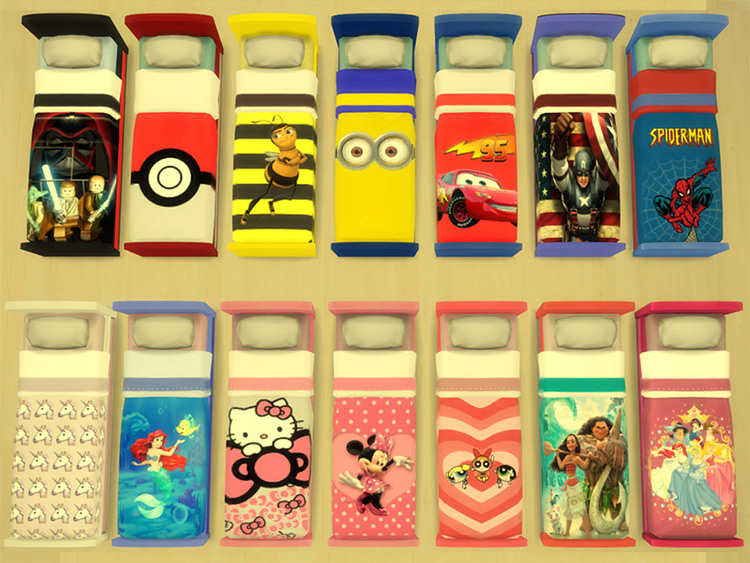 It used to be pretty common for kids to have cartoon-themed beds.
We've all seen them before, some are shaped like race cars while others are just big comforters.
This CC pack would be perfect for a themed bedroom, as it features 14 different designs to choose from.
While there might be something in here for everyone, let's not stray too far yet!
The pack includes a Spider-Man themed bed design, with a blanket featuring the old-school Spidey comic design too.
This would be perfect for any Spidey-loving kid's room.
6.

Marvel Painting
Another cool way to decorate your house would be with this pack of Marvel paintings.
While it does feature five different designs, unfortunately not all include Spider-Man in them.
That's not necessarily a bad thing, however, as the five designs look great side-by-side.
They fit perfectly together and would make a great comic-themed wall for any room in the house.
5.

Marvel Heroes Toys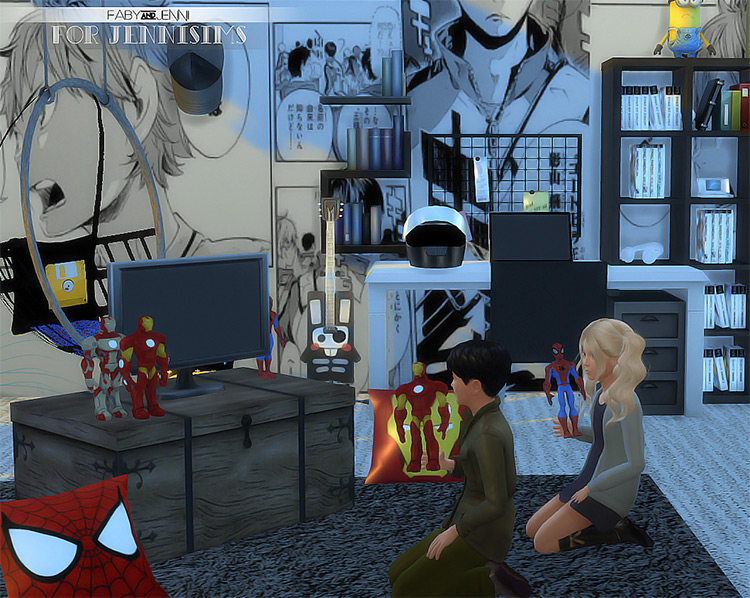 With everything going digital these days, sometimes it's nice to look back at simpler times.
Kids used to play with actual toys instead of iPads and computers, and this CC lets your kids do exactly that.
This Marvel Heroes toy pack includes both Iron Man and Spider-Man toys. So your little sim kids will be able to play with their favorite heroes in action figure form.
Now that I think about it, this could actually be great for older sims as well.
Toy collections are becoming increasingly popular, and these would make great additions to any sim's collectible room… assuming they can afford to have one.
4.

Tom Holland CAS
What if everything up till this point still wasn't enough to tame your Spidey fever?
Well there's not much left to do except…well…become Spider-Man.
How would your sim do something like that?
Well lucky for you, with TS4 CC anything is possible.
Check out this complete CAS recreation of Tom Holland from the Avengers films.
That's right, you can actually create Tom Holland in the Sims. Now you're one step closer to becoming Spider-Man.
Well, your sim is, anyway.
3.

Spider Man Costumes
Now that you've created Peter Parker as a base character, you're going to need the suit.
He can't be swinging over the streets of your neighborhood in civilian attire, can he?
Thanks to modder g1g2, we have a complete recreation of the Spider-Man suit for The Sims 4.
The suit even comes in four different variants as well, one featuring the classic comic suit, a Superior Spider-Man suit, and even a white and black suit resembling the one from the old PlayStation game.
2.

Pose Pack – Spider-Man
So at this point you've gotten yourself a modern Peter Parker and some Spidey suit options to match.
Well Spider-Man isn't really Spider-Man if he doesn't act it, right?
This Spidey pose pack is perfect for that, as you'll be able to recreate some of the iconic Spider-Man poses in the Sims 4. Get your camera ready, folks!
The CC pack includes five different poses, including a crawling pose for when you're sneaking around avoiding bad guys.
And this even includes a pose for when Spidey hangs upside down, which might be tricky in the middle of your living room. But a true fan always finds a way.
1.

Venom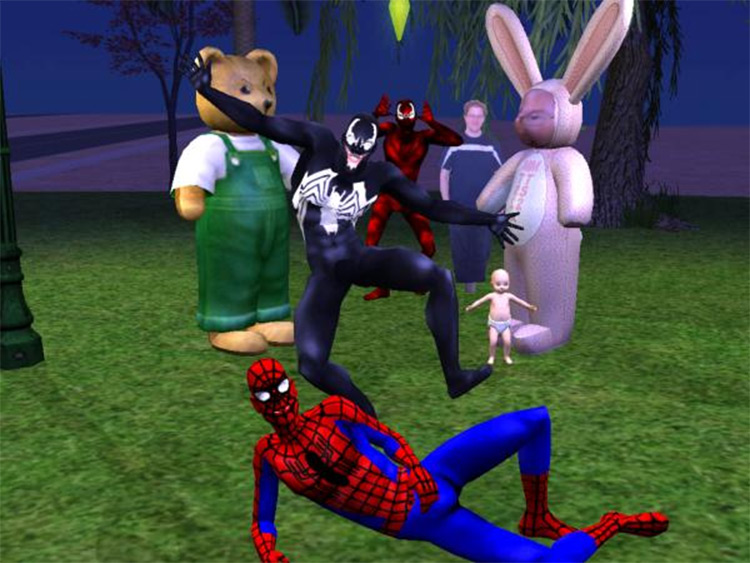 Spider-Man wouldn't be much of a hero if he didn't have anyone to save, right?
If you really want to become Spider-Man, you're going to need a villain to fight.
Now who better to torment Spidey's city than Eddie Brock, better known as arch nemeses Venom.
This CC comes in the bulky physique as seen in the comics, so he'll definitely prove to be a challenge for you to overcome as Spider-Man.
Or just have him over for dinner, whatever suits your Spidey senses.
Browse:
Lists
Marvel
The Sims 4
Video Games