Best Sims 4 Tattoo CC & Mods: The Ultimate List
This post may contain affiliate links. If you buy something we may get a small commission at no extra cost to you. (Learn more).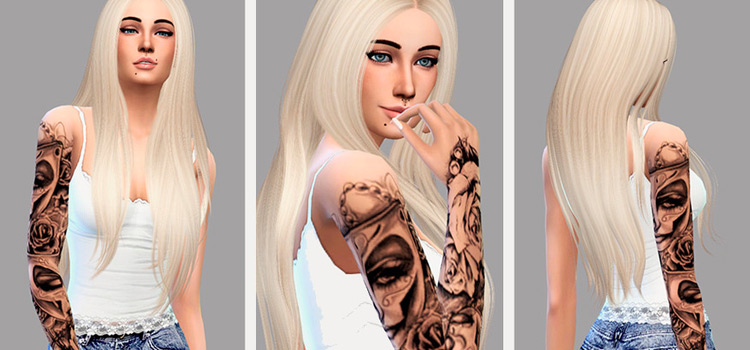 There is no form of self-expression more versatile and popular than the tattoo.
It's a ritual that dates back thousands of years, and has never been more mainstream.
You can either get something that's deep and meaningful, or simply something fun and cute.
The same goes for your Sims.
And thanks (as always) to custom content, there's such a variety of awesome tattoos available, you might not even be able to choose just one from this list.
1.

Flora Tattoos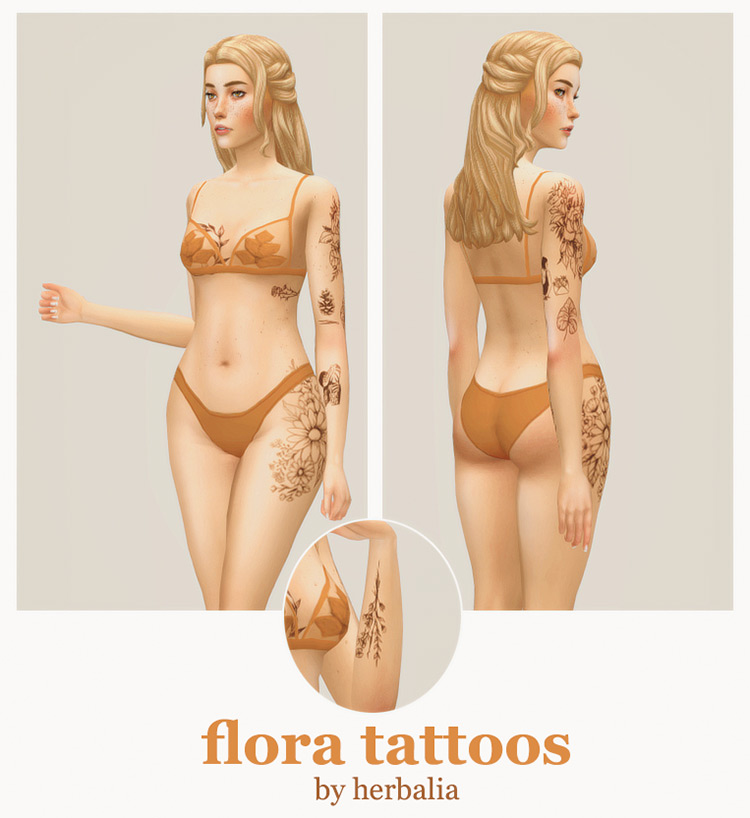 Plants and flowers seem to be very popular choices for body art. And they'll show up several times throughout this list.
I get it. Flowers are actually my top choice for a tattoo, if I ever get the guts to actually take the plunge.
What's cool about tattoos in The Sims 4 is that they're free, painless, and can be temporary depending on what you choose to do.
Like everything else, your Sim's self-expression is totally at your mercy.
And you can't go wrong with these flora tattoos from herbalia. They're simple, cute, and a quick way to add a little something extra to your Sim.
2.

Meicrosoft Tattoos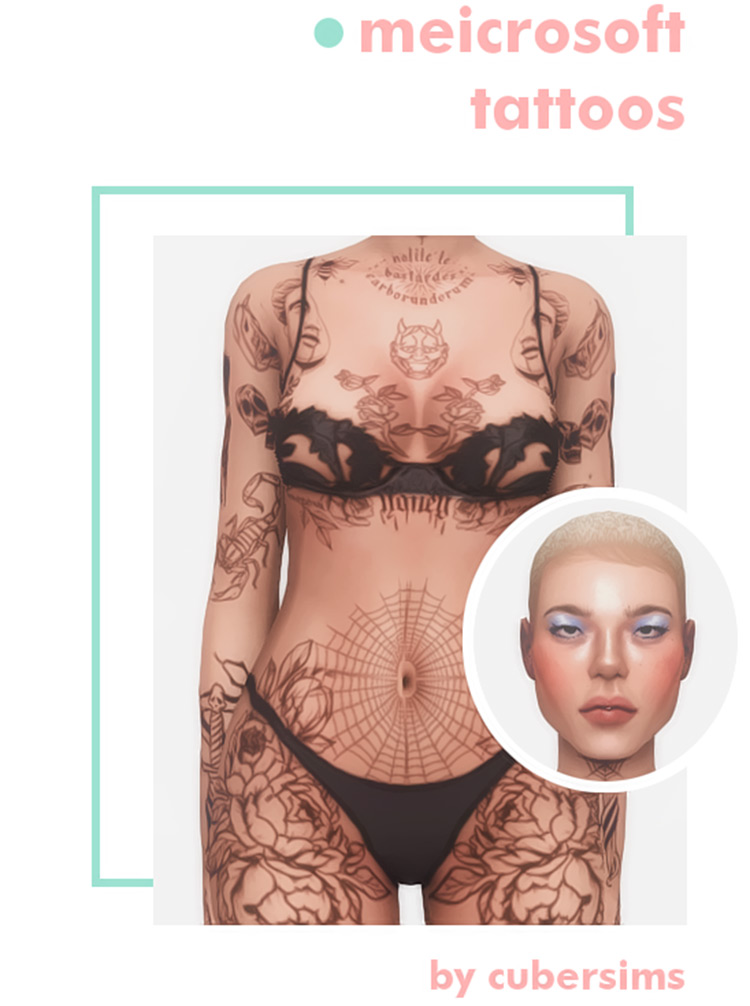 Here we have some edgier tattoos including scorpions, skulls, and spiderwebs. Basically a trifecta of darkness.
That's something I really love about The Sims 4.
There are more ways than ever to vary your Sims and express their personalities, and that's only expanded through custom content.
I don't believe in the silly old stereotype that tattooed people are intimidating or dangerous.
Who does besides grandmas, right?
But these tattoos will make your Sim look tough as heck. Whether they actually are or not is still up to you.
3.

Butterfly Sleeve Tattoos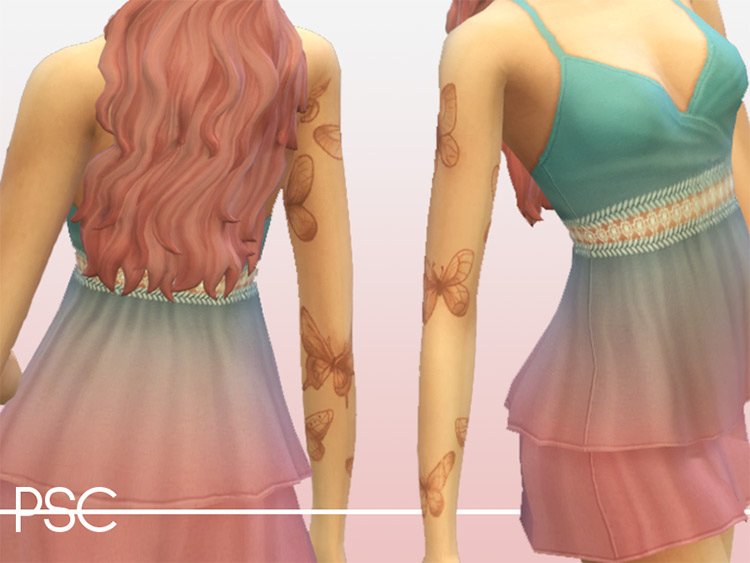 Butterflies go with everything, even your skin.
These ones from ProudSimCreations are a nice, feminine sleeve tattoo.
The butterflies can cover your Sim's arm without being super obvious or bold.
I love the detail on these little buggers. Ha, get it?
I'll try to restrain myself from the puns long enough to point out there are a few different designs of butterflies here, so you're not just getting copy-and-paste versions of the same one. Some have more pointed and elaborate wings, while others are simple and rounded.
They're all very, very cute.
4.

Green Witch Tattoos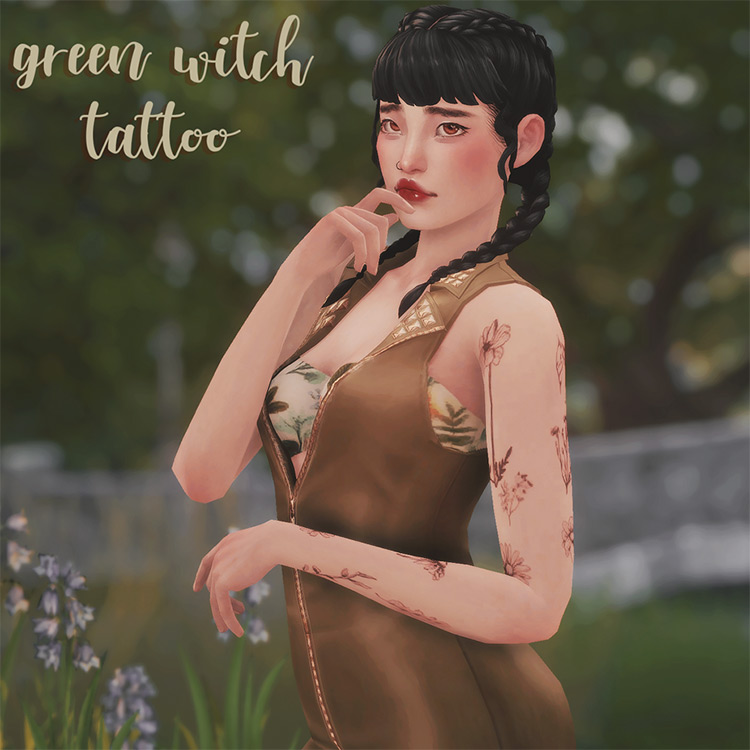 Cowplant-pizza brings us some flower tattoos here, this time in a sleeve!
This CC isn't as busy as some sleeves, and will be a more subtle approach too.
That's not to say they aren't an incredibly cool way to adorn your Sim in flowers and leaves, however.
These are some more long-stemmed plants which give a little bit of a different vibe than the more broad, round flowers.
5.

Cold Spell Tattoos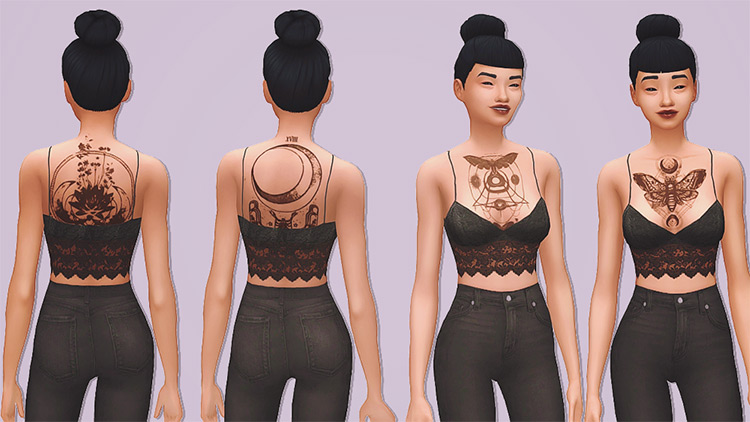 Now these designs are downright epic.
Everything associated with the 'witch aesthetic', which seems to be rising in popularity, is beautiful. And it's all here.
Moon cycles, moths and butterflies, plants, geometric shapes.
The location of these tattoos really makes them work, too.
The chest and back give larger areas for the tattoo than arms or legs, so you'll get these images in their full glory.
6.

Sunflower Back Tattoos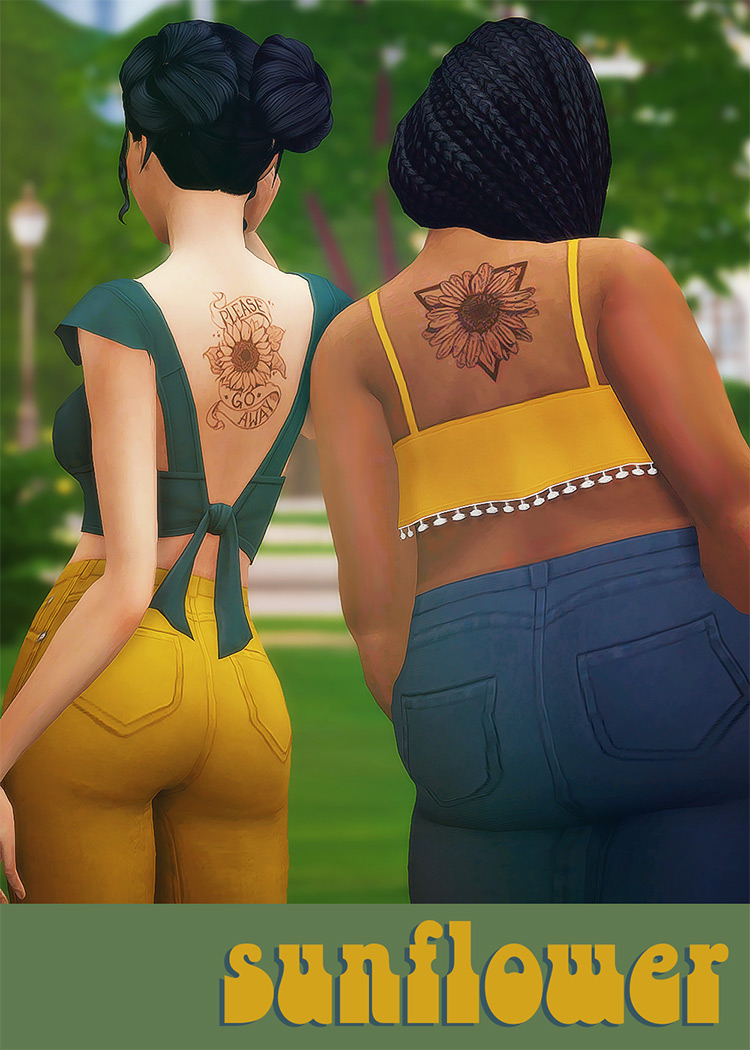 This is a really fun little set, all dedicated to sunflowers!
I don't know what it is about them that everyone loves so much. But I'm just as much here for this trend as the next person.
They're a really beautiful way to express a connection to nature.
Or maybe people just like how they look. That's definitely a possibility.
The detailed petals on these tattoos really make them stand out. There's also one with a banner wrapped around the flower that says "please go away" and I think that's amazing.
7.

Swordplay Tattoos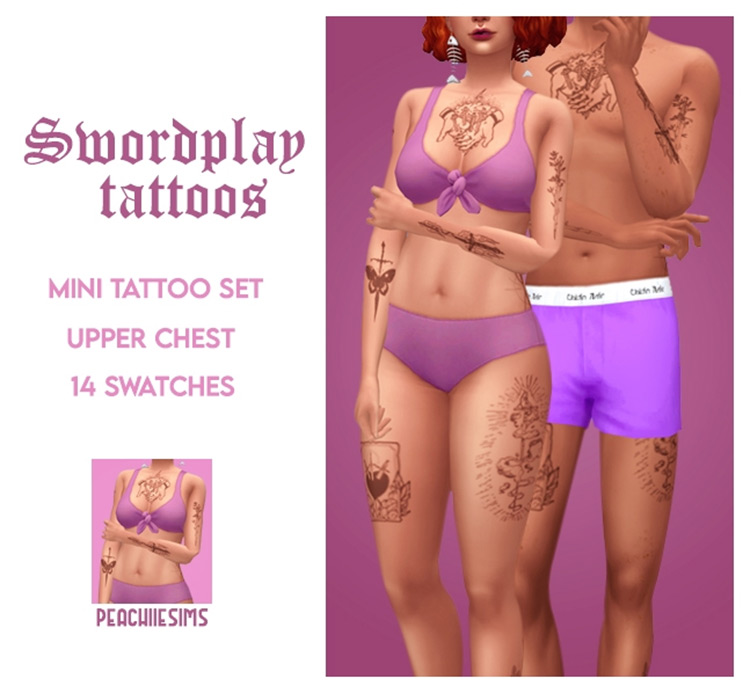 These tattoos look really sharp. Haha…
So this CC set features different styles and variations of swords. Some are woven with other designs, such as butterflies or flowers.
I always like when opposites are mixed like that, and it's a great idea for tattoos.
You can place them in many different places on your Sim's body, including the chest, arms, or legs. So they can be as hidden or fully on display as you please!
8.

Yin and Yang Tattoos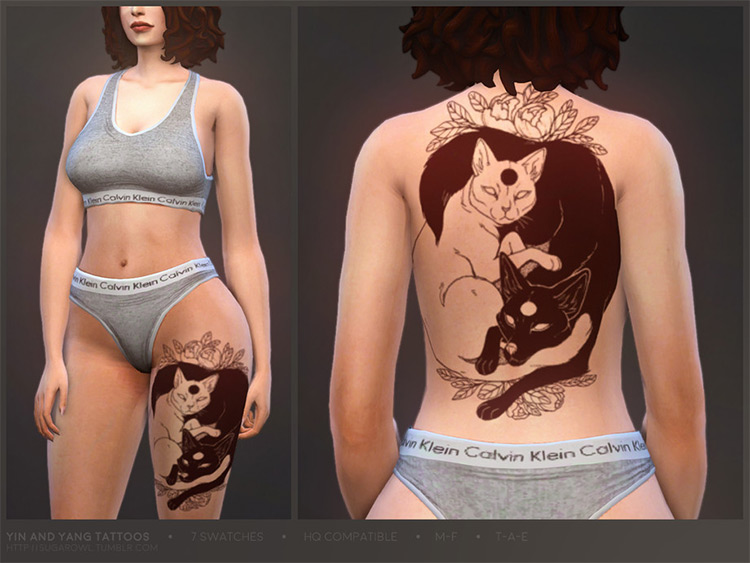 I don't think I've ever seen such a mixture of surreal and cute, let alone in a tattoo.
Creator Sugar Owl has made something really special here.
It's so poetic, with the black and white/Yin and Yang theme.
The fact that it's two animals intertwined creating that signature shape is the cherry on top.
9.

Full Neck Tattoo Set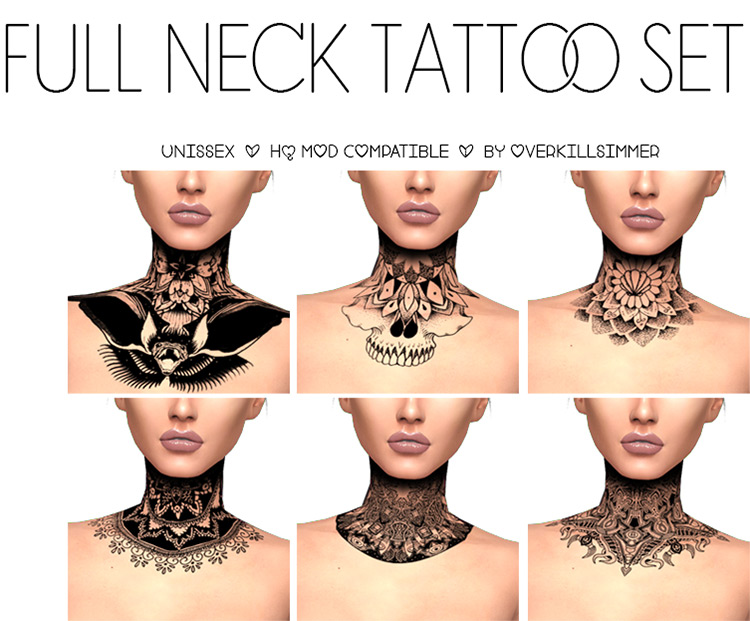 I've never gotten a tattoo, but word is they hurt. A lot.
And the neck is one of the most tender places on our bodies.
So it has to be something really, really cool to get it on your neck… and these tattoos from overkillsimmer do not disappoint.
These designs are very complex. It's crazy, in a good way.
The bat one is my personal favorite, with its sweet little face.
There's also a skull one and several mandala-like shapes, all of which are admirably elaborate.
Your Sims will never look boring again if you give them one of these.
10.

Spine Tattoo Set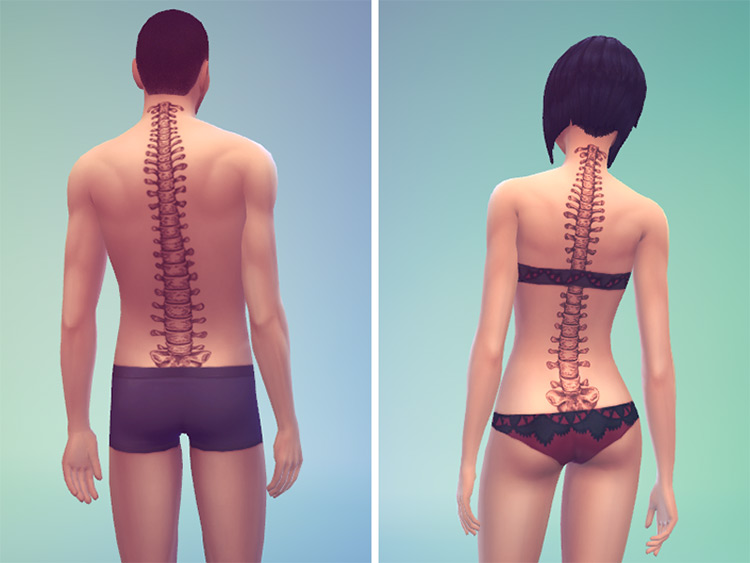 A tattoo that depicts what's beneath the very flesh it is on? Genius.
Bonehilda is shook.
I have no idea how accurate this is to an actual spine, but I totally buy it.
I'm sure someone smarter than me could name all the little bones and vertebrae, it's so vivid.
This would look so cool when your Sims wear shirts with low collars or backless dresses.
11.

Random Flowers Tattoos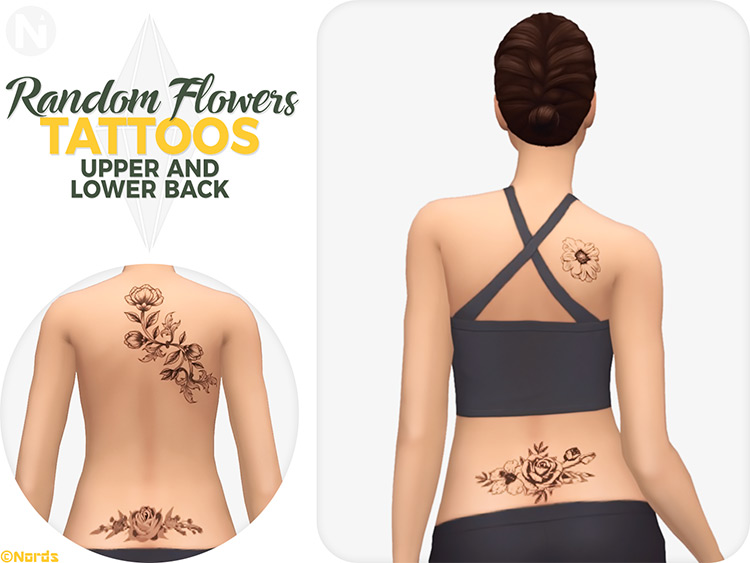 Flowers just never get old.
These tattoos from nordsart are gorgeous and depict a wide array of flowers.
It looks like there are daisies, roses, sunflowers, violets, uh…a lot more.
As much as I love flowers, I don't recognize all the species.
Whichever ones you choose, they will look great on your Sim's upper or lower back. There are two styles, horizontal and vertical.
12.

Spooky Sleeves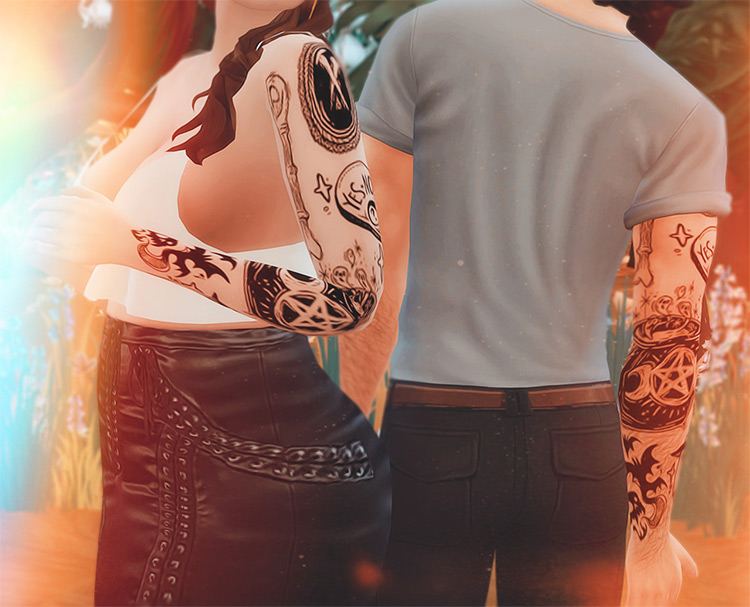 Now these sleeve tattoos are a lot darker than anything else we've seen so far.
But that doesn't mean they're anything less than awesome.
Your Sim can embrace their spooky side with these tattoos including cauldrons, pentagrams, and ghost shapes, all in very black 'ink'.
These just look fantastic, and will definitely be perfect for those edgier Sims.
13.

Geometric Tattoos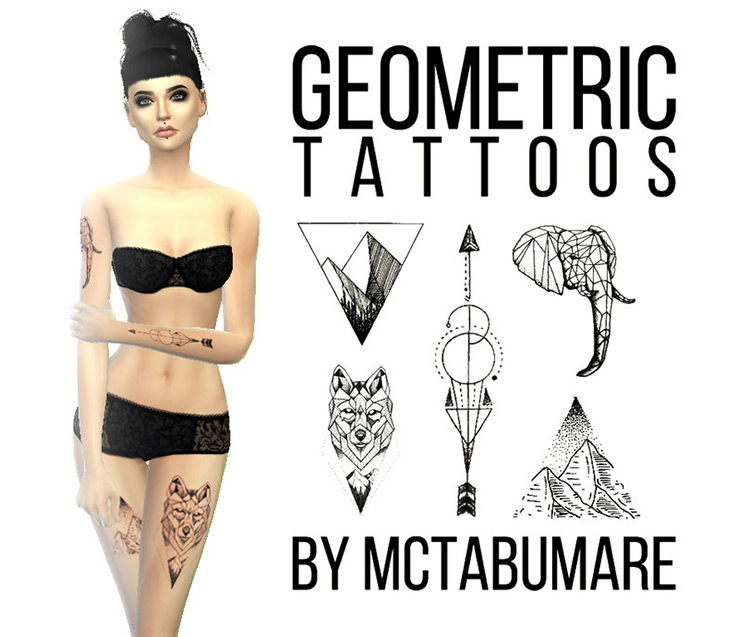 Want some ink for those outdoorsy Sims? You can't get much better than these tattoos from MctabuMARE.
Honestly, this is a pretty neutral option for any Sim, no matter their lifestyle.
Who doesn't love wolves, elephants, and mountains?
If the answer is that you don't love any of these things, well…keep scrolling I guess. No harm, no foul.
But these tattoos have a rather unique shading style too, within geometric patterns that really makes them a sight to look at.
14.

Primal Tattoos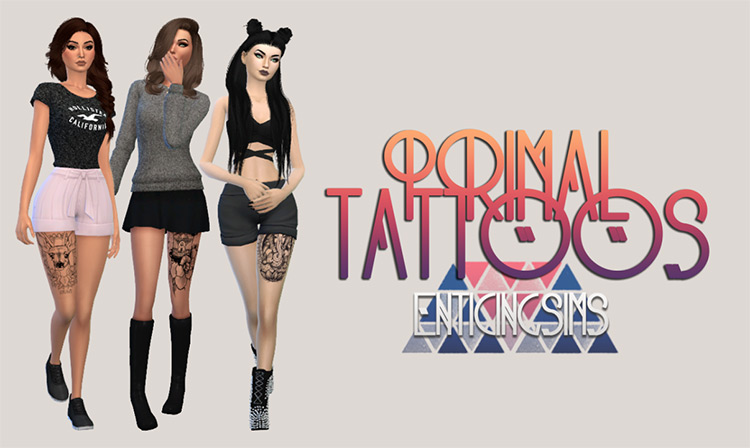 Show off your Sim's wild side with these primal tattoos from EnticingSims.
These are some of the most varied and detailed tattoos on this list. I'm not sure I even have the right words to describe them.
Elegant? Remarkable? I guess those both work.
I can really appreciate every tattoo here. The animal ones, with a swatch each for a deer, elephant, or owl, are beautifully intricate and bohemian.
Then there are some landscapes within plumbob shapes, with mountains, trees, and clouds.
Nature designs like this are just so cool, I can never get enough.
There are too many for me to cover individually, but they're all so cool. You'll have a hard time deciding which one will go on your Sim's leg from this CC pack.
All of them really are equally charming.
15.

Dainty Tattoo Set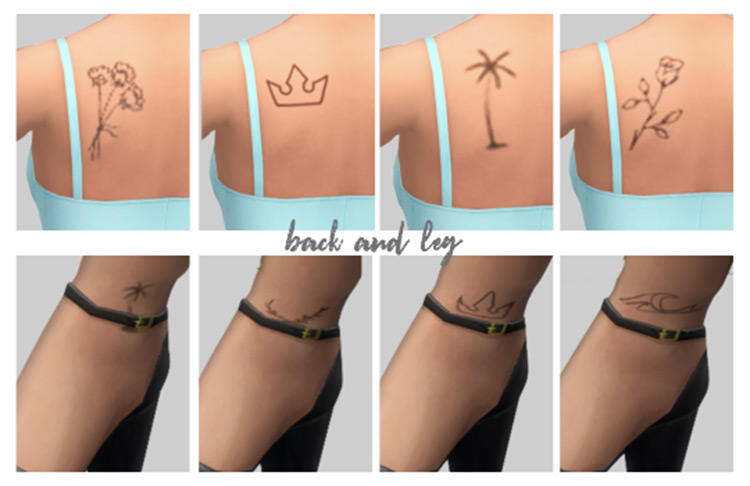 In a total 180 from the big and bold tattoos above, we have these dainty designs from simmingmango.
For when you just want a cute little tattoo, this is the set to turn to.
These are some of the only wrist and ankle tattoos I've seen for The Sims.
They're simple shapes, acting as a permanent (or not) accessory.
There are some long-stemmed flowers, a pineapple, a palm tree, or a crown for the collarbone, all really great and stylish choices.
The ankles get smaller versions of the crown and palm tree, as well as some squiggly new shapes.
And for the wrists, you get all that plus some new flower and herb designs.
I love simple tattoos like this as much as the elaborate ones! Both give such distinct looks.
16.

Black Cat Tattoos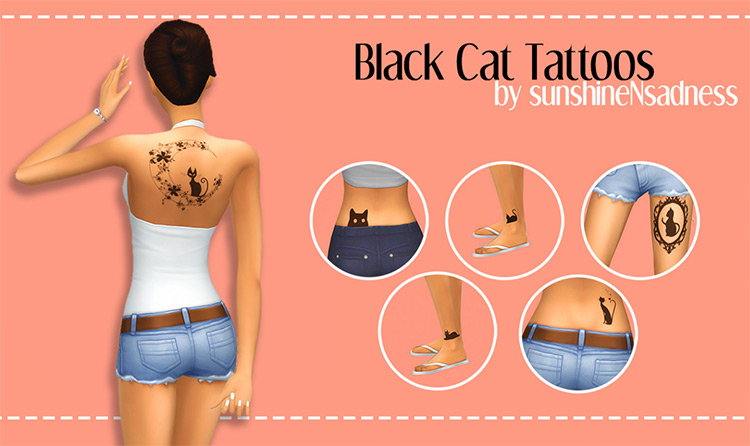 Is there anything more precious and wonderful on this earth than cats? Absolutely not. This isn't up for debate.
And despite the opinion of some superstitious folks, black cats are just as marvelous.
You Sim can now cover their body in them. Thanks to creator sunshineNsadness, there are seven insanely cute black cat tattoos to choose from.
Even if you're not a mega cat lover, these will go with the witchy tattoos!
But be honest – they are adorable.
17.

Bird Tattoo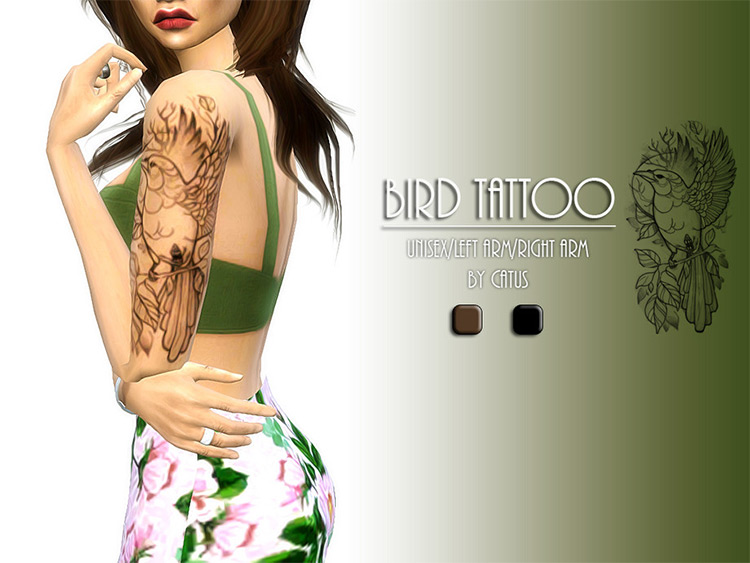 There has been a distinct lack of feathered friends featured in this list. And I'm glad Catus is here to change that.
Here's another CC where the detail just can't be praised enough;
Even the leaves surrounding the bird are perfect.
This bird tattoo will cover your Sim's shoulder with its lovely, beaky face and plumage. There are two different ink shade options, and either works for this simple yet refined look.
18.

Watercolor Tattoo Set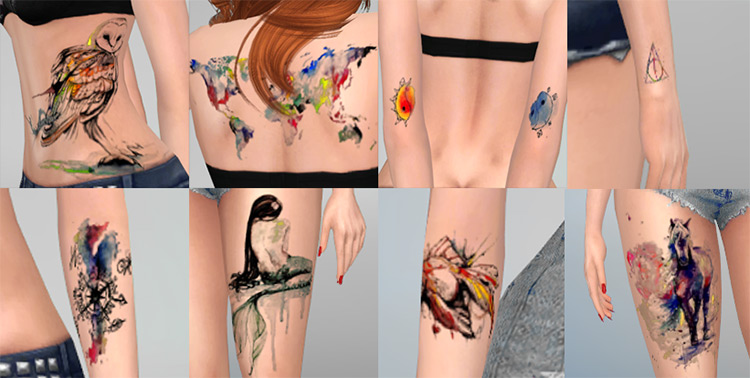 It's high time we saw some tattoos with color.
And thanks once again to overkillsimmer, we have many stunning designs to choose from.
These really do look like watercolor, which is such an amazing effect. The way the vivid colors blend and fade is just so captivating.
You can't discount the designs of the tattoos themselves, either. The owl is beautifully detailed from head to foot.
Is it called a foot on a bird? That somehow doesn't seem right, but whatever.
The point here is the owl is a graceful and elegant creature, and that's captured very well here.
The horse swatch is breathtaking, honestly. There's kind of a galaxy watercolor scheme on that one that makes it ethereal.
There are some geography-themed ones as well, for those of you who want to move away from animal-themed tats.
A compass and world map fill out this set, as well as a mermaid, flowers, and a few others. All are in delightfully bold shades of red, yellow, or blue.
19.

Tiny Zodiac Tattoos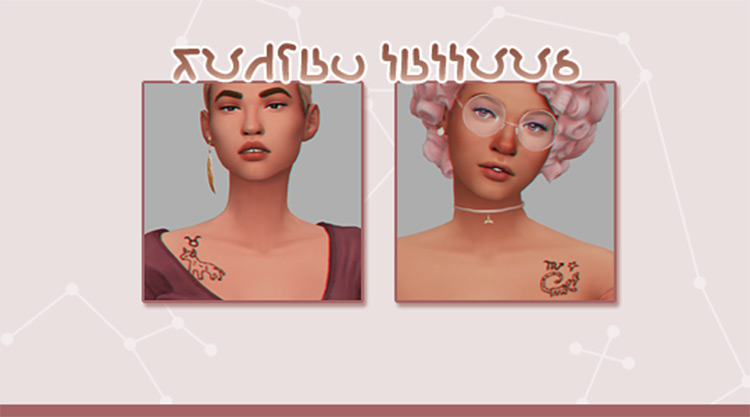 Astrology has had fluctuating levels of popularity for a long time. And right now there seems to be a lot of people really into it.
And with the release of more supernatural packs for The Sims 4 like Realm of Magic (and most recently, Paranormal Stuff) there has never been a better time for your Sim to embrace this side of life than now.
I'm not entirely sure where astrology falls, if people consider it supernatural or not. At least to me, it's a very intriguing concept, but also a little freaky.
The day I came into the earth and the alignment of the stars have bearing on my whole life? Forever? Uh…thanks, I guess.
Your sign will definitely be with you forever, though. I don't think there's ever been a time I didn't know my sign.
Now with these zodiac tattoos from Simpai, we can give our Sims a brand for life too.
Even in past games where you could choose your Sims sign, you couldn't get it tattooed on them!
20.

Triangle Peony Tattoo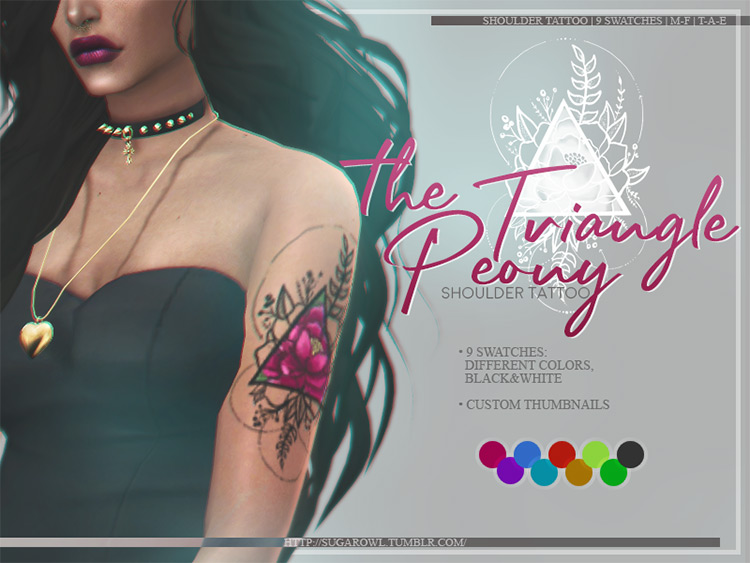 Of course we have to end this with a flower tattoo. And this triangle peony tat from sugar owl is definitely worthy.
The flower itself is a really bold, awesome red color, inside of a triangle shape surrounded by foliage.
This tattoo is another way to add some colored ink to your Sim's skin.
And it comes in nine swatches of various colors, including black and white.
Placement is important when it comes to tattoos as well. And I can't think of anywhere more fitting for this one than the shoulder.
It will definitely stand out and be a central part of your Sim's look!
Browse:
Lists
The Sims 4
Video Games