Tiffany & Co. CC For The Sims 4 (All Free)
This post may contain affiliate links. If you buy something we may get a small commission at no extra cost to you. (Learn more).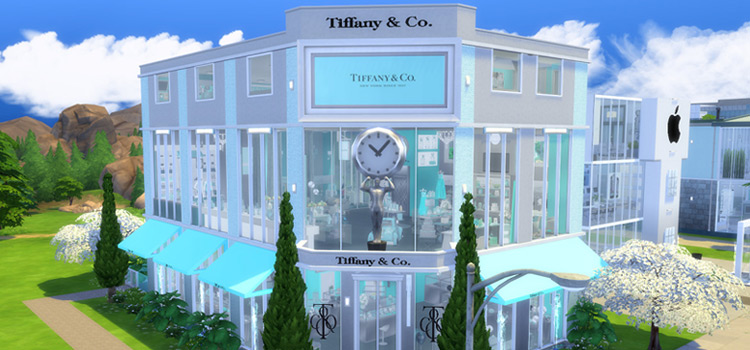 Who hasn't heard of this American luxury jewelry and specialty retailer brand?
If you haven't stumbled upon Tiffany's targeted ads or heard them referenced in many a romantic movie, you might know them from Audrey Hepburn's iconic Breakfast at Tiffany's.
And, yes, you can actually have breakfast at Tiffany & Co!
Much to the delight of millions, the Fifth Avenue jewelry store opened their Blue Box Café in November 2018.
But if you'd like to gift your Sims their own luxury jewelry (or maybe even their own Blue Box Café), take a look at this awesome Tiffany & Co. TS4 custom content.
1.

Tiffany Earrings by Bijou_cc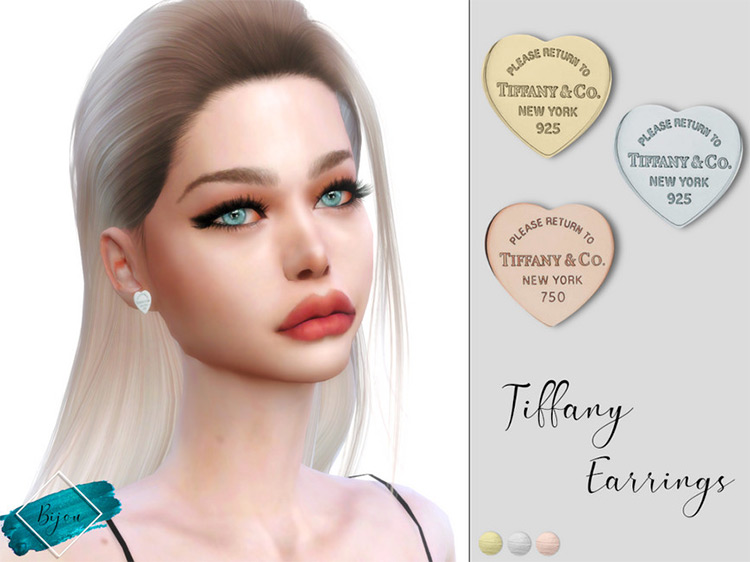 These heart-shaped earrings by Bijou_cc come in gold, silver, and rose gold.
They're small, dainty, and subtly elegant; perfect for Sims who like understated statement pieces.
Forget those large silver chains, costume jewelry, and tacky brooches.
Your Sim understands the beauty in finesse and dresses accordingly.
I personally love how simple the earrings are.
Even the brand – despite it being a luxury, high-end label – isn't emphasized. It's written in small barely-visible font that you can't see unless you zoom in.
All in all, this custom piece embodies the whole "less is more" concept. And I think it does it quite well.
2.

Tiffany & Co Diamonds by the Yard Earrings by threethousandplumbombs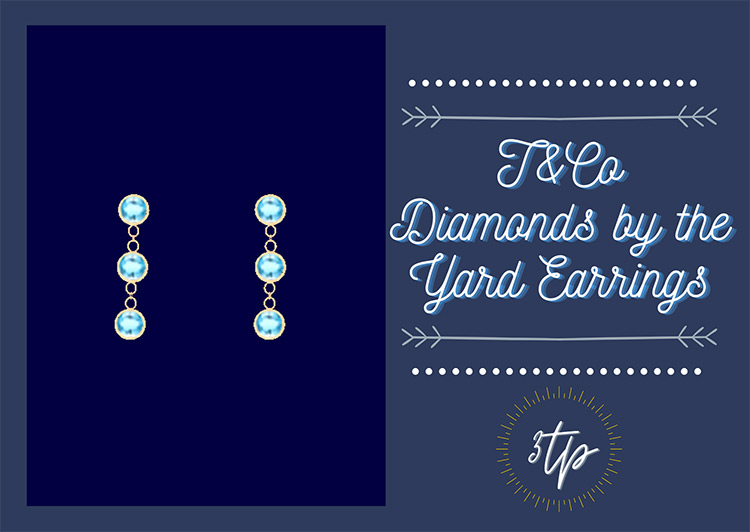 These are based on some actual Tiffany & Co earrings the creator found.
And let me just say that the TS4 translation of the actual item is beautiful.
They got the jewel-drop feel of the piece just right; not too long, not too short, and not tawdry or flashy in the slightest.
The original IRL earrings seem to be diamonds set in rose gold (but don't take my word for it). That's the earring's default swatch, but the creator made sure to include 13 other swatches (total of 14) with different chain-and-gemstone combinations!
There's a silver chain with diamond insets, a gold chain with diamond insets, a silver chain with purple amethyst, and more.
3.

Tiffany & Co. Cocktail Watch by MELLOUWSIM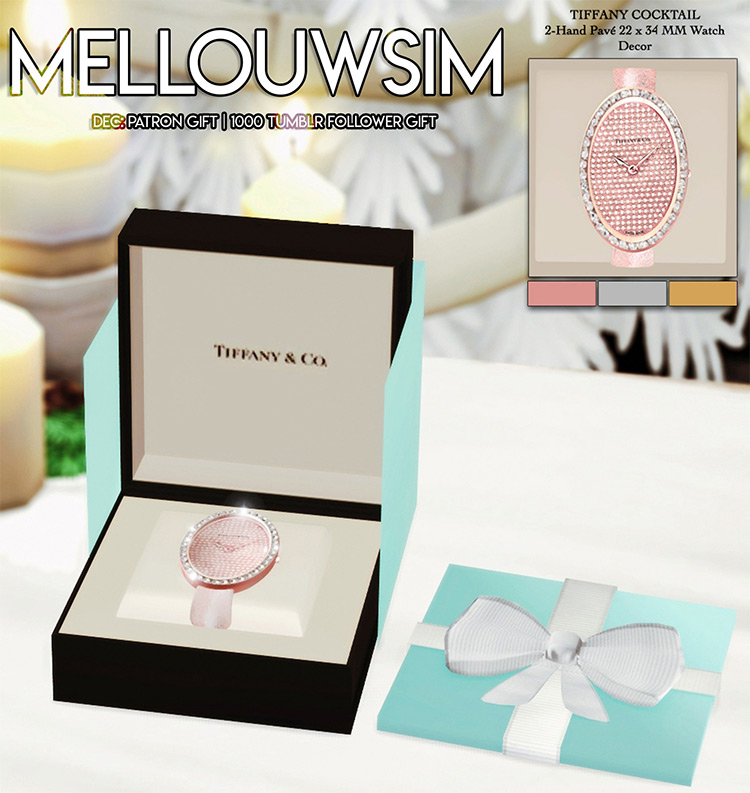 This watch isn't a wearable CAS accessory; it's a decorative piece.
And before I go into detail, let me just say that the creator got everything right—even the price point!
Yup, this classy little gift is worth §22,000 Simoleons.
For Sims just starting out, still stuck in starter homes, this is not an affordable gift.
But for the Sims who can afford it, sure, go ham.
The piece is beautiful in-game.
Just like Bijou_cc's earrings, there are three swatches for the watch: rose gold, white gold, and gold. Don't worry, the Tiffany & Co. gift box remains the same iconic minty teal for each variation.
I do like how the top of the box remains a part of the piece. Just give gives it more dimension, you know?
4.

Riekus Valentine's Day Gifts by leosims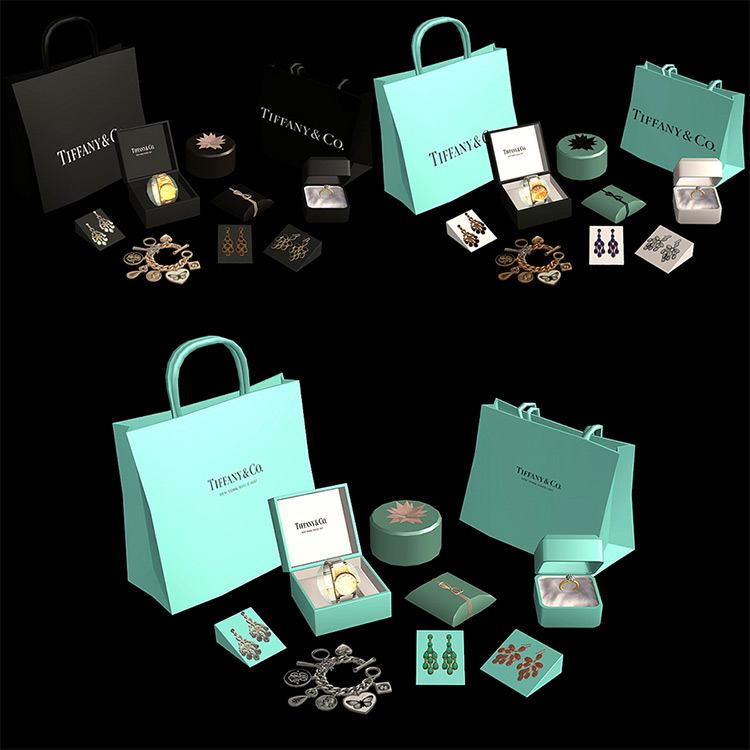 These custom Tiffany & Co décor pieces are way more affordable than MELLOUWSIM's T&C cocktail watch!
So if you're on a budget and you refuse to use financial cheats, the items in this Riekus Valentines Day Gifts set by leosims are only a dollar a pop.
And for that, you get a lot of cool stuff.
Let me list down exactly what's in here:
Decorative bracelet – 4 swatches
Decorative watch in gift box – 3 swatches
Decorative display earrings – 3 designs, 4 swatches each design (total of 12 options)
Decorative gift boxes – 3 swatches
Decorative round gift boxes – 3 swatches
Decorative ring boxes – 3 swatches
Tiffany & Co gift bags – 2 designs, 3 swatches each design (total of 6 options)
They're all very well made, too.
Very dainty, very elegant, and this definitely screams luxury brand.
I love how the creator also included options aside from Tiffany & Co's iconic minty teal.
The black swatches for some designs make the pieces look especially expensive.
5.

Tiffany & Co Stuff by BillLS4CC
Why settle for jewelry pieces when you can have the whole darn store?
These awesome recolors by BillLS4CC allow you to build your own Tiffany & Co walk-in store in-game (just like CC creator Bean's Builds did with her Soul Valley Shoppes pack).
This custom Build/Buy pack contains a T&C sign, a poster (with two swatches), a jewelry showcase, and three counters.
The counters come in two swatches, but the difference between color variations isn't that noticeable.
I like the default eggshell marble, but it's to personal choice at the end of the day.
Quick head's up when placing jewelry in the display cases:
Make sure you've got the cheat bb.moveobjects turned off.
If you keep it on, there's a high chance the jewelry décor pieces will merge through the counter instead of snapping onto top under the glass case.
Browse:
Lists
The Sims 4
Video Games